10 Reasons the Pittsburgh Steelers Will Win the AFC North in 2012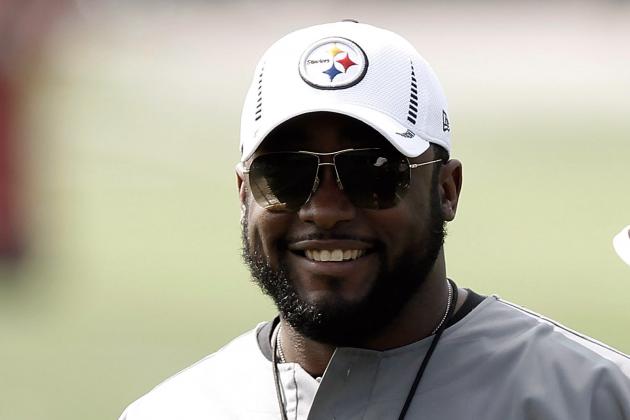 Jared Wickerham/Getty Images
We believe Mike Tomlin be smiling often in 2012
The Pittsburgh Steelers have lost three great veterans in Hines Ward, Aaron Smith and James Farrior.
They have a new offensive coordinator, Todd Haley.
Their starting quarterback, Ben Roethlisberger, is seemingly hesitant to embrace.
And star wide receiver Mike Wallace is holding out.
Regardless, the Steelers will win the NFL's AFC North division.
Begin Slideshow

»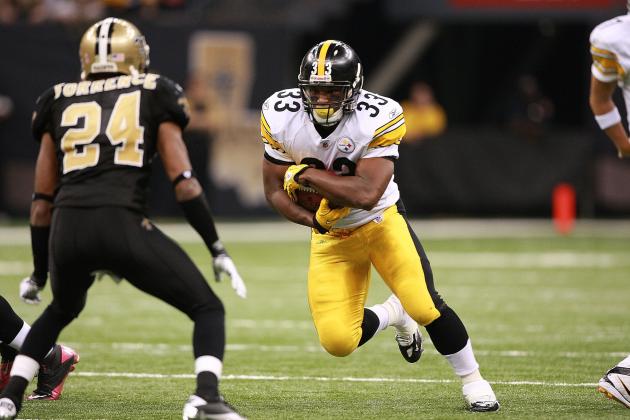 Karl Walter/Getty Images
Redman—The Pick of the Pros. You have to be a Steelers fan from 1980 to understand the reference.
Rashard Mendenhall has not been entirely unproductive during his five-year career, but you get the feeling Mike Tomlin wanted a little more from him as a first-round draft choice .
Enter Isaac Redman, who rushed for as many 100-yard games and caught as many passes as a backup in 2011 as Mendenhall did as a starter. Pro Football Focus ranked Redman as the 14th-best halfback in the NFL last year (remember, as a backup), ahead of players such as Darren McFadden and Michael Turner.
Redman doesn't figure to be stopped as often as Mendenhall has been in goal-line situations. He showed spark in his playing time, and his surname is a product Terry Bradshaw used to endorse.
What's not to love?
Jeff Gross/Getty Images
The time has come, the time is now. Emmanuel Sanders gonna make us say, "Wow!"
While Antonio Brown was making headlines by sending Hines Ward into retirement, another young receiver, Emmanuel Sanders, made some headway himself before getting hurt last year.
In 11 games, Brown caught 22 balls for 228 yards and two touchdowns and showed big-play ability not normally seen from a third receiver, such as making receptions of 20 yards or more in four of his first eight games of 2011.
No, he won't be the blocker Ward was. So what? He doesn't play tackle.
He will, however, give the Steelers an explosiveness on offense that Ward did not have. This figures to be Sanders' breakout year. With a clearly defined role, hopefully he can turn his proven track record from college (285 catches for more than 3,800 yards) into consistent NFL production.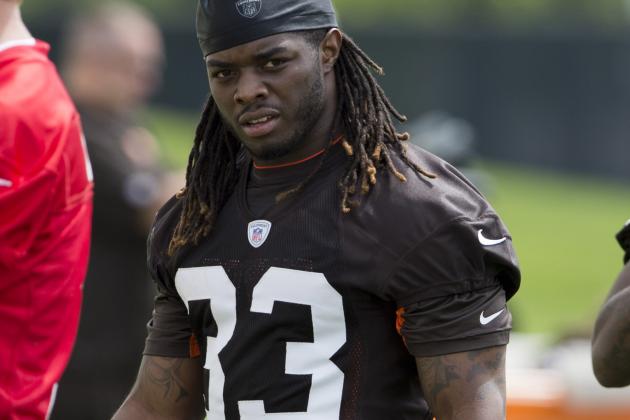 Jason Miller/Getty Images
Trent Richardson does not figure to be a popular man in Pittsburgh—in the future.
The Cleveland Browns may very well be ready to compete soon with the outstanding additions of rookie running back Trent Richardson and quarterback Brandon Weeden, but not now. Not after 4-12.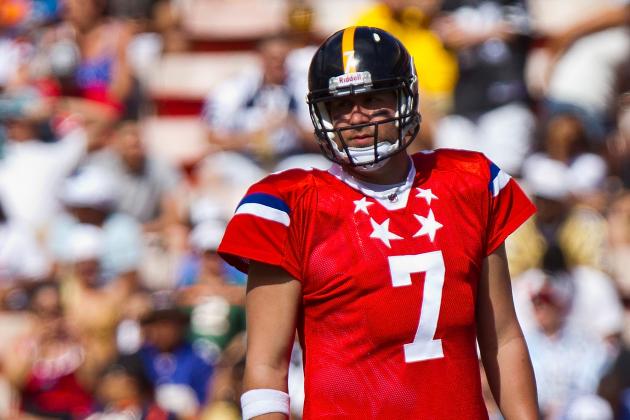 Kent Nishimura/Getty Images
Pittsburgh Steelers quarterback Ben Roethlisberger in the Pro Bowl.
Pro Bowler. Two-time Super Bowl Champion.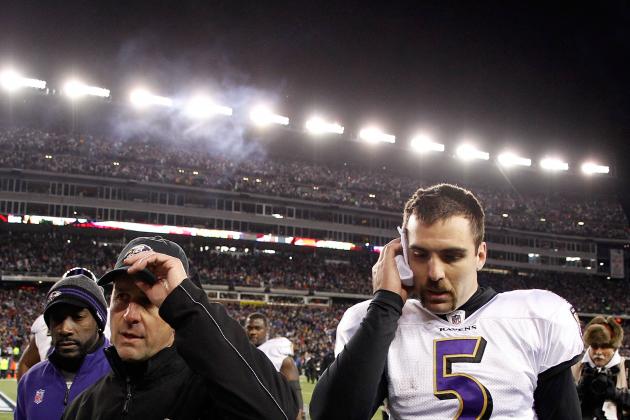 Rob Carr/Getty Images
Joe Flacco
And hey, we like Joe Flacco!
In two straight seasons, he's led the Ravens to come-from-behind victories against the Steelers at Heinz Field in each game's final minute. But this season, Roethlisberger is going to become the Steelers' all-time leader in career passing yards.
Who is the greatest quarterback in franchise history: Bradshaw or Roethlisberger? The answer is largely dependent on your generation.
However, nobody's saying Flacco is better than John Unitas. Bert Jones? Maybe. Unitas? No way.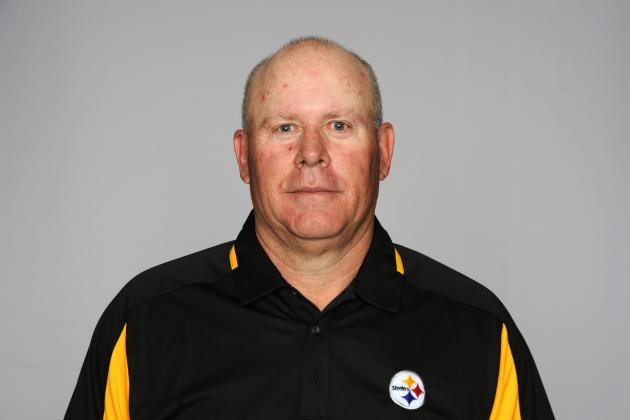 Handout/Getty Images
Not saying Bruce Arians didn't have his moments, but . . .
It sometimes seems that Pittsburgh sports fans need someone to pick on to be happy, and despite being an assistant coach on three Super Bowl teams during his time in Pittsburgh, former offensive coordinator Arians was that guy.
But under Arians, the Steelers allowed more than 40 sacks every season. They often seemed so woeful in short-yardage situations that they would turn to acts of desperation, such as the 2009 game at Cleveland played in bitter cold where the Steelers famously lined up in an empty-set formation on 3rd-and-1 in the early stages of the game.
And while it makes sense that the offense would become more conservative when Ben Roethlisberger couldn't play, it seemed Arians took this mindset to extreme levels with Charlie Batch and Dennis Dixon playing. He often abandoned the pass, even in third-down situations despite the fact that passing was the only option to pick up a first down.
Enter new offensive coordinator Todd Haley, the beneficiary of a victory against the Steelers as head coach of the Kansas City Chiefs in 2009 because of play-calling. Tied 24-24 in overtime, with the Batch-led Steelers facing 3rd-and-2 at the Chiefs' 35, Arians called for a pitch sweep to Mewelde Moore against the Haley-coached Chiefs.
It was a play that made no sense. Even if Arians felt a run was in order, a pitch sweep risked the same potential for losing yards a pass play would if Batch had been sacked.
Which is exactly what happened.
Moore was stopped for a three-yard loss, taking the Steelers out of field-goal range. The Chiefs scored on the next possession to win, 27-24.
Forget reservations you've heard that Roethlisberger has had about Arians' departure. Roethlisberger produced under Ken Whisenhunt before Arians ever became the offensive coordinator.
Besides, Haley comes from a Pittsburgh background, as his father was Dick Haley, who evaluated talent during the glory years of the franchise a generation ago.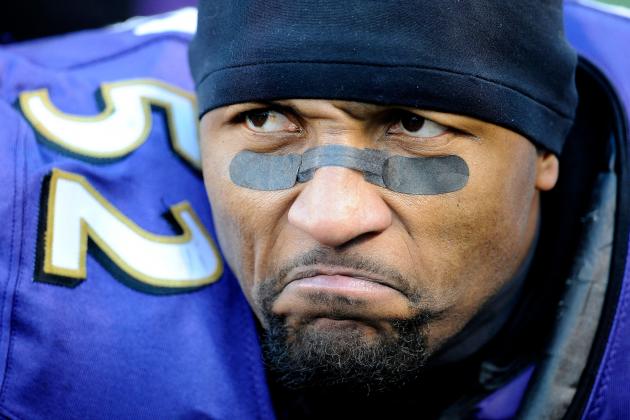 Patrick McDermott/Getty Images
I have called both The Orange Bowl and Memorial Stadium home.
There is no question that Ray Lewis is a Hall of Fame player. It will also be his 17th NFL season this year.
He was selected in the same draft that Keyshawn Johnson, Eddie George and, for better or worse, Jamain Stephens were.
When the Ravens selected Ray Lewis, the franchise had yet to play its first game in Baltimore. Brett Favre and John Elway had not yet won Super Bowls. Tom Brady had only played in high school games. And yet Lewis will still remain the focal point of the Baltimore defense in 2012?
As difficult as it was to see veterans like Ward, Aaron Smith and James Farrior leave the Steelers this year, it may very well be as hard for Ravens fans to see Lewis play this year. He missed four games last year and his per-game tackle average dropped by nearly one a game from 2010.
And when Lewis returned from injury, the Ravens allowed 34 points to San Diego after allowing just 26 points in their previous three games without him.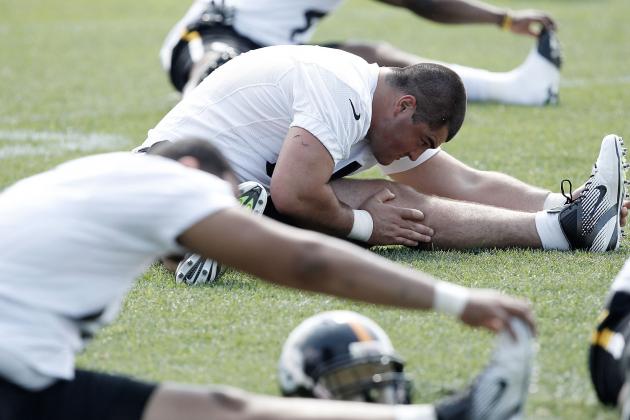 Jared Wickerham/Getty Images
David DeCastro and Mike Adams weren't sexy picks, but needed.
I'm skeptical of drafting offensive linemen in the first round. However, guard David DeCastro was the best player available at the time and filled a desperate Steelers need.
Same for tackle Mike Adams, Pittsburgh's second-round selection.
For perhaps the first time since Alan Faneca was in his prime, the Steelers have the nucleus of a strong offensive line. Will there be rookie mistakes? Sure. Will the line be improved? How could it not be?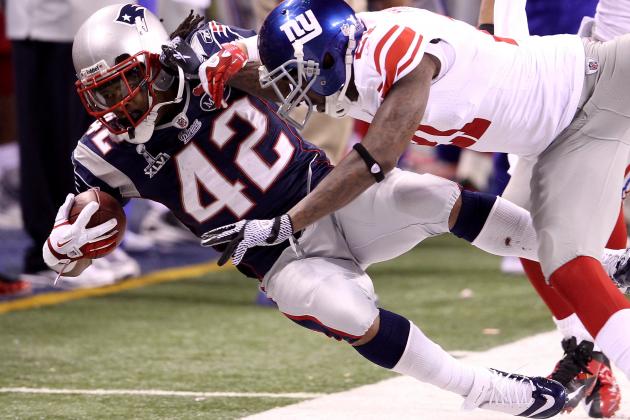 Andy Lyons/Getty Images
We don't trust people who try to pass off four names as two.
We understand why the Bengals grew tired of Cedric Benson. A low yards-per-carry average. Four arrests on his record. Suspensions. Coeliac disease.
But to then ask former New England back BenJarvus Green-Ellis to replace Benson?
Benson averaged 3.9 yards per carry last year, while Green-Ellis averaged 3.7.
Benson rushed for 1,067 yards in 2011, while Green-Ellis rushed for 667.
We like Marvin Lewis, but whom do you trust to make the better personnel decisions: Cincinnati or New England?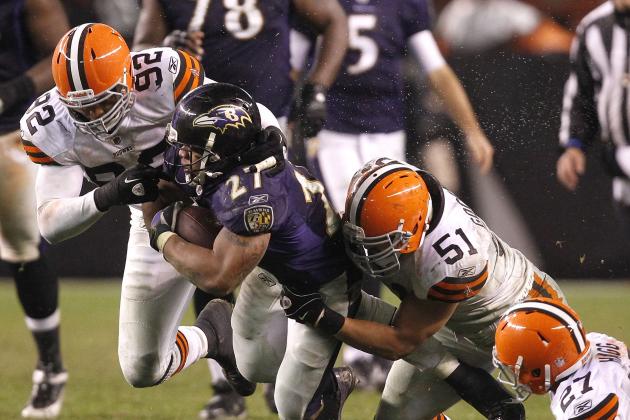 Matt Sullivan/Getty Images
The Ravens cannot afford to miss Ray Rice for any length of time.
Sure, Mike Wallace is holding out as well. But doesn't a worst-case receiving duo of the Steelers playing Brown and Sanders sound more promising than a Ravens worst-case situation of starting untested Bernard Pierce at running back?