UFC 148: 10 Bold Predictions for Anderson Silva vs. Chael Sonnen Card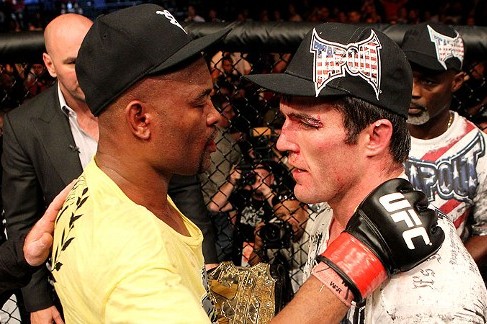 espn.go.com
On a night that will feature the greatest rematch in UFC history, it's only fitting that the same PPV card offers a variety of dynamic bouts.
So while many fans will tune in to see Anderson Silva defend his middleweight title against Chael Sonnen for the second time in two years, others will be tuning in all night long.
Here are 10 bold predictions for UFC 148, an event that could very well be the best the UFC has to offer in 2012.
Begin Slideshow

»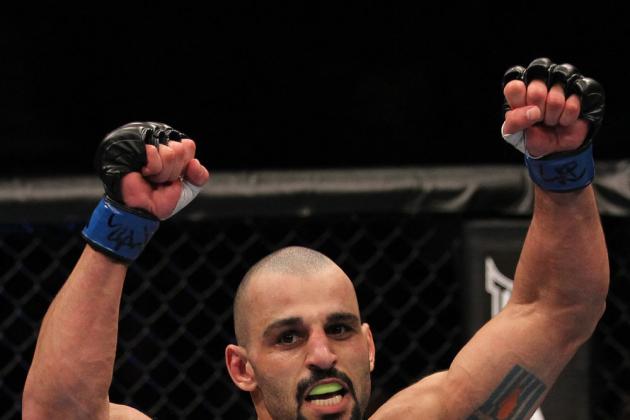 mmamania.com
With standup specialists like Constantinos Philippou and Melvin Guillard headlining the prelims for UFC 148, you'd expect to see at least one knockout before the main card takes charge.
But unlike most events that on average feature two or so undercard knockouts, UFC 148 prelims don't pack a lot of punch outside of the two names just mentioned.
And considering Guillard is subject to submission defeats and Philippou is fighting an unpredictable Riki Fukuda, don't be surprised if their isn't a KO/TKO stoppage before the main card.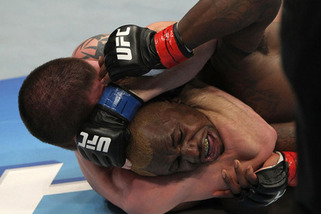 mmamania.com
As tough as it is to win in the UFC, it's seemingly even harder to lose three straight bouts via submission.
Unfortunately for Melvin Guillard, who has lost both of his last two fights via first-round rear-naked chokes, much of the same is to be expected entering UFC 148.
His opponent, Fabricio Camoes, possesses a third degree black belt in Brazilian Jiu-Jitsu and has secured six submission victories since 2006.
Guillard may be one of the most athletic UFC lightweights, but his inability to defend superior grappling and world-class jiu-jitsu is going to cost him yet again.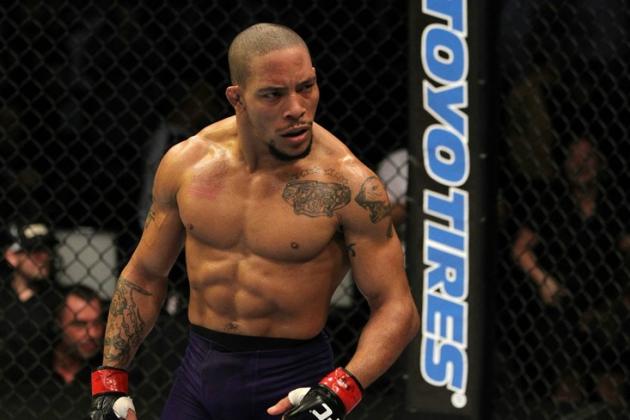 blogs.theprovince.com
This may not be as bold as some other predictions on this list, but considering Mike Easton is taking on one of the best bantamweights in the world in Ivan Menjivar, it should still be considered bold.
The fact of the matter is that Easton hasn't secured a first-round KO since 2008, and Menjivar hasn't been a victim of such a decision for over 10 years.
So even though Easton's power and striking ability within a sometimes "lackluster" bantamweight divisions seems obvious, knocking out an elite fighter in five minutes is actually harder than it seems.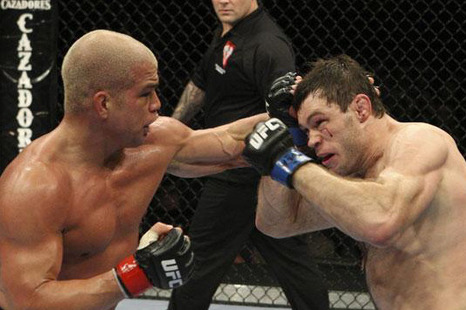 studiomma.com
Thirty minutes.
That's how long Tito Ortiz and Forrest Griffin have battled for inside the octagon.
But even though both of their previous two fights went to the judges, each ending via split-decision, their third and final installment is not going to go the distance.
Each guy has something to prove. So much that anything less than a decisive victory would be considered a disappointment.
Ortiz is retiring and Griffin needs a big-time victory to throw his name back into the light heavyweight title hunt.
Someone's getting cut down by the end of the third round.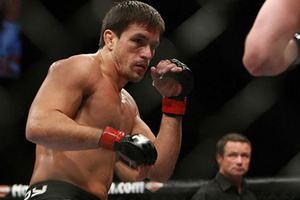 mmamania.com
Demian Maia is a superior submission expert.
With a black belt in Brazilian Jiu-Jitsu and four submission victories within the UFC, Maia has rarely had to display any sort of striking ability.
But over his last three fights, against respectable strikers such as Mark Munoz, Chris Weidman and Jorge Santiago, Maia has seemingly embraced the role of a puncher.
It may come off as unorthodox considering his jiu-jitsu pedigree, but the Brazilian has stood his ground.
And even though Dong-Hyun Kim is no slouch by any means, it's about time Maia reaps the benefits of getting his hands dirty.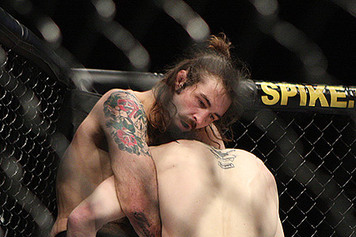 mmaweekly.com
When you look at this matchup, wrestler vs. submission expert, Chad Mendes' name jumps off the page.
He's an elite wrestler, packs a serious punch, and has fought some of the best featherweights the division has to offer.
But, and there's usually a but in a prediction slideshow, Cody McKenzie's guillotine choke is good enough to submit pretty much anyone.
In his last bout with Marcus LeVesseur, McKenzie showcased the ability to withstand the power of a world-class wrestler while using his longer limbs to inflict damage on his competitor's wind pipes.
Consider Mendes next on the choking block.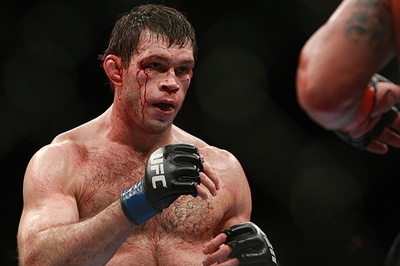 themartialarts.ca
We already know Tito Ortiz is set to retire from the UFC following UFC 148, win or lose.
That's a given.
But when you take a look at what Forrest Griffin has been unable to do over the past few years, including staying healthy and not being able to beat the division's best, it's definitely possible that the original TUF winner will also call it quits if he decisively loses to Ortiz.
It has already been speculated that Griffin's drive to compete is dwindling, and with other interests like writing and playing poker up his sleeve, one of the UFC's most popular fighters may not feel compelled to play out a once promising career.
So don't be shocked if Griffin says goodbye to the fight game Saturday night.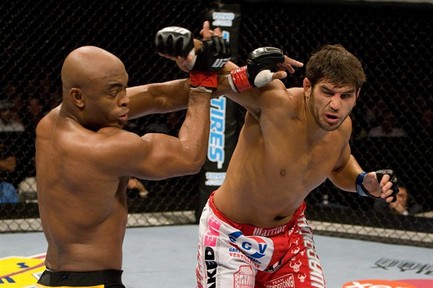 thescore.com
With an Anderson Silva vs. Chael Sonnen rematch on the board, alongside the third installment of Tito Ortiz vs. Forrest Griffin, predicting that Cung Le's fight with Patrick Cote will win Fight of the Night honors is downright insane.
I may be dazed from all the settling firework smoke around my neighborhood, but the elite striking abilities of Le and Cote could prove my craziness, well, reasonable.
People tend to forget that Cote possesses some of the best boxing in the middleweight division, despite being absent from the UFC since 2010.
Remember, the Canadian once used that worthy striking to contend with Silva for the middleweight title at UFC 90, until he suffered a debilitating knee injury.
Add in the crazy spinning kicks that Le has built a career around and you have one of the most action packed standup battles of 2012.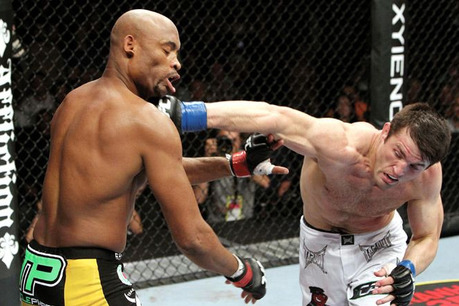 cageinsider.com
Considering the magnitude of this fight, I'm not going to discuss every one of my convictions.
Quite frankly, it would take way too long.
Instead, I'm going to leave you with this:
Through all the hoopla surrounding their first fight, which lasted nearly 25 minutes, it just doesn't seem right to bet against Chael Sonnen.
I know Anderson Silva is the greatest fighter of all time, but even Muhammad Ali had his day of defeat.
With the championship in sight, alongside his success the first time around, it seems evident that Sonnen can win this fight before the fourth round.
This may render various nasty comments from some, but I'm sticking with it.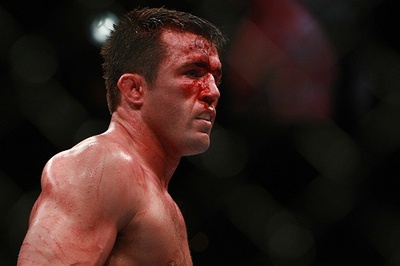 mmamania.com
This isn't quite the same kind of prediction as the other nine, but it serves as a relevant end to our discussion.
If Chael Sonnen captures the UFC middleweight title from Anderson Silva's death grip, it will truly be interesting to see what mixed martial art's most outspoken fighter has to say.
Truthfully, beyond Sonnen's touchy comments about Silva's wife and the country of Brazil, I fully believe that the natural hype machine will be captured in the moment.
Sonnen is one of those guys that shut up in the eyes of greatness. He has worked way too hard for another title shot and knows how important this is to his legacy.
If he just so happens to make this wild ride worth it, I feel fairly confident in saying that he'll pay the utmost respect to Silva, the UFC, his fans, and the sport of MMA.
For more UFC news and coverage, Follow @DHiergesell