Goal-Line Technology Is the Wrong Move for Football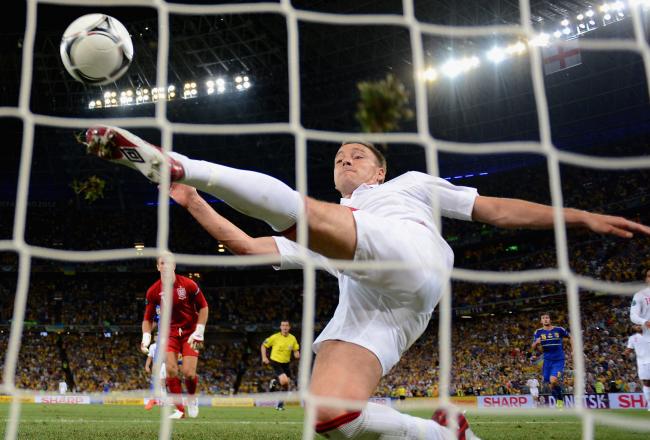 The ball went over the line, but technology would have been wrong to give this goal.
Laurence Griffiths/Getty Images
FIFA opened a can of worms so big and pent-up today that scores of the putrid creatures redecorated the bowels of FIFA HQ, cascaded down the needlessly giant chandeliers and dropped onto the bald, vacuous heads below.
The can was labelled "goal-line technology" (GLT).
FIFA general secretary Jerome Valcke ushered in its ratification earlier, according to ESPN Soccernet. He and his cronies can now feel profoundly smug about leaving football with some kind of amazing legacy, a decade after being given the mandate to do so by all and sundry.
In reality, it is a stain on the game and a farce waiting to happen. Here's why.
While GLT will be able to determine whether or not the ball has crossed the line, it will, obviously, have no impact on the rest of a match. This is inherently unfair and creates an imbalance that will undermine the authority of the referees.
Take the last high-profile example of a "ghost goal," as they are known, when England's John Terry hooked the ball away from under his crossbar and the officials missed that the ball had crossed the line, failing to award Ukraine a goal. The fifth (or sixth?) official had his view blocked by the post, so we can only assume leaning slightly to his right for a more favourable angle was too arduous to ask.
Hawk-Eye or GoalRef would have succeeded where the human eye failed—but they would not have been able to tell us that the referee's assistant missed an offside in the buildup to the incident.
So technology would have inadvertently rewarded a wrong decision. When I tweeted this earlier, a friend replied, albeit with her tongue welded in cheek, that she demanded offside technology.
I was exaggerating when I said it was the first step towards the eventual clamour for robot referees, but I hope you get my point about how the new system will undermine the authority of referees and create an unfair imbalance.
The Terry example balanced itself out, and though I don't believe the old cliche about "luck" or whatever evening up, football's HAL 9000 would have ultimately wronged England in that instance.
The technology will clearly be implemented now. This sort of negative impact won't always occur, but the danger will always be there. And there will still be offside goals, unpunished dives and harsh red cards.
Unfortunately, humans err, and we should be a bit more tolerant of referees in some scenarios. In fact, giving them respite from the inevitable goal-line controversies is about the only reason I can see for backing this move.
Another good argument put to me: Pundits will have to do more to earn their money than simply sit around telling us it's time to bring in technology.
Firstly, lazy analysis shouldn't be a prescribed punditry custom.
Secondly, for the reasons I've outlined, (the Terry Phenomenon if you will, even though that must have been trademarked for several different reasons by now) the media will get a shock and realise they were wrong the whole time. And that will give them plenty more to prattle on about.
Everyone's going to be choking on these damn filthy worms. Leave it well alone.
Follow me on Twitter @barnabydehoedt
This article is
What is the duplicate article?
Why is this article offensive?
Where is this article plagiarized from?
Why is this article poorly edited?