Texas A&M Football: Comparing Each A&M Running Back to an NFL Star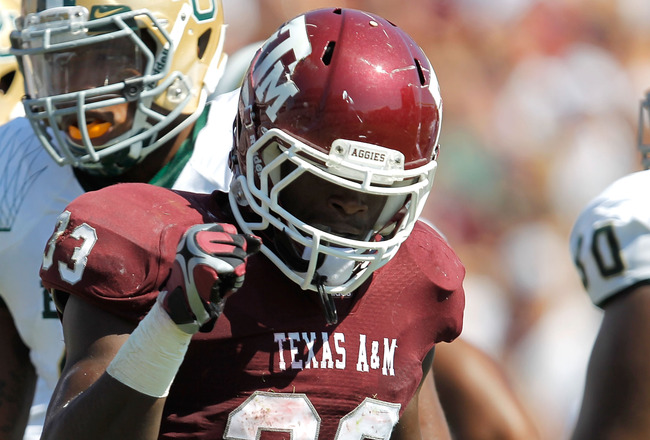 Sarah Glenn/Getty Images
The NFL boasts the elite of the elite. Year after year, the 32 franchises draft the top college prospects into their ranks, hoping their new additions will eventually lead them to postseason success. Texas A&M has been one of the few programs in the nation that produces top talent on a somewhat consistent basis, ranging from Dallas Cowboy standout Dat Nguyen to first rounders Von Miller and Ryan Tannehill.
As the professional league has progressed over the past decade or so, many have begun to notice a shift in the gameplay. Teams are focused around production from their quarterback and wide receivers, leaving the "old-school" rushing attack out to dry.
Basically, it means that while the running game might still remain a powerful weapon commonly used amongst the college ranks, the NFL is shying away from the "grind-it-out" days in favor of excitement and scoring. The halfback position has become increasingly isolated, meaning that only the best of the best will make it to the pros due to the lack of "need" by the franchises for a top-notch running back.
Once again, however, A&M is en route to putting out some of the top talent in the country over the course of the next couple of seasons, particularly at the running back position. We take a look at the Aggies' top three halfbacks and their current NFL counterparts.
Trey Williams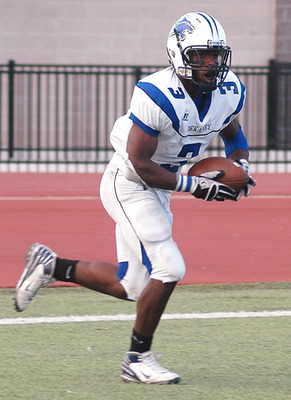 rivals.com
NFL Counterpart: Maurice Jones-Drew, Jacksonville Jaguars
Trey Williams, current Texas state champion out of Dekaney High School, will enter College Station next season to compete under new head coach Kevin Sumlin in the SEC. His 5'8" 175-pound frame is somewhat small, yet the sports world has seen similar-sized running backs succeed at not only the college level, but on the professional stage as well.
The incoming Aggie finished a stunning second best at his position and 25th overall on the recruiting board according to 247Sports. Watching him on film, however, one can draw many similarities from current Jacksonville Jaguar standout Maurice Jones-Drew.
Per Jones-Drew's draft report just before he entered the NFL in 2006, he measured in at 5'7" and 207 pounds, placing him within an inch of Williams and just over 20 pounds. Considering factors such as Williams bulking up during his time at A&M and each putting up 4.40 40-yard dash times at the NFL Combine, both running backs exhibit similar qualities on the field.
Their small frames allow for a low center of gravity, resulting in quicker changes in direction as well as greater balance than other backs. Size at this position is proven to not be a "giant" factor, especially with top halfbacks such as Jones-Drew and Williams still putting up huge stats.
Ben Malena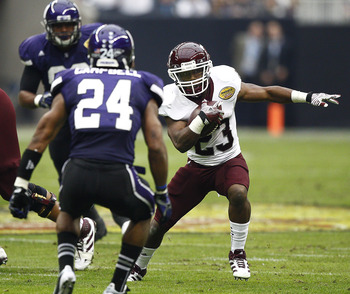 Bob Levey/Getty Images
NFL Counterpart: Ray Rice, Baltimore Ravens
Ben Malena sits as the current No. 2 back behind starter Christine Michael, earning his due with a superb finish in 2011 as well as a stellar spring practice. Standing at 5'9" and weighing in at 202 pounds, Malena has a solid build and will make a top-notch NFL running back with more practice and continual improvement.
The junior stepped in for injured running backs Christine Michael and Cyrus Gray during Texas A&M's season-finale loss to Texas and bowl victory over Northwestern. On film, Malena seemingly fits the mold of current Baltimore Ravens stud Ray Rice, showing quick bursts of speed and power out of the gate.
Per Rice's draft report just before he entered the NFL in 2008, he measured in at 5'8" and 199 pounds, placing him within an inch of Malena and almost at the exact same current weight.
Furthermore, the Rutgers product posted a 4.38 40-yard dash time, just a shade better than Malena's 4.40, giving credence to the fact that the two backs are more similar than one might initially conclude.
Last season, A&M showed how deep their roster was when a running back of Malena's caliber stepped onto the field as a third stringer. With Christine Michael returning from injury, expect to see some more of Malena in the Aggies' inaugural SEC season.
Christine Michael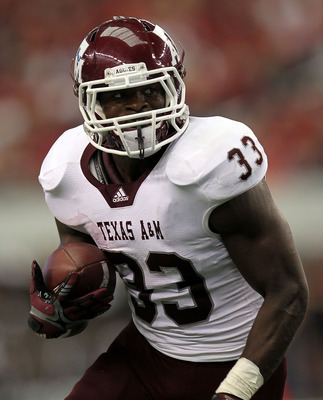 Ronald Martinez/Getty Images
NFL Counterpart: Marshawn Lynch, Seattle Seahawks
Christine Michael has, for all intents and purposes, showed on a consistent basis just how dangerous a running back he can be when his health doesn't get in the way. Coming in at 5'11" and 215 pounds, Michael is built to be an NFL halfback. Many analysts from around the nation rank him among the top five at his position for this year's upcoming draft.
The senior finished a strong third best at his position and 22nd overall on the recruiting board according to Rivals, placing him much within the same ballpark as incoming freshman Trey Williams. Watching the Beaumont product on film, however, one would easily be able to spot similarities between him and current Seattle Seahawks big shot Marshawn Lynch.
Per Lynch's draft report just before he entered the NFL in 2007, he measured in at 5'11" and 215 pounds, eerily matching exactly what Michael is at now. Furthermore, both backs run similar 40-yard dash times with Lynch coming in at 4.42 and Michael finishing at 4.38 for the time being.
Many analysts see Michael as a liability due to two season-ending injuries, but Lynch, who is also considered injury prone due to his hard-nosed running style, has proven that talent and ability outweigh any disadvantages that may come along with him. The Cal product is a threat to almost any defense because of his lack of restraint when carrying the ball.
When Michael was first injured, he bulked up over the summer in an attempt to stave off further hindrances of his progress on the field. The transformation immediately boosted him into a deadly power runner, pummeling over defenders with increased ease.
With the NFL becoming tougher on the defensive side of the ball, quick elusive backs are becoming less useful while halfbacks such as Michael and Lynch are in high demand.
Keep Reading

Texas A&M Football: Like this team?