Stanford Football 2012: 7 Things That Will Be Different from Last Year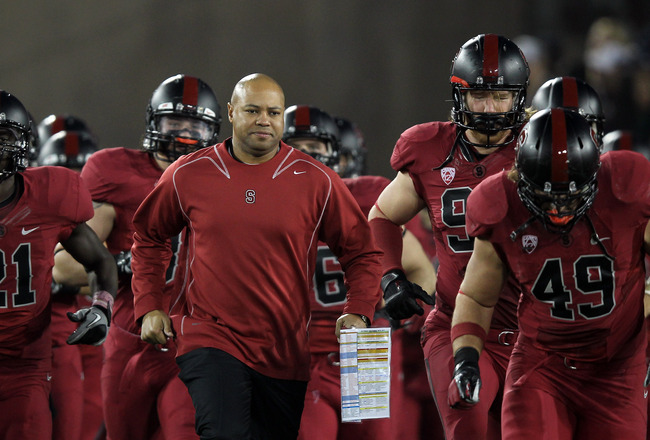 How will David Shaw's Stanford Cardinal fare without star quarterback Andrew Luck in 2012?
Ezra Shaw/Getty Images
How do you replace a quarterback who was the most hyped-up and publicized signal-caller in college football history?
Well, that's a question that Stanford is going to have to figure out how to answer this season, as the Cardinal will begin life without Andrew Luck in 2012.
Luck, along with former head coach Jim Harbaugh, managed to revive a Stanford program that embarrassingly won just one game back in 2006.
Over the last two years, the Cardinal have won a combined 23 games and gone to back-to-back BCS bowl games. However, in order for that same level of success to continue this season, they're going to have to figure out how to adapt to some significant changes this offseason.
There are sure to be plenty of differences between Stanford's 2011 season and the upcoming 2012 campaign, and here's a look at a few of the major differences that will affect the team the most.
1. Andrew Luck Will Not Be Under Center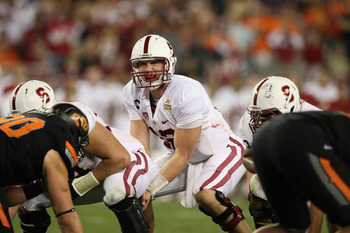 Andrew Luck
Donald Miralle/Getty Images
Stanford's Andrew Luck was arguably the most talented quarterback to come through the college ranks since the turn of the millennium, and there's simply no way to properly replace such a rare and gifted offensive leader.
It's never easy to follow a legend, but that's what Luck's successor, Brett Nottingham, will have to do in 2012.
Nottingham has only thrown eight passes in his college career, but what he lacks in experience he makes up for with his natural ability.
The 6'4'', 216-pound redshirt sophomore is a former 4-star recruit who has all of the physical tools to excel in Stanford's pro-style offensive attack.
It's going to take some time for Nottingham to get his feet under him this season, but he's definitely got the type of talent to really make a name for himself in Palo Alto in 2012.
2. Shayne Skov Will Be the Defensive Leader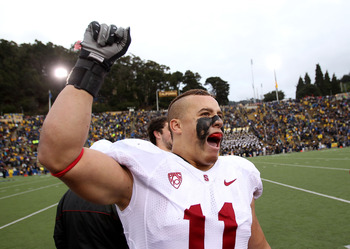 Shayne Skov
Ezra Shaw/Getty Images
Shayne Skov seemed like he was destined to become one of the biggest defensive stars in the Pac-12 last year.
Sadly, a serious knee injury in the team's third game of the season forced Skov to watch from the sideline for the rest of the season.
Although he'll reportedly have to sit out the team's season-opener against San Jose State as punishment for a DUI arrest back in February, Skov will be back and ready to lead the defense again in 2012.
The 6'3''', 251-pound senior was the team's leading tackler back in 2010, racking up 84 tackles and 7.5 sacks.
Skov is one of the most intimidating inside linebackers in all of college football, and his return will definitely give Stanford's defense a big emotional lift this season.
3. David DeCastro and Jonathan Martin Won't Be Up Front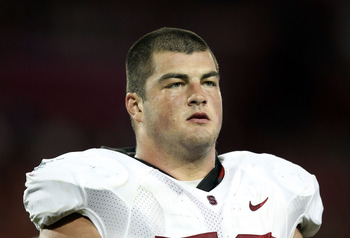 David DeCastro
Christian Petersen/Getty Images
Last year, Stanford's offensive line featured two of the best offensive linemen in the country: guard David DeCastro and tackle Jonathan Martin. However, both underclassmen decided to leave school for the NFL.
Both were selected early in this year's NFL draft, as DeCastro went No. 24 overall and Decastro went No. 42 overall.
DeCastro and Martin will both be tough to replace, but luckily, the Cardinal have stocked up on talented offensive linemen in recent years, so there's plenty of talent waiting in the wings.
Th leaders of this year's line will be the team's three returning starters from 2011, tackle Cameron Fleming, guard David Yankey and center Sam Schwartzstein. Fleming and Yankey will both be candidates for All-Pac-12 honors, and they should both help ease the losses of their two talented former teammates in 2012.
4. The Secondary Lacks Experience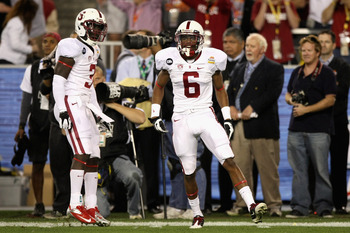 Terrence Brown
Donald Miralle/Getty Images
Stanford's secondary was far from great last season, as the Cardinal ranked 95th in the country in pass defense, letting up an average of 253 yards per game.
That has to be a major concern this season, given the fact that three of the veteran starters from last year's underwhelming unit will have to be replaced for 2012.
Junior cornerback Terrence Brown is the only player in this year's secondary that has considerable starting experience.
Brown will likely be joined in the defensive backfield by safeties Devon Carrington and Ed Reynolds and fellow corner Barry Browning this year.
Losing secondary stalwarts such as Delano Howell, Michael Thomas and Johnson Bademosi certainly hurts, and the new starters are going to have some serious work to do this season if the Cardinal want to improve their pass defense numbers in 2012.
5. There's No Proven No. 1 Wide Receiver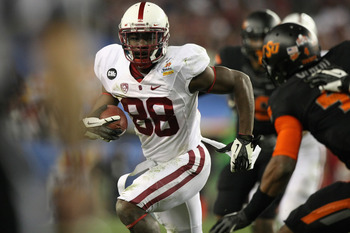 Ty Montgomery
Donald Miralle/Getty Images
Stanford lost its three most productive pass-catchers from 2011 in receivers Griff Whalen and Chris Owusu and tight end Coby Fleener. That means the Cardinal will likely rely on the dangerous tight end duo of Levine Toilolo and Zach Ertz often this season.
Still, it will be interesting to see if any wide receiver steps up and becomes a reliable go-to target for Brett Nottingham.
Sophomore speedster Ty Montgomery and seniors Drew Terrell and Jamal-Rashad Patterson will all be expected to step up and contribute in a bigger way this year, and Montgomery will likely be counted on to be the team's most consistent receiver.
The 6'2'', 210-pound former 4-star recruit has the talent to be a star, but we'll have to see if he can handle a bigger, more pressure-packed role in 2012.
6. Stepfan Taylor Will Be the Offensive MVP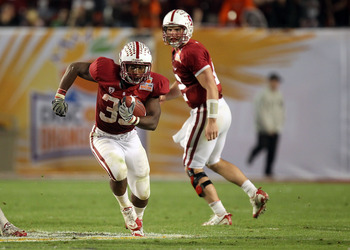 Stepfan Taylor
Streeter Lecka/Getty Images
When you happen to play in the same backfield as college football's biggest star, you're not going to receive the type of attention or publicity you truly deserve, which is exactly what RB Stepfan Taylor found out over the past two years.
Since he's had to play in the shadow of Andrew Luck, Taylor has been one of the most underrated and undervalued running backs in the country since stepping into the starting lineup back in 2010.
During that time, the 5'11'', 208-pound senior has combined to rush for more than 2,400 yards and score 28 total touchdowns.
Taylor is without a doubt one of the most talented running backs in the country, and now that he'll be the focal point of the Stanford offense this season, he should finally receive the national recognition he deserves in 2012.
7. Expectations Will Be Lower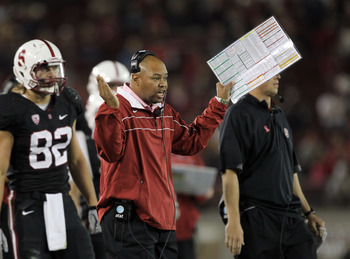 David Shaw
Ezra Shaw/Getty Images
Last summer, Stanford was being talked about as not just a legitimate contender to win the Pac-12, but a legitimate contender to win the BCS title as well.
The Cardinal started off the season ranked in the top 10 with the goal of winning a conference championship and a national title, but they managed to accomplish neither of those feats, even though they did finish with a very respectable 11-2 record.
Without Andrew Luck leading the way, Stanford will not receive the same type of national publicity or preseason praise that it did last season, but that may not necessarily be a bad thing since there will now be less pressure to deal with.
David Shaw's squad will go into the season expected to finish behind defending champion Oregon in the Pac-12 North division, but this is still a team that could be capable of competing for a conference crown.
If Stanford gets solid quarterback play and if the secondary turns out to at least be serviceable, all the other pieces are in place for a run at the Pac-12 championship game in 2012.
Keep Reading

Stanford Football: Like this team?