Why Josh Freeman Can Be an Elite Quarterback in 2012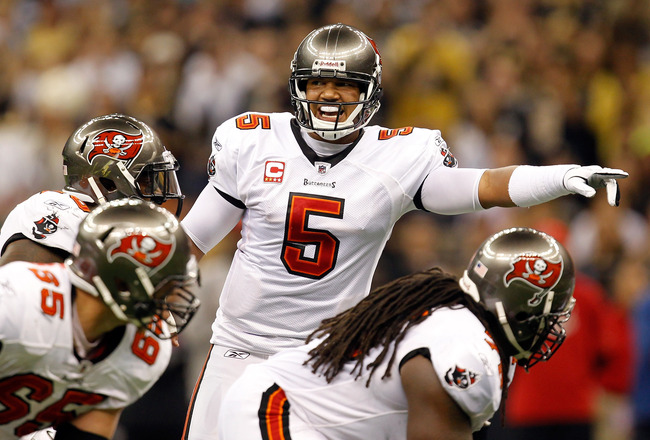 Streeter Lecka/Getty Images
The title says it all.
Well, not really.
At this point, no one really knows how Josh Freeman will play in 2012.
The quarterback himself probably doesn't know.
2011 was not the best year of the Tampa Bay Buccaneer's football career. He threw 22 interceptions to 16 touchdowns. He averaged 6.52 yards per attempt. At times, it seemed like he went colorblind, throwing straight into the arms of the defense.
But anybody who has already moved on from the Josh Freeman era is foolish. These people are completely ignoring the potential and promise "Free" displayed in 2010, his second NFL season.
He led his team to a 10-6 record, threw 25 touchdowns, accumulated over 3800 yards and let defenses come up with only SIX interceptions.
The elite potential is definitely there.
But what factors can unlock it?
Let's take a look.
He Has Lost Weight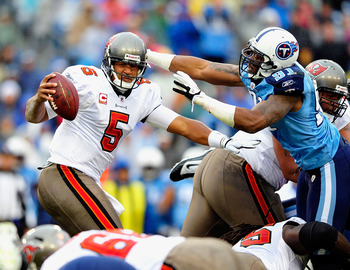 Grant Halverson/Getty Images
Okay, this one speaks more to Freeman's dedication to improving than to actual improvement.
Mark Dominik opened up to NFL.com about Free's weight loss. The quarterback lost roughly 20 pounds by changing his diet in order to become more mobile, to be able to bounce more easily in the pocket and to more easily scramble out of it.
He has exchanged the late-night Taco Bell for celery sticks and carrots.
For sake of improving his football skills, he has forsaken his taste buds.
What a hero.
In truth, the weight loss will have a limited effect on his gameplay.
Freeman himself knows this:
You do all this workout stuff, and I'm thinking I'm going to be lighter and flying around, but I've never really been that good of a runner. And honestly, I was heavier in 2010 than I was last year, and I was playing better then. (NFL.com)
But what the weight loss does mean is that Freeman is dedicated to rebounding, which is the first step to an actual rebound.
He Has New Weapons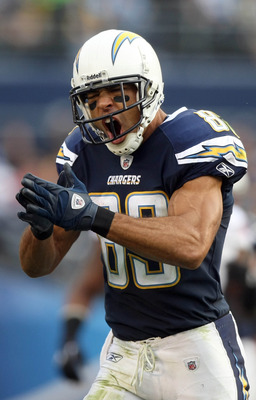 Donald Miralle/Getty Images
Vincent Jackson.
Carl Nicks.
Doug Martin.
What do these three men have in common?
They became full-fledged members of the Tampa Bay Buccaneers during the offseason.
Each one of them will serve a distinct role in Josh Freeman's football life.
Nicks will be in charge of keeping him off the grass, protecting his left side along with Donald Penn. This shouldn't be too much of a challenge for the 29-year old who is frequently cited as one of the best, if not the best, guards in the NFL.
Jackson is tasked with catching footballs and running routes. As a Charger, Jackson was famous for his grand achievements in the field of wide receiving. ESPN analyst KC Joyner ranked Jackson as the best matchup-buster in the NFL, landing an average of 11.5 yard a target when covered by top-flight defensive backs.
Martin has the duty of providing Freeman with a stable run game to fall back on. The former Boise State Bronco was often lauded as the second-best running back in the 2012 Draft and was a steal in the late-first round. Schiano must be more than pleased that he grabbed the Muscle Hamster, a back who bears an uncanny resemblance (in terms of style of play) to one of Schiano's former students, Ray Rice.
These three additions will give Freeman something he so sorely lacked in 2011: help.
The Team Will Be Running the Ball More and Passing Less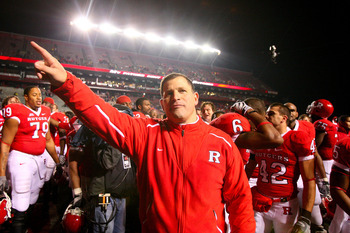 Jim McIsaac/Getty Images
Yes, passing less will make Freeman more elite.
Just take 2011 into consideration.
The Bucs opened last season against the Lions with a clear plan in mind. They were going to attack the skies and unleash of fiery rain of touchdowns and big gains. This meant running the ball only 16 times during the course of four quarters.
The strategy had disastrous effects. The offense struggled to get into a rhythm, only managing 266 passing yards despite playing one of the NFL's worst secondaries. Freeman's 43 throws led nowhere. He barely averaged 6 yards an attempt, and he made some very inaccurate throws. The offense put just 13 points on the scoreboard.
I feel that the Week One opener fully represents everything that was wrong with the Buccaneer offense in 2011.
But with Greg Schiano comes a new offensive scheme.
Under this coach, the Bucs will run the ball. They will run it hard. They will run it well.
This adds another dimension to the offense, one which Freeman had to go without last season. Defenses will have to prepare for the rush, rendering them more susceptible to the pass.
Nickels and dimes won't be enough to stop these Bucs.
Better Defense=Less Pressure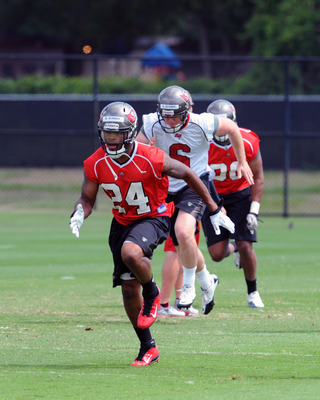 Al Messerschmidt/Getty Images
Part of why the Bucs had to pass so much last year was their awful defense.
Although the offensive system naturally relied on the pass, the run was virtually ruled out as an option as Tampa Bay repeatedly found itself down by double-digit deficits. Any balance the offense might have had was destroyed as soon as the team fell behind.
Greg Schiano's defense will be different.
It will be physical, well-disciplined and will not give up an average of 31 points a game.
A fruitful offseason allowed the Bucs to add to some major firepower to the D.
Top 10 draft pick Mark Barron, a stud from Alabama, will start at strong safety.
Second rounder Lavonte David will play weak outside linebacker.
Free agent signee Eric Wright lines up opposite Aqib Talib at corner.
Veteran Ronde Barber has moved to free safety.
These four personnel changes, however small they seem, will drastically improve the overall quality of the defense.
And if defensive linemen like Gerald McCoy can stay healthy, the D will improve exponentially.
Mike Sullivan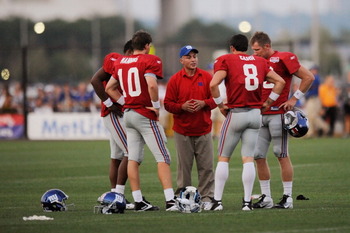 Patrick McDermott/Getty Images
Enter the man who made Eli elite.
Sullivan was a wide receivers coach with the Giants before switching to quarterbacks in 2010. In two years with the younger Manning, Eli added just under 9000 passing yards, 60 touchdowns and almost 700 completions to his stat sheet. Before Sullivan's coaching, he had only one 4000 yard season.
It's needless to say that without Sullivan, no one would be putting Eli in the upper tier of quarterbacks.
So you can imagine Freeman's excitement when Sullivan signed on as the Tampa Bay offensive coordinator.
Sullivan works wonders with YPA and total passing yardage, two of Freeman's weakest areas, statistically speaking. He does not necessarily help with interceptions as Eli threw 41 under his tutelage, but Freeman has shown in the past that he can avoid mistakes, so the turnovers should not be so much of an issue.
With a Super Bowl champion as an offensive coordinator, there is no reason why the new management can't bring Freeman to the upper echelons of quarterbacking.
To Sum It All Up...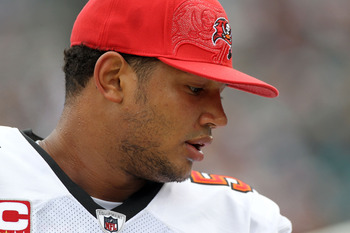 Sam Greenwood/Getty Images
Josh Freeman got so many presents this offseason; I don't see him ever getting excited about his birthday again.
A new offensive system designed to take the pressure off of him along with new personnel to make his job easier should make him the happiest quarterback in the league.
But the real reason why Freeman can become elite is become he has the talent to do so.
No matter how much talent they are surrounded by, no matter how great the coaches are, some players just don't have it in them to become elite.
I fully believe Freeman has the natural ability to become the best quarterback in the NFL, and I believe this could happen in 2012.
His main issue in 2011 was that he put too much pressure upon himself to be the best. He forced plays and made poor decisions because he felt that it was his responsibility to do the impossible. It was his 2010 success that led him to this line of thinking, as it would be a natural progression from stud sophomore to elite quarterback.
Now the weight of a franchise has been lifted off Freeman's shoulders.
He doesn't have to be perfect anymore.
And that's why I think he will be elite.
Keep Reading

Tampa Bay Buccaneers: Like this team?