Los Angeles Dodgers: Comparing Yasiel Puig to Yoenis Cespedes and Jorge Soler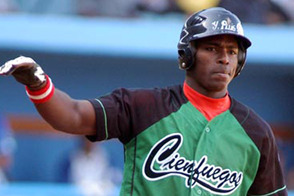 There are a few things more entertaining than watching a major league fanbase react to the signing of an unknown Cuban defector, so as news broke that the Los Angeles Dodgers had signed Yasiel Puig, things got comical.
As excitement poured over the Los Angeles area, the emotional uprising slowly morphed into one very simple question: "Wait....who?"
While winning a bidding war for any player is exciting, especially when your daily lineup starts to look like this, the reality is that the number of people alive who can put the signing into context is probably less than five.
So now, a couple weeks since the excitement has settled down, it's time to look back and figure out exactly what it is the Dodgers got, especially compared to the two other Cuban signings this season.
For starters, let's look at what each of the three players was deemed to be worth:
Yasiel Puig (age: 21): Seven years, $42 million
Yoenis Cespedes (age: 26): Four years, $36 million
Jorge Soler (age: 20): Nine years, $30 million
At first glance it's interesting to note that Puig comes down in the middle of the other two players in all facets: age, contract length and per-year salary. All of this, however, still leaves us without any reference as to what the Dodgers can expect from their new outfielder.
While I'm far from an expert on obscure Cuban baseball leagues, I've left it to the experts to shed some light on each of the three players.
Did the Dodgers overpay for Puig?
For Yoenis Cespedes, an article in the New York Times previewing his arrival in the free agent pool had this to say:
All agree he can run, field, throw, hit for power and perhaps hit for average over time. Some assign higher grades in certain categories...One general manager referred to Cespedes's five tools and said, "All of them are off the charts."
Cespedes also had the benefit of playing with Cuba in the World Baseball Classic, where he hit .458 in six games as their starting center fielder.
Next up on the block was Jorge Soler, who was described by Kevin Goldstein of Baseball Prospectus in this tweet:
Jorge Soler is a RF profile guy. BIG power, big arm, ok fielder, holes in swing. He's not historic and he's seen as ready for Low-A.
Finally, here was the scouting report for Puig, from the Los Angeles Times conversation with scouting director Logan White:
Scouting director Logan White describe Puig as a five-tool player with "big-time power."

"He reminds me a lot of Sammy Sosa," White said. 'We think he has a chance to be an All-Star-caliber player."
So as Puig hit the market, general managers were left in a tough spot. On one hand, Puig was the third Cuban outfielder on the market in less than three months, and on the other hand, the similarities stopped there.
With Cespedes bound for a quick jump to the big leagues and Soler a few years away, the talk about Puig was that he fell somewhere in between. Despite this fact, however, the comparisons between the three were natural.
In the end, it's still unclear exactly what the Dodgers got. One thing that is clear, however, is that looking at Cespedes and Soler for comparisons is a bit misguided.
The good news is that the Dodgers brass is excited about the signing, and the better news is that the precedent has been set for what kind of spending to expect from this ownership group.
This article is
What is the duplicate article?
Why is this article offensive?
Where is this article plagiarized from?
Why is this article poorly edited?

Los Angeles Dodgers: Like this team?