MLB Trade Speculation: 5 Buyer-Buyer Deals That Would Make Sense for Both Sides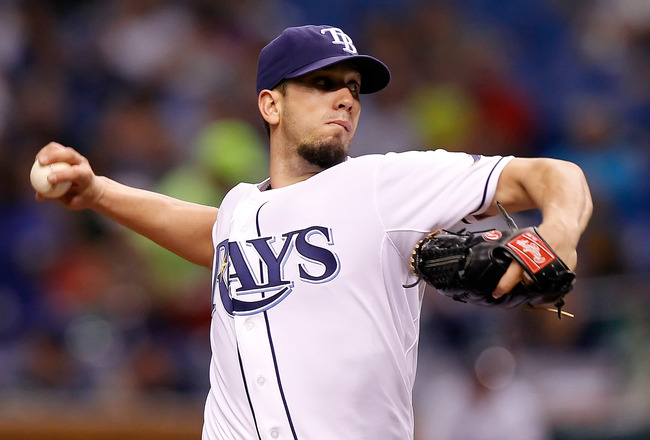 J. Meric/Getty Images
When it comes to the MLB trade deadline, teams generally have to decide if they will become buyers or sellers before the July 31 deadline rolls around.
Contending teams look to add an impact player by trading off some of their top prospects, while struggling teams look to sell off their valuable veteran assets for pieces to help them rebuild.
That said, occasionally two contenders can work out a win-win deal that improves both teams chances of making the playoffs, and while it's rare it does happen.
So here is a look at five buyer-buyer trades that would make sense for both sides. These are purely speculative on my part, but by no means out of the realm of possibility.
Pirates SP Jeff Locke for Blue Jays SS Adeiny Hechavarria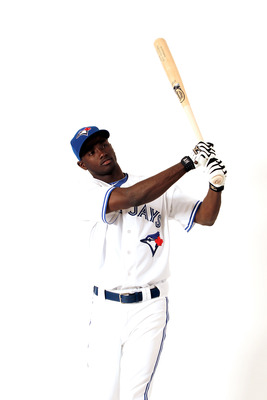 Jonathan Ferrey/Getty Images
Pirates: SS Adeiny Hechavarria
Triple-A stats: 317 BA, 6 HR, 57 RBI, 60 R
The Pirates have been in search of a reliable shortstop since the days of Jack Wilson, and their signing of Clint Barmes (.204/.229/.304) to a two-year, $10.5 million contract has been a massive flop.
Their pitching has been terrific all season, but they are also desperately lacking in offense across the board outside of star outfielder Andrew McCutchen.
The 23-year-old Hechavarria has hit well this year at Triple-A, and he would certainly give the Pirates an upgrade over Barmes.
Blue Jays: SP Jeff Locke
Triple-A stats: 7-4, 2.92 ERA, 84 Ks, 95.2 IP
Ranked as the Pirates No. 10 prospect entering the season, the 24-year-old Locke thrived in his first full season at Triple-A and would be a big addition to a Blue Jays' starting rotation which has been ravaged by injuries.
While Locke looks to have a bright future, he ranks as a second-tier pitching prospect for the Pirates and with guys like Gerrit Cole and Jameson Taillon in the organization, they can afford to move him.
Mets LF Scott Hairston for Indians RP Joe Smith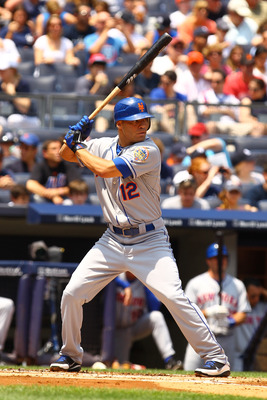 Al Bello/Getty Images
Mets: RP Joe Smith
The Mets biggest need at the deadline is to shore up what has been a sub-par bullpen, and while Smith would not be a replacement at closer, he would give the team a terrific setup man.
Hairston has produced (11 HR, 33 RBI in 173 AB), but he is currently the team's fourth outfielder behind Kirk Nieuwenhuis, Andres Torres and Lucas Duda.
It would likely also take a prospect or two along with Hairston to get Smith, who is under contract through next season and has been consistently good since coming into the league in 2007, but it'd be worth it for the Mets.
Indians: LF Scott Hairston, prospects
While giving up Smith would be hard, getting Hairston would solve a pair of problems for the Indians and make the team better overall.
First off, he would serve as a replacement in left field for Johnny Damon (.216 BA) who has struggled all season and would be better served in a utility role.
More importantly though, he'd give the Indians a right-handed bat. The team's current lineup features seven left-handed hitters and a pair of switch hitters. And Hairston is not only a right-handed bat, but one who absolutely crushes left-handed pitching with a .306/.340/.622 slash line on the season against southpaws.
Red Sox LF Scott Podsednik for Reds SP Kyle Lotzkar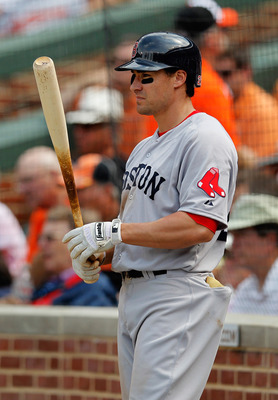 Rob Carr/Getty Images
Red Sox: SP Kyle Lotzkar
A first-round pick by the Reds back in 2007 out of high school, Lotzkar had Tommy John surgery back in 2009 and it has been a long road back for him since.
He spent all of last season in Single-A at the age of 21, and had a 4.32 ERA over 14 starts with 72 strikeouts in 66.2 innings of work.
After dominating Single-A hitters through five starts this season, he was bumped up to Double-A, where he has a 4.72 ERA with 68 strikeouts in 55.1 innings. It's been a process, but Lotzkar still has the potential to be great and would give a Red Sox system that is somewhat thin on pitching a nice, high-upside guy.
Reds: LF Scott Podsednik
The Reds' biggest issue this season has been getting people on base ahead of the likes of Joey Votto, Brandon Phillips and Jay Bruce.
Leadoff hitter Zack Cozart (.250/.291/.401) and No. 2 hitter Drew Stubbs (.214/.289/.349) are solid young players, but both have an OBP under .300 and that simply doesn't cut it at the top of the order.
Podsednik has a proven track record as a table-setter, and hit .387/.409/.484 with the Red Sox through 62 at bats before being sidelined with a groin injury.
With Jacoby Ellsbury and Carl Crawford on their way back, the Red Sox have no need for Posednik is the lineup. Provided he does not suffer a setback as he finishes up his rehab assignment, he should be someone the Reds look to add.
Diamondbacks SP Joe Saunders for Orioles 3B Wilson Betemit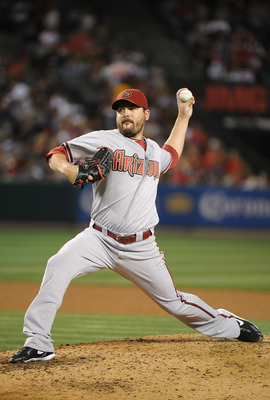 Lisa Blumenfeld/Getty Images
Diamondbacks: 3B Wilson Betemit
It has been no secret that the Diamondbacks are in need of an upgrade at third base, as last year's breakout fan favorite Ryan Roberts (.240 BA, 6 HR, 32 RBI) has not flashed the power that offset his batting average last season.
Betemit (.261 BA, 10 HR, 31 RBI) is having a very nice season with the Orioles, and has the versatility to play not just third base but across the infield.
With the call-up of Trevor Bauer and the return of Josh Collmenter to the rotation, the Diamondbacks have six starting pitching candidates once Saunders returns from a strained shoulder. Odds are he could be the odd man out.
Orioles: SP Joe Saunders
Outside of Jason Hammel and Wei-Yin Chen, the Orioles have struggled to find consistency in their starting rotation this season. They won't mortgage their future, but they will certainly be looking for a bargain pickup to fill out their rotation at the deadline.
Saunders (13 GS, 4-5, 3.44 ERA) has been solid this season, and would give the young Orioles staff a veteran with a solid track record.
Losing Betemit's bat would not be a huge blow, as the team could shift Mark Reynolds to third base and move Chris Davis from right field to first base once Nick Markakis returns from injury. It's a defensive downgrade, but would still make for a serviceable lineup.
Rays SP James Shields for Dodgers P Allen Webster, C Tim Federoicz...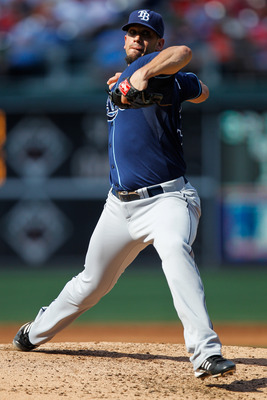 Brian Garfinkel/Getty Images
Rays: SP Allen Webster, C Tim Federowicz, 2B/OF Alex Castellanos
Webster would be the key prospect in this trade from a value standpoint, as he was ranked No. 95 on the Baseball America Top 100 entering the season and profiles as a future middle-of-the-rotation starter at worst.
However, getting Federowicz (.289 BA, 7 HR, 43 RBI at Triple-A) would give the Rays a catcher that brings something to the table offensively and is also a plus-defensive receiver. He'd be an immediate upgrade over the trio of Jose Molina, Chris Gimenez and Jose Lobaton.
Castellanos would give the team some much-needed middle infield depth and depending on where Ben Zobrist is playing, he could slide in as the starting second baseman.
Dodgers: SP James Shields
The Dodgers will be looking to make some noise at the deadline, and after the Rays shopped Shields this offseason there is certainly a chance he could be available again for the right price.
He would give the team another reliable veteran and slide in behind Clayton Kershaw as the team's No. 2 starter. Aaron Harang and Chris Capuano have been better than anyone could have hoped, but the team would be wise to prepare for at least some regression in the second half out of those two.
Giving up someone like Webster hurts, but it's likely a price they'd be willing to pay to get Shields.
Keep Reading