Miami Dolphins: The Biggest Media Misconceptions About the Team
Joel Auerbach/Getty Images
The Miami Dolphins have received their fair share of media attention this offseason.
After whiffing on Jeff Fisher, Peyton Manning and Matt Flynn, the organization was relentlessly bashed by the national media. The Dolphins received even more attention by hiring Joe Philbin, retaining Jeff Ireland, drafting Ryan Tannehill, agreeing to appear on Hard Knocks and signing Chad Ochocinco.
(Exhale.)
Such an influx of coverage is bound to result in misconceptions.
National media members were assigned to comment on the Dolphins throughout the team's tumultuous offseason. Many of these commentators don't know Miami's roster or blueprint like the local media do, but their work receives far more publicity. So, even if it's a little bit inaccurate or farsighted, misconceptions spread.
Hopefully, this will help dispel some of those misleading notions.
The Dolphins Have No Chance of Making the Playoffs in 2012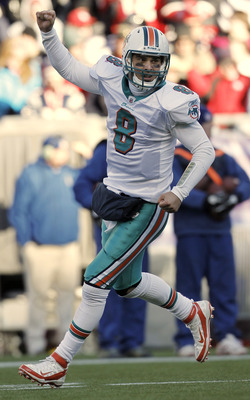 Winslow Townson/Getty Images
After finishing 6-10 in 2011, the Dolphins overhauled their coaching staff, traded their best player and used the eighth overall pick on a quarterback.
In other words, they started rebuilding.
But that does not mean this team won't compete in 2012.
Just think back to 2008. Following a historically abhorrent 1-15 season, the Dolphins underwent a facelift. Wayne Huizenga reeled in the Big Tuna who overhauled the entire front office, coaching staff and roster. The 'Fins defied all odds by going 11-5 and winning the AFC East.
If that team can go from worst to first, then this one can definitely compete for a playoff berth.
Miami will boast a top-flight run defense, and it'll have stable quarterback play from David Garrard or Matt Moore. Beyond that, the Dolphins could have a great rushing attack (depends on the offensive line's play), and they could have a suffocating secondary (depends on the safeties' play).
Don't count on Miami making a playoff run in 2012, but don't count them out, either.
The Dolphins Are Years Away from Competing for a Super Bowl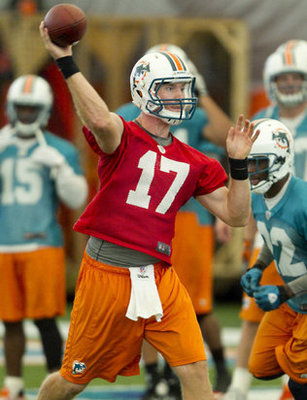 Photo via MiamiHerald.com
Although the Dolphins are capable of making the playoffs in 2012, they probably won't.
This is very familiar territory for the franchise and their fans. The Dolphins have been on the fringe for several years, with each new coaching regime and quarterback reviving hope that eventually fizzles.
Now that Miami is rebuilding once again, nobody—the media in particular—views it as a threat.
That shouldn't be the case.
If—and it's a big "if"—Ryan Tannehill pans out, then the Dolphins could easily emerge as perennial contenders within the next 2-3 years. With some upgrades at offensive guard, wide receiver and safety, it'd be tough to find holes on Miami's roster.
Miami's Wide Receiver Corps Is Terrible Without Brandon Marshall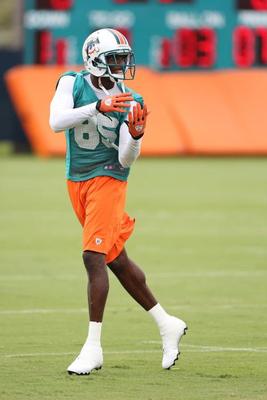 Photo via MiamiHerald.com
Once the Dolphins traded Brandon Marshall, their wide receiver corps suffered a severe downgrade. Marshall never met expectations in Miami, but he was by far the team's best wideout.
Despite public perception, the Dolphins still have a passable corps of wide receivers.
Chad Ochocinco is a wild card, but he has some gas left in the tank; Davone Bess is sure-handed, reliable and ready to make a leap this season; Brian Hartline has made the most of limited opportunities and could emerge as a 50-60-catch player; and Legedu Naanee has wowed in practice.
The Dolphins wide receiver corps is nothing special, but it is not dreadful, either. It's mediocre, and it's good enough to keep the team competitive, which is all that ultimately matters.
Ryan Tannehill Ever Had a Shot at the Starting Quaterback Job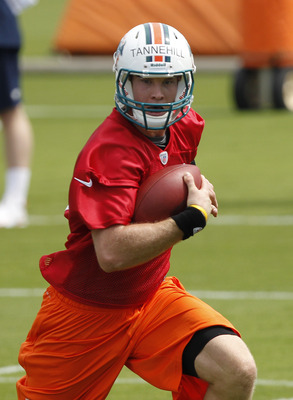 Joel Auerbach/Getty Images
The NFL media were inexplicably surprised when the Palm Beach Post reported that Ryan Tannehill is the Dolphins' No. 3 quarterback and will remain so until he curbs his mistakes.
Despite all of the excitement Tannehill generated with his mastery of the playbook and professional poise, he never had a chance at winning the starting quarterback job.
Tannehill is extraordinarily raw, and his poor practice play reflects his inexperience. Remember that he only started 20 games at Texas A&M, and he still needs a year or two to hone his skills and adapt to the NFL.
"Hard Knocks" Will Be a Distraction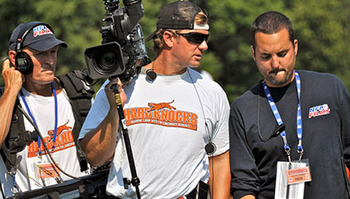 Photo via Bengals.com
When the Dolphins agreed to become HBO's Hard Knocks team, there was outcry from players, and understandably so. Just imagine if there were cameras following your every move at the office. It'd get frustrating, especially if your job is as physically, mentally and emotionally straining as a professional football player's is.
Similarly, some media members criticized the Dolphins for embracing a major distraction.
But don't worry, Dolphins fans—Hard Knocks won't be a "distraction."
First of all, Herm Edwards, who was featured on the show in 2007, said it's "harmless" and believes HBO's army of cameras inspires players to practice harder.
Second, three of the six teams featured on Hard Knocks have made the playoffs, so there's no credence to any argument that the show undermines its subject.
And, finally, no team could be more prepared for a reality show than the Miami Dolphins. Both Reggie Bush and Chad Ochocinco have plenty of experience with reality TV. Plus, Ochocinco, Anthony Fasano, Jamaal Westerman and defensive coordinator Kevin Coyle have all experienced Hard Knocks first-hand.
There's a Chance Dwayne Bowe Comes to the Dolphins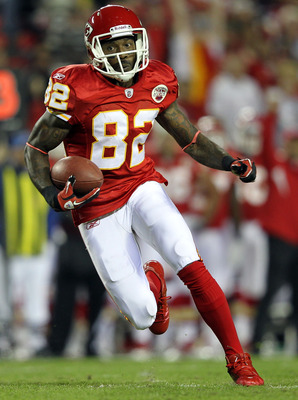 Jamie Squire/Getty Images
Vontae Davis, Chad Ochocinco and Chiefs wide receiver Dwayne Bowe engaged in some interesting chatter on Twitter last weekend. Davis tweeted at Ochocinco and Bowe multiple times, suggesting Bowe come to the Dolphins.
Bowe replied: "#omw" (on my way).
This conversation sparked conversation around the Internet that Bowe could come to Miami.
There's no way that's happening—not this year, anyway.
Kansas City slapped the franchise tag on Bowe in February, so he's under contract for 2012. Moreover, the Dolphins are strapped for cash, and they have to re-sign Jake Long. They're not going to use the rest of their cap space to sign an erratic wide receiver instead of a franchise left tackle.
Keep Reading

Miami Dolphins: Like this team?