Who Will Pilot The 2009 New York Jets?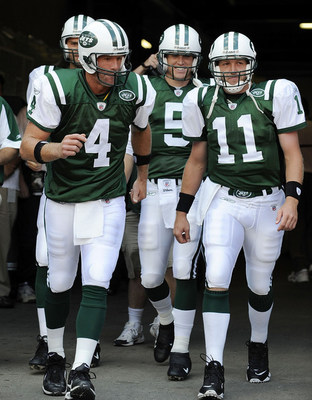 What's a plane without a pilot? A troublesome situation, and it's no different for a football team without a quarterback.
It must be nice to be a Colts fan or a Steelers fan or even a Giants fan, knowing the most important piece of their football equation is a constant. They know that Peyton, Ben, and Eli will be taking the snaps under center next fall, as they have been for the past several years, and they feel pretty good about that.
Having a workhorse running back, a play-making wide receiver, a monstrous defensive end, or a hard-hitting safety are all good and nice, but if there isn't a formidable quarterback lining up under center on Sunday, a team could be in for a very long day.
As of Feb. 15, 2009, the New York Jets find themselves in such a predicament.
The Brett Favre Era came and went like a flash, almost as if it was a dream.
But Gang Green must move on and find a long term solution to pilot their fleet to the Promised Land.
There are several directions Rex Ryan and the front office will go here, but my gut feeling tells me the Jets' next starting quarterback is already on the roster.
However, the possibilities remain that the Jets may look to sign free agent, make a trade, or draft a rookie.
Here are the possibilities:
Kellen Clemens (6'2" 223—4th NFL Season)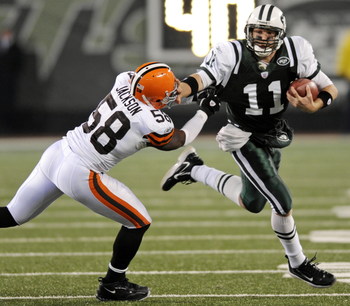 Kellen Clemens is now the most senior quarterback on the Jets roster, both in age and experience.
A second-round pick in the 2006 NFL draft, the Jets liked Clemens' strong arm and ability to move out of the pocket and improvise when necessary. He saw a few snaps in his rookie season.
In 2007, Chad Pennington was released from his starting role before Week 2, and Clemens earned his first NFL start against the Baltimore Ravens (how ironic).
Playing at M&T Bank Stadium in Baltimore, one of the more hostile environments in the NFL, Clemens struggled in his first three quarters of action. However, down 20-3, he orchestrated a fourth quarter comeback and threw what would have been a game-tying touchdown with a minute left.
To his and every Jets fan's dismay, the pass was dropped and tipped up for an easy interception by Ray Lewis.
Although the Jets lost the game, Clemens displayed his strong arm and his ability to come up in the clutch.
The Jets only won four games in 2007, but Kellen Clemens was the starting quarterback for 3 of them. He went 3-5 as the starter, but half of his starts came against playoff teams: Washington (Loss), Pittsburgh (Win), Dallas (Loss), and New England (Loss).
Many Clemens critics highlight his less than impressive 5 to 10 touchdown to interception ratio and his 60.9 passer rating in 2007, but I encourage them to take a step back and look at his work environment (e.g. the offensive line).
The Jets' 2007 offensive line was one of the NFL's worst, giving up 53 sacks—fourth most in the league. With that sort of protection (or lack thereof), even Peyton Manning would be hard-pressed to make accurate throws.
Brett Ratliff (6'4", 235lbs—3rd NFL Season)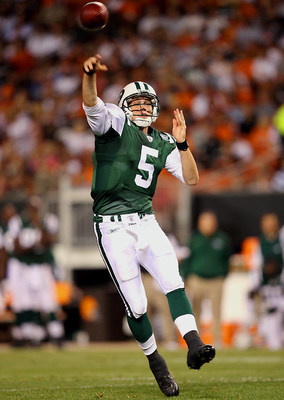 Brett Ratliff was signed by the Jets in 2007 as an undrafted free agent out of the University of Utah and spent the 2007 season as a member of the practice squad.
After being accustomed to running the spread offense employed by Utah, Ratliff faced a huge challenge in learning and running a pro-style offense with the Jets. However, Ratliff started to make a name for himself during the Jets' 2008 preseason.
Ratliff, also a strong-armed quarterback, showcased his shoulder rocket by connecting with WR David Clowney for a 71-yard touchdown on his first NFL play. Later in that game, which was against the Cleveland Browns, Ratliff hooked up with Clowney again for a 70-yarder.
Wait, Brett who?
By the end of the preseason, Brett Ratliff was the NFL's most efficient passer, chiming in with a 119.6 passer rating.
This, of course, had Jets fans calling for his promotion to the number two slot behind that OTHER Brett guy.
However, Ratliff remained as the Jets' number three option behind Favre and Clemens and did not see any time during the 2008 regular season.
Brett Ratliff certainly looks the part and has made the most of his on-field time, but a lack of experience leaves him a few steps behind Clemens in the quarterback ranks.
Erik Ainge (6'5", 221lbs—2nd NFL Season)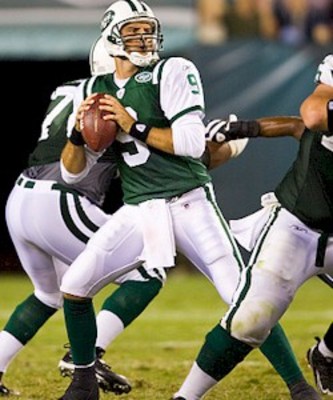 The Jets drafted Erik Ainge in the fifth round of the 2008 NFL draft. The former Tennessee Volunteer began his collegiate career with high expectations after breaking Peyton Manning's rookie school record of 14 TD passes by throwing 17.
By the end of his senior year, he finished third in Tennessee history in passing yards, trailing only Peyton Manning and Casey Clausen. The Jets were surprised to see him drop to the fifth round and gladly snatched the prominent passer up.
What the Jets liked about Ainge was his size, accuracy, leadership and passion.
Unfortunately he suffered a foot injury in October that forced the Jets to place him on Injured Reserve. Later that fall, he was suspended for violating the NFL's substance abuse policy. Needless to say, Ainge was not off to a great start with his new team.
Coming off his injury, seeing limited repetitions, and dealing with substance abuse will not bode well for Erik Ainge and his opportunity to claim the starting job in 2009.
Brad Smith (6'2", 210lbs—4th NFL Season)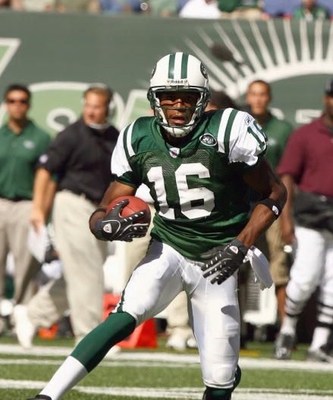 Brad Smith, a product of the 2006 NFL Draft along with Kellen Clemens, was drafted as a wide receiver/running back/quarterback hybrid.
During his college years at Missouri, Smith was considered a "dual threat" quarterback with the ability to throw or run on any given play—a dangerous possibility for any defense.
In fact, he became the first player in NCAA history to throw for 8,000 yards and run for 4,000, a remarkable feat.
Since joining the New York Jets, Smith has done a little bit of everything. However, he's been used as a wide receiver or running back more so than a quarterback.
Smith's ability to throw, catch and run gives him the versatility to be used on any given play, but the Jets have opted to call Smith's number more on special teams plays than on offense.
Given the NFL's experimentation with the "Wildcat" offense this past year, Smith may find himself a part of some "trick plays" if Brian Schottenheimer calls for them.
However, given his broad skill set, Brad Smith will likely retain his role as a "trick play" type player rather than an every-down starter.
Free Agents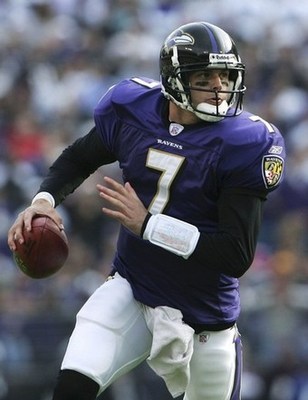 The Jets may opt to sign a veteran free agent in the offseason as an insurance policy for Kellen Clemens and Brett Ratliff, given their limited experience. However, the Jets' front office has not expressed interest in pursuing a player to join the team and compete for the starting role.
That being said, the following players may receive a glance from the Jets this offseason:
Byron Leftwich
Leftwich spent 2008 as Ben Rothlisberger's backup in Pittsburgh and will likely seek an opportunity to become a starter. He was a first-round pick for Jacksonville and saw some early success there, but has been largely inconsistent in his years thereafter.
Jeff Garcia
Garcia will be 39 years old later this year and has been somewhat kicked around the NFL since his early years with San Francisco. He did have a solid campaign with Tampa Bay in 2008, finishing the year with a 90.2 passer rating in 12 games. Garcia could be nice as a third stringer, but nothing more.
Kyle Boller
Boller, a former first round pick of the Ravens, has never quite lived up to the expectations placed upon him. In addition, he's coming back from shoulder surgery that forced him to miss the entire 2008 season. Boller could very well receive some attention from the Jets, especially given Rex Ryan's knowledge of Boller, but it doesn't appear likely he would compete for a starting job.
Kerry Collins and Kurt Warner
I just don't see either of these two putting on the green and white in 2009. Warner will command a salary comparable to Favre's $13 million (which the Jets are ecstatic to have off their books), and Collins just wouldn't make sense. His arm is tired and he's immobile. This is not what the Jets need.
Trades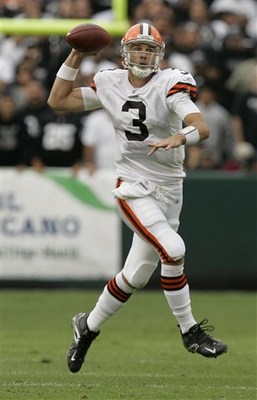 The only legitimate trade scenario I see happening could be with the Cleveland Browns and Derek Anderson. It appears Cleveland has begun the Brady Quinn Era and closed the Derek Andersen chapter, so Andersen will likely be available.
Lest we forget, Derek Andersen was a Pro-Bowl quarterback in 2007, and he is only 25. He's big, has a strong arm, and has NFL experience. If the Jets were to acquire him, the starting job could be his to lose.
It would be interesting to see if ex-Jets head coach, now Browns head coach, Eric Mangini, would even enter into a conversation with his former team regarding a Derek Andersen trade.
Either way, the Browns would likely demand valuable draft picks in return for Andersen, and the Jets are not in a position to give away opportunities to draft young talent for an already aging team.
Draft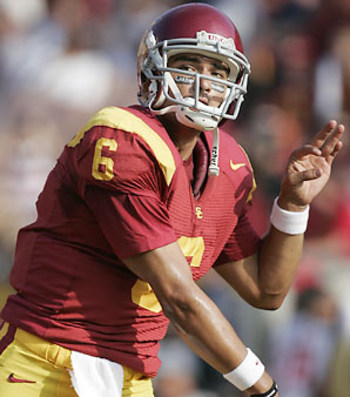 The Jets have the 17th pick in this year's draft. There are two marquee quarterbacks that are projected to be selected in Round 1: Matthew Stafford (Georgia) and Mark Sanchez (USC).
Out of the entire crop of quarterbacks available in the draft, Stafford and Sanchez appear to be the most likely to have an immediate impact on a team, so long as that team is in desperate need of a starting quarterback.
This, of course, is based entirely on speculation and NFL draft analysts' predictions, so there may be other quarterbacks with comparable abilities to Stafford and Sanchez.
That being said, if one of these two are still on the board come pick 17, it may be worthwhile for the Jets to take one. However, more likely than not they will be long gone by the time the Jets are on the clock.
Not to mention, the Jets have other glaring position needs that a first-round pick would be better suited for, like a defensive back or defensive end.
In addition to that, the Jets have two quarterbacks who have had years to become familiar with the Jets offense and playbook. It could take years for a rookie quarterback to learn the Jets' system.
Prediction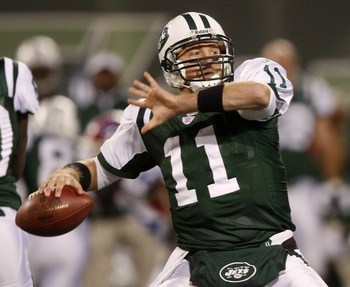 When the Jets take the field on Week 1 next fall, they will be led by either Kellen Clemens or Brett Ratliff.
Personally, I think Clemens should be and will be the starter.
He should be given a chance to succeed with a real offensive line, which he lacked during his stint in 2007. Both Clemens and Ratliff were able to learn under Brett Favre last season, which can only help their development as future starting quarterbacks, considering Favre's place in NFL history.
Clemens has been there before, with much less protection, and did an OK job given the circumstances. Before anyone goes throwing in the towel on Kellen, he deserves another chance to prove himself.
At the very least, there will be a competition between Clemens and Ratliff, which is a perfect way to elicit the very best out of each player.
Clemens had this to say about the current quarterback situation:
"There is going to be a competition and I'm going to be a part of it and that's all I care about. I'm going to get an opportunity and I've put in the time, I've put in the work and I have the experience," he said. "I feel very confident in my ability to capitalize on that opportunity."
Whoever the starter is, hopefully he'll solidify himself as the quarterback of the Jets' future and remain in that position for years to come.
The Jets need to find a replacement pilot soon and allow him to get settled in the cockpit before the season takes off. Otherwise, they might find themselves in mid-flight without a guy with the right credentials, which wouldn't bode well for anyone.
Keep Reading

New York Jets: Like this team?