50 Best Nicknames in NFL History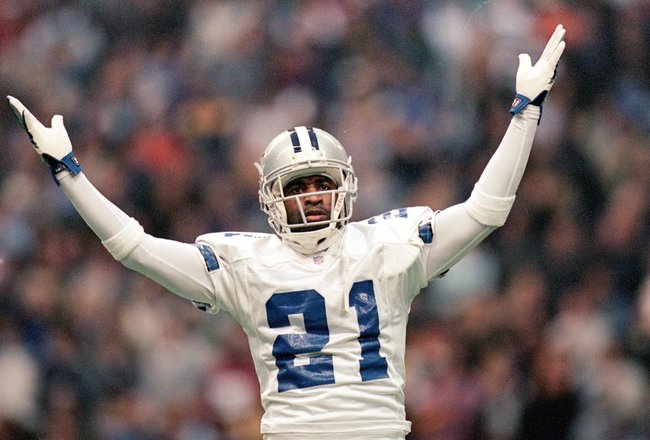 Ronald Martinez/Getty Images
Over the NFL's illustrious history, we have seen quite a handful of colorful personalities play in this league—with many of these personalities carrying along their own nickname.
Then we have some players—who aren't all that colorful of a personality—but fans, the media and other players have dubbed them with their own nickname.
Nicknames are definitely one of the most entertaining things when it comes to sports—and especially in the NFL.
We have seen players nickname themselves and we have seen players being dubbed a nickname. Either way, it's all good.
In that spirit, let's take a look at the 50 best nicknames in NFL history.
Chad Ochocinco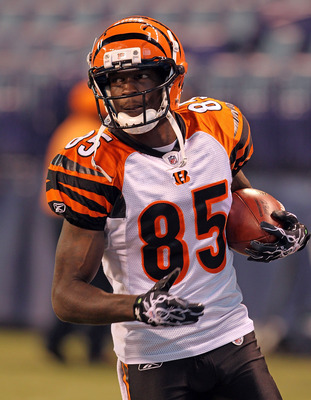 Andy Lyons/Getty Images
Previously known as Chad Johnson, Chad Ochocinco decided to legally change his last name to the number that he wears—but doing so in Spanish.
The funny thing about this nickname is that Ochocinco doesn't even mean 85 in Spanish, it means eight and then five.
But perhaps ochenta y cinco didn't flow as well as Ochocinco did, so that's why Chad decided to roll with the incorrect form.
America's Team
Ronald Martinez/Getty Images
There is nothing better than being known as "America's Team."
Some might argue this today, but I still feel that the Dallas Cowboys are America's Team and their star logo is one of the faces of the NFL.
Refrigerator Perry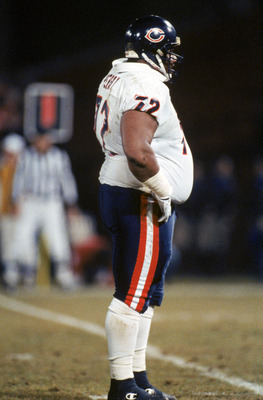 George Rose/Getty Images
William Perry, or better known Refrigerator Perry or simply The Fridge, is one of the all-time classic nicknames.
The Fridge was a massive object along the Chicago Bears defensive line as he racked up 29.5 career sacks while being a part of arguably the greatest team to ever play in the NFL, the 1985 Chicago Bears.
Gang Green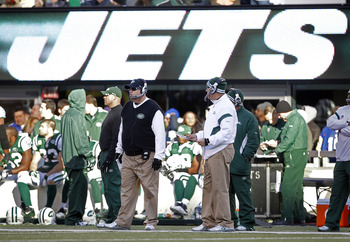 Rich Schultz/Getty Images
The New York Jets are one of the NFL's most iconic franchises and so is their nickname: Gang Green.
The Jets have been referred as Gang Green for as long as I can remember and I think it's definitely one of the coolest-sounding nicknames in the NFL.
The G Men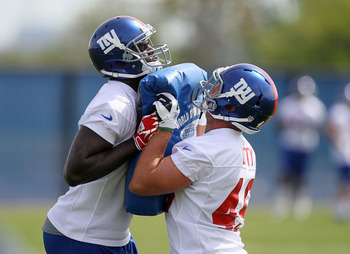 Jim McIsaac/Getty Images
Much like the New York Jets being known as Gang Green, the New York Giants are commonly referred as the G Men.
Why? Well it doesn't take a rocket scientist to figure this one out—but it's still one of the NFL's classic nicknames.
Anytime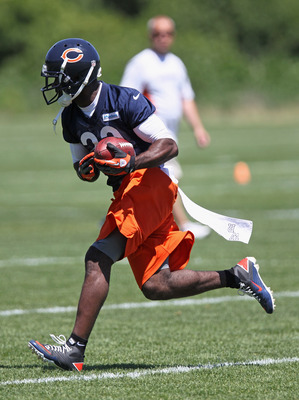 Jonathan Daniel/Getty Images
Why is Devin Hester known as Anytime? Because at anytime he can return kicks or punts back for a touchdown.
Now who came up with this nickname? The great Deion "PrimeTime" Sanders.
Deebo
Jared Wickerham/Getty Images
I didn't even know this nickname even existed until I researched it—and now I am laughing uncontrollably.
If you love the movie Friday as much as I do, then you'd understand why Pittsburgh Steelers James Harrison is referred to as Deebo, who's a character from the movie.
This is probably my favorite nickname of all time.
Beast Mode
Just watch the video. There is a reason why Marshawn Lynch is known as Beast Mode.
By watching this video, you might realize why Lynch is my favorite running back that the NFL has to offer. He just never gives up and fights his way forward.
The Assassin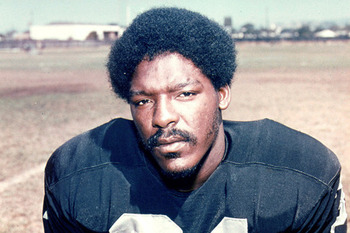 Jack Tatum, better known as The Assassin, might be known as one of the dirtiest players in NFL history in some people's eyes, but I see him as one of the most feared players to ever play the game.
Tatum was just a reckless safety for the Oakland Raiders, and he was given the name The Assassin.
Brian Crushing
When your name is Brian Cushing and you're a linebacker, then I guarantee that just about every single coach you had wanted to change your last name to Crushing.
Brian Cushing is one of the hardest hitters in the game today, as you can see from the video posted, so I think it's safe to say that you understand why he's known as Brian Crushing.
Big Ben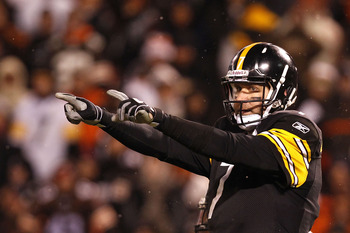 Matt Sullivan/Getty Images
Have you ever seen Ben Roethlisberger? Then you'd realize that he's just a tank playing the quarterback position.
Roethlisberger stands in at 6'5" while weighing a whopping 240 lbs—which is massive for a quarterback, which is why he was dubbed the name Big Ben.
Broadway Joe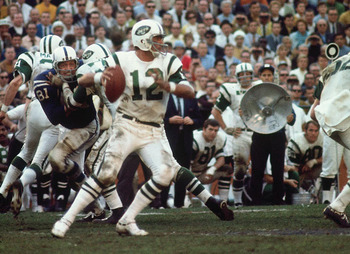 Joe Namath is probably one of the biggest parties when it comes to the history of quarterbacks in the NFL.
Namath, who played for the New York Jets, was often seen partying throughout the city of New York which earned himself the nickname Broadway Joe.
Sweetness
Walter Payton had one of the greatest nicknames in the history of the NFL. Just take a look at the 1985 Chicago Bears Super Bowl Shuffle:
Well, they call me Sweetness, and I like to dance. Runnin' the ball is like makin' romance.



Mean Joe Greene
Mean Joe Greene isn't so "mean" in this classic Super Bowl commercial, right?
But on the football field, Mean Joe Greene was one of the meanest players to ever play the game. He was the face of the Pittsburgh Steelers "Steel Curtain" defense.
Don "Air" Coryell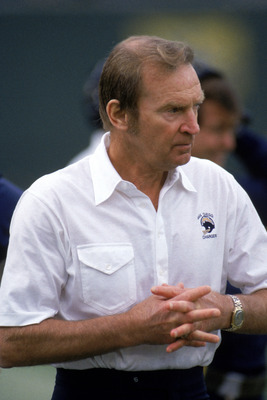 George Rose/Getty Images
Don Coryell is one of the greatest offensive minds that we have ever seen coach in the NFL.
Coryell turned the NFL into a passing league as he turned the St. Louis Cardinals of the mid-1970s into high-flying attack with quarterback Jim Hart, as well as the late-70s-to-early-1980s San Diego Chargers with quarterback Dan Fouts.
By doing so, coach Coryell will forever be remembered as Air Coryell.
Curtis My Favorite Martin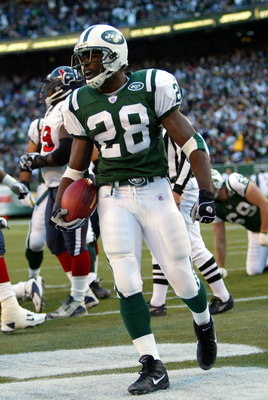 Chris Trotman/Getty Images
Curtis My Favorite Martin is definitely one of the more comical nicknames ever came up with—and we can thank ESPN's Chris Berman for this nickname.
Berman simply spun off of the television show My Favorite Martian and decided to dub the all-time great running back Curtis Martin "Curtis My Favorite Martin".
A-Train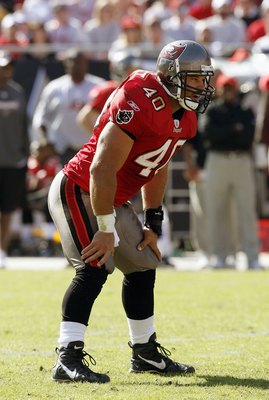 Matt Stroshane/Getty Images
Mike Alstott was one of the most powerful running backs in recent memory.
Alstott, or better known as the A-Train, simply demolished anyone that stood in his way and was one of the most dominant fullbacks of his time with the Tampa Bay Buccaneers.
Prime Time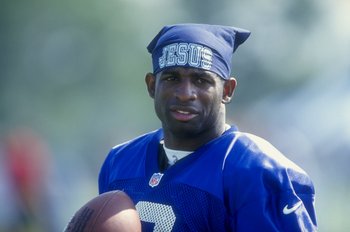 Stephen Dunn/Getty Images
Deion Sanders, better known as Prime Time, might be one of the most cockiest players to ever play in the NFL, but he's most certainly one of the greatest players to ever play the game.
Prime Time was known for his ability to step up in critical moments and make some pretty historic plays.
Deion Sanders always came through when it was Prime Time.
Neon Deion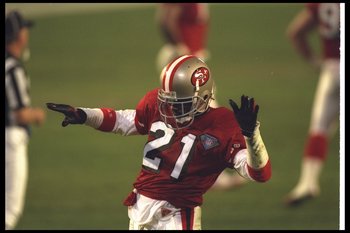 Doug Pensinger/Getty Images
This quite possibly might be the best nickname of all time.
Neon Deion—could it get much better than that? I mean, it rhymes and it perfectly describes Deion Sanders' flashy play.
It's a perfect marriage.
The Playmaker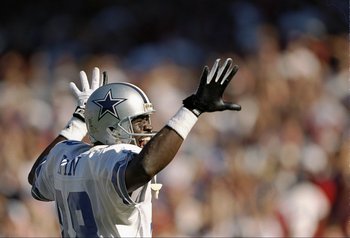 Jed Jacobsohn/Getty Images
Wide receiver Michael Irvin was most definitely a playmaker and was enough of a playmaker to actually be dubbed the nickname The Playmaker.
Irvin had the ability to beat just about any coverage thrown his way as he recorded 750 career receptions for 11,904 receiving yards and 65 total touchdowns. Irvin is simply an all-time great wide receiver as well as an all-time great personality.
Night Train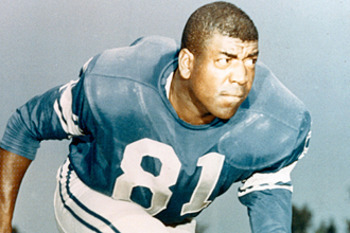 This is actually a pretty funny nickname.
Dick Lane, or better known as Night Train, might be one of the most violent NFL players to ever play the game but he actually had one fear: flying.
Lane was known as Night Train because he refused to fly with the team for away games, due to his fear, and decided to travel on a train.
The Diesel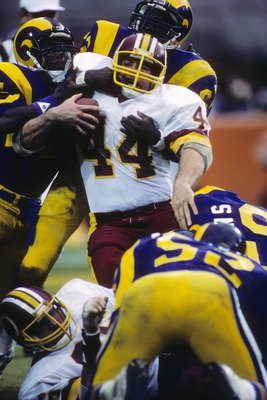 George Rose/Getty Images
Running back John Riggins is just another classic runner that ran with a meaning and wanted to demolish anyone that stood in his way.
With that style of play, the Washington Redskins running back was dubbed The Diesel.
The Freak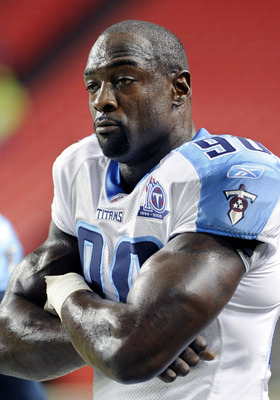 Al Messerschmidt/Getty Images
Defensive end Jevon Kearse was simply a freak of nature; hence, he was dubbed The Freak.
Kearse stood in at 6'4" and weighed 265 lbs but was as athletic as a running back. He had the perfect combination of size, speed and athleticism which helped him record a 74 career sacks and 314 career tackles.
No-Name Defense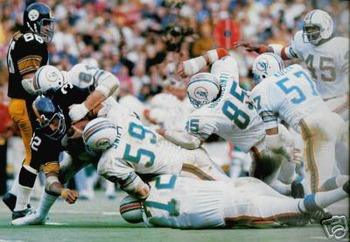 In honer of the Miami Dolphins 1972 No-Name Defense, I'm actually not going to reveal any names that were on that team.
Why? Because they were known as the No-Name Defense for a reason. Dallas Cowboys head coach Tom Landry put together the nickname following Super Bowl VI due to the fact that he couldn't remember any of Miami's defensive players.
Captain Comeback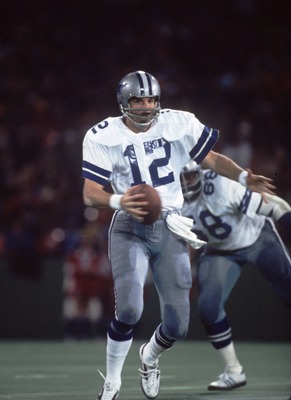 Getty Images/Getty Images
Captain Comeback goes to the original holder of the nickname, Roger Staubach.
If Staubach was playing quarterback, then you simply can't count out the Dallas Cowboys from coming back to win, no matter how great the deficit was.
Staubach retired with an incredible 15 fourth quarterback comebacks as well as 23 game-winning drives.
Roger Staubach was as clutch as you could imagine.
Roger the Dodger
Getty Images/Getty Images
Roger Staubach was not only a great passer but he was an athlete that had the ability to escape pressure from his collapsing offensive line.
With Staubach being able to escape time and time again, he became known as Roger the Dodger—as he would dodge opposing pass-rushers.
Weapon X
Brian Dawkins is an all-time great safety that will be remembered as one of the hardest hitters to ever play the game.
Just watch the video posted and I guarantee to you that you'll get goosebumps. If you don't, then you're not human.
Evil Empire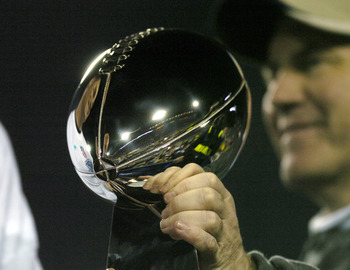 A. Messerschmidt/Getty Images
The Evil Empire, or better known as Bill Belichick and the New England Patriots.
The Patriots were dubbed this name following the whole spygate scandal which resulted in many calling Belichick "evil," which ultimately led to the Evil Empire reference—as they were a dynasty of the early 2000s.
The Minister of Defense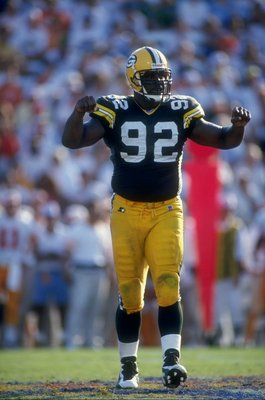 Scott Halleran/Getty Images
The Minister of Defense is the perfect nickname for the all-time great Reggie White.
White had an incredible career as a defensive end with the Philadelphia Eagles, Green Bay Packers and the Carolina Panthers as he racked up a whopping 198 total career sacks.
Slash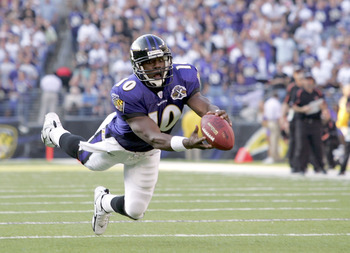 Jamie Squire/Getty Images
Kordell Stewart might not have had the greatest NFL career considering how talented he was, but he still will be remembered as one of the most athletic players to ever play the game.
With that being said, Stewart is better known as Slash—because of his ability to play quarterback, running back and wide receiver.
The Bus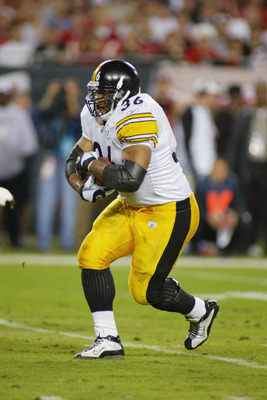 Scott Halleran/Getty Images
Just look at the image posted for Jerome Bettis—does he look like a man that you would want running full speed at you? I don't think so.
Bettis was a massive object that ran with a purpose and was simply so large that he was known as The Bus.
The Ghost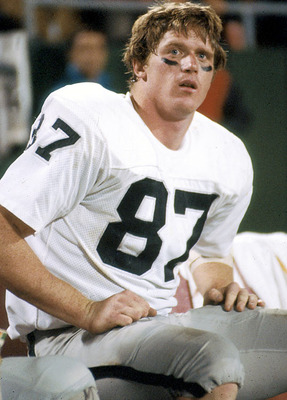 The Ghost is probably one of the more creative nicknames out there.
It's simply a play off of the all-time great Oakland Raider tight end's name, Dave Casper.
Get it? Because of Casper the friendly Ghost.
MoJo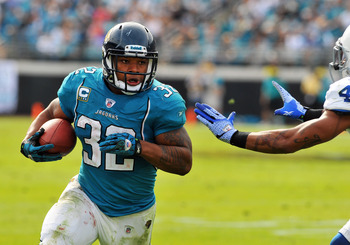 Al Messerschmidt/Getty Images
Maurice Jones-Drew is definitely a mouthful. He added Jones to his original last name in memory of his late grandfather, who also had that last name.
So instead of saying Maurice Jones-Drew, we can just say Mojo—which sounds a whole lot better and definitely flows better out of your mouth.
Mr. Rodgers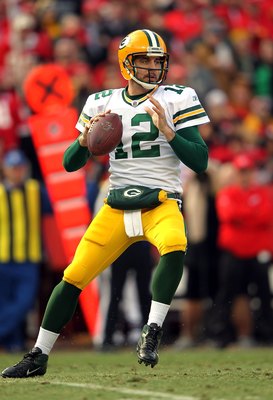 Jamie Squire/Getty Images
I definitely love this one, a lot.
Why? Because it touches an inner part of my childhood, the television show Mister Rodgers.
It's not really all that creative as we're simply just calling Aaron Rodgers, Mr. Rodgers.
The Black Hole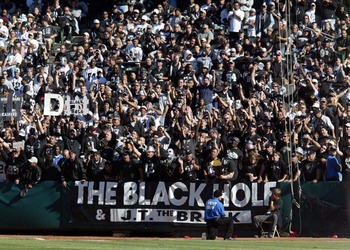 There is nothing more intimidating than the Black Hole out in Oakland.
Oakland Raiders fans simply dress up in the weirdest ways possibly, and to be quite honest with you, it's extremely badass.
All I know is that I wouldn't want to be a New England Patriots fan sitting in the middle of the Black Hole. No thanks.
Megatron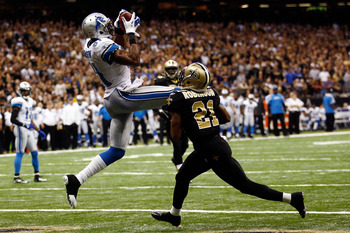 Chris Graythen/Getty Images
Calvin Johnson is simply known as Megatron.
Johnson is arguably the most dominant wide receiver in the NFL today and can just dominate anybody that stands in his way, as he's such an athletic player despite being 6'5".
Nigerian Nightmare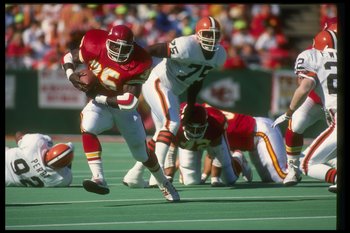 Jonathan Daniel/Getty Images
How bad-ass does the Nigerian Nightmare sound? It actually scares me.
Christian Okoye was dubbed this nickname due to the fact that he originates from Nigeria and the fact that he was such a massive running back that he put fear in opposing defenders' eyes.
Purple Jesus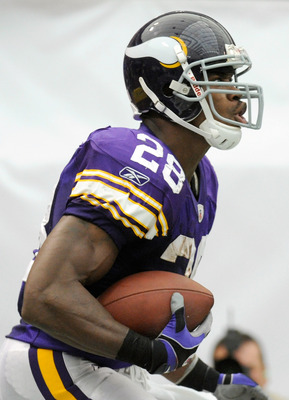 Hannah Foslien/Getty Images
This might offend a few people out there, but you have to realize that it's all just fun and games and is pretty humorous if you ask me.
Adrian Peterson is the Purple Jesus.
Why? Because he's one of the greatest running backs that we have seen in recent memory and the fact that he wears purple because he's on the Minnesota Vikings.
Ain'ts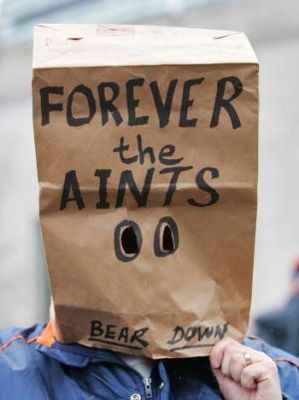 Out of all of the nicknames out there, I would never want to be known as the Ain'ts.
The New Orleans Saints were dubbed this nickname after their 1980 season when they lost 14 consecutive games.
Papa Bear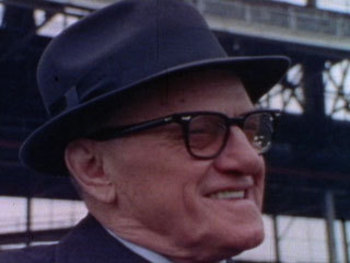 There isn't any true meaning behind Papa Bear, but George Halas was known as Papa Bear Halas.
Papa Bear is the founder of one of the NFL's most storied franchises, so this nickname definitely has to be up there as an all-time great.
The Purple People Eaters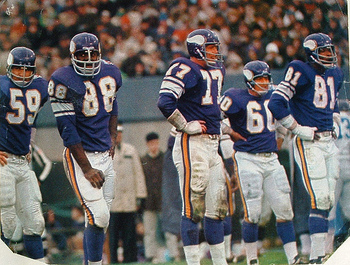 Just look at the players in the image posted—Would you want to mess with them? I mean, they might eat you, after all they are known as The Purple People Eaters.
Minnesota Vikings defensive linemen Alan page, Carl Eller, Gary Larsen and Jim Marshall just dominated the mid-1970s as they swallowed up any running back or quarterback that they could get their hands on.
Revis Island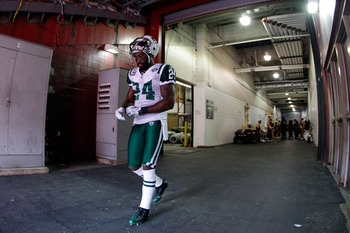 Rob Carr/Getty Images
If you're an NFL wide receiver, Revis Island is a place where you don't want to be.
When you're on Revis Island, there's just one other person with you, Darrelle Revis—and he's going to take you out of the game and make you ineffective.
There is no debate that Revis is one of the most dominant shut-down cornerbacks that we have ever seen in the NFL.
Tom Terrific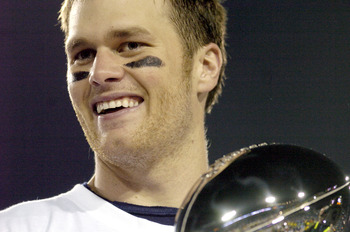 A. Messerschmidt/Getty Images
Tom Brady has been as terrific as you can be, considering he's won three Super Bowls, two Super Bowl MVPs, two NFL MVPs and holds the NFL's single season record for touchdown passes standing at 50.
There's no wonder why people call Tom Brady "Tom Terrific".
World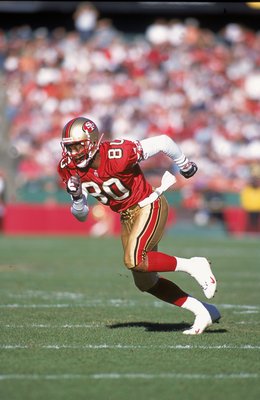 Jed Jacobsohn/Getty Images
This is probably one of the most interesting nicknames that I have ever heard.
Jerry Rice, the all-time great wide receiver, was given the nickname World during his days at Mississippi Valley State University as if there was not a ball in the world that he couldn't catch.
How clever is that? I think it proved to be true, wouldn't you agree?
Flash 80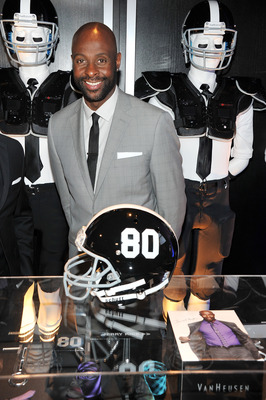 Theo Wargo/Getty Images
Flash 80 is actually a very simple nickname but is still an all-time classic.
Jerry Rice, who is the greatest wide receiver to ever play the game, sported the No. 80 throughout his entire career as he made some spectacular plays for every single team he played for, which resulted in the nickname Flash 80.
Dawg Pound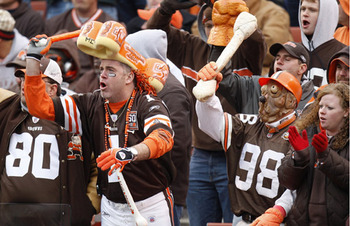 Despite being such a lousy franchise, the Cleveland Browns have some of the greatest fans in the world that continually fill up their stadium, known as the Dawg Pound.
The Dawg Pound is a historic name and will ever be tied together with some of the most loyal fans in the history of the world.
Frozen Tundra
I actually think Green Bay Packers fans are insane—but I give them a ton of respect.
Why in the world would you want to go to a place known as The Frozen Tundra? Why?
San Diego Super Chargers
I cannot stand this song—I'd rather listen to Justin Bieber in all honesty.
But, it's the reason why the San Diego Chargers are often referred to as the San Diego Super Chargers.
The Blonde Bomber
Scott Cunningham/Getty Images
The Blonde Bomber is such a great nickname. Granted, I'm not blonde but if I was, I would love to have that nickname—and quarterback Terry Bradshaw was fortunate to have it.
Bradshaw loved throwing the deep ball, hence the nickname The Blonde Bomber.
T.O.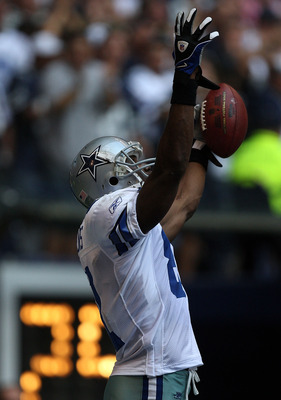 Ronald Martinez/Getty Images
T.O. isn't original at all but it simply works and it's a classic.
Terrell Owens will always be referred to as T.O. as it's an easier way to refer to him—which makes it such a great nickname.
Any questions about this article? Send them via Twitter!
Be sure to check out Tony Santorsa's blogs: PatriotsPlus and Lazlo's Closet.
Keep Reading