West Virginia Football 2012: 7 Things That Will Be Different from Last Year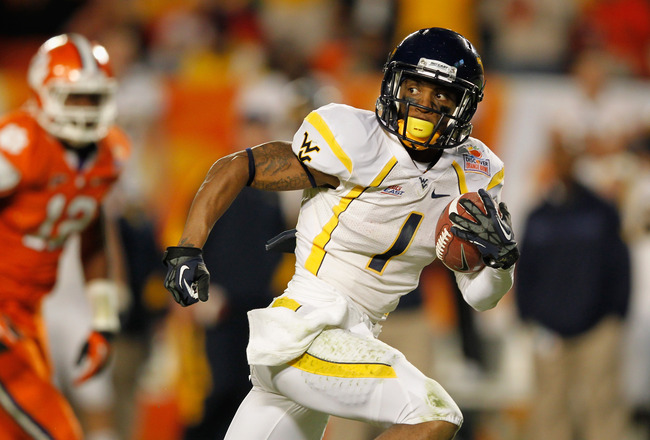 WR Tavon Austin and the explosive West Virginia offense will be looking to light up the Big 12 this season
Streeter Lecka/Getty Images
There aren't many other college football teams that will enter the 2012 season with as much momentum as West Virginia will.
After obliterating Clemson 70-33 in the Orange Bowl in front of a national audience back in January, the Mountaineers now have the type of positive energy they need as they embark on their journey into the Big 12 this season.
The school's athletic director Oliver Luck may have received some heated criticism for how he handled the coaching switch between Bill Stewart and Dana Holgorsen, but Luck's decision to bring in Holgorsen to replace Stewart certainly seems like the right call at this point.
In his first year in Morgantown, Holgorsen led the Mountaineers back to a BCS bowl game, which is something that Stewart could never do.
Year two of the Holgorsen era is shaping up to be another highly successful season, but there are certainly some differences to be expected from 2011.
Here's a look at some of the main differences to expect between the 2011 season and the upcoming 2012 campaign.
1. The Mountaineers Will Face Tougher Competition in the Big 12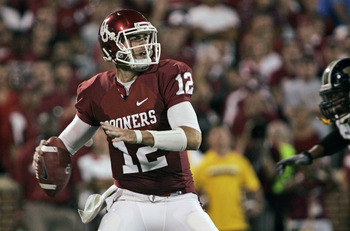 Oklahoma QB Landry Jones
Brett Deering/Getty Images
This season, West Virginia will make the transition from the Big East, which is the weakest of the six BCS conferences, to the Big 12, which is one of the strongest. The step up in competition is considerable, and it remains to be seen just how the Mountaineers will handle the more strenuous slate in 2012.
With homes dates against Baylor, Kansas State, TCU and Oklahoma, and road trips scheduled to Texas, Texas Tech and Oklahoma State, nothing is going to come easy in conference play for the gold and blue this year.
As many as six out of the 10 teams in the Big 12 could start off the season ranked in the top 25, and this is shaping up to be one of the most competitive conferences in college football for the 2012 season.
2. Geno Smith Will Be More Comfortable in Dana Holgorsen's Offense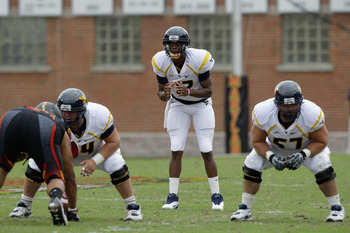 Geno Smith
Rob Carr/Getty Images
It certainly didn't take long for Geno Smith to acclimate himself to coach Dana Holgorsen's Air Raid-style offense last year.
Smith handled the switch in schemes as well as he possibly could, as he stepped in and completed nearly 66 percent of his passes for over 4,300 yards and hit 31 touchdowns compared to just seven interceptions.
The 6'3'', 214-pound senior has the type of strong arm and decision-making skills to flourish in the pass-heavy attack, and the scary part is that he should feel even more comfortable in the offense after another offseason of preparation.
With explosive receivers like Tavon Austin, Stedman Bailey, Ivan McCartney and JD Woods all returning, Smith will be the leader of one of college football's most potent and powerful passing attacks in 2012.
3. West Virginia Will Lack a Proven Pass-Rusher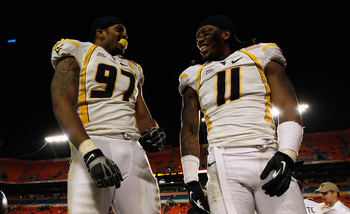 Bruce Irvin
Streeter Lecka/Getty Images
West Virginia's defense lost five starters from last season, and two of the most important defenders that departed were pass-rushers Bruce Irvin and Julian Miller.
Irvin, who was the No. 15 overall pick in the 2012 NFL draft, and Miller combined for 14.5 sacks and 11.5 tackles for loss in 2011.
Both linemen will be missed this season, which means that somebody's going to have to step up and fill the void they left.
Junior end Will Clarke looks like the one who's going to be asked to raise his play the most this season.
Last year, Clarke had 34 tackles and two sacks, but his production is going to have to increase dramatically in 2012 in order to make up for the absence of Irvin and Miller up front.
4. The Offensive Line Will Be Stronger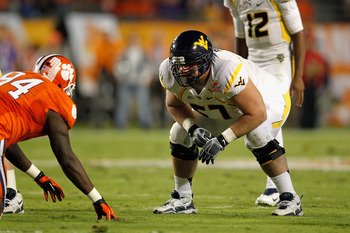 Jeff Braun
Streeter Lecka/Getty Images
With three starters—center Joe Madsen, guard Jeff Braun and tackle Pat Eger—returning from last year, along with former starter Josh Jenkins who missed the entire 2011 season due to injury, this is shaping up to be one of West Virginia's strongest and most experienced offensive lines in years.
The Mountaineers' front-five had an up-and-down campaign last season, and there were times when they got flat-out embarrassed against defenses like Syracuse, Cincinnati and Louisville.
Still, there's enough talent in the trenches to go toe-to-toe with the bigger, more athletic defensive lines that the team will square off with in the Big 12 this season.
Madsen, Braun, Eger and Jenkins are all big, strong and physical blockers, but the most talented lineman out of the group may just be newcomer, left tackle Quinton Spain.
Spain, a former highly touted 4-star recruit (per Rivals), possesses the potential to be a standout All-Conference performer over the next few years. If the 6'5'', 335-pound sophomore handles his new role as a starter well enough in 2012, the West Virginia offensive line should be one of the most stable in college football this season.
5. Joe DeForest Will Lead the New Look 3-4 Defense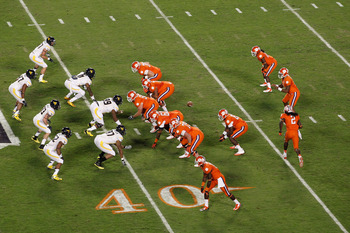 West Virginia's old 3-3-5 stack defense
J. Meric/Getty Images
West Virginia employed a bend-but-don't-break defensive philosophy under former coordinator Jeff Casteel. However, now that former Oklahoma State assistant Joe DeForest has taken over and switched the scheme from a 3-3-5 to a standard 3-4 alignment, the Mountaineers will likely use a much more attacking-style of play in 2012.
The defense lost some key cogs from 2011 such as NFL draft picks DE Bruce Irvin, CB Keith Tandy and LB Najee Goode, along with other former starters such as DL Julian Miller, S Eain Smith and LB Casey Vance.
The good news is, however, that DeForest will have some intriguing talent to work with at all three levels of the defense this year.
End Will Clarke and nose tackle Jorge Wright will lead the charge up front. Jewone Snow, Doug Rigg and Josh Francis will be the key playmakers in the linebacker corps. Cornerback Pat Miller and safety Darwin Cook are the most experienced members of the secondary, and holding the defensive together will be veteran senior Terence Garvin, who will play a hybrid linebacker-safety role this season.
Overall, it should be interesting to see how DeForest chooses to use all the personnel that he has at his disposal, and it will be interesting to see how the Mountaineers ultimately handle the switch to a new scheme in 2012.
6. Shawne Alston Will Be the Featured Back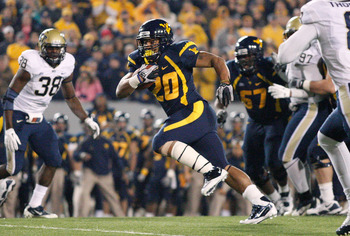 Shawne Alston
Jared Wickerham/Getty Images
Since last year's leading rusher Dustin Garrison is still recovering from a serious knee injury he experienced during the practices leading up to the Orange Bowl, it would seem that senior running back Shawne Alston is the favorite to be the main ball-carrier for the West Virginia offense this season.
Alston was used the majority of the time during goal-line and short yardage situations last year, but his role will likely expand in 2012, as he could be asked to be the team's workhorse back if Garrison isn't ready to go by the time the season starts.
Last year, the 5'11'', 235-pound senior rushed for 432 yards and scored 12 touchdowns, and he was the type of power back that proved to be a perfect complement to the smaller, shiftier Garrison.
West Virginia only ran the ball 32 times per game last season, and that total probably won't go up much in 2012, but look for Alston to still get a bigger share of the workload this season.
7. The Pressure Will Be on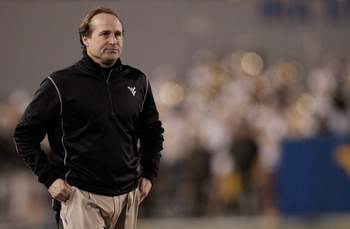 Dana Holgorsen
Jared Wickerham/Getty Images
West Virginia hasn't started a season ranked in the top 15 in the preseason polls since 2008, but that will change after the Mountaineers got everyone excited with a 10-win campaign and a sensational Orange Bowl performance last season.
Dana Holgorsen will enter his second year as the head man in Morgantown facing some high national expectations for the 2012 season.
Holgorsen's squad is jumping into the rough waters of the Big 12 this year, and it should be very interesting to see if West Virginia can handle the big step up in competition.
Oklahoma may be most peoples' preseason pick to win the Big 12, but there's no doubt that the Mountaineers are expected to challenge right away for a conference championship.
This team has the talent to contend with the likes of Oklahoma, Oklahoma State and Texas, but it remains to be seen if the team will be able to live up to the hype in 2012.
Keep Reading

WVU Football: Like this team?