2012 Knicks Offseason: Where Hope Was Lost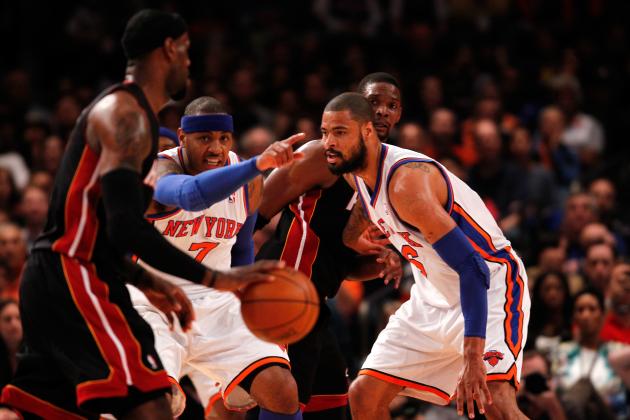 Jeff Zelevansky/Getty Images
playing catchup
Let's face facts. The New York Knicks are not a title contender.
Was 2010 really that long ago? The New York Knicks had made some big moves to re-engage the fanbase bringing in Amar'e Stoudemire and Raymond Felton.
Stoudemire played at an MVP level for the first three months of the season. Raymond Felton had a career-year. There was the emergence of young talents Danillo Gallinari and Wilson Chandler.
In other words, hope.
Two years later, all Knicks fans can see the writing on the wall. The Knicks are a playoff team, but unlikely to make noise.
The Knicks' roster is still in disarray with many questions yet to be answered. Let's take a look.
Begin Slideshow

»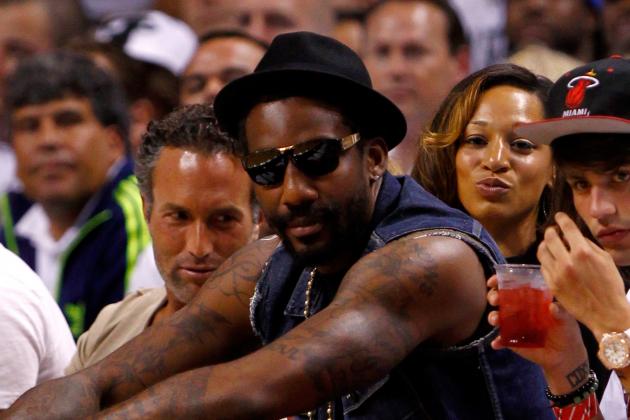 Mike Ehrmann/Getty Images
The best way that Amar'e Stoudemire can help the Knicks...
This should be an easy question. Sadly, it is not.
The incumbent is Amar'e Stoudemire. His resume would make it an obvious choice except. Only two problems stand in his way: He's played the worst basketball of his career since the Carmelo Anthony trade, and he's not been healthy for the better part of a year.
The $18 million-plus per year that the Knicks are paying Stoudemire is unlikely to be traded. It is not even insured. That's a lot of money for a sixth man, but at this point in his career, Stoudemire needs to prove that he belongs in the starting lineup.
The Knicks best option on the roster is Carmelo Anthony. In a brief stint at this role at the end of the 2011-12 season, the Knicks offense flowed better while the defense played better.
A small sample size to be sure, but this move made Anthony a more efficient player. Looking at how LeBron James was able to impose his will on the game (both as a scorer and a distributor) from the power forward position should be taken as the ceiling for Anthony.
Best Case Scenario:
Stoudemire comes in top shape and accepts his move to the second unit. He returns to the dynamic PF/C role that made him famous in Phoenix. A 17 point, six rebound average accompanied by two blocks per game make him an easy Sixth Man of the Year winner. The Knicks go on a roll and fight for the top seed in the conference.
Worst Case Scenario:
Stoudemire shows up out of shape with recurring back issues. The Knicks best chance there is a retirement buyout to allow the Knicks to be players in the free agent class of 2013 or 2014.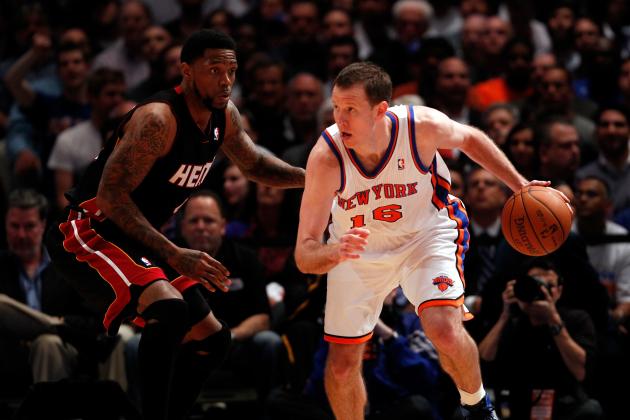 Jeff Zelevansky/Getty Images

There is no one currently on the roster to start at small forward. The Knicks' best option right now is to act quickly and re-sign the NBA's top three-point marksman in Steve Novak.
Novak has only one skill and that is to shoot open three point shots. The Miami Heat showed how to limit Novak's impact by pressuring him and forcing him to dribble. Spacing should be available with Anthony playing power forward.
To complement Novak, the Knicks should take a gamble on former Net Gerald Green. Green is a former Slam Dunk Contest champion who played himself out of the league. Given a second chance by the Nets towards the end of the season, Green produced.
He had several 20-point games and provided many highlights with vicious in-game dunks. The Knicks could use that athleticism.
Best Case Scenario:
Novak continues his shooting from three-point land averaging 15 points per game. Green comes off the bench to add in another 8-10 points and provide the second unit with an identity.
Worst Case Scenario:
The Knicks are outbid for Novak and are left to scramble putting Anthony back to small forward and Stoudemire back to power forward.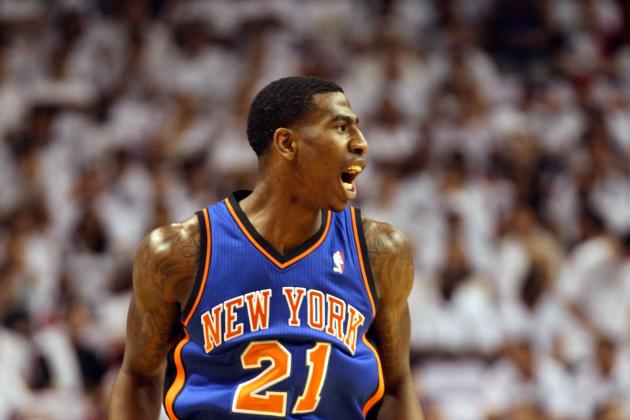 Marc Serota/Getty Images

Landry Fields is headed to Toronto. Not a big loss. The Knicks were not going to win a title with Fields as the starting shooting guard. At best, Fields would have been a nice rotational player on a title contender.
Iman Shumpert is likely out until at least January recovering from offseason knee surgery.
The Knicks need to shop for a free agent. My choice is Courtney Lee, who has become an unrestricted free agent following a series of moves made by the Rockets.
Lee is not yet 27, can defend and hit open threes. Lee is likely to fly under the radar and come in cheaper than other combo or swing players including Eric Gordon, Lou Williams, Jason Terry, O.J. Mayo and Ray Allen.
Best Case Scenario:
The Knicks sign Courtney Lee to a cheap contract and he provides, with a healthy Shumpert, an average of 25-30 points and 45 percent shooting combined out of the shooting guard spot.
Worst Case Scenario:
More J.R. Smith or a return of Jamal Crawford. Smith is a danger to himself and to anyone around him. As for Crawford, we've seen the movie and are not interested in a sequel.
Drew Hallowell/Getty Images

Again, the obvious answer is for the Knicks to bring back marketing superhero, Jeremy Lin.
The Houston Rockets have made this a much tougher decision, as Marc Berman of The New York Post reported. Is Lin worth $31 million over four years? The Knicks have to look at the salary cap and luxury tax implications if they commit to Lin.
If they sign Lin, then there must be no doubt that he is the answer as the point guard. I remain unconvinced that he is the answer long term answer as a starter. I see that he is at best, a stats compiler on a bad team or as a bench player on a winner. For $40 million, I want a starter.
At this point, the Knicks may not have a choice but to pay up for Lin's services and at least recoup the money paid in Knicks memorabilia.
The Knicks would be smart to sign Raymond Felton to a veteran minimum contract to be the primary backup. At the very least, Felton will show up in shape and determined to prove that his terrible 2011-12 is over.
Best Case Scenario:
Lin is Steve Nash 2.0. He solves the puzzle of Stoudemire and Anthony. A season average of 14 points, nine assists and only four turnovers per game would mean that Lin is distributing the ball efficiently and the Knicks would have a top-four seed in the East.
Worst Case Scenario:
The Lin story has an unhappy ending with Lin shooting poorly (less than 42 percent from the field) and turning the ball over at a high rate (more than six per game).
Raymond Felton comes off the bench to reclaim the starting role, but the position is never stable and the ship sinks. The Knicks again make the playoffs as a seventh or eighth seed before being bounced out of the playoffs.
Marc Serota/Getty Images

To recap, the Knicks lineup to start the 2012-13 season:
C—Chandler
PF—Anthony
SF—Novak
SG—Lee
PG—Lin
The Knicks bench will include:
PF—Stoudemire
SF—Green
SG—Shumpert
PG—Felton
C—Jerome Jordan
F—Josh Harrelson
G—Tony Douglas
2012 draft pick Kostas Papanikolau (PF) will not be a Knick until at least 2013-14.
Is this a team that can challenge the Miami Heat to a title? If everything breaks right and Stoudemire accepts his new role as sixth man.