NL MVP Rankings: Avast Ye! Andrew McCutchen Raises the Jolly Roger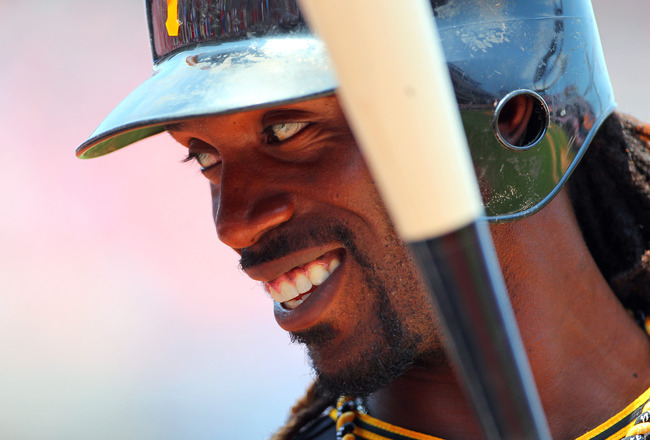 Andrew McCutchen has plenty of reasons to smile these days.
Rich Schultz/Getty Images
For a few weeks, it appeared that the race for National League MVP might come down to two players, Joey Votto and Carlos Beltran.
That still might be what happens. But the other top candidates continue to put up big numbers and aren't conceding anything. Meanwhile, a star on a surprise playoff contender is emerging as perhaps the most serious threat to Votto and Beltran for the award.
Was your guy snubbed? If you think a particular player is missing or disagree with the order of these rankings, please voice your opinions in the comments. Your suggestions often play a role in how this is assembled.
But for this week, these five players look like the leading favorites for the NL MVP award.
Honorable Mentions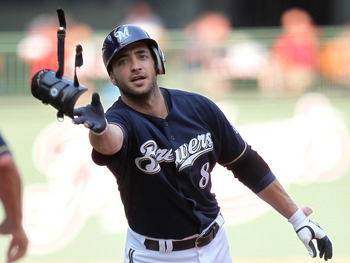 Mike McGinnis/Getty Images
Ryan Braun, Milwaukee Brewers
Last week, B/R's featured Brewers columnist Alec Dopp tweeted that he'd be rather perturbed if Braun wasn't included among the top five contenders for NL MVP. Sorry, Alec.
In six games since last week's rankings, Braun batted 7-for-24 with three home runs and seven RBI. (Two of those homers came in one game last Saturday versus the Arizona Diamondbacks.) And that was with missing a game after being plunked on the elbow by Bronson Arroyo.
Braun leads the NL with 23 home runs, and his 59 RBI rank second. His .997 OPS is fifth among the top hitters in the league. Fangraphs also rates him as the fifth-best player in the NL at 4.1 wins above replacement.
Carlos Gonzalez, Colorado Rockies
Gonzalez ranks among the top six NL batters in each of the slash average categories (batting average, on-base and slugging percentage), as well as OPS. His 17 home runs are tied for fourth in the league, while his 58 RBI are tied for third.
Yet there's some thought that Gonzalez is largely a product of Coors Field with a severe home-road split. In 171 plate appearances at home, Gonzalez is batting .390/.450/.714 with 12 home runs and 41 RBI. On the road, he's no slouch, but the numbers are less impressive. In 159 PAs, he's batting .288/.340/.473 with five homers and 17 RBI.
Couple that with the Rockies having the worst record in baseball (31-50 as of Wednesday), and it becomes more difficult to make a case for Gonzalez being NL MVP.
Melky Cabrera, San Francisco Giants
Cabrera leads the majors with 114 hits, though his lead in that category isn't quite as imposing as it once was. His .354 batting average is third in baseball, and he ranks among the top 10 NL batters in wins above replacement (WAR).
The Giants have also caught the Dodgers in the NL West, which puts them back in playoff contention. Competing for a division title and a postseason bid will certainly help Cabrera's candidacy among MVP voters.
But looking at his numbers across the board, Cabrera is at least a step below the other top hitters in the NL in terms of power and run production. And though his batting average and OPS are tops in the Giants lineup, is he really their best offensive player? Or is Buster Posey or Pablo Sandoval the team's true MVP?
5. Carlos Ruiz, Philadelphia Phillies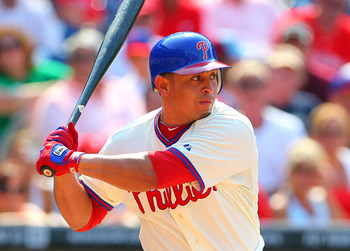 Rich Schultz/Getty Images
Last week: No. 4.
Carlos Ruiz is one of the best hitters in the NL this season. In his past six games since last week's NL MVP rankings, he batted 8-for-25 (.320) with three home runs and five RBI.
That pushed his season average up to .357/.419/.598, putting Ruiz among the league's top five in the triple slash categories. His 1.017 OPS is third in the NL. Both Fangraphs (4.3) and Baseball-Reference (4.1) rate him third among NL batters in WAR.
In addition, Ruiz is one of the best defensive catchers in baseball. His three passed balls are tied for the second-lowest among major league catchers, while his nine wild pitches allowed are the fewest. Ruiz has also thrown out 63 percent (25-of-40) opposing base stealers.
So why is Ruiz fifth on this list? The Phillies hold last place in the NL East, 12 games behind the Washington Nationals. They're even three games back of the fourth-place Miami Marlins.
Without Ruiz's contributions, the Phillies would be challenging for worst team in the league. But they're already among the worst with him.
4. Carlos Beltran, St. Louis Cardinals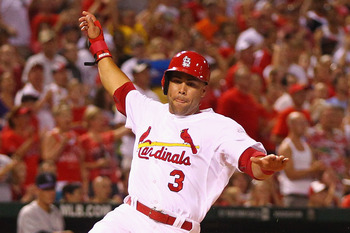 Dilip Vishwanat/Getty Images
Last week: No. 2.
After entrenching himself as the runner-up in our NL MVP rankings for weeks, Carlos Beltran slips from the second spot and takes this week's biggest drop.
Beltran batted 4-for-20 (.200) in his past six games since last week's rankings. He didn't hit any home runs, but did drive in five runs. His 20 homers are second in the league behind Ryan Braun, but his 63 RBI are tops among NL hitters.
Batting .300 looked to be one obstacle to Beltran's MVP cause, but his average has been above .300 for the past three weeks and sits at .304 going into Thursday's play. His .393 on-base percentage and .561 slugging percentage rank him in the league's top 10, as does his .953 OPS.
Though Beltran is the best hitter in the Cardinals lineup and his team is 2.5 games out of first place in the NL Central, he isn't quite on an island like Ruiz is. The Cards have other excellent hitters surrounding Beltran, such as Matt Holliday, Yadier Molina and David Freese. Should he be penalized because he loses the "if you took him out of his team's lineup" argument?
Perhaps it's unfair to drop Beltran two spots. But the performance of two other hitters pushed him down this week.
3. Andrew McCutchen, Pittsburgh Pirates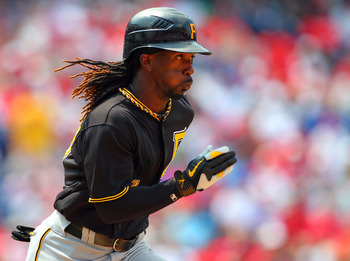 Rich Schultz/Getty Images
Last week: Honorable mention.
Following up on a week in which he hit .423 (11-for-26) with seven RBI, Andrew McCutchen exploded in his seven games since our prior set of rankings. The Pirates centerfielder hit 16-for-31 (.516) with two doubles, three home runs and eight RBI.
That surge pushed McCutchen's batting average up to .360, which now leads the majors. His. 412 on-base percentage is fourth among NL hitters, while a .610 slugging percentage ranks him second in the league. Only Joey Votto and Josh Hamilton have a higher OPS than McCutchen's 1.022.
Fangraphs rates McCutchen as the sixth-best player in the NL at 4.0 wins above replacement. He also has a 4.0 WAR at Baseball-Reference, but that places him fourth in their ratings.
Powered by McCutchen's breakout season, the Pirates hold first place in the NL Central going into Thursday's play, one game ahead of the Reds and 2.5 on top of the Cardinals.
In our prior slide, we talked about the help that Beltran gets in the Cards' batting order. Well, who is helping McCutchen in Pittsburgh? His batting average is 85 percentage points above the Pirates' second-leading hitter, Neil Walker. Pedro Alvarez is right behind him in home runs and RBI, but has a .794 OPS. Garrett Jones is closer, with an .825 OPS.
Maybe McCutchen isn't completely carrying the Pirates by himself. But where would they be without him batting third in their lineup and playing center field every night?
2. David Wright, New York Mets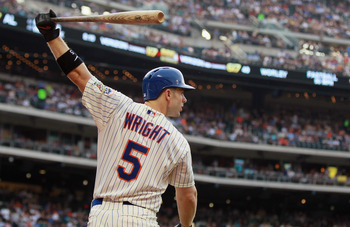 Mike Stobe/Getty Images
Last week: No. 3.
Why did David Wright get a push over Carlos Beltran in this week's NL MVP rankings? It's not because of team performance. The Mets are one game better than the Cardinals, though that 44-38 record has them in second place in the NL East, 4.5 games behind the Nationals.
But over his past seven games, Wright batted 8-for-26 (.308) with two doubles, two homers and 13 RBI. Yes, Wright's RBI total is a function of the batters ahead of him getting on base to be driven in. But Wright didn't enjoy that luxury earlier in the season.
His .350 batting average is fourth in the league, while his .441 on-base percentage ranks second, and his 1.000 OPS is fourth among NL batters. If Wright trails his peers in any category, it's in slugging percentage. But his .559 mark is the seventh-highest in the NL.
Going by wins above replacement, Wright is the best (or second-best) player in the NL. Fangraphs ranks him second with a 4.5 WAR, while Baseball-Reference has him on top at 4.4.
If the Mets keep hanging in the playoff race, Wright's performance most certainly won't be ignored. Fortunately for him, San Francisco Giants fans don't have MVP votes and can't push Pablo Sandoval ahead of him for consideration.
1. Joey Votto, Cincinnati Reds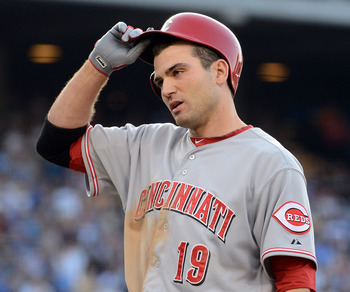 Harry How/Getty Images
Last week: No. 1.
Joey Votto's status as the front-runner in our NL MVP rankings was looking a bit wobbly last week. While he batted .158, the players behind him were putting up big numbers and closing the gap.
But Votto appears to have righted himself this week, batting 7-for-22 (.318) with three doubles despite batting a sore right knee that may keep him out of the All-Star Game next week. The four-day All-Star break could be just what Votto needs to recuperate, though it would be disappointing not to have the NL's best player in Kansas City next Tuesday.
Votto still tops Fangraphs' rankings at 4.8 wins above replacement. Baseball-Reference has him just a touch below the top spot with a 4.3 WAR.
With a .350 average, Votto is tied for fourth in the NL. As expected, his .469 on-base percentage leads the majors fueled by an NL-leading 60 walks. Votto also leads the league with a .628 slugging percentage thanks to 34 doubles, eight more than the next closest competitor. All that adds up to a 1.097 OPS that ranks above all big-league hitters.
The Reds have hit a rough patch, losing seven of their past 13 games and relinquishing first place in the NL Central as a result. But Cincinnati figures to be in the playoff race all season, and Votto will play a major role in that.
The NL MVP award continues to be his to lose.
Follow @iancass on Twitter
Keep Reading