Spain 2014 World Cup Starting XI: Can La Roja Repeat as Champions?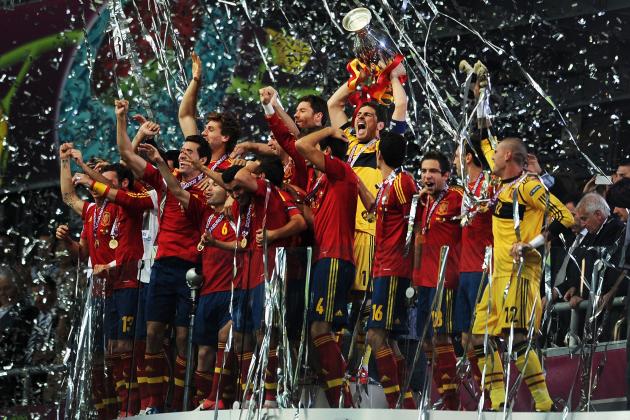 Jasper Juinen/Getty Images

When will it end?
Spain are now the first team in history to repeat as European champions and are the first to win three major international tournaments in a row.
After dominating Italy in the final and breaking countless records along the way, one has to wonder how long Spain's global dominance will last.
There are now some major questions that need to answered regarding the ability of manager Vicente del Bosque to replace some of Spain's all-time greatest players as they near the end of their international careers.
Players like Xavi Hernandez, David Villa and Carles Puyol will probably not start in the next World Cup Given the amount of depth for La Roja, one or more of them may not even make the final squad.
Is there enough talent to replace these Spanish legends? Will those players be ready in two years?
What follows is a potential starting 11 for Spain's World Cup team minus current players over the age of 30—for the most part.
After reviewing this list, decide for yourself what Spain's chances are for repeating as World Champions and making a claim as the greatest team in the history of football.
Begin Slideshow

»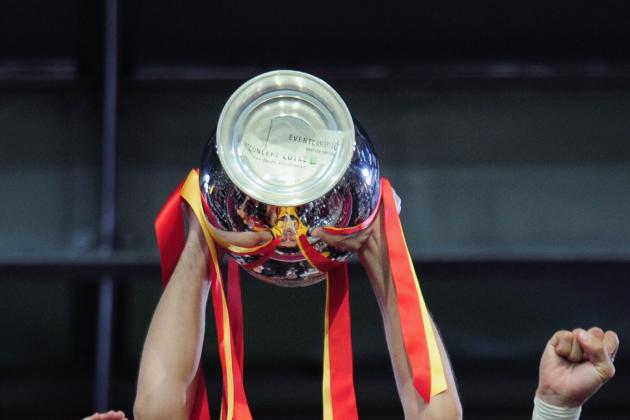 Shaun Botterill/Getty Images

Age at 2014 World Cup: 33
Casillas is the lone player in this starting 11 who is over the age of 30. By the time the World Cup arrives, Casillas will likely be past his prime.
The good thing for him and for Spain is that he plays a position where old age tends to rear its head a little less harshly than it does for other positions.
In the 2012 Euros, Gigi Buffon showed that keepers may lose a step as they reach their mid-thirties, but the instinctual judgment and reflexes that make one world class do not disappear so quickly.
San Iker will still be elite and will almost certainly still be considered the best keeper in football by many. Even if he somehow fails to make the squad, the alternatives will not cause many to lose sleep.
Alternatives: David de Gea, Vicente Guita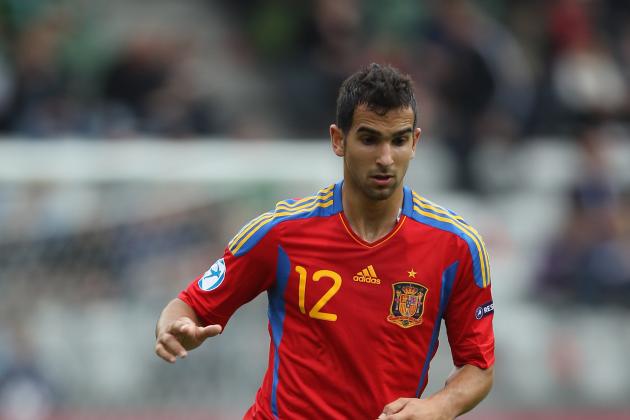 Michael Steele/Getty Images

Age at 2014 World Cup: 23
Right-back is the one position that causes concern for Spain, but also has nearly endless prospects.
Alvaro Arbeloa will be 31 and has never really earned universal confidence from Spanish fans. Vicente Del Bosque will almost certainly be looking for alternatives on the right side of his defense by 2014.
There are many promising options here, but none that clearly stand out above the competition. Juanfran was the man chosen to backup Arbeloa in the 2012 Euros, but he is not a natural full-back.
Cesar Apilicueta will be almost 25 by that time, and if he can stay healthy and continue to develop, he could become a top-class option.
Hugo Mallo has been La Liga's best right-back this season, but he will need a bigger stage to shine on to have a chance of winning the starting spot for La Roja.
Two players who looks primed to fill this position eventually are Barcelona's Martin Montoya and Dani Carvajal—the latter of which is likely to be back playing with Real Madrid by 2014.
Montoya has long been one of the most exciting young prospects in La Liga while Carvajal had countless suitors when Madrid decided they wanted to offload him—at least temporarily—this season.
Another option would be to move Sergio Ramos back out right. But given how much his partnership with Pique seems to get better with each match, the central pairing may be too good to break up.
Alternatives: Juanfran, Hugo Mallo, Dani Carvajal, Cesar Azpilicueta, Alvaro Arbeloa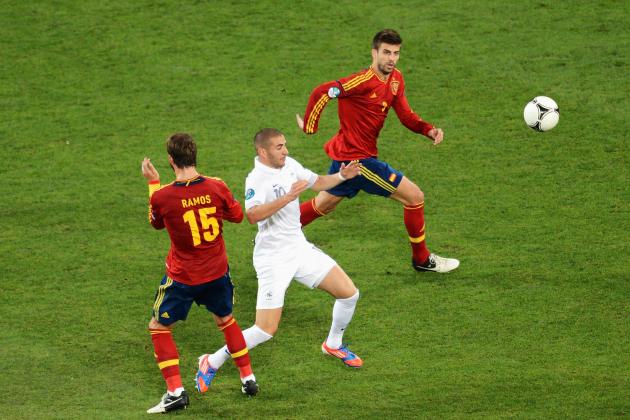 Jasper Juinen/Getty Images

Age at 2014 World Cup: 27 and 28
Throughout the group stages of Euro 2012, it was clear that Pique and Ramos were struggling to work together.
Communication was off, positioning was poor and there was no real chemistry. It seemed as though Spain would fail due to defensive mistakes, if anything.
Now we look back at the entire tournament and see huge improvements. Ramos became one of the tournament's top players, Pique finally got into form for the final and the pairing allowed just one goal.
Why should the rest of the world be worried? This was their first time playing together, and neither player has hit his prime yet. Spain's defense should be even better in 2014.
Alternatives: Inigo Martinez, Alvaro Dominguez, Victor Ruiz, Fernando Amorebieta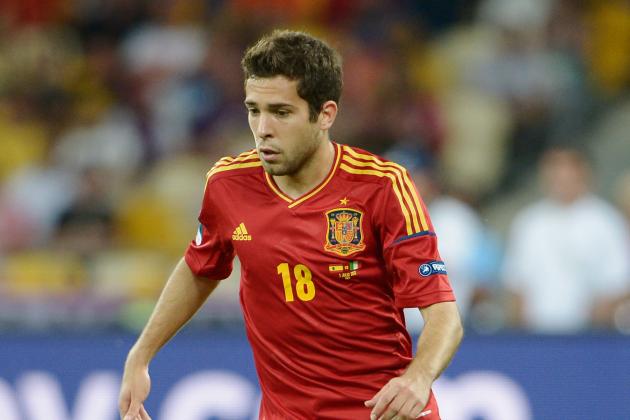 Claudio Villa/Getty Images

Age at 2014 World Cup: 25
What a tournament for Jordi Alba! Not only did he score the clinching goal in the final, he was Spain's most consistently stellar defender throughout the tournament.
He went to Central Europe with many questioning his defensive abilities, given his size. Some thought he may be the biggest weakness for Spain.
Now that the dust has settled, any critics look a bit foolish. He shut Nani down for 120 minutes and made a strong claim as the best fullback in the tournament.
He also earned a move back to his boyhood club. Pity for Valencia that the deal was finished before the final, as it now looks like Barcelona all but stole this young star for a mere €14 million.
Nacho Monreal is the more complete defender, but Alba's showing at the Euros makes him the current frontrunner.
Alternatives: Nacho Monreal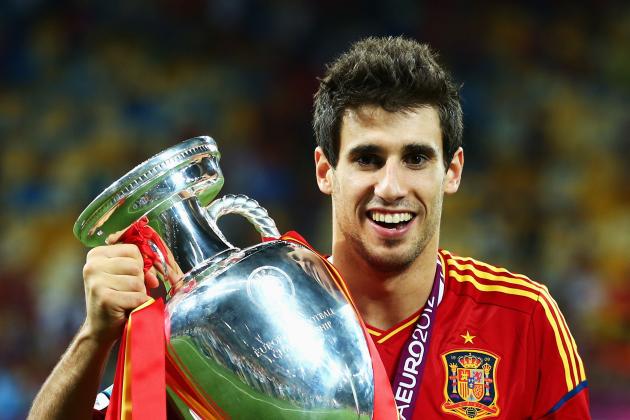 Alex Grimm/Getty Images

Age at 2014 World Cup: 25
How blessed is Spain that a player as talented and versatile as Javi Martinez barely played one half of football in the Euros?
Xabi Alonso was the hero against France and finally seems to be making Spain's double pivot work, but he will be 32 by the next World Cup.
Chances are that he will still start in Brazil and will be near his best, but for the sake of showing how much depth Spain has, let's take him out of the starting 11.
His replacement, Martinez, will slot back into his natural position and may even push Busquets to the forward pivot as opposed to the deeper role he frequents now.
Martinez is the best defensive option of the three defensive midfielders and still has time to improve his positioning and reading of plays.
Assuming Del Bosque continues to use two holders in the World Cup, this new pairing has the potential to be even greater than the current one.
After all, defensive midfielders usually do not peak until their very late twenties or early thirties.
Alternatives: Xabi Alonso, Ignacio Camacho, Mario Suarez, Javi Garcia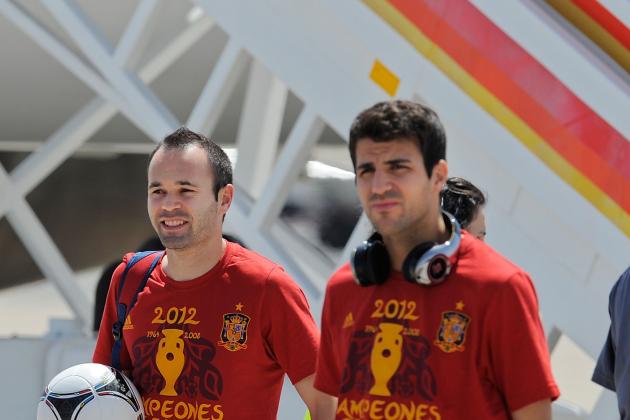 Denis Doyle/Getty Images

Age at 2014 World Cup: 30, 27, 28
Does this look familiar? That's because it is the three attacking midfielders we saw in the Euros.
For most teams, losing a player like Xavi would surely mean the end of an era. For Spain, it represents the next step.
That is not to say that Xavi will be fully replaced. His leadership and dictating of the field will likely not be seen again for some time.
Thiago Alcantara is the player most similar to Xavi, but he will likely not be ready for a starting role by 2014.
Still, most teams would kill to be able to just slot Cesc Fabregas into a full-time role as a replacement. Spain could do far worse than Fabregas and Thiago leading the next generation.
It seems almost unfair that these players will all be playing their best football in Brazil. If Spain has already won three straight tournaments and still has this much depth, when will their reign end?
Alternatives: Santi Cazorla, Thiago, Juan Mata, Isco, Xavi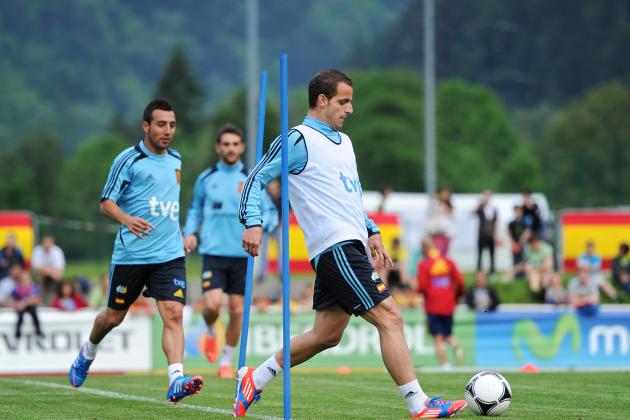 Jasper Juinen/Getty Images

Age at 2014 World Cup: 29
The one position that should truly worry Vicente del Bosque going into Brazil is striker.
Spain may have lit Italy up in the Euro final, but scoring goals has been their biggest problem for years now.
David Villa will likely be past his prime and no longer the great finisher he has been for nearly a decade.
Fernando Torres won the Euros and Champions League trophies this year, but he looks in need of a return to Spain to regain his top form.
Roberto Soldado and Fernando Llorente have tons of talent, but neither are world class and each is lacking in their overall games.
Soldado is a fantastic poacher, but not a complete striker. Llorente is supremely talented in the air and good with his feet, but lacking agility and pace.
A new favorite could emerge soon, but right now there is no clear choice for Del Bosque at this point.
Alternatives: Fernando Llorente, Fernando Torres, David Villa, Alvaro Negredo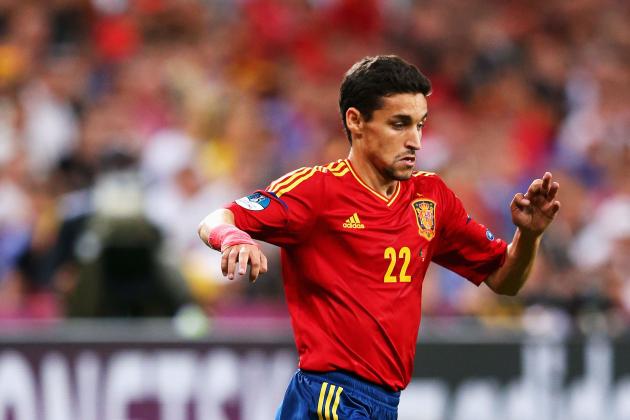 Alex Livesey/Getty Images

Age at 2014 World Cup: 28, 26
The aforementioned players work in Spain's 4-2-3-1 formation. Vicente del Bosque also frequently uses a 4-3-3.
In that case, he may continue to use six midfielders as he did in Europe. Obviously, that tactical gamble worked for Spain.
Del Bosque may also choose to use two true wingers. If he does, he will have a number of options who will be entering the prime of their careers.
Jesus Navas would be considered by many to be the best winger in football if he played for a global brand like Chelsea. That lack of recognition will not stop him from playing in Brazil.
Partnering him on the left would be Pedro. Health prevented Pedro from having a spectacular season, but he is still the best scoring threat of any Spanish winger.
The youth and depth at this position for Spain is as great as at midfield and rivals that of any team in the world.
Alternatives: Santi Cazorla, Juan Mata, Iker Muniain
Denis Doyle/Getty Images

Now that we have reviewed Spain's options for the 2014 World Cup in Brazil, we see that Spain is not only the best team in football, it might remain the best team for a long time.
At every single position, Spain has at least two players that could start for almost any team in the world. Not many teams can say that.
Some critics say that Spain's long history of failure is more telling than their current place atop the footballing world and that their current dominance will soon end, sending them back into mediocrity.
Apparently those critics have not seen Spain's Olympic team play. They have not seen Spain's Under-19 squad.
Spain has enough depth to win every single international tournament in the next five years—at all ages.
What does this mean for Spain? While fans and players should definitely recognize that this is the Golden Generation of Spanish football, there are no signs that their current reign will soon end.
What does this mean for the rest of the world? Watch out! Spain has just won their third straight major tournament and show no signs of slowing down.
To any team who looks to break Spain and replace them at the pinnacle of football: good luck.
Spain are the current standard of modern football, and that may not change for a while.
A version of this article was originally published by the author at Inside Spanish Football, a website dedicated to Spanish club and national football.