MLB Midseason Awards: Who Takes Home the Fake Hardware?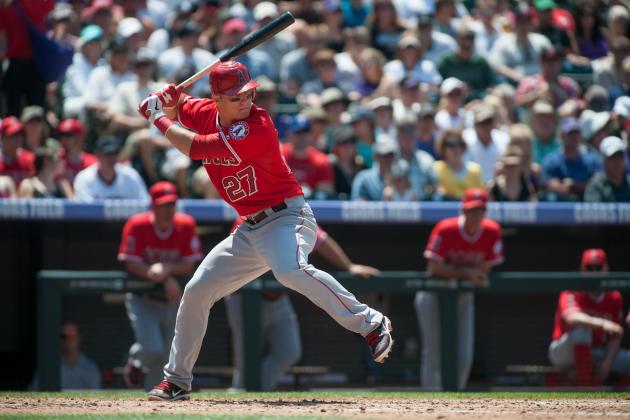 Dustin Bradford/Getty Images

It seems like just yesterday that the frost was thawing and pitchers and catchers were reporting, but the baseball season is already more than halfway done.
That's right, all 30 teams have gotten through at least half their schedule, which means there's only one thing to do: give out some fake awards.
The last three months have been full of surprises around the league. Rookies have played well beyond their years, traditional powers find themselves in the cellar—for the love of God, the Pirates are 10 games above .500.
With an extra wild card spot up for grabs this year, the second half promises to be a great one. But before we get to that, let's take a look back at what's been a wild start to the season.
Begin Slideshow

»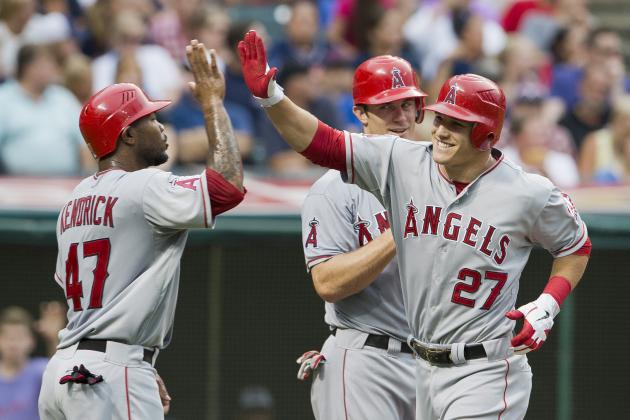 Jason Miller/Getty Images

This will no doubt be a controversial pick, considering Trout hasn't even played in three-quarters of Anaheim's games so far (and Josh Hamilton keeps doing things like this.)
Hamilton has had an incredible year, leading the league in RBI and trailing only Jose Bautista in home runs. But Trout, a 20-year old rookie, has been the best—and most valuable—player in the American League for two months, and he shows no signs of slowing down.
The simple fact is that there isn't anything Trout doesn't do extremely well on a baseball field. He hits for average (he leads the league at .348).
He hits for power (extrapolated over a full season, he'd be on pace for 28 homers and 101 RBI). And just for fun, he leads the league in steals too, six ahead of second place.
He's also already one of the best outfielders in baseball. He covers a small country's worth of space out in center, tallying a 32.5 UZR per 150 games (per Fangraphs), good for second in the AL among players with at least 100 innings. For comparison, Hamilton sits at -4.9.
Trout has been a shot in the arm for an Angels offense that was sleepwalking until he arrived. The best of Mike Scoscia's clubs have had a guy who can wreak havoc in the leadoff spot and open things up for the middle of the order—think Chone Figgins and David Eckstein.
Trout has been a production machine in that role, topping the AL in Runs Created per 27 Outs—essentially a measure of how many runs per game a team made up of nine of the same player would score—at an astounding 9.24 (via ESPN.)
It's no coincidence that his arrival coincided with the resurgence of Albert Pujols and the rest of the Halos' bats. With Trout as a constant threat on the bases, guys like Pujols and Mark Trumbo are seeing more fastballs and more pitches from the stretch—and they're driving in runs as a result.
Hamilton may hit for more pop (although the gap isn't as wide as some think), but Trout has been the best all-around player in the American League.
He's also got this going for him, which is nice.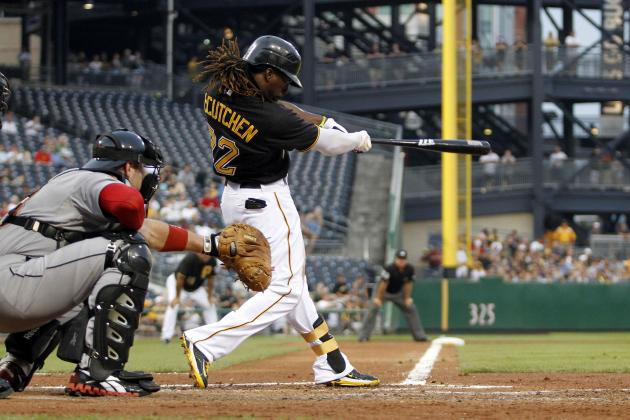 Justin K. Aller/Getty Images

A quick disclaimer before the torches and pitchforks come out: in a lot of ways, Joey Votto is having a better season right now.
The Cincinnati Reds slugger has an absurd .464 on-base percentage, all while playing Gold Glove-caliber first base. He also has the edge in most calculations of Wins Above Replacement.
But for the most part, McCutchen and Votto are locked in a statistical dead heat. Though Votto draws far more walks, McCutchen has a slightly higher average and more RBI. It's an incredibly tough call, which means the "V" in MVP needs to serve as the tiebreaker.
The Pirates find themselves atop the NL Central at ten games over .500 for the first time in 20 years, and they've managed to do it with a lineup that prominently features Casey McGehee, Jose Tabata and Pedro Alvarez.
McCutchen is the leader by a mile in every statistical category, single-handedly carrying that offense with very little protection around him—aside from McCutchen, only two starters are hitting above .250.
Pittsburgh ranks 22nd in average and 29th in OBP, and just imagine what those numbers would look like without him in the lineup.
When you combine that with the fact that McCutchen has more speed (14 steals this year to just 4 for Votto) and plays a more valuable position defensively, the choice becomes clear. Raise the Jolly Roger.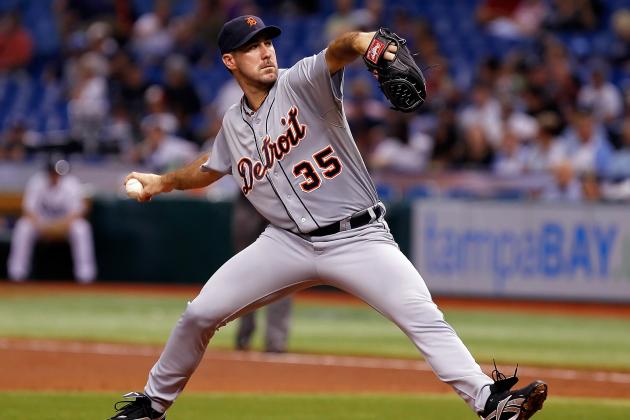 J. Meric/Getty Images

Another race that's just about too close to call. But with all due respect to Chris Sale of the White Sox, Verlander is the choice.
Statistically, the two are just about even. They have identical WHIPs, and although Sale has almost a half-run edge in ERA, Verlander has slightly better strikeout and walk ratios (and the ERA differential shrinks when defense is taken into account).
I hope by now the fact that wins are a largely irrelevant stat needs no explanation, but here we go anyway. Sale has a sparkling win-loss record at 10-2, but he also gets over three more runs of support per game than Verlander, which makes it a whole lot easier to win games.
So what puts Verlander ahead? Well, for starters, he has to pitch in front of one of the worst defenses baseball has seen in a long time.
Prince Fielder and Miguel Cabrera are black holes on the corners, and Jhonny Peralta may have the worst range of any shortstop in the game. By just about every defensive metric, the Tigers are the worst fielding team in the league.
Verlander is also the unquestioned workhorse of his staff. Max Scherzer and Rick Porcello have massively underachieved in 2012, meaning Verlander is the only reliable starter Detroit has at the moment.
Every time he takes the mound, he knows he can't just be good—he needs to be an ace, and he needs to get deep into games to give his bullpen a break.
Verlander has pitched significantly more innings than Sale, and given the defense around him and his value to the Tigers, he gets the nod.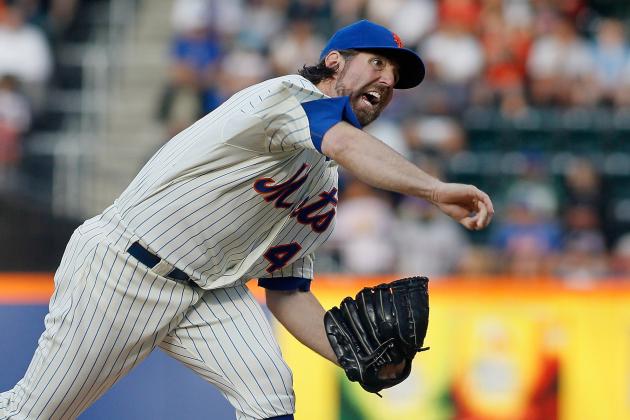 Mike Stobe/Getty Images

A lot of writers far smarter than I have written about Dickey over the past couple of months, but his story bears repeating. The guy is having an unbelievable year, and he's doing it as a 37-year old knuckleballer.
The numbers are just as remarkable as the story: Dickey has the best WHIP in the NL, the third-best ERA and over a strikeout per inning, all while compiling a 12-1 record for the surprising Mets.
But perhaps the most impressive aspect of Dickey's year is that he's done it almost exclusively with a knuckleball. It's a notoriously fickle pitch, rarely kind to those who try to master it.
It's dependent on so many different variables out of the pitcher's control—wind, temperature, you name it. And when a knuckler doesn't knuckle, it's nothing but a batting-practice fastball.
Yet Dickey has found a way to embody a contradiction in terms: the consistent knuckleballer. Fourteen of his 17 appearances have been quality starts, and he rarely throws two bad ones in a row.
It darts, dances and makes hitters look silly more often than anything else in the game right now. He's inexplicably managed to tame the untameable for three months.
Maybe it's because he speaks of his pitch like he's an old sea captain, who knows. But one things for sure, it couldn't happen to a more deserving guy.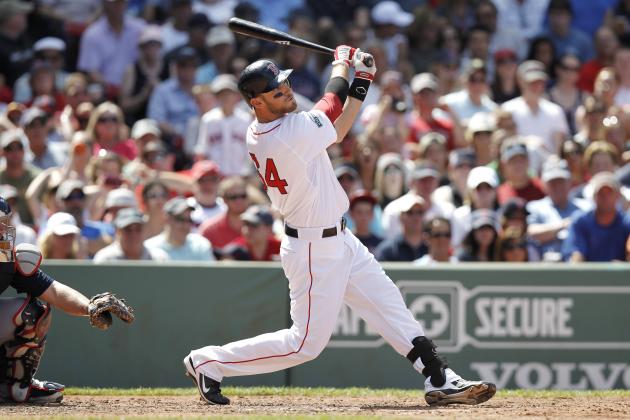 Winslow Townson/Getty Images

Since Mike Trout has turned the AL Rookie of the Year into a race for second place, let's spread the love a little bit and give out an honorable mention.
Will Middlebrooks has been one of the few bright spots for the Boston Red Sox this year at the hot corner. A top prospect for a while, Middlebrooks finally got his chance in the majors when Kevin Youkilis got injured earlier this year—and he hasn't looked back since.
A modern-day Wally Pipp if there ever was one, Middlebrooks has done nothing but rake since being called up. He's hit .298 with 10 homers and 37 RBI in just 48 games, and his numbers were even sillier before a recent slump knocked his average down a bit.
He's been so good that the Sox were forced to willingly put Adrian Gonzalez in the outfield to get him at-bats, and he's the only reason Bostonians didn't burn down Fenway when Kevin Youkilis was insulted by Bobby Valentine and finally traded.
Boston isn't the easiest place to play when things aren't going well, but the 24-year old rookie hasn't missed a beat and will be a staple in the middle of that lineup for a long time.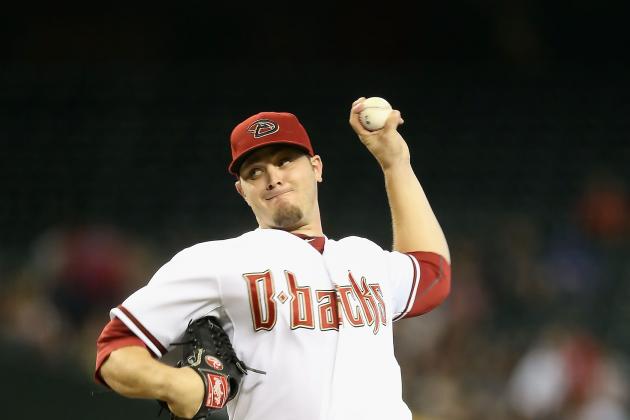 Christian Petersen/Getty Images

He may not get as much attention as a certain phenom on the East Coast, but Miley has been the best pitcher no one's heard of this year.
The rookie has gone 9-5 with a 3.05 ERA and 1.09 WHIP so far this season, and the Diamondbacks have needed every bit of it.
Arizona's rotation has been a major disappointment this year—Ian Kennedy hasn't been anywhere near the pitcher he was in 2011, and Daniel Hudson and Joe Saunders have missed significant time due to injury.
Miley wasn't even supposed to be in the rotation this year, but had to fill in when Josh Collmenter struggled out of the gate. He got off to a torrid start—earning NL Rookie of the Month honors in April—and hasn't cooled off.
He has pretty mediocre strikeout totals, but with control like Miley's, who needs strikeouts? Miley walked just one batter in four starts in the month of June and has surrendered just 21 in over 100 innings. He pumps the strike zone with his fastball and uses a much-improved slider to miss bats.
Miley's come out of nowhere to be the surprising rock in Arizona's rotation, and is one of the major reasons why the D'backs are still managing to hang around in the NL West. As bright as Bryce Harper's future is, Miley has been one better so far.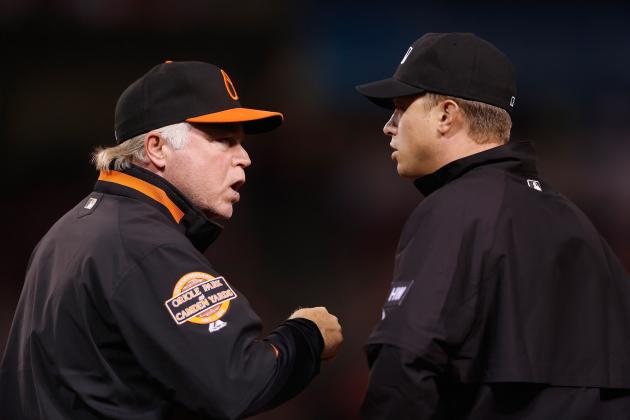 Jeff Gross/Getty Images

I'm not sure even the Orioles know how they've done as well as they have so far in 2012. They've been outscored by 27 runs on the year, only two starters have ERAs below 5 and they're tied for 22nd in the majors with a .240 batting average.
And yet they've managed to smoke-and-mirror their way into contention in one of the best divisions in baseball, and Buck Showalter is a big reason why. A manager's effect on a game is clearest in tight contests, and Showalter has pushed all the right buttons this season.
Baltimore is 29-13 in games decided by two runs or less, a number that screams regression in the second half. But it also screams that Showalter has done a masterful job eking out close wins, managing one of the league's best bullpens to perfection.
Given their lack of starting pitching depth, the O's may not stay in contention in the second half. But they've given the city of Baltimore a much-deserved breath of fresh baseball air for three months, and Showalter deserves a lot of the credit.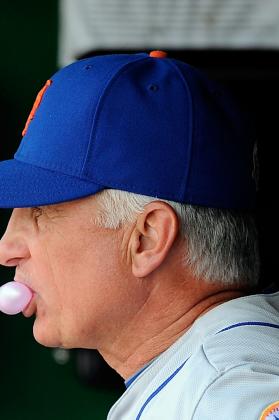 Patrick McDermott/Getty Images

When Collins became the Mets manager in the offseason, he was coming to one of the most dismal franchises in baseball. The Wilpons were hemorrhaging money, the roster was bereft of talent and a frustrated fanbase wasn't showing up to their shiny new ballpark.
And yet, somehow, here they are, 4.5 games out of first nearing the All-Star break. David Wright has had a monster year and the starting pitching has been beyond surprising, but this team still has no business being in contention in July. But Collins has managed to lead them there, keeping this team relaxed and focused and hungry.
Like the Orioles, the Mets may fade down the stretch (it is, after all, what they do.) But that doesn't make this three-month stretch any less impressive, and some pieces are in place for New York to right the ship if their ownership ever gets its act together.