Talking Dallas Cowboys with X's & O'S Expert Alen Dumonjic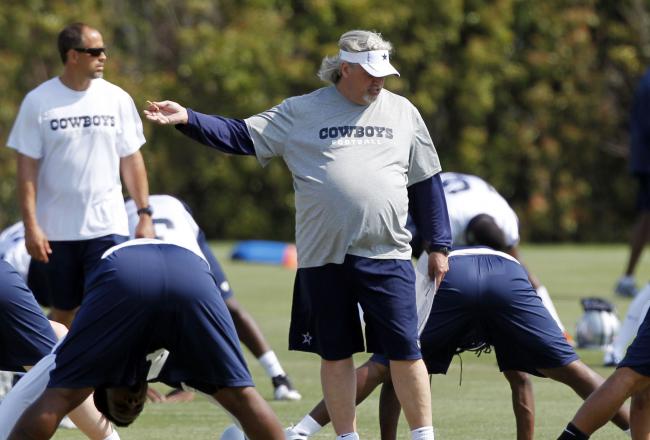 Layne Murdoch/Getty Images
If you aren't familiar with Alen Dumonjic's work, familiarize yourself. Football is a complicated game, even for those of us who play(ed) it, watch it every Sunday and absorb it on a daily basis. But Dumonjic, who works for us here at Bleacher Report and is also a former colleague of mine from theScore.com, is a rising star in the world of football film breakdown.
You get my perspective on the Cowboys over and over again, so to mix it up a little, I decided to bring Dumonjic in to discuss America's Team.
Bleacher Report: Rob Ryan has said that he thinks he tried to install too much in too short a period of time when the lockout ended last year. He's also said there wasn't a good foundation in place. Now, with a full offseason to master Ryan's scheme, how different do you think the Dallas defense will look in 2012 (personnel changes notwithstanding)?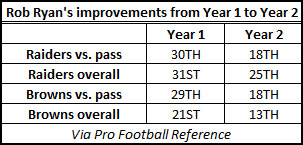 Alen Dumonjic: I think they'll be much better but not a whole lot different.
Rob Ryan is a dynamic defensive coordinator, though not as good as his brother Rex, and will throw a lot at offenses, which I don't expect him to change with a full off-season at his disposal considering he didn't during the shortened offseason. Not to mention, he really doesn't hold back on anything.
Further, one of the issues that they had last year was that they were too slow communicating prior to the snap, and that cost them multiple times, most notably on national television against the New York Giants.
They'll be better this year in that department, but one of the things that they've got to do is have Ryan make better adjustments. At times last year, he struggled to, and it bit them in the rear.
Should Mike Jenkins get a chance to start?
B/R: As far as the personnel goes, the most notable changes obviously took place at cornerback. In May, you wrote extensively about what Morris Claiborne brings to the table, noting that he'd likely be put in pressure situations from the start. We've seen how often rookie cornerbacks struggle, so does that concern you at all here? Claiborne hasn't even practiced yet, but the Cowboys insist he'll start over Mike Jenkins. I'm not so sure that should be a lock. Your thoughts?
AD: I'd normally agree with you in this situation, but Jenkins is not very good, and Claiborne has the raw, physical talent that should enable him to do well enough early on.
There are always concerns about cornerbacks adjusting to the NFL because there are a lot of details to the position, especially when playing man coverage, which he's likely to do a lot of under Ryan, that rookies haven't grasped yet. So veteran receivers take advantage of them.
B/R: Would you be able to shed light on why Anthony Spencer is so good at getting pressure but so pedestrian in terms of collecting sacks? Is he just not a good finisher? That's the reputation he has, but how much of it might be bad luck? I think Spencer's an underrated player, but I can't keep defending him if he can't start taking down quarterbacks more often.

AD: Pressures versus sacks is always an interesting debate. Sacks can be overrated a bit because from basic statistical analysis, it's concrete evidence that we can rely on, but pressures are just as important.
We see a lot of praise for guys like Cliff Avril of the Lions, but Avril only had six more pressures than Spencer last season. There's a handful of other guys that are in similar range that get more praise. Besides, there's only so many sacks to go around when DeMarcus Ware is racking them up.
But to answer your original question, he has a strong tendency to attack the outside shoulder of the pass blocker, and he doesn't have a great closing burst. He needs to take an inside path to the quarterback more often, and I think he'll get there more.

B/R: Lightning round: Who do you think should start next to Sean Lee, Dan Connor or Bruce Carter? I think we'll see a lot of Connor on early downs and Carter later.
AD: I agree with you. Dan Connor should be next to Lee, though. He's a good complement. He's always been underrated in my opinion, even if he is a two-down linebacker. He's smart and can get the job done downhill.
B/R: Who has a better 2012 season, Dez Bryant or Miles Austin?
AD: If healthy, Miles Austin. Dez Bryant is very talented, but you never know what you're going to get from him on Sunday. That's not the case with Austin, who is a superb route runner and always works hard.
B/R: Tony Romo or Eli Manning?
AD: Eli Manning. More trustworthy than Tony Romo in the late stages of the game.
Who will be the Cowboys' No. 3 receiver?
B/R: Does it matter who wins the No. 3 receiver job? Won't Romo just make whoever it is look golden, like he did with Laurent Robinson? Or am I failing to give Robinson enough credit?
AD: I think Robinson deserves some more credit. He's always had the talent, just couldn't stay healthy. Last year was the perfect storm for him.
Tony Romo at quarterback does help, though, as he's a good one. I would not be surprised if Danny Coale wins the job. He's always been underrated but is a quality route runner and has good hands. He's also very smart and has good field awareness. I've always liked his game.
B/R: DeMarco Murray: Real deal?
AD: Right now, I say no. If you may recall, his career got off to a hot start at Oklahoma, then he had some issues because he was one-dimensional and couldn't stay healthy before rebounding his final year. I'd like to see him put it together for another year before I say yes.
This article is
What is the duplicate article?
Why is this article offensive?
Where is this article plagiarized from?
Why is this article poorly edited?