Williams vs Azarenka: Score and Highlights from Wimbledon 2012 Women's Semifinal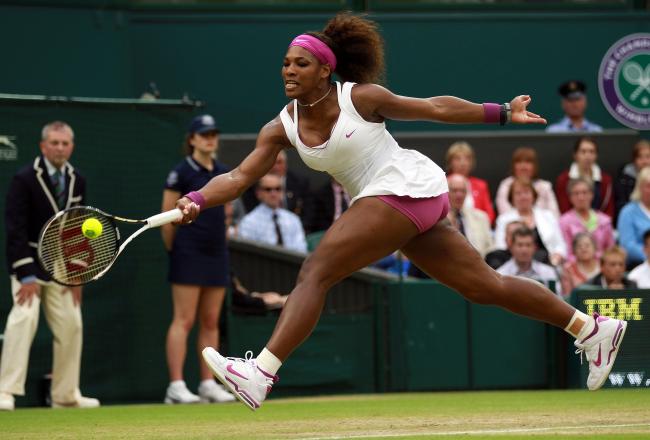 Clive Brunskill/Getty Images
Serena Williams defeated Victoria Azarenka in the semifinals at Wimbledon on Thursday and advances to the final to face Agnieszka Radwanska.
Scroll down for updates from throughout Serena's win.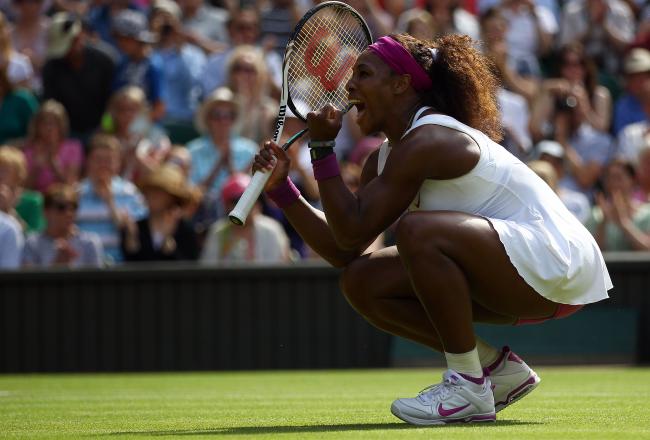 Thank you to everyone that followed, I hope you enjoyed today's semifinals. We'll be back tomorrow live blogging the men's semifinals as well. I hope everyone has a great Thursday!
So, Saturday morning No. 6 Serena Williams vs. No. 3 Agnieszka Radwanska. Serena goes for her fifth Wimbledon title and Radwanska plays in her first Grand Slam final.
A definite clash of styles as well. If Serena isn't erratic she will dominate.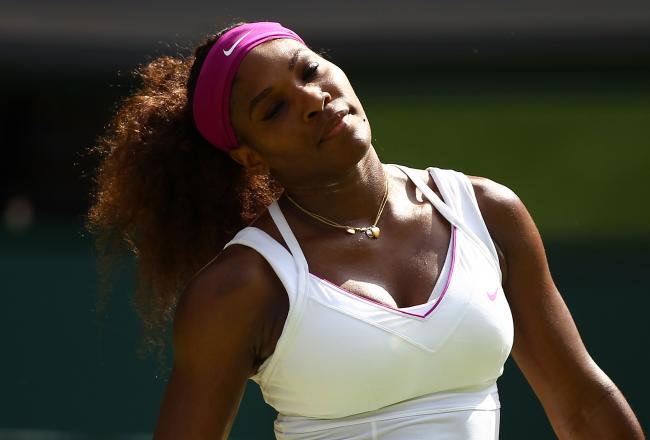 Serena's serve is devastating. Azarenka is a top player who played well and she couldn't overcome it. I don't see how Radwanska can beat her unless she beats herself.
Serena's day: 24 aces, no double faults, 70 percent of her first serves in, 82 percent of points won on her first serve, 45 winners and 14 unforced errors.
Hats off to Victoria Azarenka who really played well. Serena won this match mostly with her serve. Azarenka faced 24 aces and made her earn every point in this win.
Serena Williams with another ace right on the T! She just aced her way into the final of Wimbledon!
Azarenka hits into the net again! Williams serving for the match!
Serena can't get the point! She lobbed a little long! 6-6!
Azarenka with another unforced error into the net! Serena is back up 6-5! Match point!
Serena blasts another ace on the T! 5-5!
Azarenka with another forehand winner! She goes up 5-4 over Serena!
Serena returns long and it's back even at 4-4!
Serena's first serve goes long. Huge serve for Williams. Serena hits a forehand down the line and another challenge! Barely on the line as Serena goes up 4-3!
Serena fires a backhand to even it at 3-3. Great point by Serena.
A messy point from Serena allows Azarenka to even it at 2-2. Serena returns into the net, Azarenka leads 3-2!
Serena follows with another ace! It's challenged and upheld! 2-1 Serena!
Serena hits another overpowering serve that sets her up for a slam! Serena ties it 1-1.
Azarenka misses her first serve but Serena hits the second into the net. Azarenka up 1-0.
But Serena has another ace up her sleeve to send it to a tiebreak! The second set is knotted at 6-6!
Serena's backhand goes wide and Azarenka is on the board. Serena hits into the net and it's now 40-30!
Serena with her 20th ace of the match! 40-0!
It's 30-0 after another ace by Serena!
Azarenka returns wide, 15-0 for Serena.
Serena will be serving once again to avoid dropping the second set.
Serena can't return the serve or even manage a receiving point! Azarenka leads the second set 6-5!
This article is
What is the duplicate article?
Why is this article offensive?
Where is this article plagiarized from?
Why is this article poorly edited?