Georgia Football 2012: 7 Things That Will Be Different from Last Year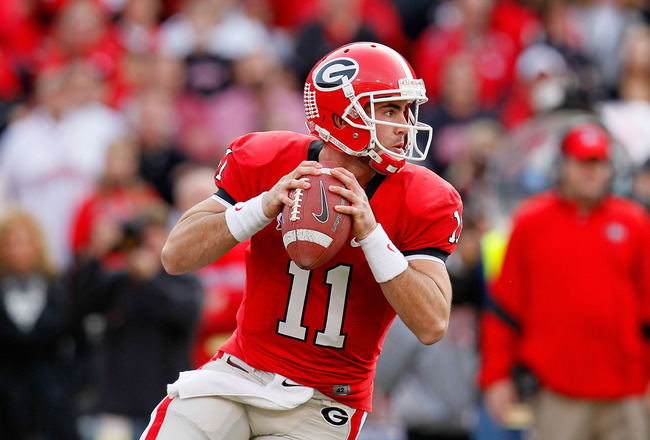 Georgia QB Aaron Murray has all of the pieces around him to lead the Bulldogs back to the SEC championship game in 2012
Kevin C. Cox/Getty Images
At this time last year, Georgia was simply a team trying to figure out how to rebound from an extremely disappointing performance in 2010, and Mark Richt was a coach that was being talked about as a dreaded "hot-seat coach."
The mood around Athens is a little bit merrier this offseason, as the Bulldogs will now enter the 2012 season ready to defend their SEC East division title after piling up 10 victories last year.
There have certainly been a few bumps along the way in recent months, as there have been some notable Georgia players who have been in the headlines for all the wrong reasons. However, this is still a team that will enter the season with the pieces in place to win an SEC title.
With 15 returning starters from last year, not a lot has changed at Georgia. Nevertheless, there will still be some notable differences between the 2011 season and the upcoming 2012 campaign.
Here's a look at a few of the main differences to expect.
1. Georgia Will Enter the Season as the SEC East Favorite
Mark Richt
Scott Cunningham/Getty Images
Georgia entered the 2011 season coming off of a mediocre 6-7 campaign the year before, and the Bulldogs definitely weren't viewed as the SEC East favorite.
Division foe South Carolina was basically the unanimous pick to make it back to Atlanta.
After last year's impressive 10-win campaign, Georgia will now enter the 2012 season ranked in the preseason top 10, and the team will be considered the favorite to repeat as the division winner.
Mark Richt's squad will have a lot of pressure and some high expectations to live up to this year.
This year's schedule certainly isn't overly daunting, though, so it will be interesting to see if the Bulldogs can match their hype and make a repeat trip back to the SEC championship game in 2012.
2. Isaiah Crowell Won't Be Toting the Rock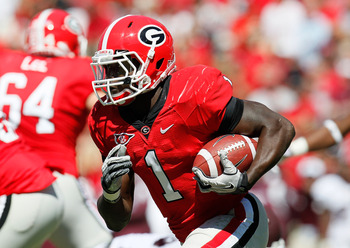 Isaiah Crowell
Kevin C. Cox/Getty Images
After the departures of running backs Caleb King and Washaun Ealey last offseason, incoming freshman Isaiah Crowell was immediately thrust into the starting position for the 2011 season.
Crowell had his ups and downs and showed his immaturity both on the field and off, but for the most part, he handled himself rather well, as he rushed for 850 yards and five touchdowns in his first season.
The former highly touted 5-star recruit was expected to take a big leap during his sophomore year in 2012. However, a recent arrest for possessing a concealed weapon ended up getting Crowell booted from the team, and he's now reportedly transferred to Alabama State (per UGASports.com).
With Crowell gone, that means other Bulldog backs such as sophomore Ken Malcome and incoming 5-star freshman Keith Marshall will have to step up this season.
Malcome and Marshall are capable of forming quite a powerful rushing duo, and it may not take all that long for them to make Georgia fans forget all about Crowell in 2012.
3. The Offensive Line Will Have New Leaders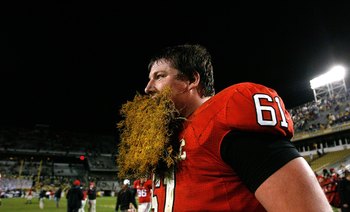 Ben Jones
Kevin C. Cox/Getty Images
Georgia lost three starters from last year's offensive line, including tackle Cordy Glenn and center Ben Jones, who were both selected in this year's NFL draft.
Glenn and Jones were two of the most talented and consistent linemen in the SEC last season, and both of them leave big holes to fill up front for 2012.
Their departures means that returning starters guard Chris Burnette and tackle Kenarious Gates along with new center David Andrews will have to step up and take on leadership roles this season.
The Bulldogs offensive line allowed 33 sacks last year, which was the second-highest total in the SEC, and the group only paved the way for rushers to average 3.9 yards per carry.
It should now be interesting to see how the new-look line fares in 2012.
4. The Defense Is Loaded with Experienced Veterans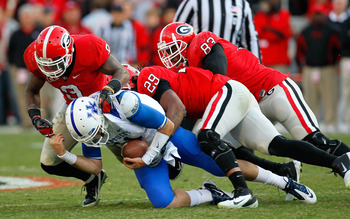 Jarvis Jones
Kevin C. Cox/Getty Images
Georgia's defense will feature seven senior starters this season, and the Bulldogs will bring back nine total returning starters and 12 of their top 13 tacklers from 2011.
The Bulldogs defense, which ranked fifth in the country in total defense last year, will be one of the strongest units in the country once again this season.
Standouts such as nose tackles John Jenkins and Kwame Geathers, defensive ends Abry Jones and Cornelius Washington, linebackers Jarvis Jones and Alec Ogletree and safeties Bacarri Rambo and Shawn Williams are some of the best players at their respective positions in all of college football.
This year's defense is loaded with plenty of talented, experienced and intelligent veteran players, and the only unit in the SEC that might be better in 2012 is LSU's.
5. There Are No Proven Tight Ends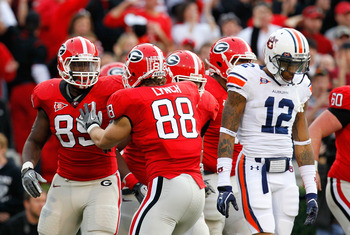 Arthur Lynch
Kevin C. Cox/Getty Images
Last year, Orson Charles was one of the most productive and dangerous tight ends in college football.
Charles, who was selected in the fourth round of the 2012 NFL draft, caught 45 passes for 574 yards and five touchdowns in 2011.
His presence in the passing game is certainly going to be missed, especially since Georgia has no other proven tight ends to rely on this season.
Charles' replacements—Arthur Lynch and Jay Rome—are two formerly heralded high school recruits who both possess intriguing potential, but the fact is, they have a grand total of two catches between them so far in their college careers.
Since the Bulldogs have one of the best receiver corps in the country, comprised of Tavarres King, Malcolm Mitchell, Michael Bennett and Marlon Brown, they won't need Lynch or Rome to produce at the same high rate that Charles did last season.
But they'll still need both of them to step up and contribute in some form in 2012.
6. Cornelius Washington Will Man the Defensive End Position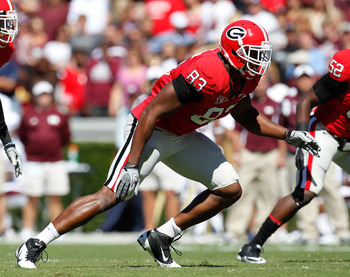 Cornelius Washington
Kevin C. Cox/Getty Images
Given Georgia's depth at linebacker and the need at defensive end following DeAngelo Tyson's departure, it made almost perfect sense for Cornelius Washington to make the switch from outside linebacker to defensive end this offseason.
Last year, Washington was overshadowed by the emergence of Jarvis Jones, but he still managed to rack up five sacks and six tackles for loss in 2011.
Physically, the 6'4'', 269-pound senior seems like a perfect fit to be a 3-4 defensive end, and he should really help to solidify Georgia's defensive line with fellow end Abry Jones and nose tackles John Jenkins and Kwame Geathers.
7. Aaron Murray Will Be a Legitimate Heisman Contender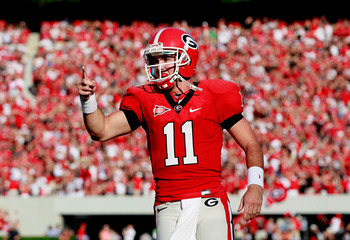 Aaron Murray
Kevin C. Cox/Getty Images
Going into this past season, Aaron Murray wasn't viewed as a top challenger for the 2011 Heisman Trophy, and whatever small chance he did have at winning the award quickly went out the window after back-to-back losses to Boise State and South Carolina to start the season.
Now, after leading the Bulldogs on a 10-game winning streak and putting up impressive numbers—3,149 passing yards and 35 touchdowns—along the way last year, Murray will be on the short list of Heisman contenders at the start of the 2012 season.
Murray made some major strides and really developed into a true team leader last season, and he now looks ready to have Georgia competing for both an SEC championship and a BCS title in 2012.
If the 6'1'', 211-pound junior signal-caller can lead the Bulldogs to a conference championship this season, he should find himself sitting in New York City on Dec. 8.
Keep Reading

Georgia Bulldogs Football: Like this team?