Indianapolis Colts: Power Ranking the Best Fantasy Football Options in 2012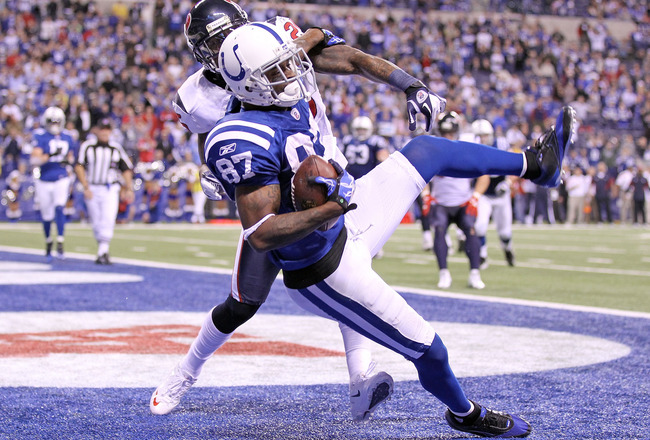 Andy Lyons/Getty Images
The Indianapolis Colts have some new faces on their roster who are sure to make a difference this upcoming season.
Once it comes time to make fantasy football picks, there should definitely be a few Colts on your list.
With the 2012 NFL season just around the corner, here are the power rankings for the best fantasy football options on the Indianapolis Colts.
1. Reggie Wayne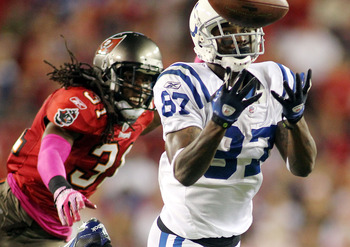 Marc Serota/Getty Images
If you're looking past last season, Reggie Wayne has put up some good numbers. Chris Painter aside, Wayne can perform when given the right opportunities, and that means working with capable teammates. From 2004-2010, Wayne broke 1,000 yards and averaged around 13 yards per carry.
With a new quarterback, Wayne will have to learn a new playing style and likely a new offense. But Luck is able to lead his receivers and look past defenders, which should help Wayne adjust.
Fans will see the wide receiver lead the Colts to a better season in 2012.




2. Adam Vinatieri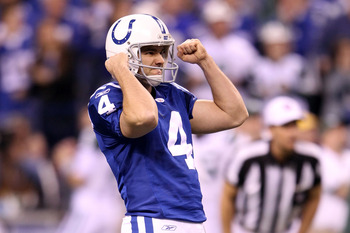 Andy Lyons/Getty Images
Adam Vinatieri should be a fairly easy fantasy football pick. The veteran kicker has been with the Colts for six out of his 17 years of experience. And he has been a reliable and consistent kicker.
With 23 field goals made and 93 points total in 2011, Vinatieri is a player you'll want on your roster if the offense can set him up.




3. Donald Brown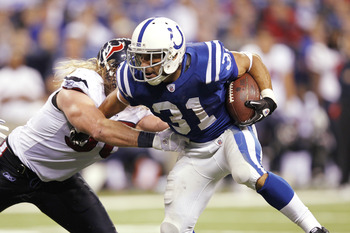 Joe Robbins/Getty Images
The running back led the Colts in rushing yards last season. He is one of the best on the team to consider for fantasy football options.
With 645 yards and five touchdowns in 2011, Brown has improved since his NFL debut. Brown is entering his fourth year in the NFL, and he's got a lot more in him for the Colts. And the team is watching him, looking for bigger play from the running back.
With a new quarterback and Pierre Garcon's exit, there will be even more need for Brown to deliver. Expect Brown to improve in 2012 and put up even better numbers.
4. Andrew Luck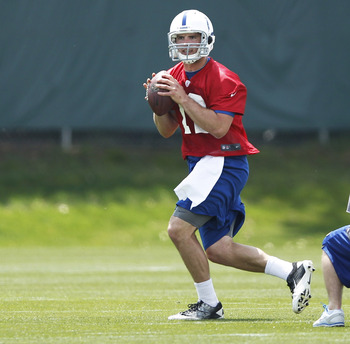 Joe Robbins/Getty Images
Even as a rookie, expect Andrew Luck to be a risk that many will, and should be willing to take as a fantasy football option in 2012.
Luck has proven himself capable of leading his receivers and passing with tight accuracy. As a confident quarterback in the pocket, it shouldn't take Luck very long to get used to the game at a professional level.
If the Colts' offensive line strengthens and bulks up, Luck should have enough confidence to look past the defense. And he can. According the player analysis from CBSSports.com, Luck is able to read defenses and is comfortable dropping out of the pocket to make a deep pass. He is great at making quick and efficient decisions.
His play is certain to match his hype, and it would be wise to consider him as a fantasy football option this season. He's ranked at fourth on the power rankings because he's still new to the NFL and will need to learn how to adjust.
But Luck will deliver, no doubt about that.



5. Coby Fleener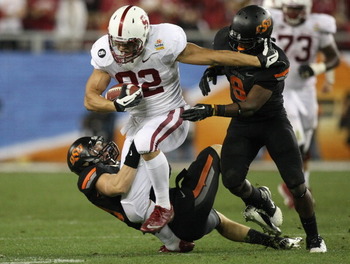 Donald Miralle/Getty Images
Fleener joins the Colts with Andrew Luck. Fleener's biggest advantage is that he is already used to playing with Luck and will not need to adjust too much to his quarterback style.
There will be a few changes in transitioning to the Colts' offense, but Fleener has that familiarity with Luck. Fleener has quick feet and intimidating strength. He's good at making himself available as an option for Luck.
Fleener racked up 18 touchdowns during his college career and was named "one of the most productive tight ends in school history" (via gostanford.com).
Now that Luck and Fleener are reunited on the Colts, it should give the team an edge that fans are sure to notice. As an explosive and speedy tight end, Fleener is a great fantasy football option for 2012.
Keep Reading