Bold Predictions for Peyton Manning and More NFL Stars Debuting with New Teams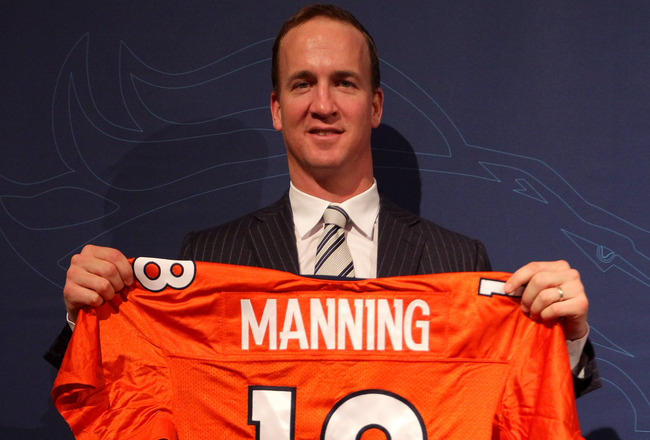 Doug Pensinger/Getty Images
The only thing weird about an NFL superstar with a new team is just that—a new team.
It would be weird to see Calvin Johnson in any uniform other than the blue of the Detroit Lions, but that's just what we're getting from Peyton Manning in 2012.
Easily the most well-known superstar to change teams this offseason, Manning is sporting a darker shade of blue in Denver than he did in Indianapolis.
He's not the only superstar to change teams, either.
Let's take a look at what to expect from Manning and other superstars that have new homes this season.
Brandon Marshall: WR, Bears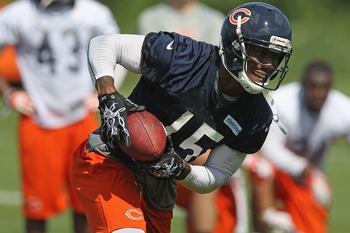 Jonathan Daniel/Getty Images
Reuniting with Jay Cutler was the best thing for receiver Brandon Marshall.
Although he had two solid seasons in Miami with over 1,000 yards in each year, Marshall totaled just nine touchdowns and under 90 receptions in each campaign.
Compared with his time in Denver, Marshall significantly underperformed. Fortunately, his best production came with Cutler during the 2007 and 2008 seasons.
Marshall combined for 2,590 yards on 206 catches and 13 scores during that two-year span.
What gives even more hope to 2012 is the potential rushing attack that Chicago offers and the addition of rookie receiver Alshon Jeffery.
There is also the NFC North's inability to play consistent defense to remember—especially against the pass. Next season could quite possibly be a career year for Marshall. Regardless of what happens with Matt Forte, Michael Bush is also capable of carrying the load on the ground.
This, in turn, sets up the play-action pass. If Marshall gets double-teamed, Cutler has Jeffery, Johnny Knox and Bush to dump the rock to. Marshall is also talented enough to occasionally beat double coverage, allowing Cutler to keep on target.
Against a rather weak schedule in terms of pass defense, expect Marshall to have a supremely impressive year.
Projected Stats: 108 catches, 1,400 yards, 12 TDs
Mario Williams: LB, Buffalo Bills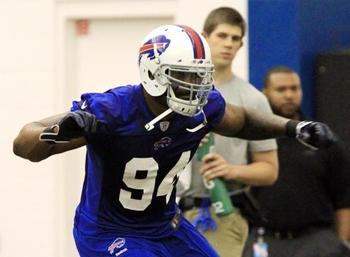 Photo Credit: Kevin Hoffman, US Presswire
The biggest defensive acquisition of the offseason came in the form of Mario Williams, who joined the Buffalo Bills.
A constant threat to pressure the quarterback in Houston, Williams missed most of the 2011 season to injury. Having said that, in not even five full games, Williams compiled five sacks and a forced fumble.
Meanwhile, Buffalo desperately needed to upgrade its defense to help a potentially explosive offense.
With the Bills, Williams is surrounded by stellar defensive talent in Mark Anderson, Marcell Dareus, rookie cornerback Stephon Gilmore and Kelvin Sheppard.
He's only played more than five games once in the past four seasons, but if Shawne Merriman can get back on track, he can be another playmaker on the defensive side of the ball.
As for Williams, the defense will feed off him and he'll benefit from an improved secondary to get more sacks as well. The Bills don't play an exceedingly difficult schedule, either, which means Williams will have plenty of opportunities to avenge his 2011 misfortunes.
Whether it's blitzing outside, inside or simply reading to defend, Williams' presence alone enhances everyone else. Watch out for Buffalo this season.
Projected Stats: 16 sacks, 64 tackles, three forced fumbles
Vincent Jackson: WR, Buccaneers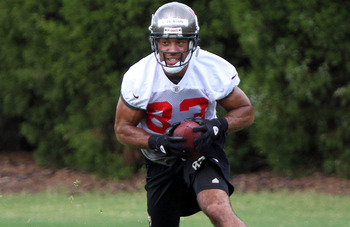 Photo Credit: Kim Klement-US PRESSWIRE
The best receiver from the AFC West is now among an array of great receivers in the NFC South.
Vincent Jackson was a key addition for Tampa Bay, because the Buccaneers failed to present a consistently balanced attack in 2011. The team's No. 16 ranking in passing offense was only a byproduct of a lackluster ground game and no defense.
In short, the Bucs spent a lot of time throwing the ball trying to catch up a season ago. However, they didn't have that No. 1 playmaker.
Jackson, who is coming off arguably his best NFL season, can be that guy.
Gaining 1,106 yards on 60 catches and scoring nine times, Jackson earned a trip to the Pro Bowl in 2011.
His presence alone is what Tampa needs on the outside for Josh Freeman to target, and it will take a lot of pressure off the improved ground game. Rookie Doug Martin was a great selection and guard Carl Nicks will force defenses to keep defenders in the box.
This will allow Jackson to become more dangerous in the play-action game, off double-moves and see more single coverage than expected. If a defense tries to double him up, that just makes it easier to run the ball.
Outside of the NFC South, Tampa Bay's schedule is kind of rough, with the entire NFC East and AFC West in its way. Nonetheless, expect Jackson to have a strong year courtesy of a defensively-weak division and threatening ground game that will keep opponents honest.
Projected Stats: 65 catches, 1,175 yards, 10 TDs
Peyton Manning: QB, Broncos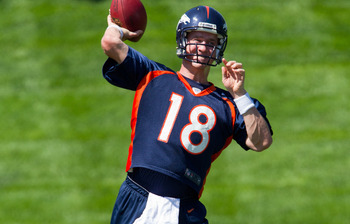 Justin Edmonds/Getty Images
Peyton Manning is expected to bring the Denver Broncos a third Lombardi Trophy.
Otherwise, why would the Broncos have gone after the NFL's only four-time MVP and an eventual Hall of Famer?
Denver doesn't have the best receiving corps, although Demaryius Thomas and Eric Decker do have great potential as we saw in 2011. That said, the pressure is on Manning to perform immediately despite missing the entire 2011 season.
Fortunately, Denver does have a strong ground game with veteran Willis McGahee, Lance Ball and rookie Ronnie Hillman.
Early in the season, expect the Broncos to be a little more run-oriented. However, once Manning gets his feel for the game again, Denver will let him sling it.
We also have to be wary of the Broncos' schedule. It's arguably the most difficult in the league this season.
They face the entire AFC North and NFC South, two entirely different but equally difficult divisions. The AFC North obviously presents defense and the NFC South presents offense. Therefore, adjusting on a weekly basis will be tough.
In addition, the Broncos also face the Patriots and Texans outside of the division.
Expect Manning to have a solid season, but Denver will have a rough beginning against a ridiculous schedule.
Projected Stats: 3,800 yards, 30 TDs, 13 INTs, 65.8 completion percentage
Brandon Carr: CB, Cowboys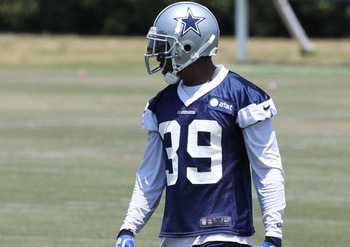 Photo Credit: Matthew Emmons-US PRESSWIRE
If Brandon Carr isn't a superstar yet, he will be after the 2012 NFL season.
One of the most consistently dominant shutdown cornerbacks in recent years, Carr has defended 59 passes and made 164 tackles in the previous three seasons.
Last season was the year in which Carr really displayed his talent. With 25 defended passes and 57 tackles in 2010, Carr remained elite in 2011—without Eric Berry, remember—in defending 15 passes and recording four interceptions.
He fills a big need for the Dallas Cowboys, who ranked No. 23 against the pass last year, in an area that greatly affected their season and ultimately cost Jerry Jones and company a postseason berth.
Carr now has even more help around him, with rookie Morris Claiborne expected to make an immediate impact.
Big D's front seven also presents elite talent with DeMarcus Ware, Sean Lee and rookie Tyron Crawford. In not having to defend receivers for nearly as long, Carr will make more tackles against the run and have more turnover opportunities against the pass.
Carr will be facing tough offenses in Baltimore, Pittsburgh and Cincinnati from the AFC North, and the entire NFC South.
Along with the NFC East, Dallas has a rough schedule which will only enhance Carr's status with a lockdown year.
Projected Stats: 60 tackles, 18 defended passes, three INTS
Follow John Rozum on Twitter.
Keep Reading