Stanford Football: Breaking Down Which Recruits David Shaw Needs to Land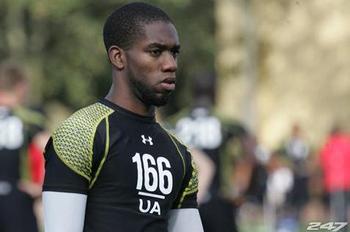 247sports.com
Stanford football currently has the 46th-ranked recruiting class for 2013, as per Rivals.com. While it is early, head coach David Shaw and his staff only have five commitments locked down as of today. Stanford had one of the best recruiting classes in school history in 2012, bringing in five-star lineman Andrus Peat as the biggest coup in Rivals' fifth-ranked, 22-man class.
June commitments from linebacker Peter Kalambayi and wide receiver Francis Owusu (departed star Chris' younger brother) help to prevent concern from emerging on the Farm, but Stanford is now a program that recruits nationally and competes for top recruits against the best college football programs.
Stanford's class of 2007 that included 2012 top draft picks Andrew Luck, David DeCastro, Jonathan Martin, as well as future NFLer Chase Thomas, was ranked only 50th in the nation. Stanford struck gold with those four among others from five years ago, but now its previous weakness in recruiting, its stringent academic standards, is turning into a strength as coaches are now scooping in recruits on the opportunities a Stanford education provides.
As their 40-12 Orange Bowl thrashing of Virginia Tech in 2011 can tell you, Stanford is no longer Ivy League West when it comes to football. That being said, here are five recruits the Cardinal should nab in order to continue their ascent to becoming a perennial contender in the college football world.
Jordan Cunningham, WR
The Cardinal already landed Owusu in the category of top receivers, but nabbing this Florida product wouldn't hurt.
Cunningham has long been a favorite to sign with his hometown Miami Hurricanes. Recently however, he has praised Stanford for its academic prestige, and will be visiting Palo Alto in the fall.
In addition, swiping the heavily-recruited 6'1" wideout out of South Florida would signify a tremendous recruiting victory for the Cardinal against the top powers of the SEC and ACC landscape. Cunningham has a knack for catching the ball, whether it be in traffic or right before going out of bounds, and his pinpoint route running will make him and his quarterback, likely Ryan Burns, quick chums.
Hunter Henry, TE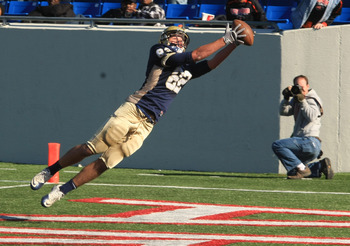 thesportsseer.com
Current Cardinal starting tight end Zach Ertz is expected to compete for national awards this season, while last year's starter Coby Fleener became a second-round draft pick by the Colts. It's pretty clear Stanford loves to involve their tight ends in the passing game, so the sure-handed Henry fits the bill perfectly.
The Arkansas native cut his list to six schools in May, and Stanford is the only one outside of the South. At 6'5" and 240 pounds, Henry has the size to become an effective blocker, even though he currently plays in a pass-orientated spread. It will not be easy to get Henry to head west, but he could be a valuable addition to the passing attack in Palo Alto post-Luck.
Torii Hunter Jr., WR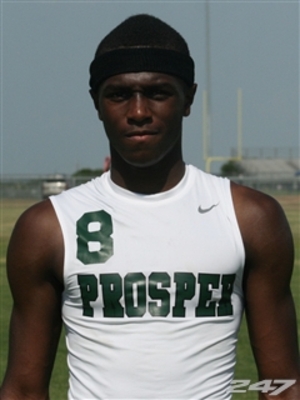 247sports.com
After signing Barry Sanders' kid for their 2012 class, the Cardinal would get another huge boost from a star athlete's offspring if they can lock up Hunter. Just like Henry, the Bobby Petrino scandal might have scared Hunter Jr. away from Arkansas, and if nothing else it looks like dad is in support of the move to Palo Alto.
Considering his father's countless acrobatic home-run robbing catches, it is no shock that Junior has both the hands and athleticism to pull down some impressive balls from time to time. He should be a catching machine.
Additionally, Hunter Jr. wants to follow in his father's footsteps, so Stanford's top-15 baseball program will be a selling point to convince him to leave Texas for Palo Alto.
Isaac Savaiinaea, LB
After it was rumored that he de-committed about a week ago, the linebacker out of Punahou School in Hawaii reiterated his commitment to the Cardinal. Still, Shaw and company cannot afford to cruise on this one. Savaiinaea committed to Stanford on his first visit to the mainland back in March, but will now be visiting UCLA and Texas A&M.
He will be on display for the whole nation at The Opening recruit camp, which begins today. That is not great news for the Cardinal either, as he could receive more enticing offers if he impresses at the Beaverton, Oregon-based event.
Savaiinaea is a powerful force who would be the Cardinal's inside linebacker of the future, but Shaw needs to continue his recruitment throughout the year in order to not let the explosive backer be stolen away in the final hour.
Greg Taboada, ATH
The TE/OLB hybrid from Georgia visited Stanford in late June and received an offer on July 1. He did not starting playing football until high school, but at 6'4" and 235 pounds will offer the Stanford coaching staff a weapon on either side of the ball.
Taboada would be an ideal player to continue Stanford's knack for having a daunting amount of depth and versatility at the linebacker spot. His experience in soccer will help him to become a crafty and explosive pass rusher as well as have the stamina to move around the field effectively.
His interest in Stanford is only recent, but the Atlanta native is ranked 107th in ESPN's top 150 and would be extremely valuable in his ability to play all across the field.
Keep Reading

Stanford Football: Like this team?