5 Free Agents the NHL's Phoenix Coyotes Can and Should Still Sign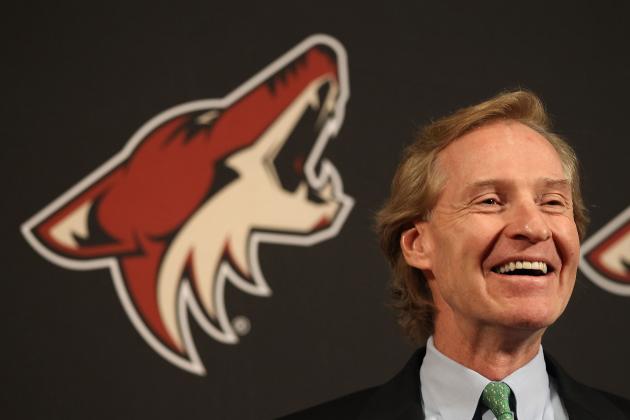 Christian Petersen/Getty Images
Maloney and the Yotes are still looking for bargains
Parise: gone.
Suter: gone.
The free agent market's two biggest names signed to the Minnesota Wild yesterday, and many other free agents have either resigned with their old teams or joined new teams. The question becomes: Who is left?
The Phoenix Coyotes have signed two premium free agents already: veteran forwards David Moss (Calgary) and Steve Sullivan (Pittsburgh).
Many feel that the Coyotes should still be in the market for another scorer or two. This article will examine who is left for the Coyotes to try to pick up. They will want to get the best bang for their buck and will stay away from some of the higher-priced players who remain unsigned.
Here are five players who could help the Coyotes on their way to a better finish than last season.
Begin Slideshow

»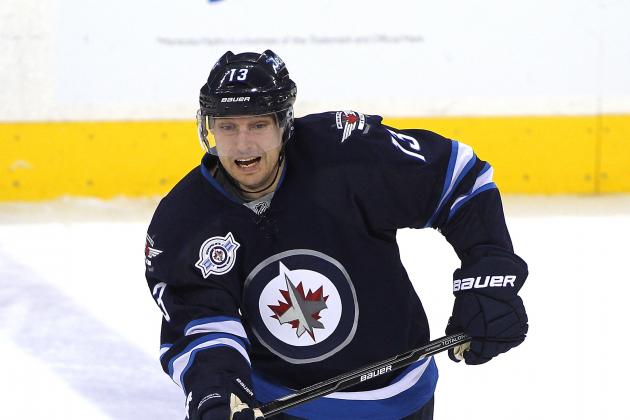 Marianne Helm/Getty Images
Wellwood amassed a career high 47 points last season for Winnipeg
Kyle Wellwood: Center, Winnipeg Jets 5'10", 180 lbs, 18 Goals, 29 Assists, 47 Points
Wellwood's salary last season was $700,000, a virtual steal for someone who put up close to 50 points. The 29 year-old center has played in 450 games and has scored 220 points, 84 of them on the power play.
The Coyotes need someone who can produce points, especially on the power play. If the Coyotes can get him for around $3 million, it would be a pretty good signing.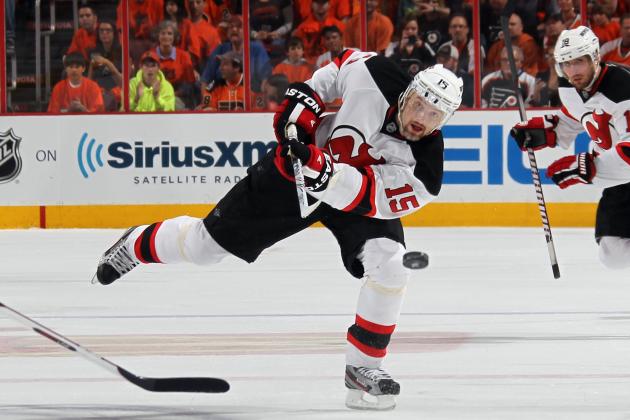 Bruce Bennett/Getty Images
Sykora scored 20 plus goals for the 10th time last season with the Devils
Petr Sykora: Right Wing, New Jersey Devils
6'0", 190 lbs, 21 goals, 23 assists, 44 points
Sykora is a grizzled veteran who has compiled 323 goals and 398 assists during his 16 year career. His salary was a measly $650,000 last season.
The 35 year-old forward has lost a step, but is a proven goal scorer. He has scored 20 or more goals in 10 of his seasons, including 21 goals last season with the Eastern Conference Champion New Jersey Devils. He has also scored 15 or more power play goals three different times in his career.
If he were provided with more time on the power play, Sykora's numbers could increase and he could be a critical component in the success of the Coyotes specialty teams.
If the Coyotes could net him for $1 million or $2 million for next season, he could help the team on the second or third line, and on the power play.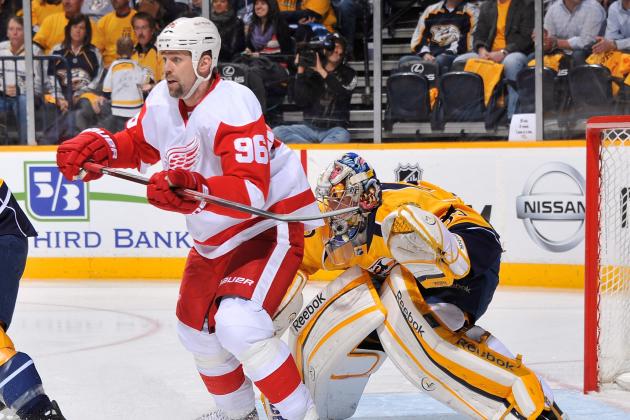 Frederick Breedon/Getty Images
Holmstrom setting up camp in front of the net versus the Predators
Tomas Holmstrom: Left Wing, Detroit Red Wings
6'0", 205 lbs, 11 goals, 13 assists, 24 points
The player every fan loves to hate, unless he is on your team. He is the persistent agitator who is willing to stand in front of the opposing goalie, and take a beating to help his team score goals.
While his numbers are down, his efficiency cannot truly be measured by goals and assists. It can be measured by how many power play goals were scored when he was on the ice. Ten of his 11 goals were on the power play as were 15 of his 24 points. He is a master of screening, rebounding and deflecting when he is positioned in front of the opposing team's net.
The 39 year-old Holmstrom earned $1.5 million last season. If he's willing to play some more than he did last season (when he was basically a power play specialist) and come to Phoenix for the same amount, he would help with the power play tremendously.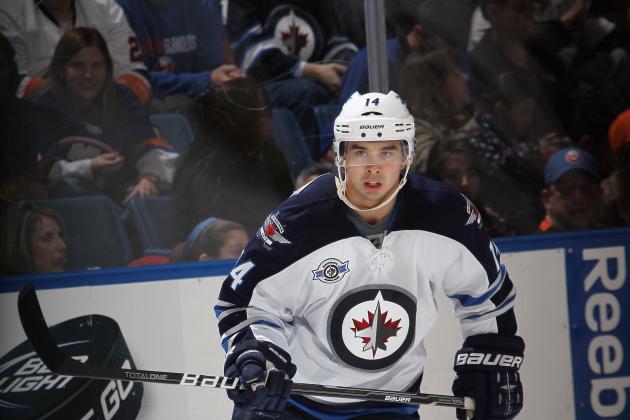 Bruce Bennett/Getty Images
Stapleton has his best season yet recording 27 points in 63 games
Tim Stapleton: Right Wing, Winnipeg Jets
5'9", 160 lbs, 11 goals, 16 assists, 27 points
Stapleton is a diminutive winger who scored 27 points in 63 games last season for the Jets. He scored 11 of those points on the power play.
He has been a proven scorer in other nations' top leagues and also in the minors. He scored 29 goals in the Finnish Elite League in 2008, and 28 and 30 goals in the AHL the two following seasons.
The 29 year-old winger earned $525,000 last season, and if the Phoenix Coyotes can get him for around a $1 million, then they potentially have a hidden gem here. If he had played all 82 games last season, he could have scored 34 points. For the price, there are not many better options.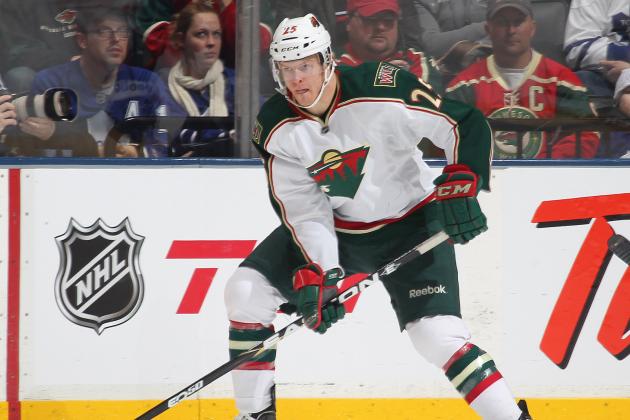 Claus Andersen/Getty Images
Johnson played well in his first full NHL season with the Wild notching 26 points
Nick Johnson: Right Wing, Minnesota Wild
6'1", 183 lbs, 8 goals, 18 assists, 26 points
The 26 year-old Johnson just completed his first full season in the NHL with the Minnesota Wild. He was a proven point producer in the AHL with Wilkes-Barre Scranton, averaging 37 points per season from 2008-2011.
Johnson could compete for playing time on the third or fourth line, and could replace players such as Gilbert Brule and Marc-Antoine Pouliot. He does bring a physical element to the game and the Coyotes will need depth players who can score as well as provide physical toughness.