WWE: How Long Before Chris Jericho Moves on from Pro Wrestling?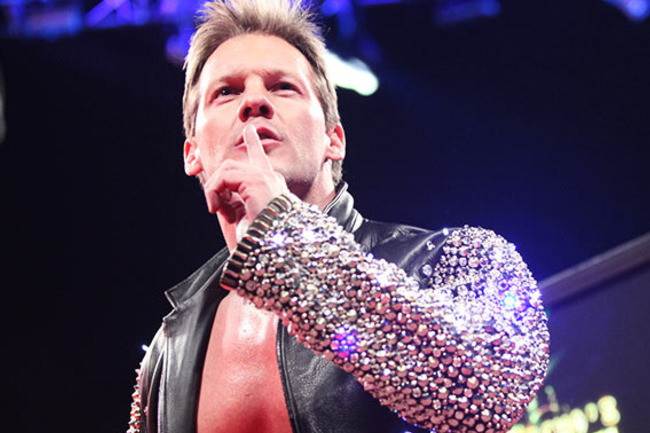 photo by wwe.com

I am a huge fan of Fozzy.
The brown hat, the checkered tie, the way he says Wocka Wocka, this is one funny bear. Wait, we're not talking about the Muppet?
Lame opening joke, right? Yeah, well, I'm no Fozzie Bear, that's for sure.
To be honest, I was never much of a fan of Chris Jericho's metal band. But, I have to say, I am digging the new stuff, so who knows? Maybe I'll download a copy of their new album, Sin and Bones, which drops on Aug. 14.
Shameless plug.
Chris has come a long way, no doubt about it. It seems like just yesterday that he was an up-and-coming star in WCW, a young man who one night turned heel, and never looked back.
On that night, the character that would later be known as Y2J in WWE was born, and fans around the world quickly warmed up to him in a big way.
He was annoying, overly smug, and cocky to the max, an arrogant heel of the first order. He possessed all the qualities of the classic rulebreaker, a modern-day Ric Flair, with a little Michael Hayes swagger thrown in for good measure.
But, Chris was his own man, a guy who seemed to be in firm control of the situation, very sure of his character, and able to handle himself on the worldwide stage.
Fans recognized this, and not only appreciated what Jericho brought to the table in terms of his personality, but also respected the commitment he had to his ring work. He was the complete package, a talent who only needed an opportunity to shine.
However, as with many other young workers during those days, Jericho's chance would not come in Ted Turner's company down South.
It was not until he reached the promised land of WWE that Chris Jericho was finally able to spread his wings, to explore what he was capable of, when given a fair shot at the top.
In the house that McMahon built, there were no veterans who stayed past their prime, lingering around the main event scene, refusing to give up their spots.
In WWE, the name of the game was youth. Excitement. Change. This was Y2J and then some.
Chris carved out his own niche in the business, a place that no other Superstar can lay claim to. He is now considered one of the greats, and accomplished everything that a talent can accomplish in the industry.
And, now he's a rock star. Talk about living the dream.
Jericho has had the unique opportunity that so many of us only dream of. He had two passions in life, pursued both of them, and has been successful at each one. And, he is still performing at a high level in both.
But, for how long?
How long will Chris Jericho continue to put his body on the line both physically and mentally, in the sport that he loves, and continue to front the rock band that he has always dreamed of having?
How much time does he truly have left in the ring until he wakes up one day and decides that he's ready to move on?
The easy answer to that question is however long he wants to. After the breaks he has taken from WWE in the past few years, his body is surely to the point of returning to some level of normalcy.
Well, as normal as it can get, considering he's been dropped on his head for 20 years.
The fact is, as long he feels good and is healthy, there is no reason that Chris can't continue to a have a career in wrestling. He can still go in the ring, he's not lost a step on the mic, and he is still as relevant today as he was before.
He is still Y2J. But, does he still want to be?
When he's on stage, with the guitars blasting in his ears, and the audience throwing the horns up to him, does Chris Jericho think "man, can't wait to take some back bumps tomorrow night?"
The nostalgia of the Attitude Era is still alive and well for many fans, with the presence of Triple H, Undertaker, Big Show, and a few others, in WWE.
Chris is one of those links to that era, and as the others eventually begin to call it a career, Jericho will find himself as one of those last remaining veterans that fans can point to as leading WWE up to this modern era.
In other words, if and when he decides to walk away, it will be a sad day for fans.
Perhaps that is why we're debating this question right now. One by one, we have seen the legends of the Monday Night War leave, moving on with the rest of their lives. We're used to it. We expect it now.
Chris Jericho's "rest of his life," is happening as we speak. The door is wide open for him to move on. When will he walk through it?
As a pro wrestling fan, I would like to see Chris stick around for many more years. He is one of the best that WWE has ever seen, and he has given it all to fans. He is a definite favorite.
As a music fan, I would like nothing more than to see Chris make it, and I mean, really make it, with Fozzy. He has been in the position of underdog before, as someone that was not considered main-stage material. It would be very cool to see him prove those critics wrong, as well.
As for the Muppet in the checkered tie, he remains the most popular Fozzy of all time.
Sorry, Chris, you're not getting that title just yet.
This article is
What is the duplicate article?
Why is this article offensive?
Where is this article plagiarized from?
Why is this article poorly edited?