Alexander Ovechkin and the Ugliest Toothless Grins of the NHL Today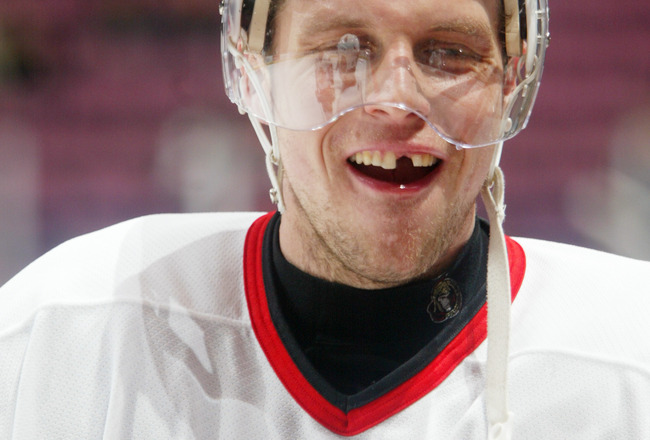 Andy Marlin/Getty Images
Hockey is a very physical sport. As result, players in the NHL are susceptible to sustaining some cosmetic damage.
Hockey players are known for their cuts, bruises, scars and missing teeth. Losing teeth is never a fun thing because it alters a player's appearance.
This slideshow will take a look at some of the ugliest toothless grins of the NHL today.
Duncan Keith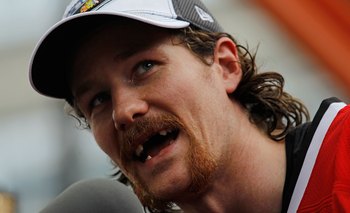 Jonathan Daniel/Getty Images
Duncan Keith was all smiles during this parade as he celebrated the Chicago Blackhawks' Stanley Cup victory over the Philadelphia Flyers back in 2010.
Chris Neil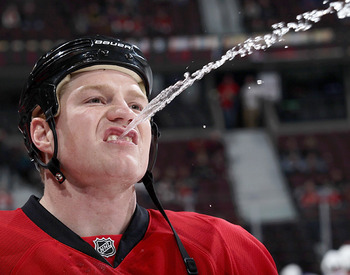 Andre Ringuette/NHLI via Getty Images
Chris Neil is a pest for the Ottawa Senators and drops the gloves often. Throughout his career, he has lost a few teeth as one of the game's most physical players.
Alex Burrows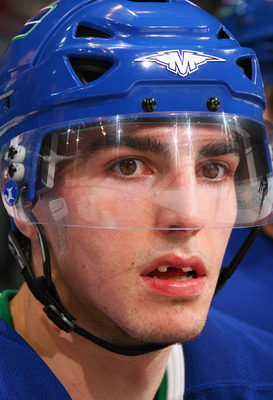 Jeff Vinnick/Getty Images
Alex Burrows made headlines during the Stanley Cup Final during the "biting" incident. It is a bit ironic because Burrows is actually missing a few teeth, so it is safe to assume his "bark is worse than his bite."
Matt Cooke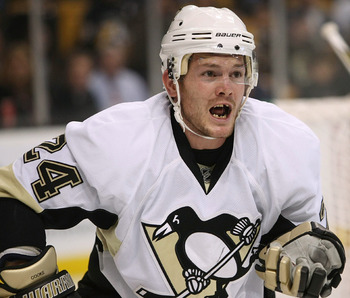 Matt Cooke is another man who likes to grin so the paying customer can see that he is missing a few pearly whites. Cooke was known for his suspensions and edgy play, so it is understandable that he lost a few teeth while he was down in the trenches.
Cooke has since cleaned up his act significantly, so he doesn't have to lose anymore teeth.
Zack Stortini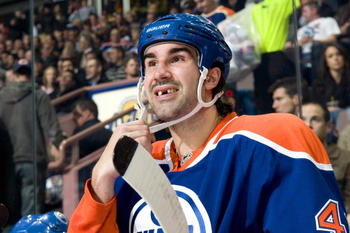 Zack Stortini is your average hockey goon. He has bounced around a few different NHL and AHL teams.
He ended up with the Milwaukee Admirals this season and had 146 penalty minutes. He also had a wide gap between his teeth and a very ugly toothless smile.
Paul Stastny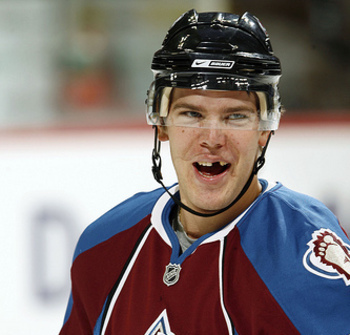 Paul Stastny is a promising young center for the Colorado Avalanche. He has had a short career to this point, but he has already lost a few teeth.
He is very talented, but he needs to stay out of the dirty areas of the ice.
Bryan Bickell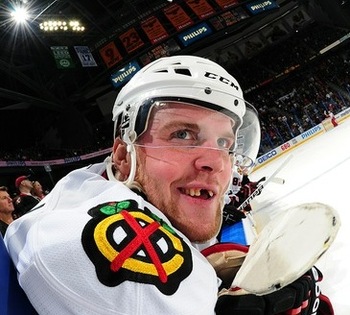 Bryan Bickell is another member of the Chicago Blackhawks who is missing a few teeth. He is a bottom-six center for the 'Hawks and likes to play in the dirty areas of the ice.
Often times Bickell takes an elbow or stick to the noggin while digging out pucks in the corner, so it isn't surprising that he is missing teeth.
Eric Belanger
This guy has guts and in the process he gave himself quite the hockey grin. Any hockey player who becomes a dentist on the bench is tough as nails in my book.
Daniel Carcillo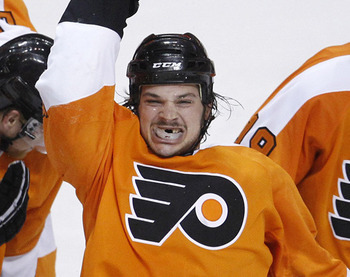 Daniel Carcillo is one of the NHL's most annoying pests. He will get under your skin and will do anything to knock you off your game. Carcillo also has one of the game's ugliest grins.
Alexander Ovechkin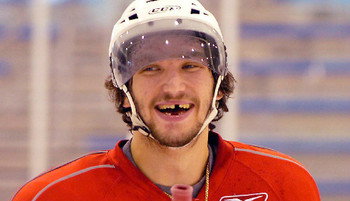 Alexander Ovechkin is an elite sniper and playmaker who scores a ton of goals. He is also a physical player who throws huge body checks with ease. Ovechkin's grin is one of the most distinguished in the game today.
You would think with all the money Ovechkin makes per year he would see a dentist to replace the missing tooth.
Dany Heatley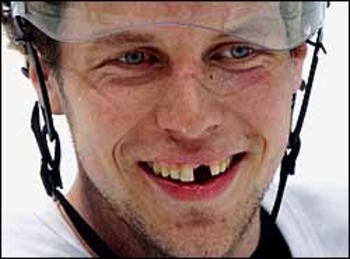 Dany Heatley has another very distinguished grin. He is another skilled player who has lost a tooth over the years of his NHL career.
He has a goofy grin and he really should be able to replace it. Maybe he chooses not to replace the tooth to show his toughness, or maybe he really doesn't care.
Steve Montador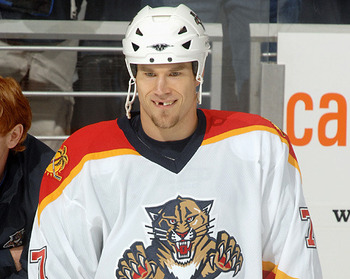 Steve Montador is a defenseman who loves to block shots, so over the years he has taken a puck or two to the face.
He is a very tough defender who also likes to stick up for his teammates. Nonetheless, Montador has an ugly and goofy toothless grin.
Teemu Selanne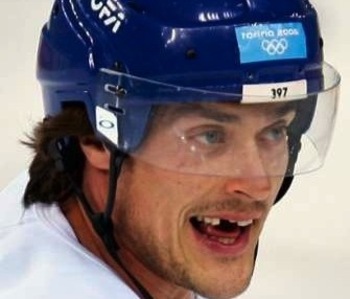 The Finnish Flash is one of the greatest European forwards in NHL history. He also has a very goofy grin.
Selanne has always been a prolific scorer, but he was able to rack up a lot of points by scoring in the dirty areas of the ice.
Joe Thornton
Joe Thornton is a skilled playmaker and scorer, but when he took a puck to the face, the end result was not pretty.
Thornton lost a few teeth that night and has one of the uglier grins in the NHL today.
Sean Couturier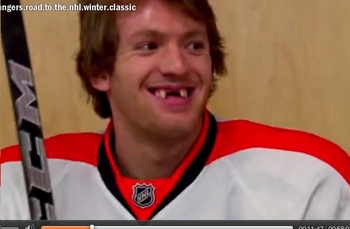 Sean Couturier is a young rising forward for the Philadelphia Flyers but he looks like a grizzled veteran. Can someone explain why this young kid is missing some many teeth?
Keep Reading