Where Steve Nash-Kobe Bryant Backcourt Ranks in the NBA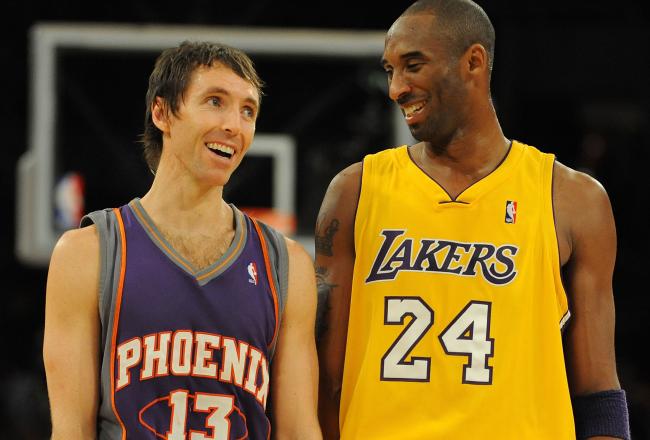 Harry How/Getty Images
The newest backcourt duo in the NBA is on the Los Angeles Lakers, and it's made up of Steve Nash and Kobe Bryant. The Lakers acquired the Canadian point guard via sign-and-trade, according to Adrian Wojnarowski of Yahoo! Sports.
Now that the dust has settled, where does the Nash-Bryant duo rank amongst the best backcourts in the NBA today?
First off, no duo is more established than what the Lakers are planning on throwing out there every night. Nash is one of the great point guards ever to play the game, while Kobe is one of the great players, regardless of position, ever to play in the NBA. In addition, both are former MVPs and had stellar 2011-12 campaigns.
Nash averaged 12.5 points per game, but what was more impressive was the 10 assists average he put up with a Phoenix team that didn't have much talent. Bryant was thought to be on the downside of his career, but that proved to be a foolish thought after the 33-year-old averaged 27.9 points per game, good for second in the NBA.
Defense is where these two share a major difference. Nash has never been known for his defense, especially since he played in Mike D'Antoni's defenseless system for so many years. Bryant, however, is a very solid defender and has honed his skills throughout his career.
How does the tandem of Bryant and Nash stack up against the rest of the NBA?
Adding it all up, the Lakers still have an incredibly talented, established backcourt with Kobe owning all five of the rings between them.
Teams like the Chicago Bulls, Boston Celtics, San Antonio Spurs, Oklahoma City Thunder and Los Angeles Clippers all have great point guards comparable to or better than the Lakers' new man, but none can supplant Los Angeles at the shooting guard position.
On the flip side, the Miami Heat might have Dwyane Wade in their midst, but Mario Chalmers does not surpass Nash, even on his best day.
The only pairing that can compete with the Lakers' backcourt is the Brooklyn Nets' newest combo of Deron Williams and Joe Johnson, which was formed after the Nets completed a trade that brought Johnson to Brooklyn.
So let's compare.
Williams is a much better scorer than Nash, having averaged 21 points per game to Nash's 12, but Nash proved to be a better distributor with 10 assists per. D-Will had fewer than nine assists per game.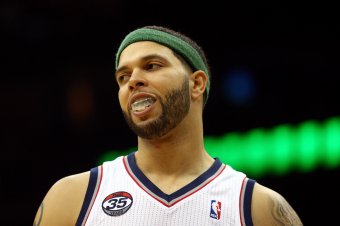 Chris Chambers/Getty Images
Nash posted a better shooting percentage (.532) last year, including beyond the arc, and certainly has the edge over Williams (.407) in that department. While either guy can be pegged as doing some things better than the other, these two are about as even as you can get when compared in different categories.
Neither plays great defense, but Williams can hold his own better than Nash, and he has younger legs to keep up with faster players on the open floor. But Nash's athleticism can't be questioned; the 38-year-old is in great shape. Most guys his age have already slowed down or retired.
D-Will gets the edge because with more weapons, his assists numbers could easily go up. His size, younger age and scoring ability ultimately give him the edge.
Comparing Joe Johnson to Kobe Bryant is silly.
Bryant is a better scorer, defender and clutch player than Johnson. He also has five rings to Johnson's zero. In fact, the only areas where Johnson trumps Kobe is age and perimeter shooting, but even those advantages are slight.
Kobe earns his money; Johnson doesn't. The edge definitely goes to Bryant here.
It's tough to say that Nash and Kobe are the best tandem in the entire league, but the case can easily be made that these two are the class of the Western Conference. It remains to be seen just how great the newest L.A. backcourt will be, but it's safe to say they have the potential to be one of the best, if not the best, in the entire NBA when it's all said and done.
This article is
What is the duplicate article?
Why is this article offensive?
Where is this article plagiarized from?
Why is this article poorly edited?