Los Angeles Lakers: What Does Steve Nash's Arrival Mean for 2013 Lakers?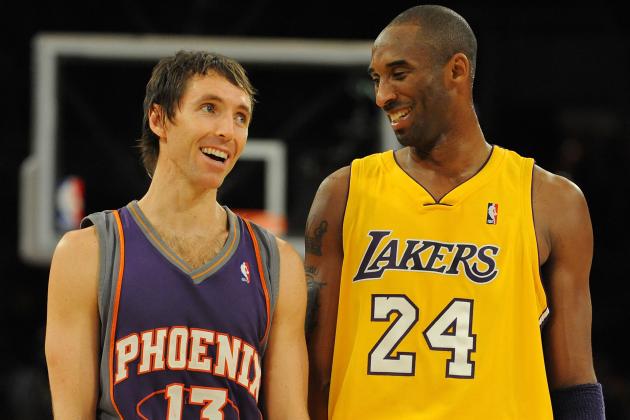 Harry How/Getty Images
Welcome to Los Angeles, Mr. Nash
In what has to be an absolute stunner to the Dallas Mavericks, New York Knicks and Toronto Raptors, the Los Angeles Lakers swooped in and have appeared to acquire two-time NBA MVP Steve Nash. While not what he was five years ago, Nash is still an elite, efficient point guard and offensively, represents an enormous upgrade to the Lakers.
According to Sam Amick of Sports Illustrated, the deal includes two first-round picks (2013 and 2015), two second-round picks and approximately $3 million in cash. Considering the Lakers were going to be in the bidding to re-sign a lesser, albeit younger option in Ramon Sessions, that cost is minimal if the Lakers' front office believes they can make one more title run.
Even as the news sinks in, there are immediate dominoes that can fall into place for Los Angeles.
Here are my thoughts on what Nash's acquisition could mean for the rest of the Lakers in 2013.
Begin Slideshow

»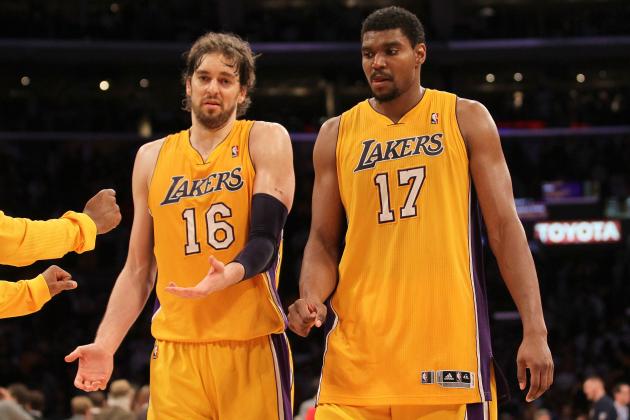 Stephen Dunn/Getty Images
Expect to see the tandem for at least one more year
I think Laker fans can officially hold off on the Dwight Howard talk now. Having dealt the next two years' worth of draft picks to Phoenix, Orlando is probably not interested in dealing Howard for just Andrew Bynum.
I'm hard-pressed to think the Lakers would deal Bynum and Gasol to Orlando (who may not want Gasol anyway). Without those draft picks to offset Howard's departure (yes, he's still the best center in basketball), Bynum is still in the fold.
That leaves Gasol, who has been involved in trade rumors for years, but given the combination of his contract ($38 million/two years) and age (32 in two days), the Lakers won't get much in the way of an equitable return.
The truth is a title will have to be won with the cogs already in house. So, the guy blamed more than anyone else in purple and gold will be back in 2013.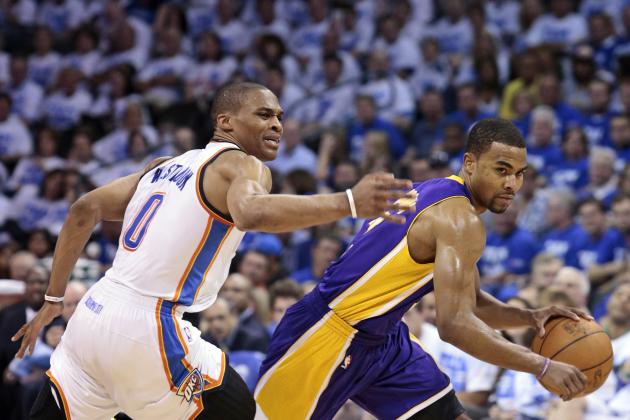 Brett Deering/Getty Images
So long Sessions, we hardly knew you.
With Steve Nash in the fold and Steve Blake under contract, you can all but say goodbye to Ramon Sessions.
While solid at times, he proved to be less than what Los Angeles needed offensively and was a sieve on the defensive end. Partially, that was because of the defensive team being so inconsistent but mostly because he's not a premier defender.
It's too bad because I think Sessions would have been a better alternative to Blake off the bench, but ironically, Sessions could very well wind up in New York with the Knicks.
Good luck to you Ramon—except for the games you play against the Lakers.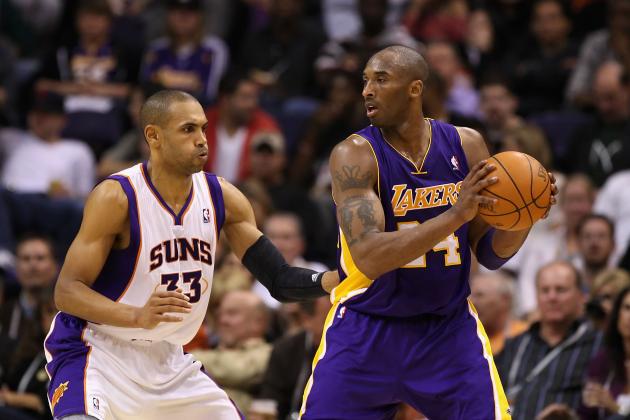 Christian Petersen/Getty Images
Don't be shocked if this is only a practice scene in 2013.
Assuming my first thoughts are right, it will be safe to say that the Lakers will want to bolster their bench, which was a huge liability last year.
Their biggest in-house priority will be to re-sign the surprising Jordan Hill, who seems more than amicable to returning. But other than Hill and Steve Blake, I could see the deck being reshuffled.
As such, the Lakers will need a wing player and more than likely a pivot player. The immediate dot to connect would be Grant Hill, Nash's former teammate in Phoenix.
Don't be fooled by Hill's age.
He is on younger-than-average legs and is still a very serviceable player. In addition, Nash's acquisition helps offset the belief that many players don't want to come to Los Angeles because of Kobe Bryant (something I don't really believe).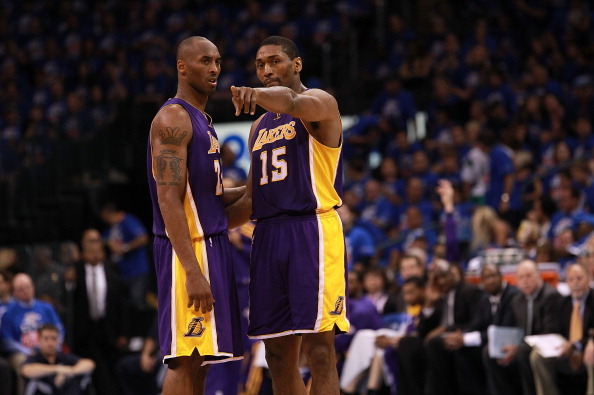 Ronald Martinez/Getty Images
Yeah, that's the way out of Los Angeles Metta.
Listen, I am unabashed in my defense of my love for Metta World Peace. He brings a certain element that toughens the Lakers up.
No one is as fearless as Kobe Bryant except World Peace. And defensively, he's still an upper-tier individual defender. I have been one to excuse the shot selection and Space Cadet moments he has had in the last three years.
But the reality is, World Peace was the throw-in for a potential Dwight Howard trade. Now that it seems that it's not likely to happen, the truth is, the Lakers can cut their losses and use the savings to potentially go after a replacement and/or bolster their thin bench.
It's unfortunate because World Peace was fairly scapegoated even before his ugly elbow to the right side of James Harden's head. But there will be more changes made and expect him to be part it that.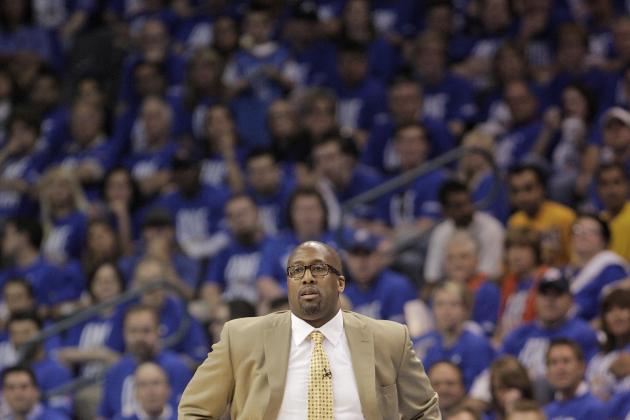 Brett Deering/Getty Images
Coach, time to tweak those sets.
The biggest no-brainer of the Lakers acquiring Steve Nash is they will not be a boring team offensively next year.
Los Angeles has gone from a stale, predictable offensive team to having one of the most creative, playmaking point guards ever to play in the NBA. Theoretically, that means better days for Andrew Bynum, Pau Gasol (can't say it enough, he could thrive now), and of course, Kobe Bryant.
Most of all, with Nash, the unquestioned ball-handler, it will be up to Mike Brown to get it through Kobe Bryant's head that ball movement, especially with a team this offensively gifted, will equal easy points.
That means earlier sets, more screen-and-roll and less plodding. How much of that happens will depend on Brown.
He definitely will earn his checks in 2013.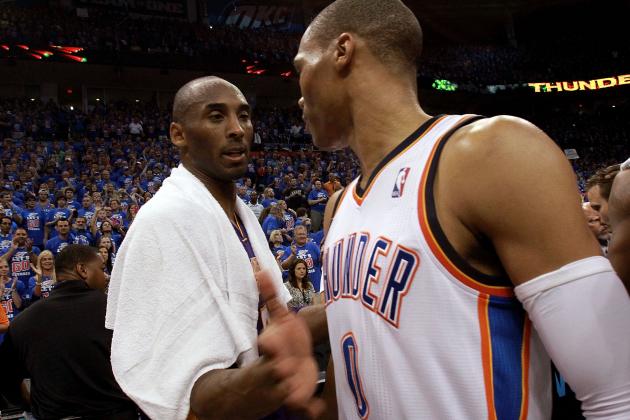 Ronald Martinez/Getty Images
They could be meeting again soon.
In one fell swoop, the Lakers parlayed a trade exception and draft picks back into title contention.
A lot will depend on how they fortify the rest of the team, but one thing is sure. Los Angeles is not sitting back and waiting. This team is going for it, and by extension, trying to make one last run with a foundation that has won two championships.
Steve Nash is a definite upgrade over Ramon Sessions. No one can logically tell you otherwise. However, there are still holes this team needs to fill.
A couple of sound decisions and the Lakers will, once again, be on the short list of teams in serious contention for an NBA championship. It starts with their big-man tandem of Gasol and Bynum.
There's also a need for outside shooting beyond just Nash (Rashard Lewis maybe?). And the bench has a few slots to cover.
But today, Steve Nash celebrates his independence from Phoenix and makes his way to Hollywood. This can only mean the summer will continue to sizzle for the Lakers moving forward.