10 Relievers the Atlanta Braves Could Target Via Trade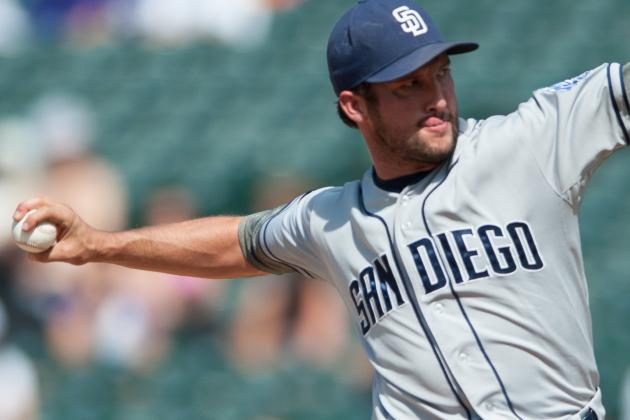 Dustin Bradford/Getty Images
Huston Street is just one arm that could help the Braves pen.
With the Fourth of July in the books, it means that we are less than four weeks away from the 2012 trading deadline. For a club like the Atlanta Braves there are holes that must be filled to compete for a playoff spot this season.
One of those holes is in the bullpen, which is a bit surprising after the Braves brought back every key arm from one of the best bullpens in the game. However top setup man Jonny Venters has been hittable this year and Eric O'Flaherty has also been very up and down. In fact the only reliever at the back of the Braves' bullpen that has continued to pitch well from a year ago is All-Star closer Craig Kimbrel.
This article takes a look at 10 relievers that the Braves should take a look at between now and the deadline to strengthen their bullpen. With even one of these arms in the pen, the Braves could have a more reliable bridge from their starters to Kimbrel in order to close out victories.
Begin Slideshow

»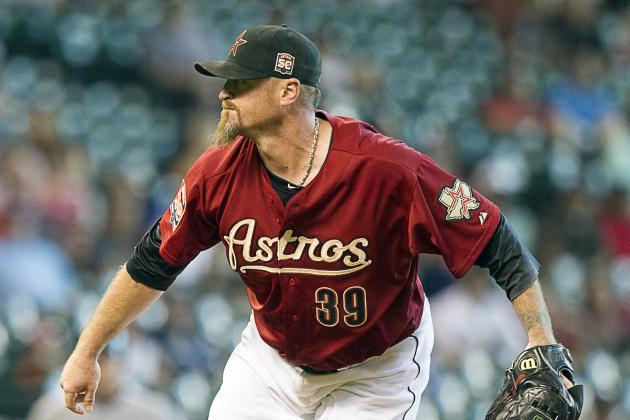 Bob Levey/Getty Images
Brett Myers knows the NL East well.
One option for the Braves could be Brett Myers, the closer for the Houston Astros. The Astros aren't going to contend this year and are in the middle of a long rebuilding process, so dealing Myers would give the team more value than keeping him in the long run.
Myers had been a starter his entire career, minus the 2007 season when he filled in as a closer for the Phillies. However due to a lack of other options the Astros converted Myers to the closer role for the second time in his career, despite averaging nearly 220 innings pitched in his first two years with the club. Myers has responded well to the change, going 0-3 with a 3.71 ERA and 17 saves.
Myers could be a good fit for the Braves as a setup man. He's extremely versatile, having made 33 starts in a season just last year as well as having two separate stints as a closer. That would give the Braves a second reliever, in addition to Kris Medlen, that is capable of going multiple innings if needed.
Another reason why Myers makes this list is him being a seasoned veteran. Myers is in his 11th season in the big leagues, and the fact that he spent the first eight in Philadelphia makes him more valuable as he knows the NL East. Spending eight years in Philadelphia also means that Myers has thrown 22 postseason innings, as well as being apart of a pair of teams which reached the World Series.
Myers is signed to an expensive contract, but he is in the final year of his deal. There is even a chance that the Braves would be able to talk the Astros into picking up some of the remaining money owed in exchange for an upgrade in the package in return. This would only help to make Myers more affordable to the Braves, who are rumored to have limited cash available.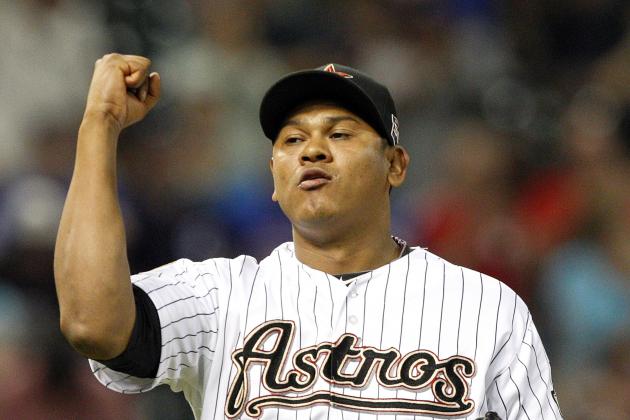 Bob Levey/Getty Images
Wilton Lopez is an intriguing arm the Braves could use.
Brett Myers isn't the only member of the Houston bullpen that the Braves could target. Wilton Lopez is another reliever that could help the Braves bullpen. Lopez, who will turn 29 before the deadline, has been a solid setup man for the Astros for the last few years.
As a rookie in 2010 Lopez went 5-2 with a 2.96 ERA and 1.06 WHIP in 67 innings. He followed that up a year ago by going 2-6 with a 2.79 ERA in 71 innings. Then this year he has gone 3-0 with a 2.51 ERA and 0.96 WHIP. In three seasons Lopez has emerged as a strong late-inning reliever.
Though unlike most other successful setup men Lopez doesn't strike out a lot of batters, but he does an excellent job of limiting walks. He also excels at preventing home runs, and does a good job of limiting extra base hits in general in part due to the fact that he is a ground ball pitcher.
Lopez isn't a guy that will come very cheap because he is under team control for a few more seasons, but he is still a guy worth looking at because of what he does on the mound. His success in each of his three full seasons in the big leagues, control and ability to force grounders give him everything needed to help the Braves bullpen.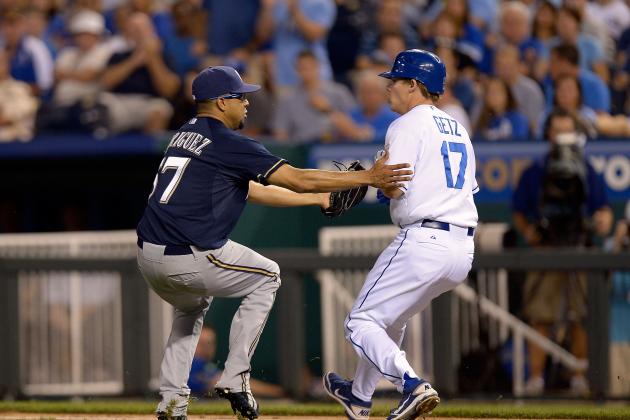 Jamie Squire/Getty Images
K-Rod could help the Braves down the stretch.
Since bursting on the scene as a 20-year-old rookie in 2002 and playing a major role in the Angels winning the World Series, Francisco Rodriguez has been one of the most electrifying relievers in all of baseball. The man known as K-Rod has 292 career saves and 838 strikeouts in 685.1 innings.
Rodriguez is no longer a closer, as he has been a setup man for the Brewers since they acquired him from the Mets a year ago. He's also no longer electric, as he seems to have lost something ever since leaving the Angels following the 2008 season, but he is still a strong veteran pitcher.
Rodriguez is 1-4 with a 4.17 ERA this year for the Brewers, but he still misses bats as he has 32 strikeouts in 36.2 innings. Though he has been having the worst year of his career based on numbers, he still has plenty of value.
Rodriguez has done a good job of stranding inherited base runners ever since coming to the National League, and this year is a perfect 7-for-7 in holding runners. He's also been doing a job job of getting ground balls, which has led to a career-high in double plays.
Rodriguez may no longer be a dominant pitcher, but he's a veteran who is getting guys out in different ways now that he can't just strike everyone out. His 26 career playoff appearances is even another reason that the Braves could be interested.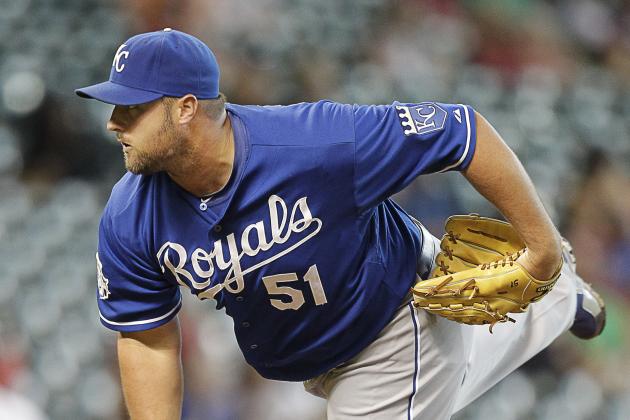 Bob Levey/Getty Images
Jonathan Broxton could help the Braves.
Heading into the 2010 season Jonathan Broxton was about to turn 26 years old and was already one of the best closers in the game after going 7-2 with a 2.61 ERA and 36 saves in 2009. However that's when injuries started to hit.
Broxton managed to become an All-Star in 2010 but his season was bothered by injuries, leading to an ERA of 4.04. The injuries continued to bother him again in 2011, as he made just 14 appearances and was even less effective.
It was starting to look like Broxton could be finished, and because of this the Dodgers didn't even try to keep Broxton. However the Royals took a chance on Broxton this spring by giving him a minor league deal and the chance to compete for a spot in the bullpen.
Then the Royals lost their All-Star closer, Joakim Soria, to an injury. That injury along with a strong showing from Broxton in the spring put him back in a closer role. Broxton hasn't done anything to disappoint the team since then.
On the year Broxton is 1-1 with a 2.05 ERA and 20 saves. He's been so good that he is in the mix for an All-Star selection, though he will need to win the Final Vote from the fans to get selected. Though his strikeouts are down, it's easy to see that he is all the way back as he is having a career year.
Broxton is a guy that the Royals would be smart to deal considering he will certainly be making more money next year and their closer, Soria, will be back. The Braves' need for a setup man could be solved by adding Broxton.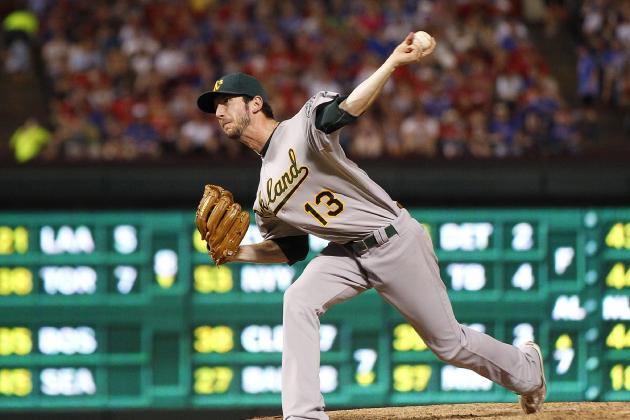 Rick Yeatts/Getty Images
The Braves could potentially use a left-hander like Jerry Blevins in the bullpen.
Similar to Houston, Oakland is in the middle of a total re-build of the organization. General manager Billy Beane started his rebuilding process over the winter, but still has a few players he is likely to deal away to add more young prospects. One player that could get moved is left-handed reliever Jerry Blevins.
Jerry Blevins has quietly been very strong for the last two seasons. He had a 2.86 ERA in 28 appearances last year, and has followed that up by going 2-0 with a 2.36 ERA and 1.08 WHIP in 30 appearances this year.
Blevins doesn't strike out a lot of hitters, but does a good job of keeping opponents from getting hits. He also does a very good job of limiting home runs allowed. Lefties are always valuable, but lefties that get outs are always important.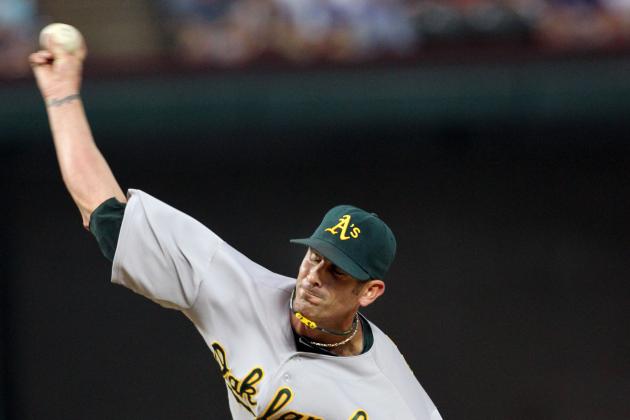 Layne Murdoch/Getty Images
The A's are likely to deal Grant Balfour.
Jerry Blevins isn't the only member of the Oakland bullpen that teams are looking at, as veteran Grant Balfour is a popular name in trade rumors. Balfour, who is 34, has been in the big leagues for nine years pitching for Oakland, Milwaukee, Minnesota and Tampa Bay.
This year he is 1-2 with a 3.43 ERA and 1.12 WHIP to go with seven saves in 39 appearances. Though his numbers are a bit down from the previous two years when he posted ERAs of 2.28 and 2.47, he has still been an effective late-inning reliever.
Balfour has been a good pitcher in the postseason, posting a 3.60 ERA over 15 appearances. Another attribute that makes him appealing is the fact that he does a great job of limiting hits, as he has a .215 career batting average against him. That also contributes to his ability to limit extra base hits, as he is well above the league average at doing so.
Balfour isn't going to be an elite setup man, but he is a safe bet to be a quality setup man. Acquiring him could really help the Braves get more consistent work from the bullpen.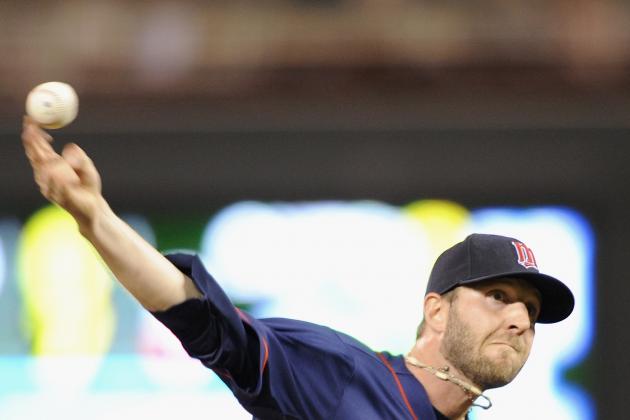 Hannah Foslien/Getty Images
Jared Burton has re-emerged this year after spending the past two years in the minors.
While Jared Burton spent more time in the minors than the big leagues in both 2010 and 2011, Burton was able to bring his career back to life with the Twins this season. He's managed to become one of the top performers out of the Twins' bullpen.
On the year Burton is 1-0 with a 2.73 ERA and 0.94 WHIP in 34 appearances. Part of his success can be traced back to strong ratios, as he has cut his hits per nine rate along with his walks and homers allowed while increasing the strikeouts.
Burton isn't one of the bigger names on this list but the way he has pitched in the American League this year has been very good. The Braves could certainly strengthen their bullpen by adding a pitcher like him.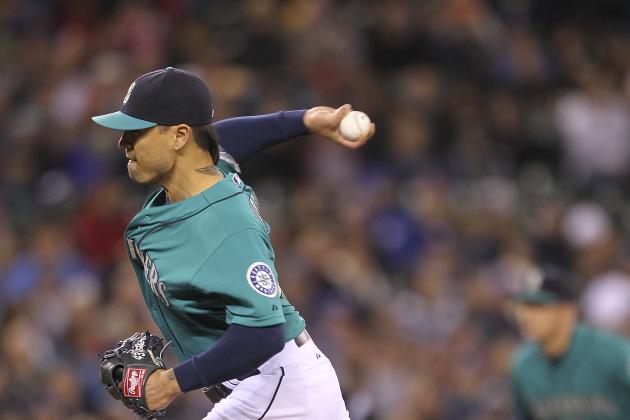 Otto Greule Jr/Getty Images
Even though he hasn't been at his best this year, Brandon League has been solid.
Last year one of the top closers in the game was Brandon League. The Mariners' All-Star went 1-5 with a 2.79 ERA and 1.08 WHIP on his way to picking up 37 saves. It was a very impressive season, especially for a guy in his first full season as a closer.
League hasn't been able to find the same success this year though. He is 0-5 with a 3.60 ERA and 1.60 WHIP to go with just nine saves. This is partly because his walks and hits allowed are up from a year ago and his strikeouts are down.
It is important to note that League struggled for a bit last year and even briefly lost his closer job, just like he has this year. The difference between last year and this year is that League was able too rebound in the second half of the season.
If League is able to rebound he could be among the top relievers in the game, and even if he doesn't he has still pitched pretty well. Adding League to the Atlanta bullpen would give the Braves another arm capable of getting the big outs before Craig Kimbrel comes in to finish off the win.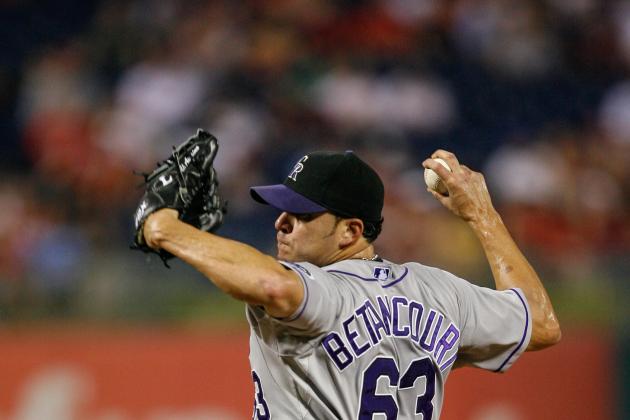 Brian Garfinkel/Getty Images
Rafael Betancourt has been strong throughout his career, even at Coors Field.
Rafael Betancourt has been one of the best relievers in the game since entering the league in 2003. The 37-year-old has been a top setup man for most of that time, though he has been closing for the Rockies this year after the team dealt Huston Street over the winter.
This year Betancourt is 1-3 with a 3.03 ERA and 1.11 WHIP to go with 13 saves, showing that pitching in Coors Field doesn't really bother him. He has done a good job of limiting the hits, walks and home runs allowed which seem this year which seems to be a big part of why Coors Field hasn't bothered him.
With the Rockies going nowhere it only makes sense to deal their top bullpen arm for prospects. For the Braves, adding a veteran with a great track record, it could be the piece that helps their bullpen improve.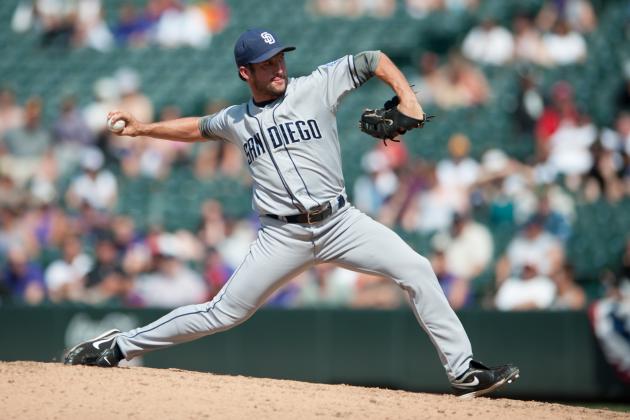 Dustin Bradford/Getty Images
Huston Street is having an amazing year.
One of the top pitchers on this list is Huston Street, the closer for the Padres. The former American League Rookie of the Year is having a career year this season, so it shouldn't be a surprise to anyone that he was named to the All-Star team for the first time in his career.
In his first year with the Padres, after coming over in an offseason trade with the Rockies, Street is 1-0 with a 1.29 ERA and 0.67 WHIP to go with 12 saves. Though he missed some time with a minor injury, he's been nothing but dominant. In fact he is only allowing a ridiculous 3.4 hits per nine innings and is yet to give up a home run.
The Padres are likely to deal Street, who is in the final year of his contract. He could certainly help the Braves, as he is one of the few closers in baseball having a better season than fellow All-Star Craig Kimbrel. Though he may be a bit more expensive than what the Braves want to give up and also has a history of getting hurt. Still if the Braves bring him in to be Kimbrel's setup man they would have a dominant pair of relievers in the last two innings of the game.