UFC 148 Fight Week Diary: Media Workouts with Cormier, Benavidez, Pyle, Belcher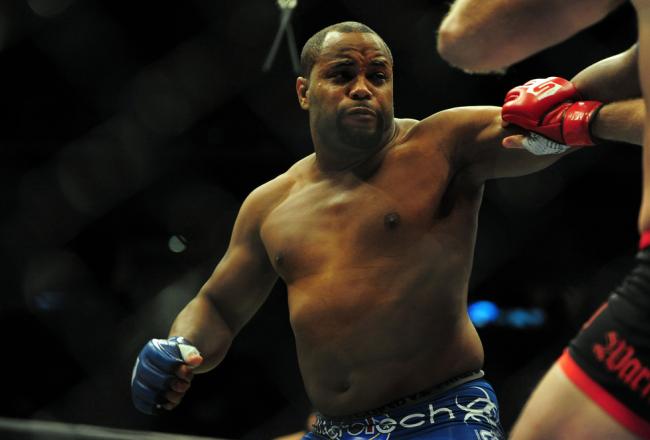 Kyle Terada-US PRESSWIRE

It's currently 5 p.m. local time here in Las Vegas, and I cannot move my legs.
By this I mean that just sitting in bed is painful. Walking is almost impossible. Instead of hitting the strip tonight, I'll be staying in my room. I may not get out of bed. I'll probably end up ordering room service and falling asleep by 9 p.m.
I'm in one of the most amazing cities in the world, and yet I'll be asleep long before those burning the midnight oil even go out on the town.
And who do I have to thank for this horrible feeling? Daniel Cormier.
To be fair, it wasn't solely Cormier's fault. It was also Joseph Benavidez, Alan Belcher and Mike Pyle. I hate all of them almost equally right now, but Cormier was on a different level.
What I'm referring to is today's media workouts with the aforementioned fighters. It's a first. The UFC has never done anything quite like this before.
It was designed for members of the media who may not know all that much about the sport or what kind of grueling paces these guys go through on a daily basis. What better way to teach them than to actually put them through a workout?
And so myself and the other B/R folks here in Vegas decided to give it a whirl. It sounded like fun, and it was at the Ultimate Fighter gym. That's a cool experience in and of itself, to see the gym we constantly see on television. I've been there numerous times for media events, but the rest of the guys hadn't gotten the chance.
Off we went to the gym. We checked in and got a workout bag and a couple of UFC shirts. Cool stuff, too. We waited around until the 11 a.m. start time, and I did some stretching to get ready.
I was fairly confident I'd be okay with whatever we were asked to do. See, I started doing Crossfit three weeks ago, and I love it. I've been eating right every single day, and I'm in the best shape I've been in since my days in the Army.
We were split up into groups of three, with each group sent to a different station. Each station focused on one discipline: wrestling, jiujitsu or striking. I started with the jiujitsu group, which was coached by Belcher and Benavidez. Benavidez took us through a great warmup and then took us through a north-south choke, a mounted guillotine and arm bar.
I teamed up with Snowden, and we took turns trying out the submissions on one another. I've done jiujitsu before, so I think I did well here. It was fun.
Pyle's station was next. This was a ton of footwork and cardio, with jabs, straights, hooks and knees thrown in. Oh, and squats. Pyle loves squats, and he loves keeping the wrong count so that you end up doing 24 squats instead of the assigned 10. It was great fun.
And then came Cormier. I talked to "Showdown" Joe Ferraro shortly before going in the TUF cage to work out with Cormier, and he informed me that I was about to experience the most difficult of the three groups.
He wasn't lying.
Cormier had us drop into a wrestling crouch, which is pretty much a squat for all intents and purposes. He instructed us to walk forward while keeping the crouch. This was difficult, but it was made much more difficult by Cormier pushing me down and pulling me back while I tried to walk forward.
Why did Cormier single me out? A mutual friend of ours—Daniel Rubenstein, who once grappled Ben Askren in a tournament—told me to go up to him before the workout and tell him "Boomer Sooner." I took this advice and delivered the message, all the while forgetting that Cormier attended Oklahoma State and is not really a fan of the Oklahoma Sooners.
This was a hilarious prank. Except not really, because it earned me some extra punishment courtesy of the man who may just be the next UFC heavyweight champion.
After the workout concluded, we all gathered for a good old-fashioned barbecue cookout, complete with plenty of cold beer. Bud Light Lime never tasted so good.
This article is
What is the duplicate article?
Why is this article offensive?
Where is this article plagiarized from?
Why is this article poorly edited?