NHL Free Agency 2012: Why the Dallas Stars Are the Biggest Winners so Far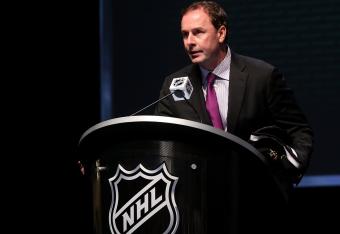 Bruce Bennett/Getty Images
For all the attention the Minnesota Wild have rightly drawn this week, especially on Wednesday, the NHL's previous occupants of the Twin Cities are still entitled to the most excitement based on their early July acquisitions.
The Dallas Stars ultimately had more to gain over the 2011-12 season and, consequently, had more vinegar on their palate when they fell short of a playoff berth.
A comprehensive rebuilding project has ensued—the bulk taking place in the form of free agency—and made Dallas an instant favorite to alter the Pacific Division landscape.
For them, that would mean either returning the landscape to where it was prior to the Vernal Equinox or refining it to make it work a little more in their favor.
Moreover, it means avoiding any situation remotely similar to the period between March 30 and April 7 of this past season.
On the morning of March 30, the Stars were in a virtual tie with the Phoenix Coyotes for first place in the division with 89 points apiece. Dallas held the upper hand, having played one game fewer and claimed four more victories.
Within nine days, they had allowed the Coyotes, San Jose Sharks and eventual champion Los Angeles Kings to leapfrog them.
They had lost five straight regulation decisions to close out the regular season, which meant tumbling from third place to 10th in the Western Conference.
As a result, the Stars will be going on five years without a playoff appearance next season.
But with general manager Joe Nieuwendyk buzzing in the first week of July with all the urgency his employees couldn't seem to show in the first week of April, the margin for error is melting.
Tuesday signee Jaromir Jagr follows fellow free agent Ray Whitney and Buffalo import Derek Roy in a flurry that should instantaneously double Dallas' collective scoring prowess.
Although primal playmaker Mike Ribeiro was dealt last month, the return package of Cody Eakin is raring to embark on his first full NHL season after splitting his rookie campaign between Washington and AHL Hershey.
Other than Ribeiro, the only rostered Stars with certifiable offensive formidability last season were Loui Eriksson, Jamie Benn, Michael Ryder and team captain Brenden Morrow, who missed 25 games.
If all four are back and in top health, the only trick will be smoothly assimilating Jagr, Whitney, Roy and Eakin into the mix.
As things read on paper, there should be no reason for the Stars to fizzle the way they did in 2012, when a playoff berth—let alone a division title—was perfectly within reach.
Over their five-game slide to another early spring-cleaning session, Dallas was shut out twice. It never tallied more than two goals in a single outing, and it brooked a cumulative 18-6 scoring differential.
On the full 82-game ride, the Stars placed 22nd on the NHL's offensive leaderboard with 2.49 goals per game while letting in 2.66 goals per game.
The trends on both sides of the puck were easily at their worst in those 10 defining days, as Dallas tallied 1.2 goals per night while allowing an even three at its own end.
The export of Steve Ott in exchange for Roy certainly docks some physicality. But if the likes of newly-obtained blueliner Aaron Rome form a reliable brigade to defend goaltender Kari Lehtonen, the Stars' strike force should have little trouble with the task of taking feeds from the defense and making ripples on enemy property.
Whitney's output in recent years with Carolina and Phoenix all but single-handedly replenishes what is lost in Ribeiro. Even at age 40, his production swelled by 13 assists and 20 points between 2010-11 and 2011-12, and he should have no shortage of supporters with the new and returning Dallas forwards.
In the same vein, the situation should hardly be foreign to Jagr, who returned to the continent after a three-year absence to contribute to a peerless, deep and explosive offense in Philadelphia last winter.
Roy's recent dip in productivity may have been partially owed to residual effects from the quad injury that confined him to 35 games in 2010-11.
Now that he is more than a year removed from that, there is more reason to believe Roy can return to his form of a perennial 60-plus-point-getter circa 2006-2010.
His presence, along with Jagr, Whitney and Rome, gives us reason to believe the Stars can return to a form reminiscent of their 2007-08 campaign, when they fell just short of 100 points.
This article is
What is the duplicate article?
Why is this article offensive?
Where is this article plagiarized from?
Why is this article poorly edited?