For fans of the Chicago Bulls, the rumors have been swirling for over a year. Fans have entertained the thought of a lineup featuring both Derrick Rose and Dwight Howard—and it's undoubtedly an intriguing thought.
But Chicago has never made Howard's preferred list of destinations, much to the bewilderment of NBA fans, particularly those in Chicago.
The Bulls seemingly have the best team for Howard to join if he wants to win championships (yes, plural). Even if they had to part ways with Joakim Noah, Taj Gibson and a couple of draft picks, they would still retain a core of Rose (once healthy), Howard, Luol Deng and Carlos Boozer.
Such a core is certainly capable of winning a title.
But Howard has remained silent on any desire to play for the Bulls. The Brooklyn Nets have been atop his wish list for a while now, but that potential has gotten rather tricky due to the Nets' recent acquisition of Joe Johnson.
ESPN's Chris Broussard reports that there's still the possibility that a Dwight to Brooklyn trade could happen, but this is clearly a complicated scenario. It wouldn't be surprising to ever see this deal get done.
ESPN's Ric Bucher has highlighted how Dallas would be Howard's preferred destination if Brooklyn is truly out of the equation.
For Bulls fans, it's very easy to wonder why the Bulls continue to never enter the realm of possibility for "Superman." The options appear to be running slim for Howard, and yet the Bulls still haven't been mentioned. I mean, why would Howard want to land with an aging Dallas team when he could come to Chicago and form a dynasty?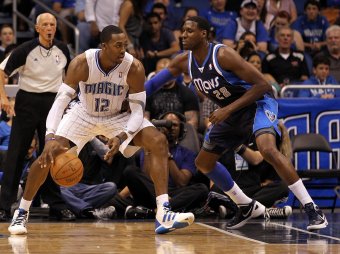 Sam Greenwood/Getty Images
People are quick to assert how Howard doesn't want to play second fiddle to D-Rose and the influence of adidas in not wanting Howard and Rose in the same city.
But aren't those rather petty reasons for D12 to avoid the Windy City?
If Howard deeply cares about his legacy as a winning center in this league, a center who will be remembered like Shaquille O'Neal, then it's time for him to express his openness to playing in Chicago.
At the end of a superstar's career, endorsements and money aren't analyzed in the overall value a player had in the league. His impact as a championship-caliber player is what is scrutinized above everything else.
Therefore, it's perplexing to see Howard continually leave playing for the Bulls unmentioned. It doesn't take an NBA guru to understand that Chicago is the place where he could put together an illustrious career featuring multiple NBA titles.
Now is finally the time for Howard to declare willingness to head to Chicago. The Bulls have a package to make this happen, and a long-term pairing of Rose and Howard (assuming Howard agrees to sign long-term) teamed with other core players and coach/basketball genius Tom Thibodeau would put the Bulls on the verge of unseating the Miami Heat as the NBA's next dynasty.
It's time for Superman to voice his desire to win, and if winning is what matters most, then Chicago is his most fitting destination.