Knicks Rumors: What Steve Nash Sign-and-Trade Would Mean for New York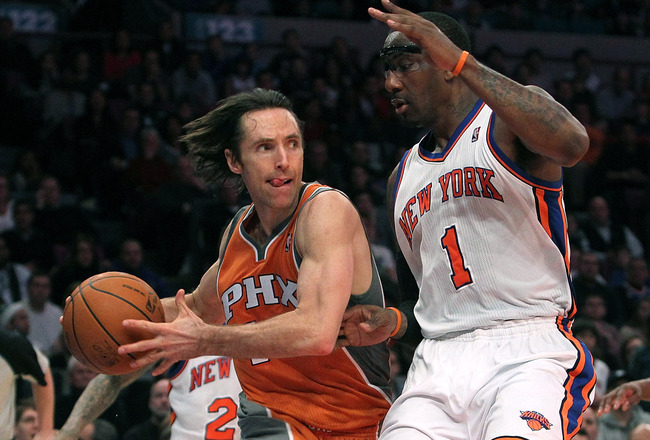 Nick Laham/Getty Images
According to ESPN, the New York Knicks are discussing a sign-and-trade with the Phoenix Suns for Steve Nash, which would involve a package headlined by Iman Shumpert going to Phoenix.
Nash would reportedly end up with a three-year, $25 million deal with the Knicks, as opposed to the three year, $36 million deal he was offered by the Toronto Raptors (via ESPN).
Such a huge sign-and-trade could have a lot of implications for the Knicks moving forward, and I'm going to take you through them.
The STAT-Nash Partnership Returns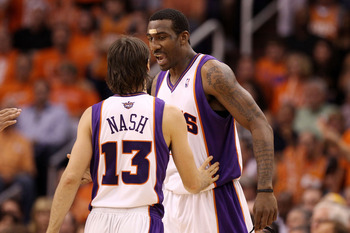 Christian Petersen/Getty Images
Of all the things that went wrong for the Knicks last season, Amar'e Stoudemire's offensive woes were right up there at the top.
But with his old partner in crime back with him, he could be headed for a throwback year in 2012-13.
The pair were the NBA's most dominant pick-and-roll partnership in the NBA for six seasons between 2004 and 2010, and if they can recreate that, it will really open things up for the Knicks' offense.
With Stoudemire also working on his post game with Hakeem Olajuwon this offseason, he suddenly looks like one of the Knicks' most versatile offensive weapons once again.
Potentially Elite Offense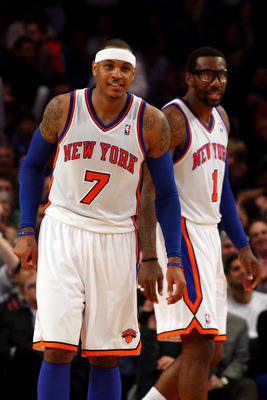 Chris Chambers/Getty Images
Not only will the Knicks' new-look offense feature the Nash-Stoudemire pick-and-roll, but it will also continue to feature one of the best scorers in the game, Carmelo Anthony.
If 'Melo can buy into a team-based offensive system, this offense has the potential to be the very best in the NBA.
And if there's any point guard in the league who can get 'Melo to play team basketball, it's Steve Nash.
The Knicks' bench will be pretty good, too.
Jeremy Lin will likely be used as the backup point guard, and we all saw the sort of success he had last season with players like Steve Novak and even Jared Jeffries, who'll join him on the bench unit.
With Nash, scoring definitely won't be a problem for the Knicks next season, but the same can't be said about defense...
Potentially Terrible Defense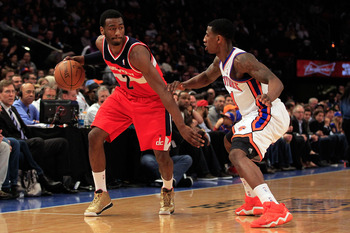 Chris Trotman/Getty Images
With Iman Shumpert out of the picture and Steve Nash in it, the Knicks' perimeter defense just got a whole lot worse.
Defensive Player of the Year, Tyson Chandler, is going to have his work cut out for him, as Nash and likely first-choice shooting guard J.R. Smith aren't going to be stopping anyone on the perimeter.
That said, Shumpert's going to be out until January, so for the first half of the season the Knicks' defense will be no worse than it was going to be.
As deficient as the bulk of the Knicks' starters are on defense, Chandler and Coach Woodson did a good job of getting players like Melo to at least improve on what they were doing earlier in their careers.
Though the old adage is that "defense wins championships", it's LeBron James and the Miami Heat that the Knicks will be trying to catch in the East, and no amount of defense can stop them when they're on form.
It looks like the Knicks are going to have to try and outscore them instead.
Team Is in "Win Now" Mode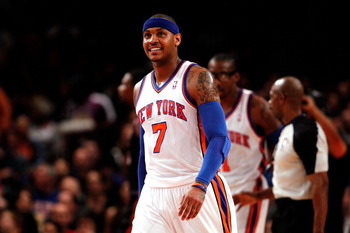 Jeff Zelevansky/Getty Images
Though the Knicks have been looking for a championship for the last couple of seasons, this sign-and-trade just confirmed their status as a "win now" team.
That's the only explanation for mortgaging a huge part of your future in return for a player who'll likely be retiring as soon as his contract's up.
With Amar'e Stoudemire and Tyson Chandler nearing 30 soon, it's plain to see that the Knicks think this year is their chance to win it all.
Derrick Rose is out injured, the Celtics are old and Dwight Howard doesn't know where he's going to be playing next season, so the Knicks will be looking to take advantage by making themselves the best team in the East this side of the Miami Heat.
But can they actually beat the Heat? We'll just have to wait and see.
A Knicks vs. Nets Rivalry Is Brewing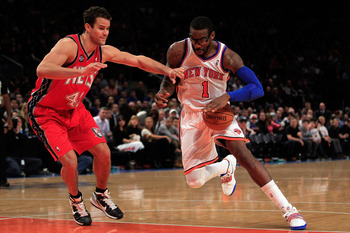 Chris Trotman/Getty Images
Outside of the Knicks, one team that's using this offseason to vault themselves up in the Eastern Conference standings are the Knicks' new cross-state rivals, the Brooklyn Nets.
Star point guard Deron Williams confirmed yesterday via twitter that he'll be joining the Nets as they relocate to Brooklyn, and it looks like he'll be taking Atlanta Hawks guard Joe Johnson with him.
The Nets' move to Brooklyn was always going to spark some sort of a rivalry, but with all this firepower now in the same city—not to mention the same division—things are about to get intense in New York.
New York Becomes More Attractive for Free Agents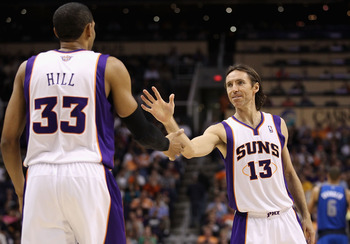 Christian Petersen/Getty Images
If the last few years have proved anything in the NBA, it's that stars want to play with stars.
And though the Knicks are in no financial position to add yet another star to the roster, there could be a large number of high-quality role players instead who'll be willing to take a pay cut to join the team.
One such player could be Grant Hill, who the Knicks have seemingly been pursuing for years to no avail.
Now that his two former Suns teammates are in New York, Hill may all of a sudden want to join them, on what could be one last run for an NBA title.
Outside of Hill, guys like Marcus Camby, Ray Allen and Randy Foye could now realistically be convinced to sign for much less than before.
That $3 million exception the Knicks have to use suddenly seems a lot more valuable.
Knicks Should Sign Jeremy Lin No Matter What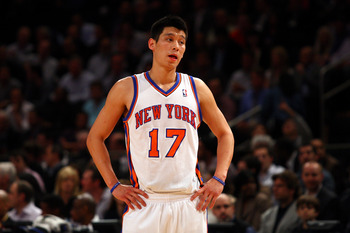 Chris Chambers/Getty Images
With Steve Nash's big contract now on the books for the Knicks moving forward, one would think that this sign-and-trade should add more confusion to the Knicks as far as keeping Jeremy Lin.
But actually, Nash's arrival makes the decision a no-brainer: the Knicks should re-sign Jeremy Lin no matter what...even if that means matching a "poison pill" offer sheet.
Presuming that Nash sings with New York, the Knicks will be well over the luxury tax in 2015, and that's before they sign Lin.
What that means is that even if Lin is scheduled to be paid $15 million in 2015, the Knicks' cap situation can't get any worse.
The only thing that will change is James Dolan paying a lot more back to the league in terms of luxury taxation.
The question is no longer about basketball. The question is whether or not Dolan thinks Jeremy Lin's marketability will cover the huge taxation that will be due come 2015.
If Forbe's estimations for Lin's revenue are anything to go by, then even that becomes an easy decision for Dolan.
Jeremy Lin Has a Mentor
Christian Petersen/Getty Images
As a player with two MVP awards and eight All-Star appearances, Steve Nash has a lot of knowledge to pass on to Jeremy Lin if the Knicks do re-sign him.
At the moment, it's plain to see that Lin is talented, but raw—learning from Nash could really help him to refine his game.
With Nash's tutelage, the only way is up for Jeremy Lin, and he could end up making good on his unlimited potential.
Lin should certainly be considered New York's point guard of the future, but the Knicks' new point guard of the present could be very influential in his development.
Keep Reading

New York Knicks: Like this team?