NBA Trade Rumors: Dwight Howard Is a Liar, Shocker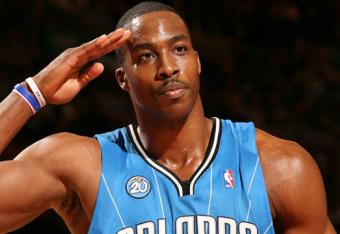 "I hereby pledge allegiance to me...."

Ok people, let's get a grip on reality here.
Dwight Howard lied. A lot. Several times. In front of the microphones. To the face of writers and reporters. Possibly to his teammates. Definitely to Orlando Magic ownership and management. Perhaps even to his dog. Though I cannot at this moment confirm whether or not he actually has a dog. But you would have to agree that lying to humans is one thing, but lying to ones dog is a sin that can never be forgiven.
Howard told everyone about his love for the City of Orlando. The Magic fans. Their passion for the game. Central Florida. Minnie Mouse, if and when that divorce from Mickey is ever approved. He loved everyone and everything. Love, love love. Happy smiles. Joy. Laughter. More love.
You may now reach for the air sickness bags.
Dwight Howard was out of Orlando at the beginning of the 2011-12 season, if it even was that late in life. He saw very clearly that if he wanted to win a Title, that boat on the "It's A Small World" ride had sailed. The Magic had gone as far as they could even with him greatness on board. Miami had the Big 3. The Lakers had Kobe and untold wealth. Mark Cuban would always throw money at the Mavericks roster and insure they were in the chase every season. Danny Ainge had the savvy and ownership cash behind him to keep building over and over again.
The Magic? A Head Coach he couldn't stand because the guy actually knew how to coach and wasn't about to give Dwight a superstar break. A General Manager he had no respect for and saw as little more than a valet. And teammates he knew would never let him get to the next level.
Former Head Coach Stan Van Gundy: "HAHAHAHA. I am outta here!"
Sure, he was the only game in town. The closes thing to competitive sports next to the Magic in Orlando is battling for a weekend parking space at one of the outlet malls located near the theme parks.
But it was still Orlando. Central Florida. Second dog to the Miami Heat. No bright lights. No major city. No late night TV shows to hawk sneakers and new rap CD's.
So he of course was just biding his time, lying his way to the eventual chance at playing on the biggest NBA stage in all the world.
Brooklyn.
Excuse me?
In the ever scheming mind of Dwight Howard, the Brooklyn Nets are on the verge of becoming an NBA Champion. I mean, look at all the titles they've won in the last 20 years. OK then, how about all those NBA Finals they've played in since Jason Kidd busted his knee? I mean, at least let's talk about all the playoff appearances past the first round in the last 10 years.
You have any tickets for this year's Coney Island Mermaid Parade?
Seriously, no one team this young offseason has done more to ensure a title run than the Nets. This, of course, speaks to the ever-widening ego of Howard, who is convinced no team can even sniff a Championship without his never-dying loyalty in their colors.
Dwight Howard. Loyalty.
How to tell when Howard is lying. Watch his lips move.
Remove tongue from deep in cheek and continue.
For Howard, it's all about the cash. The fat contract. All about the multi-gazillionaire Russian owner who can buy and sell Brooklyn with a wave of his nickel played magic wand. And all about playing in New York without having to play for the Knicks. Sure, they're the big ball in town, but as long as the Dolans run the show not even hard-core Knicks fans are confident of sniffing a Title.
There's nothing wrong with being a professional athlete and being greedy. With talent only lasting so long until the arches fall and the posse hooks up with the latest cash-printing machine, grab all you can as fast as you can. Be honest about it. Say it's about the money. Winning a title with someone else. That never-ending increases to one day tickets for Disney World were the final straw.
Something. Anything. Be creative. There's no reason to lie about it at every step and treat fans like they were buffoons placed here on Earth just for your fiscal entertainment.
OK, most of them weren't placed here for that purpose. But that's beside the point.
Wouldn't it be deliciously ironic if after choosing Brooklyn over Orlando, or Los Angeles, or Houston, or any of the teams that really want him, the "Dwight Blight" may get shut out of playing in the shadows of Manhattan?
With the Nets making a deal for All-Star guard Joe Johnson from the Atlanta Hawks and then keeping Deron Williams from the clutches of the evil Mark Cuban, plenty of the phony and real exports believe the Nets don't even need Howard, and they should just tell him that a Howard tree will NOT be growing in Brooklyn this season. Or any other season, for that matter. The Nets may have just used and abused Howard as little more than smokescreen to quietly land Johnson, get Deron Williams to stay, and win a Title without his Dwight-ness.
Hold that thought for "Breaking News".
New reports indicate the Nets aren't out of the "Dwight Blight" sweepstakes yet, prepared to dump their waste material...I mean, trade some exceptional players to Orlando.
Let us not bypass another report (don't you just love rampant speculation?), that the Atlanta Hawks have also emerged as the next best stop for the Dwightmare. Even more rumor going around that the Lakers have popped back into the frame. And even Golden State was seen lurking about until management came down off their 3-day bender.
You just know there's a Letterman routine in there about someone being told they can't move to Brooklyn.
Thankfully, this scenario does little to undermine the main premise of our gathering here today.
Dwight Howard is greedy. Horrors. The shock. The awe.
Sure he is, just like anyone else with his talent would be. So let's not hear all that whining about "all he wants is money". Like you would play for a discount or for free if you had his skills.
Fuhgeddaboutit.
Yes, he lied. Big deal. Every superstar athlete does at one time or another in their career. They learned from the best. Team owners. You know, the people who stash the financial books in a hole somewhere and plead poverty until someone builds them a new stadium or arena on the taxpayer dime? Who shuffle teams out of loyal markets at the first hint of another town willing to go in debt for a new palace?
Howard knows the lies he told to bolt Orlando will have absolutely no bearing on his future, on or off the court. Years from now he will return to Orlando in some form, likely an All-Star game or the naming for some patch of ground he donates to in order to find a convenient tax shelter. At that time he will be feted for leading the Magic franchise out of the dark and giving them a springboard to greatness. Or at the very least a major assist in prying a new arena out of the local gullible taxpayers during a time of economic crisis in America.
Where have I heard that one before?
Dwight will make his money. Someone will cough up the cash believing that he is all that is needed to have David Stern come to town and look like a munchkin standing next to Dwight, handing over the NBA Title trophy. Magic fans will say "good riddance" and make jokes about his being exiled to some land where this thing called "snow" is still seen in certain parts of the year. Somewhere in Central Florida there will be a ceremonial burning of a Dwight Howard Magic jersey, likely held at the Citrus Bowl at halftime of the next truck pull. Life will go on and all will be forgotten.
And not far down the road is the next athlete planning to tell a few whoppers to get what they want. There will be an uproar. There will be calls for someone's head on a pike. There will be the wailing and gnashing of teeth to go with the lamentations of the women.
Wait a second. Just out of curiosity, what if Dwight Howard is stuck playing in Orlando for the coming season? I mean, you don't think the Magic would use every last chance to let their soon-to-be former superstar twist mercilessly in the wind?
And where exactly is that tree in Brooklyn everyone always talks about?
Ed Berliner has covered the NBA and sports since the first peach basket was used, and to this day maintains his Brooklyn visa. He can be read daily at "Sports Media Masters" (http://sportsmediamasters.com) and tweets at @edberliner.
This article is
What is the duplicate article?
Why is this article offensive?
Where is this article plagiarized from?
Why is this article poorly edited?

Orlando Magic: Like this team?