Boise State Football: What the Broncos Need to (Re)Establish in 2012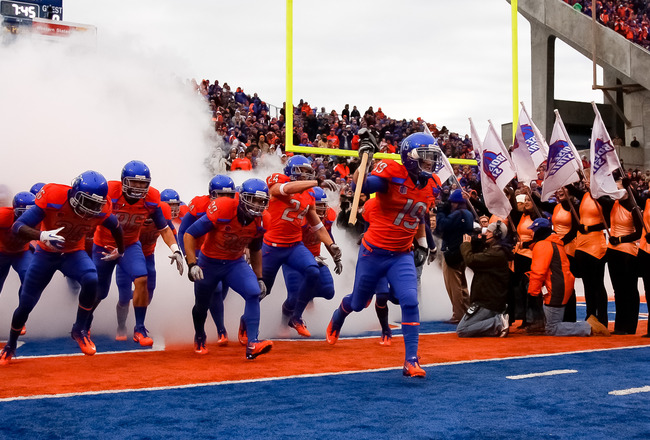 Otto Kitsinger III/Getty Images
It was a calculated risk—one that didn't quite pay off in a perennial automatic qualifying berth. When the Boise State Broncos joined the Big East for football, there was the perception that by joining an AQ conference, the chatter about whether or not the Broncos belong on the big stage would go away. It was supposed to be easy. Win the Big East, get into a BCS bowl game. Then the NCAA changed the way the game is played. With the selection committee tasked with picking the four best teams, even though intimated otherwise, preferential treatment will go to the SEC, and maybe the PAC-12, for berths in that 'Final Four.'
That means BSU is in a familiar position if the school wishes to be considered for one of the elite games. It's simple, actually—win games and be impressive.
Everyone knows how impressive the Bronco graduating class was, in terms of rolling up a remarkable win-loss record. But that is so last year. It's in the books, time to move forward. As much as it seems to go against the grain of head coach Chris Petersen who pulled starters late in the third or early in the fourth when the game was well in hand, allowing the opposing team to score a few points to make the final appear closer than it was, the Broncos will have to win and win big in 2012. They will have to be impressive, in several aspects of the game.
Here are some of those areas to keep in mind…
Keep Reading

Boise State Football: Like this team?