Home Run Derby 2012: Why Matt Kemp Should Not Compete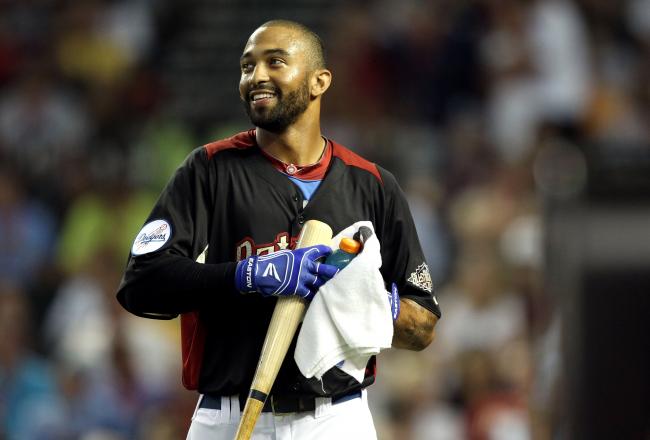 Christian Petersen/Getty Images
Matt Kemp is the captain for the National League in the 2012 Home Run Derby and needs to implore better judgment by coaching the team instead of being one of its stars. Kemp's roster features sluggers Giancarlo Stanton, Carlos Gonzales and Carlos Beltran.
Kemp has only played one rehab game in Class A and will not return for the Dodgers until after the break. Kemp's injury is serious enough to keep him out of the All-Star game (he was replaced by Chipper Jones). So why is Kemp willing to take a hack at the Home Run Derby?
Dodger fans, and baseball fans in general, should be frustrated and concerned about having Kemp in the Home Run Derby. Kemp has not played many games in the last two months and although he is only getting pitched soft toss, it is highly unlikely that he will start hitting multiple bombs at Kauffman Stadium on Monday night.
Not only is Kemp rusty but his previous attempt at the Home Run Derby did not fare well. Last season, Kemp only hit two home runs in the first round and came in last place amongst the eight competitors. After hitting 22 home runs in the first half of the season, he could not even advance past the first-round in the 2011 Derby. After only hitting 12 home runs so far this season, what makes fans think he will fare any better in 2012?
Kauffman Stadium's challenging dimensions are another factor that should give Kemp reason to sit back and watch. Kauffman features 387-foot gaps to left and right center which are very similar to the 385-foot gaps in Dodger Stadium, while surpassing Chavez Ravine with a 400-foot dead center.
Neither park is extremely hitter friendly, but Kemp has put up incredible home run numbers at Dodger Stadium over the last two years. That was the healthy and free swinging Kemp not the injury-ridden, tensed up Kemp that has not played in an MLB game since May 30th.
The bigger issue is Kemp's decision to play in the 2012 Home Run Derby. Applaud Kemp's selections for this year's team, but putting himself on center stage Monday night is a risky endeavor for himself and the Dodgers organization. Kemp selected teammate Andre Ethier who pulled out after weighing the options and understood the risk involved, especially with his current injury situation.
Kemp should take this same caution as his teammate and sit out the Home Run Derby. The Dodgers cannot afford another hamstring injury from a man whose bat should significantly help this team's second-half push. Even if he hits a few home runs, the odds of Kemp winning are very low, and the risk of injury is much larger.
The Home Run Derby is not always the best for hitters swings after the fact. Although Kemp was not affected last season after the Derby, the injuries and rust could play an influence not only on his performance on Monday, but his swing and overall approach in the second half of the season. The last thing the Dodgers can afford his for Kemp to return with an uppercut hitch to his swing. Is it likely? No, but it is still possible in these types of event.
Instead of attempting to hit bombs at the Home Run Derby, Kemp should enjoy the moment as the captain of a strong National League team absorbing in the entire All-Star atmosphere. He should be very patient because there are plenty of years left for the 27-year-old superstar to dominate future Home Run Derby's.
If Kemp is truly looking long term, he will forgo his spot in the Home Run Derby and focus on the bigger picture: Playing to the best of his abilities for the next eight seasons for the Los Angels Dodgers.
This article is
What is the duplicate article?
Why is this article offensive?
Where is this article plagiarized from?
Why is this article poorly edited?