MLB All-Star Game 2012: 5 Best Bets for MVP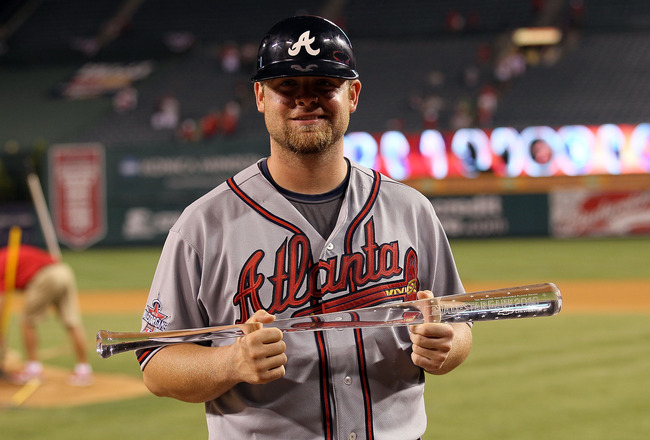 Stephen Dunn/Getty Images
It's not always the biggest stars that win the All-Star Game MVP award. In the past few years guys like Brian McCann, J.D Drew and Michael Young have come away with the award.
While all three are excellent players, nobody would mistake them for superstars. In one game anything can happen, so when predicting who will win the MVP award you have to look at auxiliary factors. What are voters looking for? What would make the best story? Here are the five best bets for All-Star Game MVP.
Derek Jeter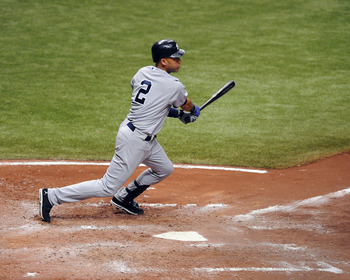 Al Messerschmidt/Getty Images
At age 38, Derek Jeter probably won't be playing in many more All-Star Games. While he isn't the player he used to be, he's still very good. It's completely possible that he gets two or three hits early in the game for an RBI or two.
Generally, when hitters win the MVP award it's because of either late-game heroics or a home run. In Jeter's case, the bar would probably be set a bit lower.
Jeter winning the award would be a great story, so if he's close, the writers will try to push him through. If he gets two hits with at least one going for extra bases and plays solid defense he'll be in the conversation.
Billy Butler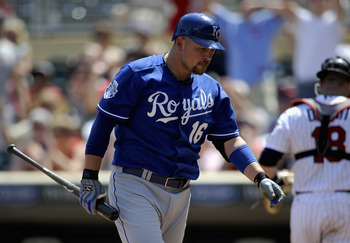 Hannah Foslien/Getty Images
Like Jeter, this one is more about the story than the player. Kansas City has been terrible for what feels like centuries. They're hosting an All-Star Game—one of the few good things this team has had going for it in the past decade.
Wouldn't it be nice to see their star player win the MVP award?
Butler's standards are probably going to be a bit lower than everyone else's, but considering he's a power hitter he'll probably have to hit a home run. If he does and the American League wins, expect Butler to be in the conversation for MVP.
Aroldis Chapman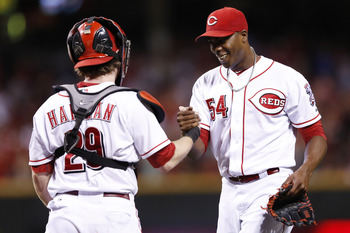 Joe Robbins/Getty Images
Yes I know it's very hard for pitchers to be named the MVP of a game that they only pitch one inning in, but if anyone is going to wow us Pedro Martinez style, it's going to be Chapman.
Chapman was made for the All-Star Game. His electric stuff and blistering fastball against the best hitters in the world are going to make for a great show.
If Chapman is going to win the MVP award he's going to have to pitch two innings, ostensibly facing six hitters. He'd have to strike out at least five of them. I still doubt that he could do it, but at least it would give us a great show.
RA Dickey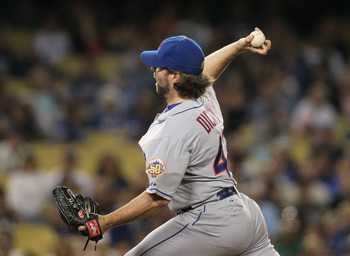 Victor Decolongon/Getty Images
Like Chapman, Dickey is going to have a hard time winning MVP just because he's a pitcher, but he has been on of the most remarkable stories in baseball this year.
A 36-year-old coming out of nowhere to develop a knuckleball and compete for the Cy Young? Name me one other time (sports movies included) where that has happened. It's unbelievable.
Dickey may be in line to start the game, and if he does he'll have two innings to shine. Like Chapman, he'd probably have to strike out at least five batters, but if anyone can do it I think Dickey can.
Joey Votto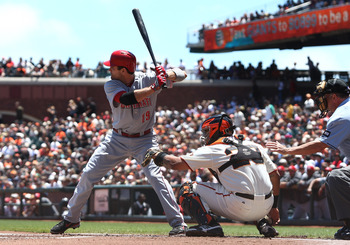 Tony Medina/Getty Images
For the last player I'm not gonna get cute with it. There is no story here. I'm just taking the guy who in my opinion is the best hitter in baseball.
Votto is competing for his second league MVP award this year. His Reds are firmly in contention for a playoff spot. There's even a bit of controversy considering some of his Reds teammates were left off the roster by Tony La Russa (much to Dusty Baker's ire).
If I had to pick one player to get one hit at any time, I'd take Votto. That's why he gets the nod here. When voting for MVP there are times when you should just take the best player.
Keep Reading