NBA Rumors: Knicks Offer Iman Shumpert for Steve Nash Proves Team Must Win Now
Christian Petersen/Getty Images
The New York Knicks are at it again.
Just a month ago, head coach Mike Woodson made it clear that he expected Jeremy Lin to be the Knicks' starting point guard heading into the 2012-13 season.
Failing to offer Lin a contract yet, and Lin starting to test the free-agency market, it's clear that the Kicks might be moving in a different direction with their starting point guard spot. It appears that they are moving in a direction that proves that the Knicks are solely focused on winning right now.
ESPN's Marc Stein is reporting that the Knicks are pursuing free-agent point guard Steve Nash, offering the Suns a sign-and-trade deal that includes one of the Knicks' most talented, young prospects in Iman Shumpert.
Adrian Wojnarowski is reporting now that the Knicks are the "front-runner" to landing Steve Nash with a sign-and-trade deal.
The Knicks have emerged as front-runners to land Steve Nash in a sign-and-trade deal, league sources tell Y! Sports.
— Adrian Wojnarowski (@WojYahooNBA) July 4, 2012
This proposed sign-and-trade proves one thing—above all else, the Knicks are more focused on winning now instead of building for the future.
If the Knicks wanted to plan for the next three to four years of their franchise, they would undoubtedly have already offered Lin a contract, simply to show their interest in the young star, if nothing more.
Is it the right move for the New York Knicks to trade Iman Shumpert for Steve Nash?
It's clear, though, that the Knicks want to compete with the best of the best right now, and that's why they are trying to make a sign-and-trade deal for Nash work right now.
It's not that the Knicks' lack of urgency in pursuing Lin that shows their desire to win now.
It's the fact that they are willing to trade away one of their most promising prospects for a chance at an immediate NBA title, instead of building a team that can be around for the foreseeable future.
Sure, you could argue that because of Iman Shumpert's torn ACL this postseason that the Knicks are smart to move on from a talented prospect who will have a long recovery and need time to get back to the player he once was.
But the Knicks wouldn't be willing to make a move like this if they didn't think that Steve Nash could help their talented roster take their game to the next level this year or the next year.
The one thing the Knicks lacked last season was a true sense of chemistry, and while making room on a roster for Nash might not seem like a move that would build chemistry, there's on doubt that the way Nash plays the game would build that chemistry on the court.
The question now becomes whether adding Nash can truly help the Knicks win during the 2012-13 season. The answer to that question is yes.
Nash is the kind of point guard the Knicks desperately need. He's the kind of player who creates offense for his teammates on a consistent basis while also scoring at a productive rate when his team needs him to—as evidenced by his 53.2 percent shooting percentage last season.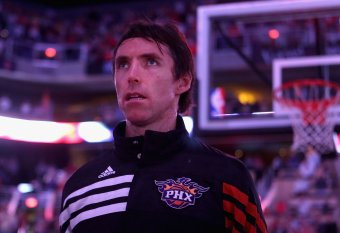 Christian Petersen/Getty Images
The calm and controlled approach that Nash brings to the game will force players like Amar'e Stoudemire and Carmelo Anthony to play at a more efficient level, which will help the overall success of the Knicks as a team.
Efficiency and chemistry is what Steve Nash is about, and it's exactly what the Knicks need if they want to win right now.
Winning right now, within the next year or two, has apparently become a priority for the Knicks, and the only way they can assure that they do that is by pulling off an impressive sign-and-trade for Nash.
When Carmelo Anthony said, "my time is coming," referring to winning his first NBA championship, I'm sure he didn't know he might be playing alongside Steve Nash next season.
If the Knicks can land Nash, Melo's first NBA title could be right around the corner.
This article is
What is the duplicate article?
Why is this article offensive?
Where is this article plagiarized from?
Why is this article poorly edited?

New York Knicks: Like this team?