London 2012: Picking the U.S. Men's Olympic Basketball Roster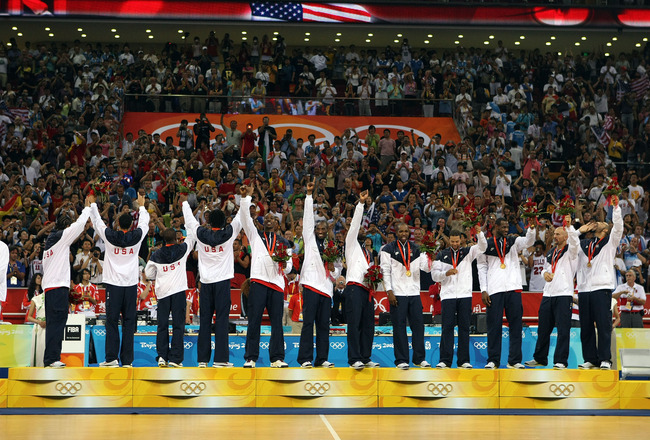 Jed Jacobsohn/Getty Images
Now that we are a smidge over three weeks away from the official start of 2012 London Olympic Games, and roughly four weeks from Team USA's men's basketball opener against France, there are still a few matters that need to be resolved before our athletes depart for Jolly Old.
With Derrick Rose and Dwight Howard out of Olympic consideration due to injuries, and now Dwyane Wade and Chris Bosh also excluding themselves, the team has lost two "for sure" starters in Rose and Howard, and two reserve players that any other country would undoubtedly have as a part of their starting five.
So, who should replace these players, not just as starters but also as reserves?
Point Guard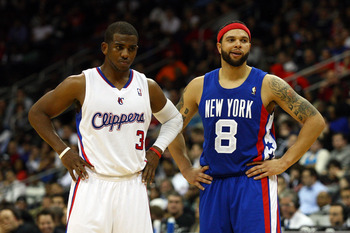 Chris Chambers/Getty Images
The USA has an embarrassment of riches at almost all positions.
However, at point guard, it is most especially so.
Since Derrick Rose is out as the probable starter, who should take his place?
I say Chris Paul. As Tim Legler put it on SportsCenter this past Friday, "He is a floor general that can run an offense and does not necessarily need the ball."
By "does not necessarily need to ball," he was insinuating he does not have the selfish mentality that he has to or needs to score—we all know as a PG he needs to ball. That should go without mentioning, but I cannot leave inference to chance in this case.
For his "backup," if you will: Deron Williams. Ever since these two came out of college, there has been a debate about which of them is the better PG—a debate that will continue…and continue…and continue.
"But, what about Russell Westbrook," you ask? He is indeed talented—maybe too talented for what his role with the Olympic team would be.
When a PG is going to be on the court with the likes of LeBron James, Kobe Bryant or Kevin Durant, possibly all at the same time, he will need a high understanding of ball distribution, which Paul and Williams have, but I believe Westbrook lacks. So, for now, he's out.
Shooting Guard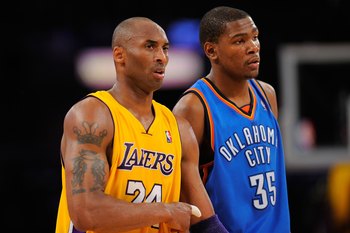 Kevork Djansezian/Getty Images
Simply put, Kobe Bryant and Kevin Durant.
Need I even say why?
Cut and dry. 'Nuff said.
But why Kobe over Durant on my first line? Simple—my first line is built to allow more driving to the basket, and my second line is more for the snipers to display their skills.
Small Forward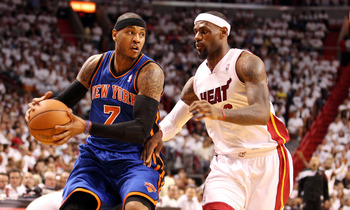 Marc Serota/Getty Images
First, as starter it is obvious: LeBron James.
I thought about putting him at the 4, but I like him better at small forward.
As for his "backup?"
The black hole of basketball. The player where the ball disappears and does not reappear until snapping through the net: Carmelo Anthony.
Settle down, I said that in jest. Carmelo is über-talented. Offensively, he is a bigger—size-wise—Kobe Bryant, who could hit not just the broadside of a barn, but also the corner of the barn with a pin needle a mile away.
It's just…his ball-sharing.
Nevertheless, regardless of his or any other players' discrepancies, LeBron would and could have been the No. 1 option at any position on the roster. Which is why Melo is second at SF.
Power Forward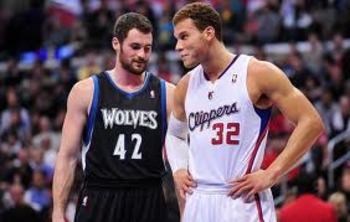 Photo courtesy of US Presswire - Gary A. Vasquez
Some of you may find this shocking, but for my starter I am going with Kevin Love over Blake Griffin.
I believe that in totality, Love's skills can bring more to the table than Blake Griffin's.
Love can create his own offense and continue the team offense with his rebounding to a degree Griffin cannot, and he has the ability to draw his opponent out to the perimeter with his ability to shoot the three.
Blake, on the other hand, has to rely more on his teammates to help create his offense and hovers around the basket, clogging the lane for the likes of LeBron and Kobe, who will also be on my first line.
This is not to say Blake Griffin is (in Stephen A. terms) a "scrub"—not in the least. That's why I have him as my second PF on the roster.
Center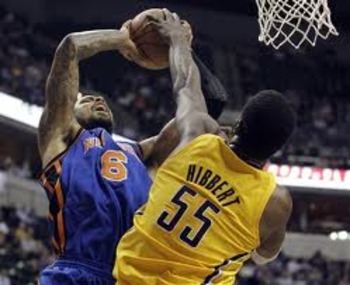 Photo courtesy of Associated Press via Abcnews.go.com
The position in the shallow end of Team USA's talent pool is center.
With the most dominant center in the world (Dwight Howard) out, that leaves only one true option for Team USA, and that would be Tyson Chandler.
Still, this question has to be asked: What happens if Chandler gets into foul trouble? Who should or could occupy the role of backup center?
Chris Bosh could have secured that role, but he's out.
But with two legit seven-footers on teams in group play (with two more teams to be added in July), two (the Gasol brothers) on Spain and a staggering five on China, Team USA really does need another legit seven-footer.
Andrew Bynum would have been an option, but having turned down an offer for consideration, he is out as well, unless he has a change of heart.
So, after skimming through Team USA's Olympic Team's Finalist Roster, who is there to fill the role of backup center?
The team needs a player who can offer resistance down in the post and serve as an obstruction to those driving the lane.
For that, there should be significant consideration for a call-up of Roy Hibbert. He is a tall, big body who can patrol the paint on both ends of the floor and is not afraid to make those who dare attack the rim earn their points.
Reserves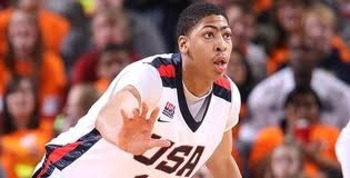 Photo courtesy of NationofBlue.com
Now, with 10 of the 12 spots secured, who should be given the final two spots on the U.S. Olympic roster?
Anthony Davis is highly likely to get the call, thus taking up the 11th of 12 spots.
So that leaves one spot remaining.
Do you go with James Harden, who—outside of the 2012 NBA Finals—has proven himself to be outstanding coming off the bench?
What about Russell Westbrook, hoping he can finally accept his role on a team as a distributor and be able to defer to players such as James, Bryant and Durant, with the realization he is not even the quaternary option—scoring-wise—on the team?
I would choose James Harden. As talented as Russell Westbrook is, Harden has greater familiarity with coming off the bench and a better understanding of what his role with the team would be.
And on a squad with such talented scorers all needing the ball, the team needs a player who will not cause a conflict with Kobe, LeBron, Durant and Melo.
Final Roster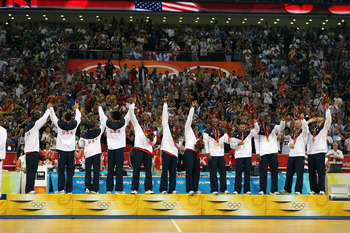 Jed Jacobsohn/Getty Images
There you have it: My U.S. Men's Olympic Basketball Team.
Below is a breakdown of what my squads would look like if they were not fluid.
First Line
Chris Paul
Kobe Bryant
LeBron James
Kevin Love
Tyson Chandler
Second Line
Deron Williams
Kevin Durant
Carmelo Anthony
Blake Griffin
Roy Hibbert
Reserves
Anthony Davis
James Harden
Bring home the gold, boys!
Keep Reading