UFC 148: Cung Le vs. Patrick Cote Head-to-Toe Breakdown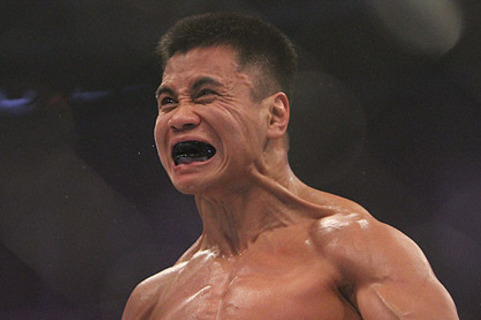 MMAWeekly.com
Former Strikeforce champion Cung Le is looking for his first win in more than two years. Patrick Cote, a past title challenger in the middleweight division, has been searching for a UFC victory for more than half a decade. At Saturday's UFC 148, one of those droughts will end when Le and Cote meet in the center of the Octagon.
In his most recent appearance, Le started off strong against MMA legend Wanderlei Silva, but he faded in the second round and fell victim to a vicious onslaught from the former Pride champion. Meanwhile, Cote has built a four-fight winning streak outside of the UFC since being released from the organization after a loss against Tom Lawlor.
For Le and Cote, this bout could determine which directions the remainder of their careers will go. Let's take a look at which fighter has the edge on paper.
Begin Slideshow

»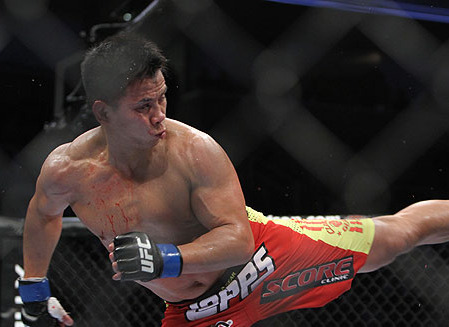 Laron Zaugg/MMAWeekly.com
Patrick Cote brought a boxing background into his MMA career, but he hasn't developed into the all-around striker that he needs to become to have continued success at the highest level of the sport. Conversely, Cung Le has been almost overly dynamic at times on his feet.
In the first round of his fight against Wanderlei Silva, Le had an opportunity to finish the fight with punches, but he went for style points and attempted to land a series of spinning kicks that appeared to take a lot out of him once Silva was able to regain his composure.
An undefeated kickboxer, Le has the technique to out-strike Cote, but he must be smart about conserving his energy. The only knockout loss of Cote's career came via self-inflicted injury, so Le will need to be smart about utilizing flashy kicks that will cause him to tire in the later rounds, as Cote won't be easy to put away.
Edge: Le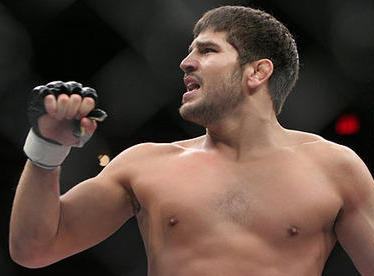 Scott Peterson/MMAWeekly.com
Cung Le is widely recognized as a striker, but he possesses strong backgrounds in both wrestling and sambo. Against a technical boxer like Patrick Cote, Le may need to utilize his offensive grappling more than usual to pick up his first UFC victory.
In 1989, Le was an AAU national champion in Greco-Roman wrestling, freestyle wrestling and sambo. While it has been quite awhile since Le was considered a high-caliber grappler, he still has the ground game to dictate where this fight takes place.
Almost all of Cote's losses have come against opponents who have been able to take him down early and either lock up a submission or maintain the top position. Le has the ability to stand with Cote, but he'd be much safer on the ground.
Edge: Le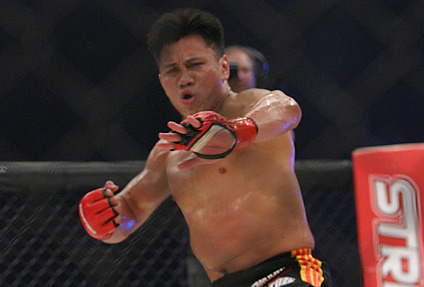 Scott Peterson/MMAWeekly.com
While Cung Le has more experience on the ground, it would be a surprise if he were able to submit Patrick Cote at UFC 148. Cote has been submitted three times in his career, but those losses came against more talented submission artists than Le, who is still in search of his first submission victory.
Cote has forced three opponents to tap during his MMA career, but one of those submissions came via strikes and the other two occurred while Cote was on top of his opponents. Le has never been submitted and has surely worked with grapplers more skilled than Cote while training at American Kickboxing Academy for this fight. On the canvas, Cote poses little threat to Le in this fight.
If Le does opt for the element of surprise in taking Cote to the ground, he will likely look to utilize ground-and-pound before submission attempts. Not only would securing a submission against Cote be difficult for Le, but the attempt would risk losing positioning against an opponent who is very beatable if forced to fight off of his back.
Edge: Push
A fire seems to have been lit under the belly of Patrick Cote since his release from the UFC in October 2010. Four straight wins were enough to catch the attention of the UFC brass, who decided to bring Cote back to the Octagon as a replacement for Rich Franklin at UFC 148.
Outside of the UFC, Le has a successful acting career to fall back on. For Cote, a future outside of the Octagon is much less bright. While it's unfair to question Le's drive, Cote unquestionably has more to fight for heading into this bout.
In addition to his motivation to win, Cote is younger than Le and has shown much better conditioning throughout his career. Le has suffered two losses inside the cage and both of those defeats were a result of his gas tank letting him down.
Edge: Cote
The only losses of Cung Le's career have come when he has been out of action for more than one year due to his acting career. While he hasn't been as active as most elite fighters probably should be, Le stepped into the Octagon less than eight months ago against Wanderlei Silva.
Technically speaking, Cote has very few advantages over Le. While the former Strikeforce champion's conditioning is still a concern, it's probably a safe bet that he'll be more prepared for this bout than he was after a long layoff heading into his matchup with Silva.
Though fans will probably be hoping for a stand-up battle between these two middleweight strikers, it wouldn't be overly surprising to see Le switch things up and utilize his ground game. Look for Le to frustrate Cote on the ground in the first round and finish a mentally defeated Canadian with ground-and-pound in the second frame.
Prediction
Le defeats Cote by technical knockout in the second round.