Who Will Be Boxing's Next Big Superstar?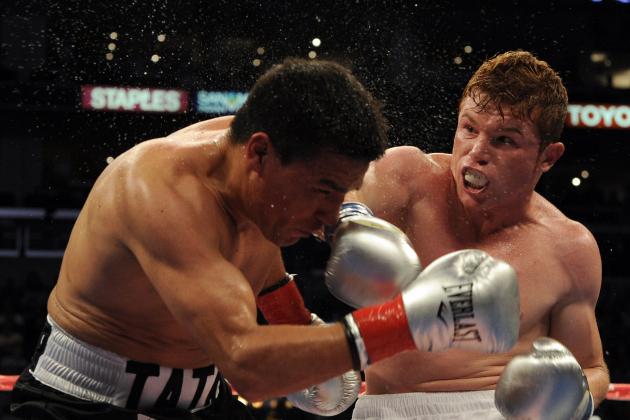 Harry How/Getty Images

Just as the professional sports leagues benefit from having powerhouse franchises like the Yankees, Patriots, Steelers and Lakers, individual sports like boxing largely live and die with their superstars.
Long lists can be drawn up of the great, good and solid professionals who put on epic fights during the golden era of the 1940's and 50's, but the fight game of that time period was headlined into immortal status in the first place by major stars like Sugar Ray Robinson, Joe Louis, Rocky Marciano and Jake Lamotta.
The 1970's was a decade filled with quality heavyweights, but the reason everybody was paying attention then and remembers to this day is because of main event tilts staged by Muhammad Ali, Joe Frazier and George Foreman.
This is the age of Manny Pacquiao and Floyd Mayweather Jr. A lot of the best fights of the past few years have been spiced up by the fact that they have served as potential auditions for status as a Pacman or Money opponent.
But Floyd Mayweather is 35 and currently incarcerated. Pacquiao is 33, fresh off his first loss in seven years (technically, anyway) and frankly seems more interested in Bible study and NBA basketball than in continuing much longer as a major pay-per-view star.
Neither star is going anywhere right away. But it's hard not to feel like the sport is nearing the end of an era.
A number of potential superstars are poised to fill the vacuum they will leave behind. \
Follow Briggs Seekins on Twitter at https://twitter.com/Briggsfighttalk
Begin Slideshow

»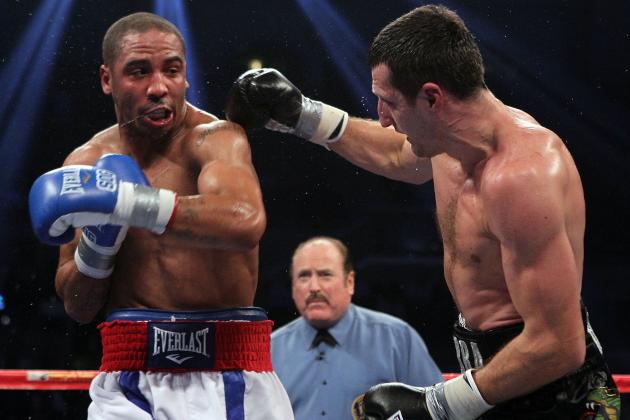 Nick Laham/Getty Images

The 28-year-old Andre Ward, 25(13)-0, is The Ring's No. 6 pound-for-pound fighter.
He is the more-or-less undisputed super middleweight champion. He easily outclassed the best available opponents in the division during the high profile Showtime Super Six tournament, picking up the WBC and WBA straps along the way.
Ward won Olympic gold in 2004, the last American to do so. In another era he would already be close to a household name.
Ward has a physically rugged, but technically intelligent style that impresses writers and serious observers but doesn't really produce the sort of highlight reel knockouts that creates buzz with the casual fan.
In September he will meet light heavyweight champion Chad Dawson. This is the kind of champion versus champion bout that should be terrific for the sport as a whole.
But with Dawson and Ward, there is a good chance we will end up watching a technical chess match that does not quite manage to thrill the masses.
Ward has an excellent chance to achieve top pound-for-pound status. He is already close to there. Whether or not the humble and extremely likable "Son of God" will be able to translate that sort of serious appreciation for his talent into a pay-per-view career remains to be seen.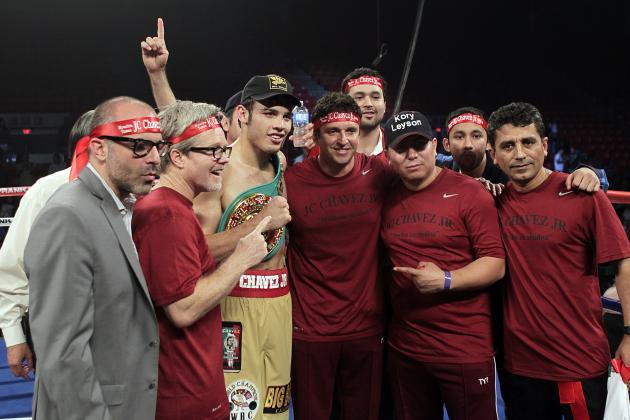 Bob Levey/Getty Images

On September 15, the legend's son, 26-year-old Julio Cesar Chavez Jr.—46(32)-0-1—will make his debut as a pay-per-view headliner when he challenges Ring middleweight champion Sergio Martinez—48(29)-2(1)-2—in Las Vegas, Nevada.
So in a sense, Chavez has already arrived in his own right, joining Pacquiao, Mayweather, Cotto and Marquez in the ranks of fighters who can headline a pay-per-view.
I'm not so sure he will maintain that kind standing beyond September and his clash with Martinez.
I will admit that Chavez has appeared to become better with each outing and there is no arguing that he is massive and powerful for a middleweight fighter. And he deserves credit for going after Martinez, frankly much sooner than most expected that he would.
But I also expect the Argentinian champion to largely expose Chavez and stop him sometime in the middle-to-later part of the fight.
If that should happen, where does Chavez go next? He will still be a young fighter with a lot of talent and box office appeal. But he is not going to keep making the middleweight limit for much longer and he looks to me like a much more ordinary fighter at 168 or 175.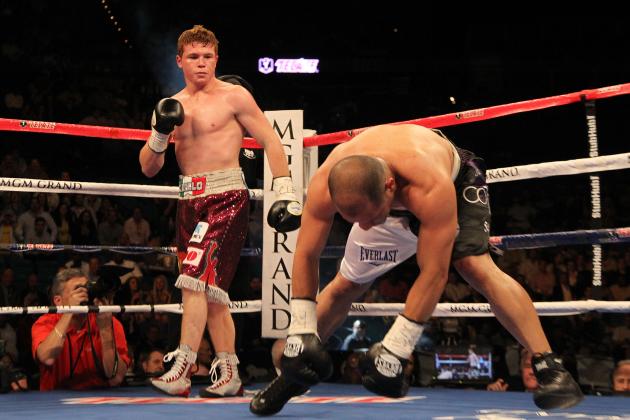 Jed Jacobsohn/Getty Images

Like Julio Cesar Chavez Jr, the 21-year-old Saul Alvarez, 40(29)-0-1, has also emerged this year as a verifiable superstar in his own right. Of the two, I would pick him as the one most likely to maintain that stature.
When Chavez meets Martinez on September 15 in Las Vegas, Alvarez will be across town at the MGM Grand, headlining his own card against a still undetermined opponent.
Depending on who he ends up fighting, the card will be broadcast on either Showtime pay-per-view or regular Showtime. Or maybe even CBS network television.
The third option has been the most intriguing. With his exciting style and distinctive red hair, Canelo might be just the fighter to headline the sport back onto network television.
But finding an opponent has been a developing drama. The first choice, Paul Williams, was tragically paralyzed in a motorcycle accident shortly after the fight was set. The always exciting James Kirkland fell through.
Victor Ortiz was penciled in, until he got his jaw broken by Jose Lopez last month.
Either way, the future looks bright for Alvarez. In my opinion, the biggest fight he could probably make right now would be against Miguel Cotto.
That is a physical match up that Alvarez could handle. Mentally and tactically, it would be a big step up and a learning experience win or lose.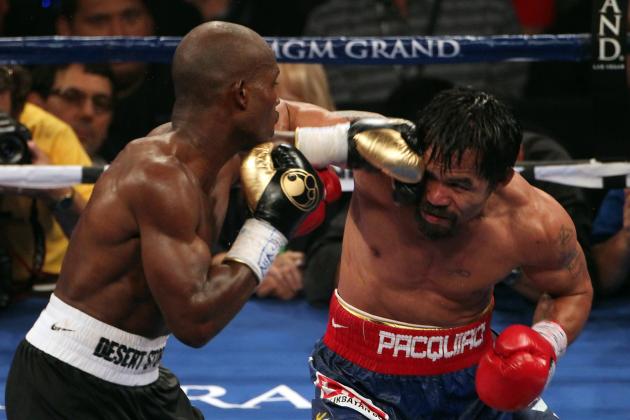 Jeff Bottari/Getty Images

Even though a very small minority of fans and writers believe Tim Bradley, 29(12)-0, deserved his split-decision victory over Manny Pacquiao, his performance still deserves some respect.
Fighting on a broken foot, Desert Storm remained competitive against Pacquiao in every round, even if he didn't seem to be doing enough to win them. If there is a rematch in November, I expect Bradley to be a tougher opponent the next time out.
Bradley is in a situation similar to Andre Ward's, another fighter with a style that dominates but doesn't always finish opponents. There is a chance he will end up at the top of pound-for-pound lists without capturing the sort of popular affection that is required to headline pay-per-view cards.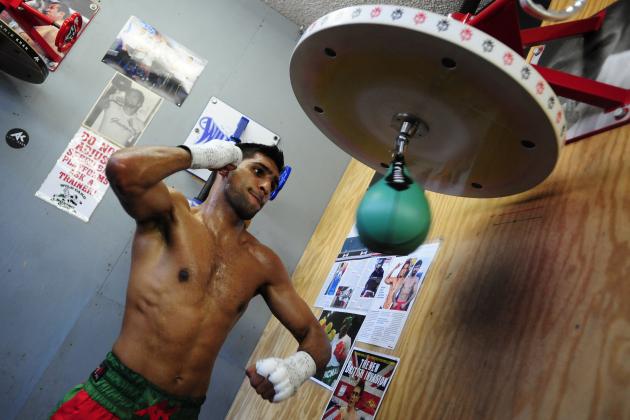 Robert Laberge/Getty Images

Amir Khan, 26(18)-2(1), has been promoted as a rising superstar since the beginning of his career. At 25, he has emerged as one of the sport's best young prospects.
Due to his first-round knockout loss against fringe contender Brendeis Prescott in 2008, questions will always remain about Khan's chin.
I had Khan winning against Lamont Peterson last December, even with the two questionable point deductions. Still, that fight and Khan's unanimous decision over Marcos Maidana both showed that Khan can be roughed up inside, perhaps even baited into engaging there to his own disadvantage.
But Khan has great natural ability and Freddy Roach as a trainer. He will only continue to improve and should remain near the top of the sport for years.
Adrien Broner, 23(19)-0, probably has the least notable resume of anybody on this list, although his stoppages of highly regarded prospects like Eloy Perez and Jason Litzau were impressive.
But he might have the most impressive skill-set of any young talent in boxing. On top of that, he has a brash, hip-hop personae that has already invited comparisons to Floyd Mayweather Jr.
If Broner keeps winning, he will end up a superstar sooner rather than later.
In my own opinion, Yuriorkis Gamboa, 21(16)-0, might be the single most talented fighter on this list. I might actually consider him the most talented pound-for-pound fighter in the world.
He's got everything as a fighter: agility and explosive power. Perfect timing and matrix-like reflexes. Give him two fights to work his way up to 140 and I give him better odds than anybody else at beating either Pacquiao or Mayweather at a 145 catch weight.
But he lists at 30 and I've never known a Cuban boxer or ballplayer who didn't have speculation over his true age, going back to when I was a Luis Tiant fan in the late 70's.
Gamboa has the kind of game that can go away quickly once a fighter reaches his mid-30's; see Roy Jones Jr. for an ideal example. He was the pound-for-pound king for years and then almost overnight was entirely beatable.
I would like to see Gamboa take as many major fights as quickly as he can get them. Like his former Cuban teammate, Guillermo Rigendeaux, he seems determined to make up for lost time from his extended amateur career.
24-year-old featherweight Mikey Garcia, 28(24)-0, has largely flown under the radar while steadily positioning himself for a world title shot.
I'm not sure that isn't by design. I have seen Garcia fight a few times now and once in person. He is a highly skilled, patient fighter who explodes with ruthless efficiency when the moment calls for it.
Professionally he is building his career with the same kind of precision. He keeps winning, most of the time by stoppage.
Garcia is the younger brother of super-trainer Robert Garcia. He performs like the younger brother in a boxing family; technically perfect, as if he were born to it.
At this rate he will sooner or later position himself for the type of opportunity that can make you an overnight superstar, if you can manage to cash in on it.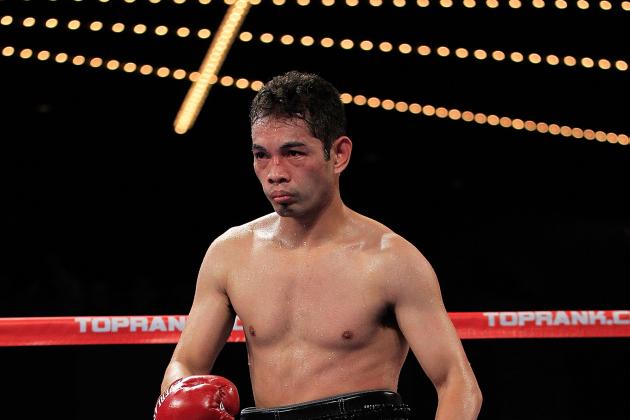 Chris Trotman/Getty Images

At flyweight, super flyweight and bantamweight, Nonito Donaire, 28(18)-1, has had the kind of power that can end a fight in an instant and electrify a crowd.
Against Fernando Montiel and Vic Darchinyan he recorded iconic, one-punch KO's, etching his name into the boxing lore of this generation.
I see Donaire ranked all the way up to No. 3 on some pound-for-pound lists. I've heard Bob Arum refer to him as a guy he is trying to develop into a pay-per-view attraction on a couple of occasions.
The big question against him would be how heavy can he fight? He beat Wilfredo Vazquez Jr. decisively in February at 122 (ignore the split decision) but he did not blow him out.
He has plenty of super fights available for him: Abner Mares or Guillermo Rigendeaux at 122, Gamboa or Garcia at 126.
Donaire-Broner is a super fight I could envision for some time in 2014.
Jeff Gross/Getty Images

Abner Mares, 24(13)-0-1, was the Showtime 118-pound tournament champion, using his rugged body attack to best living-legend Vic Darchinyan and Joeph Agebeko twice.
He looked extremely impressive moving up to 122 last April against tough veteran Eric Morel, nearly shutting him out completely en route to capturing the WBC crown.
Now that he's stepped up above the bantamweight limit, there are great fights to be had; Guillermo Rigendeaux and Nonito Donaire would both be happy to put their own zeroes up against Mares'.