6 NFL Training Camp Battles That Could Send Shockwaves Through the NFL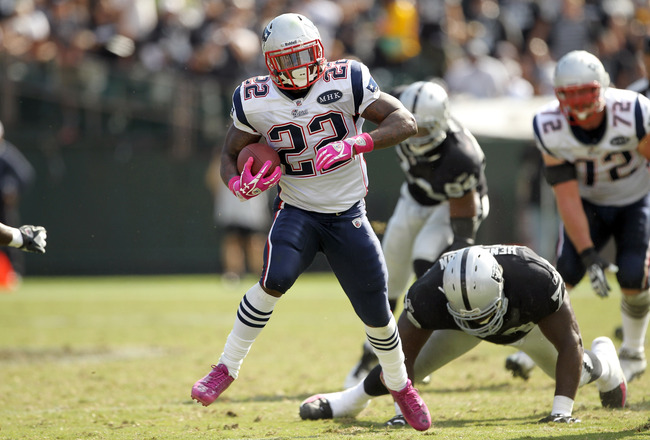 Ezra Shaw/Getty Images
NFL training camps are inching their way closer and there's plenty of positional battles that could reshape the NFL landscape.
NFL fans are chomping at the bit for their favorite teams to put on the pads and begin their quest to be the best in 2012. Fans will not only pay special attention to key positional battles during training camp on their own teams, but also those of their despised rivals.
Regardless of who you're watching during camp, a smile can't help but creep its way onto your face as the thought of NFL football invades your every thought.
Keep an eye on these battles as they go down.
The Extra Point: Change at Quarterback in the NFC West Is Now Presumed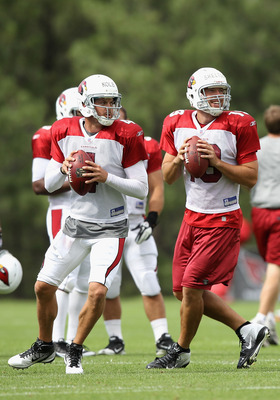 Christian Petersen/Getty Images
The Arizona Cardinals and Seattle Seahawks have had a quarterback battle brewing for months now. Whatever the outcome, fans won't be too shocked as they've seen it coming and have had time to mentally prepare for the possibility of change.
The Cardinals' battle will be hot and heavy between Kevin Kolb and John Skelton and will go down to the final days of training camp. Kolb may be the man with the $65 million contract, but Skelton finished 5-2 as the starter in 2011.
If Kolb loses, the era of "grooming" a quarterback to become the face of the franchise will be over. NFL GMs will once again shift their focus back to drafting a quarterback with every intention of him being the No. 1.
Skelton certainly has the momentum in the media at the moment and Kolb will need to have pinpoint precision throughout training camp in order to remain the starter.
The Seahawks have an interesting predicament on their hands. Their quarterback battle runs three deep with Tarvaris Jackson, Matt Flynn and Russell Wilson heading into training camp.
If Jackson wins, people will say that they're not surprised because he was the quarterback last season and didn't perform poorly considering it was his first year with the organization.
If Flynn wins, people will say it's because they gave him a $19.5 million contract in the offseason to become the starter.
And if Wilson wins people will say that they saw this coming from the first day of organized team activities.
Look for one candidate to fade early in the camp competition and things to become intense between the others. In the end, the Seahawks will be a better team because of the stiff competition from day one.
Oakland Raiders' Fans Are Already Deeming Juron Criner a Stud for Good Reason
Thearon W. Henderson/Getty Images
The Oakland Raiders are quietly building a young stable of receivers that do nothing but impress.
Rookie Juron Criner is the latest Raider to earn the respect of his coaches and teammates because of his performance during OTAs and minicamp.
A fifth-round pick in this year's draft, Criner has a real chance of becoming quarterback Carson Palmer's favorite target.
The Raiders are playing in a beefed up AFC West this season and desperately need someone to stand out in their receiving corps—Criner will be that man.
The Raiders lacked a 1,000-yard receiver in 2011 and will be willing to put their faith in Criner's hands in 2012.
With a strong training camp, he'll quickly become a go-to guy and create a headache for opposing defenses.
The Time Is Now for Jake Locker in Tennessee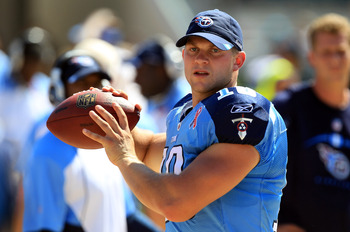 Streeter Lecka/Getty Images
The Tennessee Titans didn't draft quarterback Jake Locker with the No. 8 pick in the 2011 NFL draft to let him sit on the bench.
This year, the job will be Locker's—and there should be no questions asked.
Honestly, what do the Titans gain from Matt Hasselbeck starting in 2012?
Locker got the year of experience from the bench that most rookie quarterbacks need, and now it's go time.
Yes, Hasselbeck went 9-7 as the starter in 2011, but his time as the No. 1 quarterback for the Titans is over. He's a great guy to have on the team and will be good insurance as the backup.
With Locker being drafted to become the face of the franchise and possessing the characteristics of a leader, a star will be born in Tennessee this season.
Something to help Locker along the way is the fact that running back Chris Johnson appears to be putting in the effort to prove that he's the best back in the NFL. Johnson living up to the hype and turning into the monster he was a few years ago would be quite a relief for Locker and the Titans.
The good thing with this battle is that Hasselbeck is a professional and will gracefully relinquish his starting role.
Vincent Brown Will Become a Star in San Diego This Season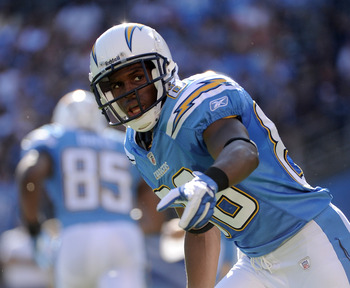 Harry How/Getty Images
San Diego Chargers fans only got a glimpse of the massive potential that wide receiver Vincent Brown has in his 2011 rookie season.
Brown only had 19 catches for 329 yards in 14 games as a rookie, but with Vincent Jackson gone, the door is wide open for Brown to stand out in 2012.
He is said to be the No. 3 receiver behind Robert Meachem and Malcom Floyd, but Chargers fans know that Floyd is susceptible to injury and Meachem has never had more than 45 catches in an NFL season.
Brown will benefit from the offseason as he gets to develop a connection with quarterback Philip Rivers during OTAs and training camp. If the guys ahead of him on the depth chart aren't careful, Brown could steal their job.
By the time the 2012 season is complete, Brown may even be Rivers' main man. Because of the cannon of an arm that Rivers possesses, Brown has a chance to become an overnight star in 2012.
The Battle in Bengals Camp for the No. 2 Receiver Will Have a Huge Impact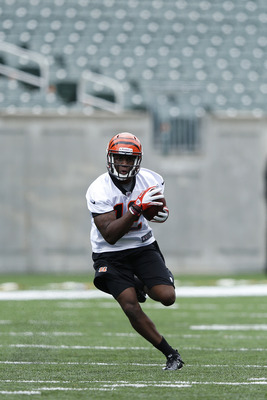 Joe Robbins/Getty Images
There's no doubt that the Cincinnati Bengals have a budding superstar in wide receiver A.J. Green, and now all he needs is a trusty sidekick.
Heading into training camp, the competition for the No. 2 receiver is wide open as Armon Binns, Mohamed Sanu, Brandon Tate and Marvin Jones all have a shot to take the cake.
This positional battle is one of the most important in the entire AFC North this offseason. The Bengals look to legitimize themselves as true contenders for years to come and will need their No. 2 receiver to be a real threat to opposing defenses.
The success of the Bengals in 2012 will hinge on their No. 2 receiver because it will alleviate the pressure on Green and give the offense an added dimension.
Bengals slot receiver Jordan Shipley is still recovering from a knee injury that caused him to miss most of the 2011 season, meaning that the aforementioned receivers in contention have an opportunity to put up some serious numbers that will only lead to a big payday in the future.
The winner of this battle will be a nice pickup in the late rounds of your upcoming 2012 fantasy draft(s).
Is Demario Davis the Next Great Linebacker in the NFL?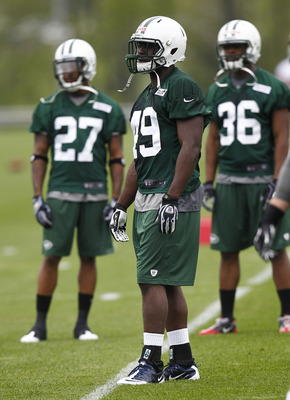 Jeff Zelevansky/Getty Images
From what is being said about Demario Davis, it sounds like he's headed for a Hall of Fame career with the New York Jets.
When a rookie who's been in the NFL less than six weeks is being compared to Ray Lewis, he must be something special.
The Jets selected Davis in the third round this year, and he could go down in history as a legendary swipe in the NFL draft.
Davis is now expected to be an immediate contributor at inside linebacker for the team and may even oust Bart Scott of his starting role in 2012.
Scott, a 10-year NFL veteran is no slouch, which means Davis has wowed everyone in the Jets organization.
If Davis does indeed win the job out of camp, the rest of the league will be put on notice that he is to be feared by all.
A Dangerous Running Game Could Mean Doom for Patriots Opponents This Season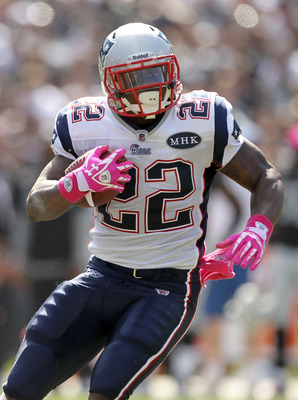 Ezra Shaw/Getty Images
When defensive coordinators set out to thwart the high-powered offense of the New England Patriots, stopping the run was the last of their concerns.
This is true no longer, as the Pats have a young bevy of talent in their offensive backfield that pose a threat to every opposing defense.
Stevan Ridley, Shane Vereen and even undrafted free agent Brandon Bolden all have a chance at becoming stars for the Patriots in 2012.
The starting role is said to be Ridley's to lose, but by no means has he won the job just yet. Vereen will definitely get plenty of touches and Bolden has to earn it but can make a serious impact in 2012.
This battle will be watched by all throughout training camp. The fact that the Patriots could have a stout running game is downright scary.
Whether it be Ridley, Vereen or Bolden, the Pats are planning on returning to the Super Bowl this season. Harvesting a rushing attack in training camp would only bolster their chances.
Keep Reading