Nathan's Hot Dog Eating Contest 2012 Results: Live Reaction and Analysis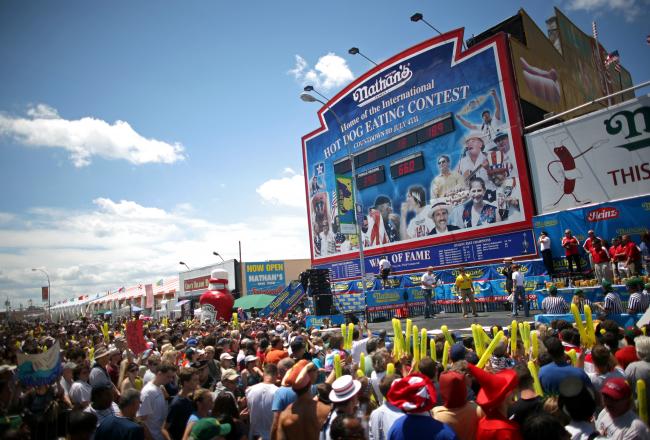 Yana Paskova/Getty Images
Happy Fourth of July everyone! Is there any better way to celebrate our independence than with a little good old-fashioned gluttony and and American excess? If there is, I don't know what it could be.
For the second year, the men and women will compete in separate competitions at the Nation's Hot Dog Eating Contest, leaving two competitors $10,000 richer after the event.
In the women's championship, Sonya "The Back Widow" Thomas repeated her victory from a year ago with a new record of 41 hot dogs and buns. Her stiffest competition came from Juliet Lee, who set a personal best with 33.
On the men's side of things, Joey "Jaws" Chestnut decimated the competition. Chestnut won his sixth consecutive yellow mustard belt, which equals the legendary Takeru Kobayashi's record streak from the last decade. He also tied his world record of 68 hot dogs.
Eater X finished second with 52.25 dogs, and Deep Dish Bertoletti came in third with 51.
Can any woman take down The Black Widow? Will anyone even challenge the dominance of Jaws? Tune in next year to find out.
Thank you to everyone who followed along live and also to anyone who will read at a later time. The Nathan's Hot Dog Eating Contest is one of my favorite events of the year. This year lived up to and exceeded all expectations.
Happy 4th of July everyone and God Bless America!
It looks like Major League Eating has two utterly dominant champions that don't look anything close to vulnerable. These are two forces of nature!
What a tremendous day of wonderful grossness! We saw a new women's record and a repeat championship. Then we saw the men's record tied and a sixth straight championship!
Another woman topped 30 hot dogs while two other men went over 50!
The final tally says Chestnut finished 68 hot dogs and buns! He ties his record! Eater X comes in second with 52 and Deep Dish Bertoletti was third with 51!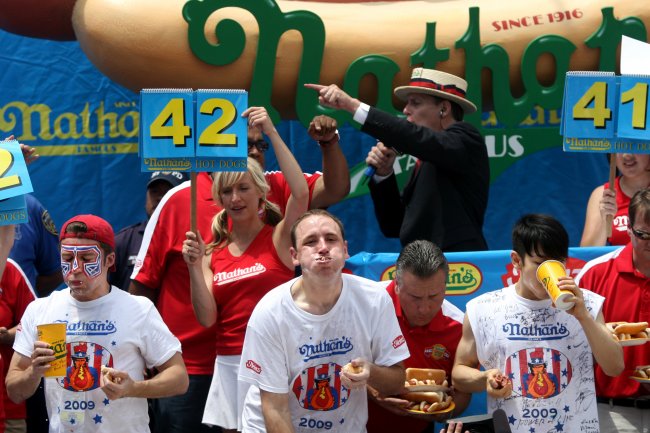 Yana Paskova/Getty Images
Joey Chestnut is your 4th of July Nathan's Famous Hot Dog champion once again!
He and Kobayashi have each won six straight! I don't know if Chestnut can be beaten!
Final countdown! Chestnut has won his sixth consecutive title!
With a minute remaining Chestnut is up to 61! I don't think we'll see another record! Eater X is at 49! Deep Dish at 45!
At the two-minute warning Chestnut is up to 56 dogs and buns! Eater X is at 45! Deep Dish is at 43!
Chestnut hits 50! Over three minutes to go! Eater X is up to 40 as well as Deep Dish! Megatoad is at 39!
It's a race for second place now! Chestnut is up to 43! Eater X, Deep Dish and Megatoad are at 38, 38 and 35!
Midway point: Chestnut with 38, Megatoad at 33!
Chestnut is at 33! Megatoad up to 31 and Deep Dish at 30!
Chestnut is the first to 20! Megatoad and Bertoletti are each past 20 in three minutes! Chestnut is pulling away!!
Chestnut, Bertoletti and Megatoad as neck and neck! Each with 16 through two minutes!!
The men are off!! Megatoad is the first to four but Chestnut passed him by the fifth dog! Deep Dish is the first to 10! In the first minute!
I think Chestnut will provide the first fireworks of the day by being the first human to eat 70 hot dogs in 10 minutes!
And now... The man, the myth, the legend! Joey "Jaws" Chestnut! He is as brash and cocky as an eater can be but he backs it up every year. A win here would tie him with Takeru Kobayashi's six consecutive titles. And now they are blaring The Who's "Baba O'Riley."
Here comes the Megatoad Matt Stonie. He is 19 and he looks like a 7th grader. Next up is Eater X, complete with Ultimate Warrior makeup. He is a legitimate contender.
Here is the No. 2 eater in the world, Pat "Deep Dish" Bertoletti! He is followed by Notorious B.O.B., complete with big gold chain. He is better known as the world brisket champion!
Now we are getting into the stars of the, um, sport. These guys are getting video montages on their way in. So far "Pretty Boy" Pete Davekos, Crazy Legs Conti and Eric "Badlands" Booker.
I understand this guy's name is Sean Gordon, but nobody in this contest should be nicknamed Flash.
How amazing is it that pre-contest introductions include stats like, "he has eaten 85 ounces of baked beans!"? My favorite thus far is 23 ears of corn.
Right now we have the swearing in and certification of the judges.
Joey Chestnut has eaten 60-plus hot dogs three times. He'll do it again today. He'll also win his sixth title.
This article is
What is the duplicate article?
Why is this article offensive?
Where is this article plagiarized from?
Why is this article poorly edited?