Is Tiger Woods Really "Back"?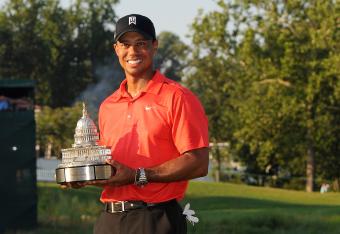 Patrick McDermott/Getty Images
Is Tiger Woods really "back" this time?
Who knows?
Who even knows what "back" would look like for Woods in the year 2012?
If this were 2001, "back" for Woods would mean winning virtually every time he stepped on the golf course, whether that be a major championship or standard PGA Tour event.
But "back" for a 36-year-old golfer who lost two full years due to scandal, injuries and a swing change will likely look very different from the Woods that completely dominated the game in the early 2000s.
"Back" is probably going to be similar to what we've been seeing with Woods this season. So, if you look at it that way, maybe Woods is "back."
"Back" will mean winning again, and possibly even winning often.
But "back" will not mean winning virtually every time he steps on the course and winning major championships by 12 and 15 strokes.
"Back" will not mean Woods sinking every must-make putt he sees, as he somehow managed to do for the first 13 years of his career.
"Back" will mean that on the days when Woods is on with his short game and putter, we will see some of that old Tiger magic, and on the days when he's off, he will have trouble rolling a golf ball through a basketball hoop.
Woods has already won three times this year and finished second in another event.
If the PGA Tour season were to end today, Woods would most likely be voted both the Player of the Year and the Comeback Player of the Year.
And despite what the clearly flawed World Golf Rankings may say, Woods is unquestionably the best player in the world right now.
Rory McIlroy has missed the cut in four out of his last six events, while Luke Donald and Lee Westwood have each won only twice this year.
The Woods critics will say that he will not be fully "back" until he wins a major championship. There is some validity in that view, as Woods' whole career has been directed at breaking Jack Nicklaus' record of 18 majors.
Woods has gone winless in golf's four biggest events since the 2008 U.S. Open and still falls four majors short of Nicklaus' 18.
But that's just golf. Before the days of Woods, winning even two major championships was considered a great career.
Greg Norman spent 331 weeks ranked as the No. 1 player in the world, yet he won just two major championships.
Tom Lehman, another former world No. 1, won just five PGA Tour events and one major during his career.
Ian Woosnam, who spent 33 weeks atop of the World Golf Rankings, also won just a single major during his career.
Fred Couples' (the first American to reach No. 1 in the World Golf Rankings) sole major championship victory came at the 1992 Masters.
We have to understand that Woods was the type of dominant player that comes along once in a generation. In fact, in the 152-year history of modern-day professional golf, we've seen a mere three or four players dominate the game in a manner only remotely similar to the way Woods did between 1997 and 2008. And at the age of 36, it's unlikely that Woods will go back to completely dominating the game like he did in the early 2000s.
So, essentially, the answer to golf's most popular question—is Tiger Woods back?—really depends on how you define the word "back."
If you're either a dreamer or a harsh critic, you'll say that Woods is not yet "back."
However, if you're a realist, your answer to golf most popular question would be that Woods is either "back" or as close to "back" as we can expect for a 36-year-old golfer who has undergone four knee surgeries and three swing reconstructions.
For more golf news, insight and analysis, check out The Tour Report.
This article is
What is the duplicate article?
Why is this article offensive?
Where is this article plagiarized from?
Why is this article poorly edited?