Why Dennis Bergkamp Is My Favorite Player of All Time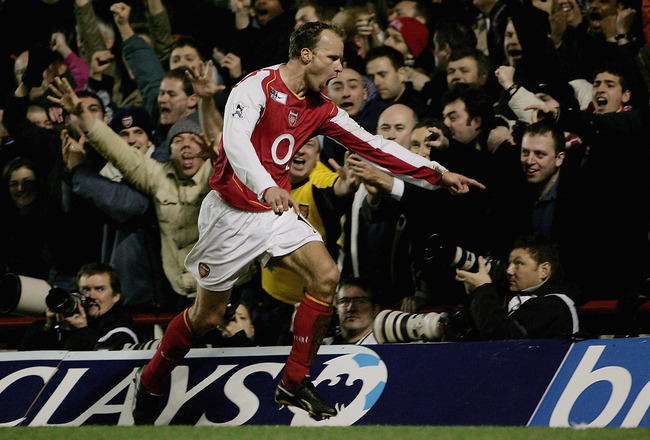 Ben Radford/Getty Images
Everyone has a favorite player. Mine is Dennis Bergkamp.
The reasons are obvious.
Anyone who saw Bergkamp play knows about the skills, the goals, the passes and everything else.
In short, Bergkamp played like a true Dutch master, and since he played for my favorite club during what was probably its most successful period, I was done for.
Read on to find out why Bergkamp is my favorite player of all time, and let me know your favorite in the comments below.
The Goals
Dennis Bergkamp wasn't necessarily a prolific goalscorer. Others scored more often than him, both at club and international level.
Few, however, scored better or more beautiful goals.
The video at the left shows my favorite Bergkamp goal—a ridiculous trap-and-spin against Newcastle United in a 2002 English Premier League match.
Arsenal won the double that season. Bergkamp's contributions, especially his understanding with Swedish winger Freddie Ljungberg, were a major reason they did.
Not only did Bergkamp score with a brilliant finish against Newcastle that day; he also helped set himself up with a pass and run during the lightning-quick counter.
My second-favorite Bergkamp goal hit the back of the net in the 1998 World Cup quarterfinals. It was the match-winner, scored near the end of regular time for Holland against Argentina.
The Dutch eventually lost to Brazil in a semifinal shootout, but Bergkamp converted his penalty.
The Passing
Remember what I said about Dennis Bergkamp's understanding with Freddie Ljungberg?
The connection really was something special, and it bordered on extra-sensory perception.
But Ljungberg wasn't Bergkamp's only partner in crime. The Dutchman dished out 116 assists for Arsenal from 1995-2006.
Watch all of them at the left.
The Skills
Dennis Bergkamp could score, and he could set up goals for others.
He made it all look so easy. He wasn't necessarily the fastest player, especially for a forward. But with those skills, he didn't need loads of speed.
Bergkamp's effortless skills with the ball came to define Arsenal's stylish new ethos under French manager Arsene Wenger.
The Dutch master's contributions were special to watch, as you'll see in the clip on the left.
The Netherlands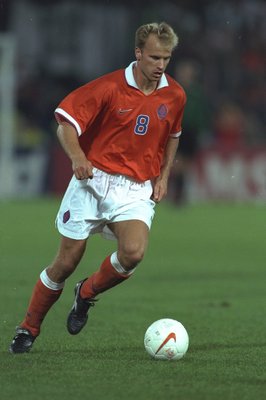 Graham Chadwick/Getty Images
This summer served as a poor example, but being a Dutch footballer is generally considered cool.
At least, it is to me. The Dutch are world football's tortured geniuses, equally adept at playing beautifully and tearing a team apart from the inside.
Tragic brilliance is cool—just ask William Shakespeare.
The Titles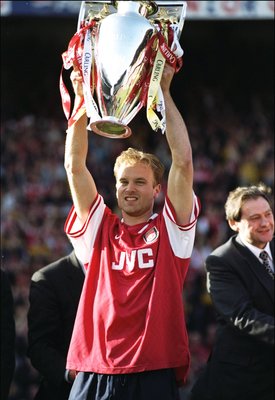 Shaun Botterill/Getty Images
Brilliant skills and wonder goals mean little unless they bring your club silverware.
Dennis Bergkamp won plenty of silverware at the club level.
With Ajax, he won the league title, two Dutch cups and the UEFA Cup.
At Inter Milan, he won the UEFA Cup again.
With Arsenal, he earned three league championship medals and helped the Gunners to four FA Cup titles.
If only the 2006 Champions League final had played out differently.
Keep Reading