New York Knicks: 5 Free Agents Perfect for Mike Woodson's System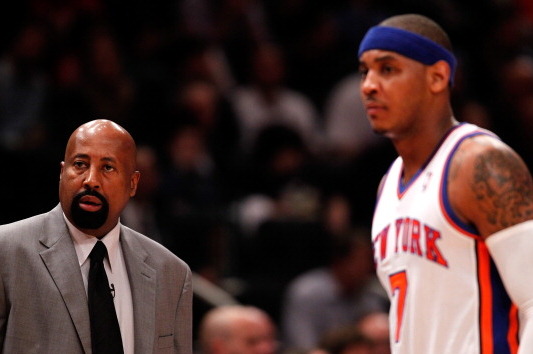 Jeff Zelevansky/Getty Images
Woodson and Carmelo aren't a perfect match, but it's a pairing that can work.
NBA basketball is not fantasy basketball.
Sure, the total points, rebounds, assists and stats are all relevant, but they're not the only thing that matters though.
Teams need to blend well. Chemistry, the right mix, getting the right players to buy into the system, and insuring those players possess skills that either adhere to, or complement, that system.
The New York Knicks have a limited budget, a head coach with a specific system, and some holes on the roster.
Unfortunately for Knicks fans the team can't just call guys up, offer massive contracts, and pick-and-choose exactly who they want wearing a Knicks uniform next season.
They're going to have to choose from a pool of low-cost players. These players are low-cost because they don't possess a myriad of basketball skills. They're limited in their potential. In the right system they can flourish, but in a bad setting they're nothing more than benchwarmers.
We all know the Knicks need to add players, and we all know they can't be too pricey.
They also must fit into the system that Mike Woodson employs. That's a system which stresses strong team defense, and an opportunistic offense which stresses getting the ball in the hands of those most likely to score.
The defense is a direct descendant of Woodson's college experience playing for Bobby Knight at Indiana.
The offense is more a product of his NBA experience.
Who are the best choices for the Knicks given their existing roster, and the system of head coach Mike Woodson?
Here's a set of five players, one at each position, who could provide limited contributions, in limited minutes, while also costing New York limited dollars.
Begin Slideshow

»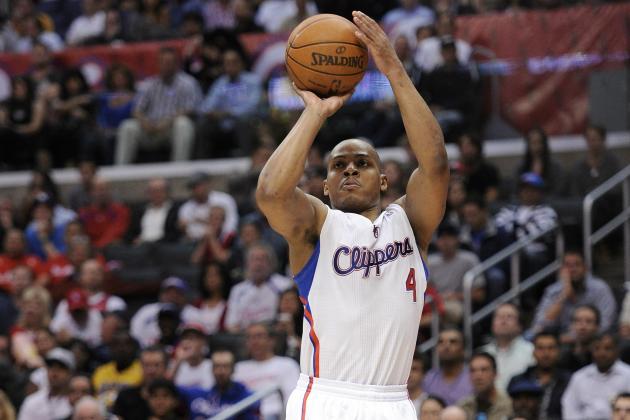 Harry How/Getty Images
Randy Foye would be a good fit as a back-up on the Knicks.
The New York Knicks have tight finances. Big-name players with big contracts are eating up the majority of the available salary cap.
The Knicks need players who are both economical, and versatile.
That's what makes Randy Foye an attractive free-agent target.
Yes the Knicks are bringing Jason Kidd to town. The team is likely to match the lucrative offer sheet the Houston Rockets offered to Jeremy Lin as well.
So where would Foye fit in?
The nice thing about Foye is that he brings qualities that both point, and shooting, guards possess.
Foye isn't the greatest ball-handler, but he can bring the ball up-court and set up the offense. Foye isn't a legendary three-point shooter, but he can knock them down when he's left open, and Foye does a nice job moving without the ball to get open as well.
On defense Foye is not outstanding, but he does give effort. He's a player who has been at his best as a backup and is used to coming off the bench.
With Landry Fields possibly headed to Toronto and Iman Shumpert recovering from knee surgery, the Knicks will need additional guards even if they do end up with both Jeremy Lin and Jason Kidd.
Foye would be a nice addition.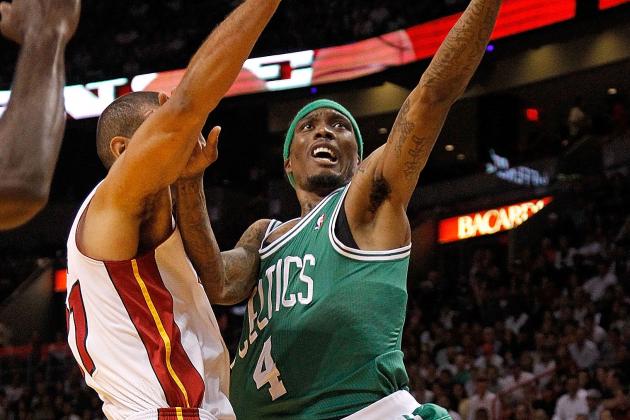 Mike Ehrmann/Getty Images
Marquis Daniels knows how to play defense, and he's a solid off-the-bench player.
Since Doc Rivers took over as the head coach of the Boston Celtics, they've been one of the best defensive teams in the NBA.
You don't get to that level by surrounding a few great defenders with a collection of guys who don't put forth great effort.
Everyone has to contribute. From the stars, all the way to the minor bench players.
Marquis Daniels is one of the bench players who has consistently made an impact on defense in Boston.
Now he's a free agent. Daniels is a smart, lanky small forward who can guard various players. He won't cost a ton, but he could save the Knicks from giving up a lot of points.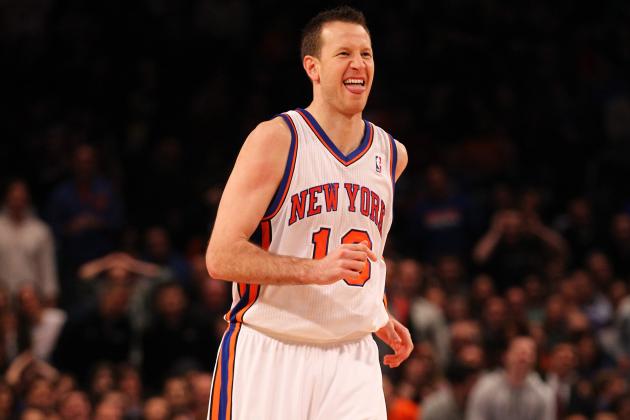 Al Bello/Getty Images
Knicks fans will be all smiles if Steve Novak returns next season.
Of all the players on last season's Knicks' roster who are free agents this summer, no one was a better fit in Woodson's system than Steve Novak.
Jeremy Lin barely had a chance to adjust to it before his season ended with a knee injury.
J.R. Smith was typically hot-and-cold under Woodson.
Steve Novak flourished.
Perhaps that's because both Woodson and Novak were acutely aware of Novak's strengths and weaknesses on the court.
That type of awareness allows a head coach to know when is best, and when is not best to insert a bench player with the type of specialized game Novak has.
Novak is tall, but he's not a physical player. He plays best on offense from beyond the three-point arc. On defense he's best suited to match up against small forwards.
Novak really emerged as a three-point force once Mike Woodson took over as head coach. He'd be welcomed back with open arms.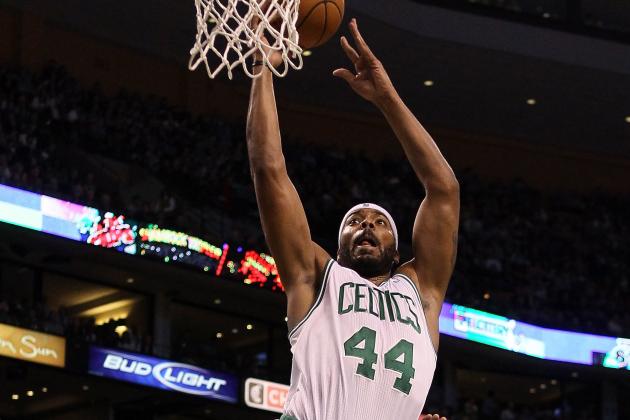 Elsa/Getty Images
Chris Wilcox could be signed cheap, and still produce at a decent clip.
The 2011-2012 NBA season was rough on all NBA players, it was especially rough on Chris Wilcox.
After a heart irregularity was discovered, Wilcox ended up missing a portion of the season to undergo surgery. He's healthy now, and he's also a free agent.
This wouldn't be Wilcox's first stint in the Big Apple. He spent a portion of the second half of the 2008-2009 season on the Knicks.
That was during the period of time that Mike D'Antoni was head coach. Wilcox was not a prototypical D'Antoni type of player. He'd fit right into Woodson's system though.
A physical player who uses his long arms to play solid defense, Wilcox isn't pretty to watch, but he gets decent results. Most importantly he won't cost the Knicks a ton of money, that's key for New York.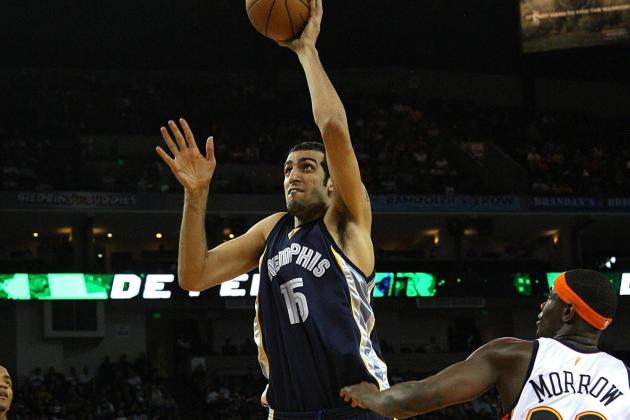 Jed Jacobsohn/Getty Images
Hamed Haddadi could be an able backup to Tyson Chandler in New York.
Hamed Haddadi probably won't win any Sixth Man of the Year awards. He won't make too many highlight films either.
He might be a very nice low-cost option for the Knicks
Someone needs to backup Tyson Chandler. The reigning Defensive Player of The Year can't play 48 minutes a night.
Jerome Jordan only averaged 5.1 minutes per game last season. He might become a better option, but in the meantime the Knicks could use someone with a little more experience and a slightly more versatile game.
Neither player is going to ever become a star, but Haddadi is a better defender and more versatile offensive player.