Concussion Crisis; the New "Great Depression": A First-hand Look into CTE
House Hearing on Concussions in Sports
Chip Somodevilla/Getty Images
The issue of concussions in the world of sports is the hot button topic of the moment from the professional ranks down to the most basic instructional leagues for children.
Every day, national sports talk shows or even the local news will run a new story on concussion tests, treatment or legislation, which local governments have started to implement in order to protect the next generation of young athletes.
This issue has really come to the forefront due to several causes. One cause being the new media world we live in, where information is available immediately and through multiple sources. Another cause is the fact that several high-profile players have unfortunately taken their own lives due to depression and other factors associated with CTE (Chronic Traumatic Encephalopathy); a traumatic brain injury due to repeated head trauma.
The last cause, which has brought the concussion issue to the consciousness of the public, is the fact that modern medicine has extended the average lifespan. While modern medicine has been able to fix injuries and cure illnesses that would have curtailed life in the past, they have been unable to reverse or stop the degeneration of the mind.
In essence, we now see more degenerative issues with the brain because we live longer. This goes for age-related dementia and Alzheimer's disease, in addition to CTE-related issues.
I, like most in the United States, love the game of football and probably would just let a lot of the stories in the news regarding concussions go in one ear and out the other, figuring the issues being discussed do not affect me and were only the concerns for the millionaire players of the NFL. For most, the violence on the field seems like something out of a fictional movie.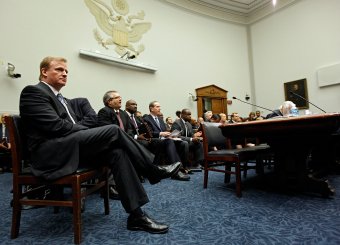 House Judiciary Committee Holds Hearing on Football Head Injuries
Chip Somodevilla/Getty Images
We view the players of the NFL unrealistically like the children's toy Rock 'Em Sock 'Em Robots. But unfortunately, in real life, if a player suffers a head injury, we cannot just push their head down and reset them, good as new.
In 2010, my perspective on the issue of concussions changed forever through a chance interaction with a long forgotten star of the gridiron.
Through an unlikely set of circumstances and the with the help of the social networking site Facebook, I became friends with former AFL MVP and Buffalo Bills star Cookie Gilchrist. Our relationship quickly transitioned from online messages to an in-person friendship.
This was when I realized Cookie was having difficulty with his memory and his ability to care for himself. I became his caretaker, helping him with the day-to-day activities of life, while searching for benefits available to him due to his years playing professional football.
Through research and numerous phone calls, I was able to find Cookie care through the NFL Player Care Foundation's "88 Plan," which provides benefits for players suffering from Alzheimer's and dementia. The plan currently does not provide benefits for a diagnosis of CTE, nor does it acknowledge the condition in the program's literature.
As an outsider looking in, one could make an assumption that an acknowledgement by the NFL program of CTE would somehow be a legal admission of fault on their part for the player's current condition. It could also just be because CTE cannot currently be diagnosed while a patient is living and therefore cannot be officially diagnosed by a physician on the program's application paperwork.
This is the first of many complicated moral and legal dilemmas that the issue of CTE raises.
Cookie was placed in a nursing home through my efforts and with the help of the administrators at the "88 Plan," but in addition to the issues with his memory, he was also battling bladder cancer. It was soon found that Cookie's cancer was terminal.
From what I had been told about bladder cancer, there was a high survival rate if detected early, but his case was now past the point of no return. The thought still crosses my mind that if he was not having difficulty with his memory, would he have sought treatment in time and still be with us today?
Cookie's health deteriorated so fast that he was gone within a month of diagnosis. In that limited time I helped him settle his affairs and promised him that I would complete his biography, which was published in November of 2011. He wanted more than anything for his story to be a cautionary tale for others.
Within a day of Cookie's passing, the Sports Legacy Institute in Boston contacted the funeral home requesting that Cookie's brain be donated for CTE research. Cookie had let it be known during our time together that he did want to participate in the concussion research, so the decision was easy. Within a few months the results of the tests confirmed that Cookie did indeed suffer from stage IV CTE, the worst form of the condition.
After seeing first hand a person, who physically was at one time the closest thing we have in our society to a "Superman," waste away from this condition, broke my heart and changed my opinion about contact sports forever. Watching my friend being unable to remember basic information, in addition to being unable to clothe and feed himself, let me know how dangerous concussions were.
While Cookie died in January of 2011, he was in effect lost long ago, when he locked himself away from the world unable to deal with the effects of CTE. Some of the symptoms he suffered with were paranoia, combative behavior and delusions. Based on the level of damage to his brain, it appeared to the doctors conducting the concussion study research that Cookie had been suffering with CTE since the early 1970s.
Cookie's story is not an anomaly, but the sign of a larger problem.
The unfortunate passing of both Dave Duerson and Junior Seau have garnered more attention to the concussion crisis due to the way in which they passed, but there are so many more out there who are locked away all alone not knowing where to turn. There are children and wives who have become caretakers for their loved ones, who are now unable or unwilling to take care of themselves, and are now in effect prisoners in their own homes.
When the media discusses the issue of concussions and CTE they now have a supposed expert on their panel to discuss the subject or are available for comment. However, none ever has a clear-cut fix for the problem.
The caretakers looking for help and answers for their loved one don't care about the politics of lawsuits or care who eventually gets credit for effecting changes to the system. They just want to know who will help them through this emotionally trying and financially draining time.
Nothing will change when you have several different organizations, whether they advocate just for professional sports retirees or specifically on concussion issues, all having a very similar, but in reality separate agenda. There are numerous groups that all see the need for change when it comes to concussion treatment, as well as the need for additional research, but they all have to a certain degree self-serving motives.
They all want to say that they are the first, best or whatever adjective you want to use when it comes to concussion research and the implementation of changes in the way the issue is handled in the world of sports. There are so many advocacy groups out there that it's hard to know who's who anymore. When one news article stated that two separate concussion research facilities were vying just for the right to examine the brain of Junior Seau, I said to myself, "the major sports leagues have won."
The major contact sports leagues will not truly take these organizations seriously. They continually pushing them aside, hoping that they will bicker amongst themselves, distracting from the true concussion issue. They might figure that if these advocacy organizations are so small-minded and cannot get a unified front then they are no real threat.
The only way that things will change is if everyone gets under one umbrella with a singular agenda.
Until recently, several different law firms represented different player groups in a concussion-based lawsuit against the NFL. The multiple lawsuits have now been combined into a single class action suit. One would hope that now that the cases are under one roof, they will have a unified direction.
As in a divorce or any other legal proceeding, the only people who benefit from the litigation are the warring parties' attorneys, who are counting billable hours. All while a wife sits locked in her home changing the diaper of the man she loves because he can no longer remember how to use the restroom. Fearing when the phone rings that it's a collection agency looking for the past due money she owes on day-to day-bills, but is unable to pay due to mounting medical expenses.
Professional football has become the poster child for the CTE issue, even though it affects other contact sports like hockey and soccer.
The position NFL Commissioner Roger Goodell has been thrust into is a no-win situation. He inherited a league that is the model for professional sports when it comes to generating revenue and game growth. However, it also has a growing list of aging retirees who are now living longer and suffering from both debilitating physical ailments and concussion-related issues due to their time on the gridiron.
Commissioner Goodell has recently made many positive changes in the NFL when it comes to the issue of diagnosing and treating concussions. But as more research and information is compiled, I am sure additional changes will need to be made to properly protect the players.
This is a difficult position for anyone to be in because if you give a blanket admission or acknowledgement that a player's CTE was caused by playing professional football the league may never recover financially. Goodell was hired by the league owners and has said that he is concerned with protecting the integrity of the NFL "Shield."
But he also needs to protect those players that help to create the "Shield." The NFL was built on the bodies of its players and it cannot forget those that helped grow it into a billion dollar business.
An NFL fan said on a recent blog that a worker for IBM would not have his pension or retirement benefits increased just because the economic climate had changed and the company was making more now than it did at the time of the employee's retirement. I understand the fan's argument, but contend that when an employee worked for IBM they created a physical product to sell. But in the case of professional football the employee is the actual product and they gave their body up in order for both the league and themselves to flourish financially.
At some point, I think that cooler heads will prevail and that the class action lawsuit against the NFL will be settled before the spectacle of pre-trial discovery hits the media. The sight of former NFL players, once the physical specimen that all men strive to be, pictured drooling on themselves seated in a wheelchair will be something that will not go over well for the billionaire owners of the NFL. The everyman that reads the morning paper will be outraged at the sight of seeing their childhood hero in that state.
I saw it firsthand when I became friends with Cookie Gilchrist and still can't put into words how heartbreaking it was. These are men that are supposed to be carried off on the shoulders of their teammates after their great accomplishments on the football field, but in many cases are instead being hidden away in nursing homes and hospitals like a shameful secret.
The legal ramification of any settlement that may come opens issues that are far beyond my armchair lawyer knowledge. If player "A" suffered three concussions in high school, one in college and one in the NFL during a 10-year career, who is responsible for the damage and the ultimate cost? What will be the presumption of causal relation in concussion-related disability cases?
While many say that a player today now presumes they will be injured playing in the NFL, should they be forced to sign a liability waiver prior to entering the league? Should players be responsible for the cost of a concussion related injury policy, in order for them to play in the NFL? The myriad of other issues that arise from this issue is a question for the lawyers involved and something to add to their billable hours.
At the end of it all, I still love football, as many of us do. Despite knowing now what playing football may do to diminish their health, many players with the ability to play football professionally, will choose to still do so because in most cases it will afford them the best opportunity to provide for their family's financial well being.
In the past, I too would say, "wow look at that huge hit," when two players ferociously collided during a football game. But having seen first hand the devastation that those hits cause, my first thoughts now are how will that hit affect the player's future well being.
There will never be a clear-cut answer to the many issues raised by the concussion crisis because at its core football is a violent sport.
I can only hope that soon those who built the league into the financial juggernaut it has become are cared for correctly and that those yet to step onto the field are protected from the unfortunate fate that befell Cookie and many of the others who came before them.
This article is
What is the duplicate article?
Why is this article offensive?
Where is this article plagiarized from?
Why is this article poorly edited?