Chicago White Sox: 5 Thoughts Following Their 19-2 Rout Over the Rangers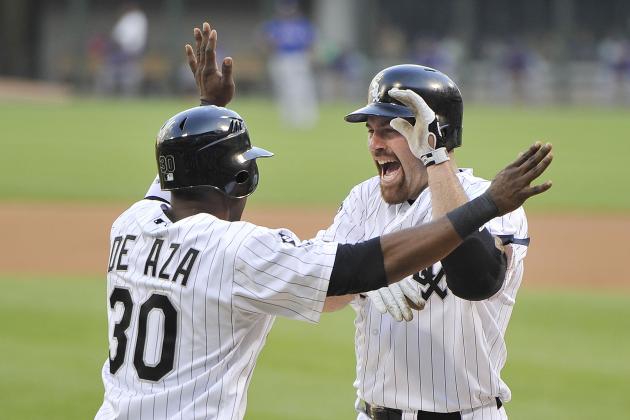 Brian Kersey/Getty Images

In a battle of division leaders Tuesday night, the Chicago White Sox trounced the Texas Rangers 19-2 during the first of a three-game series at U.S. Cellular Field in Chicago (Yahoo! Sports).
All-Star pitcher Chris Sale quieted the Rangers and their top-ranked offense, holding the Texas to just five hits and one earned run over 7.1 innings.
The White Sox offense jumped on Roy Oswalt early, who gave up 13 hits for the second consecutive game. The 34-year-old hurler was recently signed by the Rangers, who have lost starting pitchers Neftali Feliz and Colby Lewis to the disabled list.
During last night's rout of the Rangers, the White Sox matched their season high of 21 hits in a game. The 19 runs scored was the most runs in a game for the White Sox since they beat the St. Louis Cardinals 20-6 in 2006.
The White Sox remained two games ahead of the Cleveland Indians in the AL Central, and picked up a game on the Detroit Tigers, who dropped their second game in a row to the last-place Minnesota Twins.
The two teams will square off again today on Independence Day, and the White Sox will try to keep the fireworks show going against struggling Rangers starter, Scott Feldman.
Was last night's impressive offensive display by the White Sox a sign that the team is heating up like the nation's record tempera tures? Here are five thoughts following the White Sox's 19-2 win over the Rangers.
Begin Slideshow

»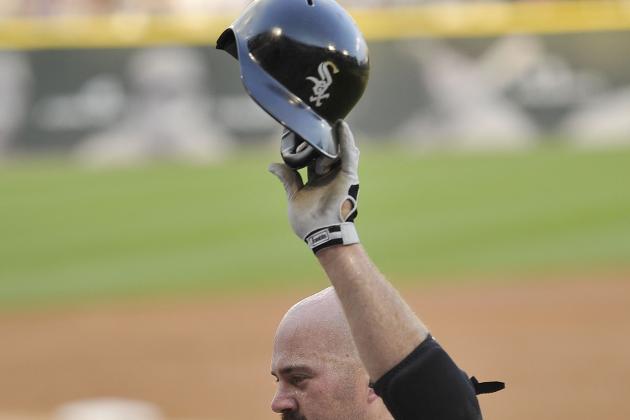 Brian Kersey/Getty Images

Kevin Youkilis, known for his energy and plate discipline, was a popular player in Boston, loved by fans and teammates alike (via MLB.com). While the White Sox's recent trade for Youkilis to fill their void at third base has been lauded by most, there have been some detractors over the aging Youkilis' arrival in Chicago.
Youkilis' struggles this season have carried over from Boston to Chicago. Youkilis carried a slash-line of .233/.307/.360 into Tuesday night's contest with the Rangers. He appeared to finally arrive last night at the Cell, bashing a two-run line drive homer over the left field fence, sparking the White Sox's rout of the Rangers.
He would finish the night three-for-six, with four runs driven in. After his first inning home run, Youkilis added a pair of RBI singles, keeping the procession line on the base-paths moving for the White Sox.
Youkilis acknowledged the crowd after his home run, raising his helmet amidst chants of "Youk!", which were heard throughout the night.
For the White Sox, who have been desperate to fill their void at third base, and their fans, Tuesday's performance was hopefully a sign of great things to come for Kevin Youkilis in Chicago.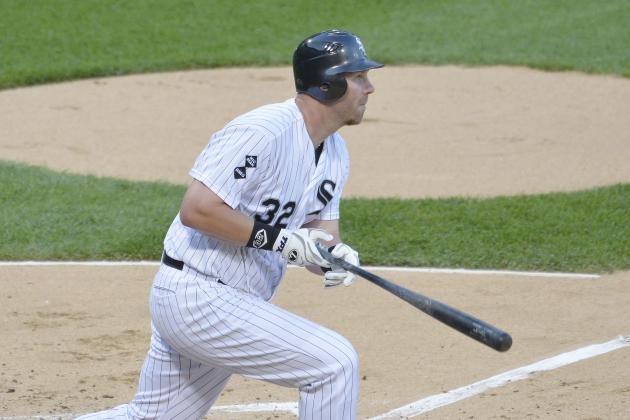 Brian Kersey/Getty Images

On the heels of last season's historically poor performance, Adam Dunn continues to make Chicago fans forget his terrible debut season with the White Sox.
Dunn's 2011 numbers read like a dead-ball era shortstop's stat line on a last place team. He struck out 177 times in 415 at-bats, while managing just six hits in 94 at-bats against left-handed pitchers.
Perhaps most disappointing of Dunn's performance last season was his microscopic slugging percentage of .277.
The home run bashing Adam Dunn of the National League was just a rumor for White Sox fans, as he was roundly booed following most of his failed at-bats.
2012 has been a return to form for Dunn, and during Tuesday night's destruction of the Rangers, Dunn's performance was emblematic of his All-Star output this season.
Dunn smacked his 25th home run in the first inning, and finished the evening two-for-two, with three runs scored and two runs driven in. Dunn also managed two walks, adding to his league-high total of 66 free passes.
With a trip to the mid-summer classic next week, Dunn has exorcised his demons of 2011, and continues to perform as was expected when he signed with the White Sox last season.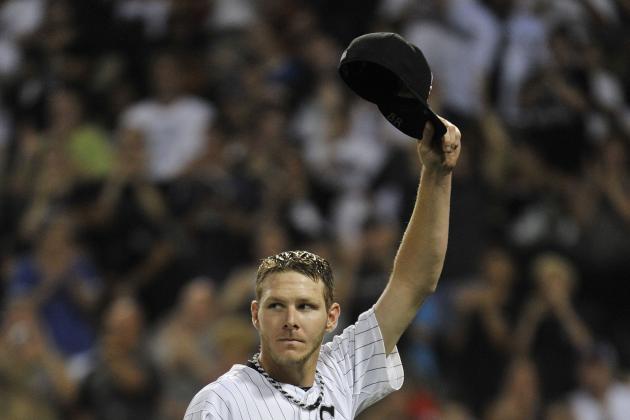 Brian Kersey/Getty Images

After being named to the American League All-Star team this past week, Chris Sale matched up against baseball's most potent offense, the Texas Rangers.
With 50 wins already under their belt, and a scary plus-100 run differential going into Tuesday night's contest, the Rangers were a tough test for the 23-year-old Sale.
As he has done this entire season, Sale quieted his opponents, and tossed another quality start, his 11th of the season.
Sale improved his earned run average to a stellar 2.19 during the White Sox's 19-2 win Tuesday, and is second only to Jered Weaver of the Angels, who tossed a shutout Monday against the Indians.
In his first year since moving from the bullpen, Sale has dominated hitters on both sides of the plate. While he has held left-handed hitters to a measly .190 batting average, right-handed hitters have only managed a .201 batting average this season.
The young lefty has quickly become the team's ace and will proudly represent the White Sox at next week's All-Star game, and possibly many more.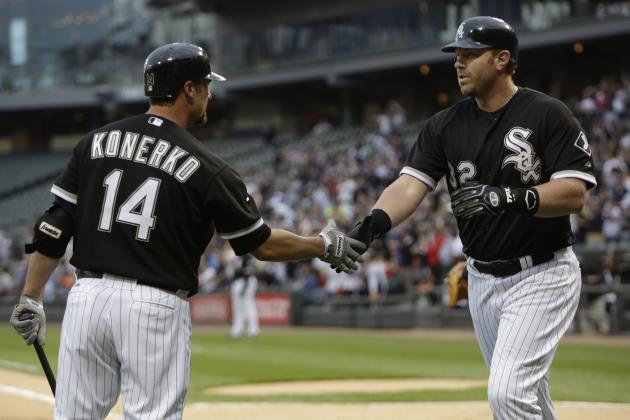 John Gress/Getty Images

Looking back to the offseason following the White Sox's 88-win 2010 campaign, the addition of Adam Dunn had fans dreaming of one of the most potent lineups in the league. Pundits had the White Sox penciled into the postseason with their 1-2 punch of Adam Dunn and Paul Konerko (via Yahoo! Sports).
Then they played the games.
The White Sox buckled under the expectations in 2011, while Adam Dunn and Alex Rios helped bury the club into a hole that they never got out of.
Both players, who carry hefty contracts, were major disappointments, helping the White Sox finish near the bottom in offense for 2011. The White Sox offensive output were ahead of only Oakland, Minnesota and Seattle last season.
2012 has been a different story, however.
The White Sox can now boast of a 19-run effort against the Texas Rangers last night, this following last week's 14-run output against the Yankees in New York.
The team now ranks fourth overall in team offense in the American League. Paul Konerko and Adam Dunn were named All-Stars Sunday, and the White Sox could have legitimately had two more All-Stars in A.J. Pierzynski and Alex Rios.
During last night's win over the Rangers, Pierzynski bombed a three-run homer over the right field fence, his 15th of the season. Alex Rios went three-for-four with three runs driven in.
With at least four All-Star-caliber hitters in the lineup, on top of recently acquired Kevin Youkilis, and the always improving Alejandro De Aza, the White Sox are fast becoming one of the most potent offenses in baseball.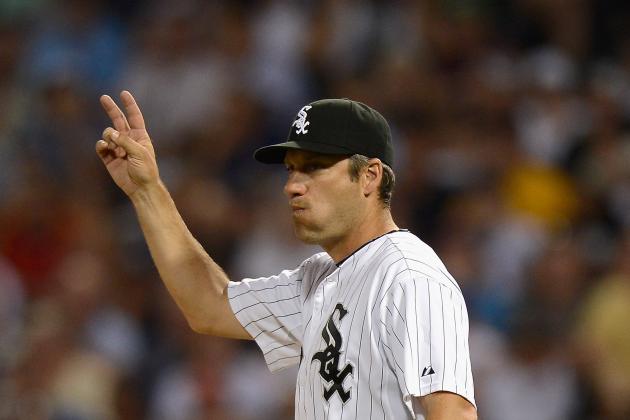 Jonathan Daniel/Getty Images

While it's easy to call someone a genius following a 19-run effort by their ball club, rookie manager Robin Ventura continues to impress the only way he knows how—quietly and professionally.
In stark contrast to the blustery era of Ozzie Guillen when he was at the helm of the White Sox clubhouse, Ventura seems to have pushed all of the right buttons this season. A return to form by players such as Adam Dunn and Alex Rios has definitely helped, but Ventura has his team in first place in July, a feat few expected.
Ventura has managed an always evolving pitching staff, managing young pitchers like Addison Reed, Hector Santiago and Nate Jones. While they have had their struggles, they are still anchoring a staff that is sixth best in the American League.
Ventura appears to be the unquestioned leader of the team, and with only his stellar playing career as his managing credentials, Ventura has acted professionally, as expected (via the Chicago Sun-Times).
While it could be argued how much a manager impacts the outcomes of ballgames, a departure from Ozzie Guillen's need to play a National League style in the American League has been welcome.
Guillen will always be revered for being in charge during the White Sox's championship run of 2005, but his clubhouse antics, as well as his penchant for "small-ball" despite having lineups filled with home-run-hitting sluggers made it easier for fans to handle his departure (MLB).
While it remains to be seen how Ventura handles a losing clubhouse, hopefully for the White Sox and their fans, they won't find out this season.