Manchester United's 10 Biggest Premier League Fixtures for the Fans Next Season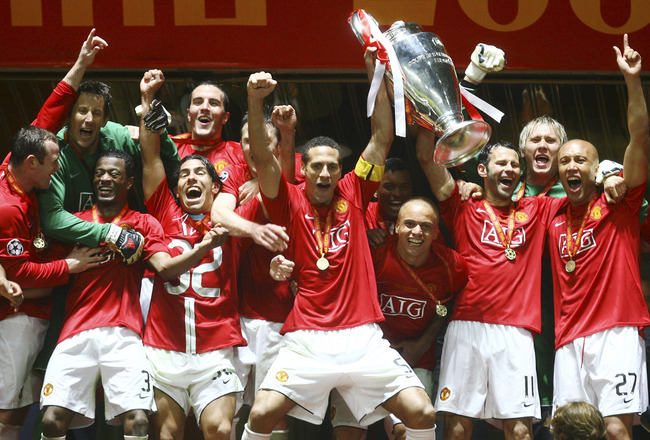 Julian Finney/Getty Images
Would this be the fixture Manchester United would most like for next season?
If he had to choose, would Sir Alex prefer another Champions League or a 20th Premiership title to sign off with, if this is to be his last season in charge?
And if it is to be a 20th title, which are the fixtures that fans will most eagerly anticipate?
In some respects the answers ought to be pretty obvious, but some might most enjoy watching the teams United tend to thrash; the easy rides that mean you can relax going to a match or taking your well-worn seat on the sofa?
Some of those may be approached with trepidation after Wigan last year gave us a footballing lesson at a time when we needed every point going.
This season is going to be pivotal in so many ways:
It could well be Sir Alex Ferguson's last (though it won't be announced until the very end);
It could be Giggs and Scholes' last...maybe even Ferdinand;
It should be the first for several years where we have a proper midfield, with players playing in their best positions;
We should do much better in Europe; and the FA and League Cups;
More than at any time since the 1990s, we could be seeing the integration of new signings, several young players from the Academy and the existing mature and experienced players, of which Rooney is just one.
So for many reasons fans will approach this season with a mixture of eager excitement and trepidation in equal measure.
Can City consolidate their position?
Can Chelsea rebuild well enough to recover a top four finish?
Is Brendan Rodgers the answer at Liverpool, or will they continue to drift?
Will Arsenal continue to be trophy-less and could it be Wenger's last season?
Can Newcastle remain a force and has Villas-Boas got what it takes to manage in the Premier League?
None of these questions will be troubling Sir Alex Ferguson. He is more focused on United winning every match, playing the right way, dominating other teams and as a result coming out on top again.
He won't care how well City do, as long as United aren't humiliated again and finish above their cross-city neighbours.
Indeed, maybe City will suffer from "second season syndrome"...
18 August Everton Away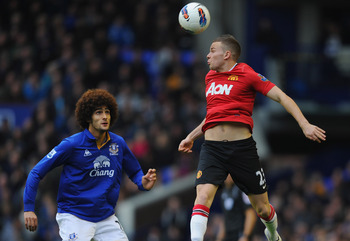 Michael Regan/Getty Images
If Leighton Baines signs for United, this will have even more significance than usual.
Every Manchester United fan eagerly anticipates the first match of the season. It is unfortunate that this time the Red Devils are away.
Everton are never an easy fixture, especially away from home, but there are added reasons to be nervous this time around.
Although Everton have become notoriously slow starters, they won't need any motivation for this match—especially after their comeback in the 4-4 draw at Old Trafford that nailed United's coffin last season.
The two players pictured could be significant in different ways.
Marouane Fellaini made the whole Premier League sit up and take notice in that match. If Everton can keep hold of him, he will surely be critical to their season.
He may look ridiculous in his trademark bubble perm, but it conceals an intelligent football brain. One wonders if his heading would be even better if he cut it off.
He and Nikica Jelavic made the difference in that ill-fated match.
Meanwhile, many people will also be watching Tom Cleverly's progress after his stop-start season last year. Thanks to Kevin Davies' X-rated tackle, Cleverly's terrific early promise was halted and, together with coming back too early from injury, his season drifted away.
Now he has his chance to prove himself in the Great Britain Olympic squad. That will mean he hits the ground running for United in mid-August, even though he will miss the pre-season tour.
The question is how long he will have to wait for a starting place, with Shinji Kagawa's arrival and maybe one more midfielder to integrate.
This first Everton match will be anticipated as much as anything for the players on show and United's tactical set-up. Both of these could put down a marker for the whole season.
22 September Liverpool Away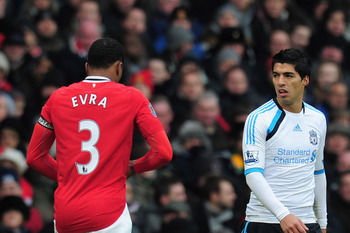 Shaun Botterill/Getty Images
There is every reason to hope that Juventus succeed in their pursuit of Luis Suarez. The unsavoury incident last year that marred so many weeks of the season may never be forgotten.
Sadly it tarnished what will always be the most important fixture of the season—against Liverpool.
Many people and the media might like to paint the Manchester derby as the most important, but to the fans of both clubs this one tops the list.
However badly Liverpool played and how well United performed last season, Liverpool away is the toughest in the calendar.
Liverpool and their supporters always, without fail, raise their game for this match at Anfield. Now that United are getting more seats, it should be at least as noisy as ever.
Both teams are in transition, but Liverpool had a woeful season and now they have to adapt to a third manager in three years.
Brendan Rodgers' playing style is very different to Kenny Dalglish and may be more akin to that which made the Reds so successful more than 20 years ago.
But Swansea were easy on the eye last season under Rodgers and did extraordinarily well. The question is how you integrate Andy Carroll into such a style.
Liverpool and United fans love the blood and thunder of the Merseyside/Manchester derby. Even with several continental players in the home side there will be no lack of commitment.
But Liverpool may have some problems to solve. Steven Gerrard looked a spent force in much of Euro 2012 and there is a question as to how well his body can hold up.
Dirk Kuyt has gone, AC Milan want Carroll, Juventus want Suarez, City want Martin Skrtel and nobody wants Alberto Aquilani.
Indeed, having missed Champions League qualification, several players are at risk and Liverpool will find it harder to attract fresh talent.
So while United may be settled by September, the Reds could be in turmoil, with supporters resigned to another season in the doldrums.
27 October Chelsea Away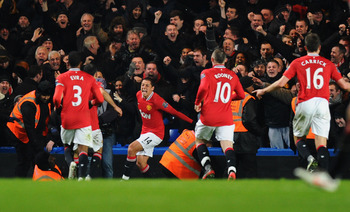 Mike Hewitt/Getty Images
After February's epic comeback, who wouldn't fancy this match?
Roman Abramovich is playing Fantasy Football at the moment and has had to settle for Roberto di Matteo as manager (who was sacked by West Brom).
By October, Chelsea may have been found out. If Abramovich signs Hulk, as expected, Fernando Torres' nose may have been pushed well out of joint by the time this match takes place.
The most significant transfer move so far has been Didier Drogba's departure to China. He is without a doubt the best and most effective player Chelsea have ever had.
His performance was pivotal in the Champions League. If ever a player could put fear and dread into the hearts of even the best defenders, it was Drogba.
Hulk can be equally effective.
For those who think Di Matteo worked miracles last season, think again. It was John Terry, Drogba, Ashley Cole and Frank Lampard.
Chelsea at the moment resemble the last days of the great Leeds United after Don Revie. It cannot be healthy to have so much player power in a dressing room. It may have won the Champions League last season, but it nearly destroyed Andre Villas-Boas, who failed to do what Chelsea need.
Like United, Arsenal and Liverpool, they need an overhaul. But whereas United will do it quietly and effectively, Chelsea's could be brutal, given that the real manager is Abramovich, with Terry as his side-kick.
Chelsea may still not be a settled side by late October. Welbeck and Rooney will be well up for it and, with the memory of last season and a rejuvenated Vidic, United can hope to go one better this time.
3 November Arsenal Home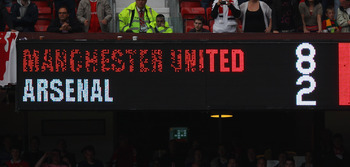 Alex Livesey/Getty Images
The photo I took at the end of this match last season will remain forever my PDA screen-saver.
OK I will admit that I also took 7-2, just in case.
This was Fairyland. Everything went right for United, and Arsenal were bad, but not awful. They were missing a couple of players, but this was a very open match to the end and, unlike City, Arsenal's defence was dreadful.
So United fans will be very confident of beating Arsenal at home, though not by a cricket score.
The Gunners play pretty football but so much will hinge on whether they can keep Robin van Persie. If they can't, and better still if the Dutchman were playing for the home team, this would be a banker home.
OK, so Arsenal fans are already raving about Olivier Giroud, but they also were about Marouane Chamakh and, to a lesser extent, Nicholas Bendtner, both of whom are likely to leave.
And then there was "wonderkid" Andrei Arshavin, and now even Theo Walcott may not be there next season.
A lot falls on the shoulders of Alex Oxlade-Chamberlain if all these things come to pass.
United's recent success has been built on defensive reliability. That this was lacking last season was largely down to the appalling injury crisis, of which losing Nemanja Vidic was the most costly.
This season, United will have a more settled look, even though five centre-backs and four full-backs will be used. Ferdinand is back to his best; Vidic is back; Jonny Evans has arrived; and Chris Smalling and Phil Jones are chomping at the bit.
Arsenal won't be good enough to break United down. The Red Devils should make hay.
8 December City Away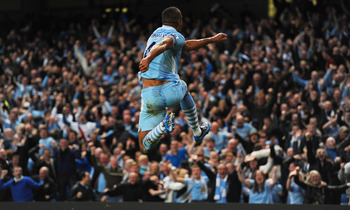 Michael Regan/Getty Images
One mistake, one goal, one title for City.
Chris Smalling probably wanted the ground to open up and swallow him.
The thing is, Sir Alex got the tactics badly wrong, but this wasn't the first time. Yes, a draw would have done, but who knows what would have happened if United had played to win?
Sir Alex has often said that United go out to win every match, but that patently isn't true and certainly didn't look like that at the Etihad Stadium.
The truth is that United fans expect United to play that way. Yes, we are gutted when we lose; and the home fixture against City was suicidal.
But how can we claim to be better than City if we set up for a draw?
This fixture comes early enough in the season to be significant, but not critical.
Both teams may have several personnel changes by the time it takes place. City are physically bigger, assuming Yaya Toure and Mario Balotelli play, but United's game will be based on defensive solidity, pace, skill and flair.
Roll on December.
12 January Liverpool Home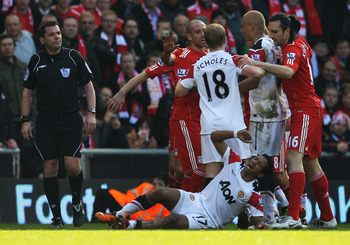 Alex Livesey/Getty Images
While this dreadful incident pictured here took place at Anfield, it carries significance for this season's home fixture.
Jamie Carragher is definitely past his best, yet Rodgers may play him in both the United fixtures. If he does, he could be a liability.
Yes, Nani has dived in the past, but at Euro 2012 he was one of the stand-out players. He is still a little self-absorbed and slightly deluded if he thinks he can be as good as Cristiano Ronaldo. Nobody could deny that they carried the biggest threat for Portugal, who nearly carried it off.
With proper refereeing, if Carragher comes up against Nani, Chicharito or Kagawa, he could be a tad late and therefore removed from the field of play.
Let's hope nobody gets hurt.
With Liverpool still undergoing monumental change, United will fancy this fixture more than for many a season, and could give Brendan Rodgers a wake-up call.
6 April City Home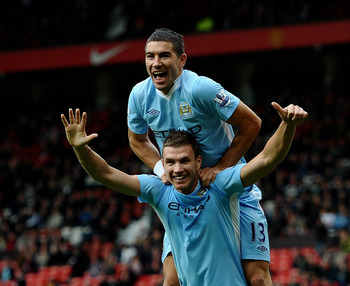 Laurence Griffiths/Getty Images
Edin Dzeko will be long gone and United won't play like headless chickens—especially if Leighton Baines has been signed.
United committed hara-kiri last year, led by Patrice Evra who thought he was centre-forward for the day.
That memory will be bitterly etched into the minds of United players, and revenge will be desperately sought.
It will be close, fast and potentially physical but United will just edge a thriller. Once again it could be critical in the title run-in.
27 April Arsenal Away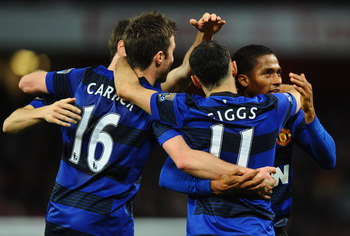 Mike Hewitt/Getty Images
Manchester United have an excellent recent record against Arsenal, whose form at the Emirates last season was disappointing by their standards.
As seen with United, when you create a massive increase in capacity, the crowd can become more quiet.
United were good at silencing Arsenal supporters last season and the trip this season will hold no fears.
Arsenal play pretty football and their defence will be less brittle this time around, but United will get a result again, especially if Van Persie has gone.
4 May Chelsea Home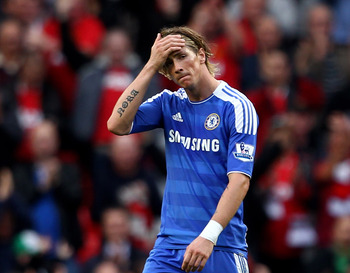 Clive Brunskill/Getty Images
Assuming that Torres stays, Chelsea's hopes of revival could rest squarely on his shoulders.
In previous seasons for Liverpool, he has been scary good. Even Vidic struggled to hold him.
Last season at Old Trafford, he had one of the worst misses in footballing history. If he had scored, Chelsea could well have got a result.
The Blues will be a different proposition this season, irrespective of personnel changes, because you don't need any motivation to play Manchester United.
But have they got the right manager, and, to take Juan Mata and Raul Meireles as an example, new signings don't always become legends.
Mata may get more chances this time and he is still a good player, but how will Chelsea set up, who will stay and who will go?
If Torres is in the team and in form, this one will be close and potentially critical to the Premier League title.
12 May Swansea Home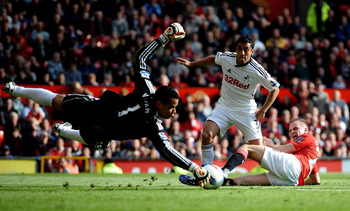 Laurence Griffiths/Getty Images
Some of you may think I've lost the plot by including this match, which will happen almost exactly a year after last season's fixture.
On the face of it, that match was a routine affair, but Swansea were many people's second team to watch last year.
This season there will probably be many changes of personnel. Gylfi Sigurdsson could end up at Liverpool or Tottenham; Brendan Rodgers has gone; and players like Scott Sinclair, Joe Allen and Michael Vorm will undoubtedly attract interest.
Added to that, Swansea may experience "second season syndrome" and could well be in a relegation dogfight.
So why is it included here and why would United be eagerly anticipating this match?
Simply because, if all goes to plan and United do as we all hope and expect—especially if it proves to be Fergie's swansong—this is the last home game of the season.
And therefore, the one at which we will receive the Premier League trophy, recording an epic 20th title and a fitting coda to Sir Alex's career.
Enjoy.
Keep Reading

Manchester United: Like this team?