Wimbledon 2012 Scores: Recapping Quarterfinal Action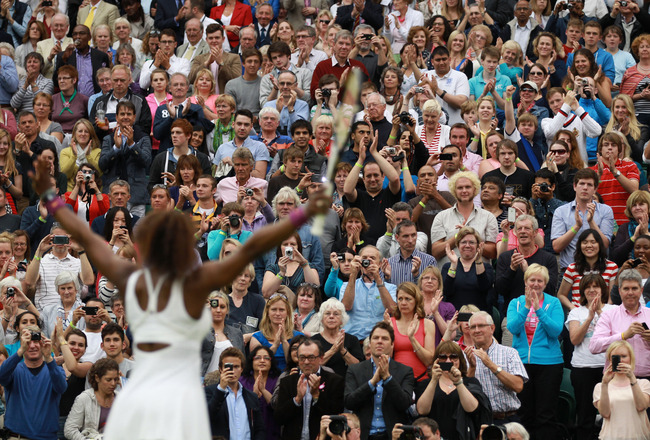 Clive Brunskill/Getty Images
It was an emotional roller coaster of a day for the women at Wimbledon: last year's champion was dethroned, the underdog of the tournament was sent home and a few tears were shed at the All England Club.
With the quarterfinals over, let's take a deeper look at Tuesday's events and what they mean for the play to come.
Serena Williams Def. Petra Kvitova: 6-3, 7-5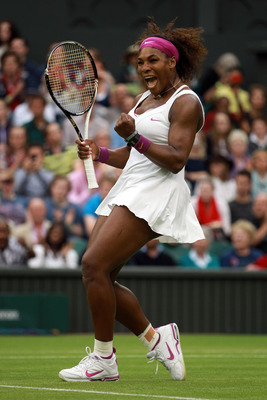 Clive Brunskill/Getty Images
The reigning Wimbledon champion, Petra Kvitova, will not defend her title as she was knocked out in the quarterfinals by—who else—Serena Williams.
This was a matchup that many fans were hoping to see in the final, but fate brought these two, past Wimbledon champions together a little sooner.
The rain—which has plagued the All England Club throughout the week—looked to be a blessing for Kvitova. Rain means closing the roof on Centre Court, and Kvitova plays great indoors. She has only lost one match indoors in the last two years.
However, the opportunistic Serena saw her chance to pounce at 3-2 in the first set, and she took it. After breaking Kvitova, Serena took the first set and used that motivation to fuel her play from there on. Although, Kvitova answered Serena in the second set by playing some of her best tennis ever, it just was not enough.
Victoria Azarenka Def. Tamira Paszek: 6-3, 7-6 (7-4)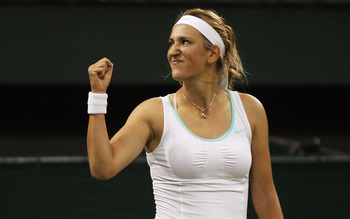 Dan Kitwood/Getty Images
The great giant-killer Tamira Paszek has finally been slain. The spirited, but unseeded Austrian took down the likes of Caroline Wozniacki earlier in the tournament, but No. 2 Azarenka proved to be too much for Paszek.
In the first set, Azarenka's determination and experience under high pressure stakes helped her to take advantage of the cracks that began appearing in Paszek's game.
It was a two-hour battle that featured some of the best tennis at Wimbledon this year, but despite Paszek's amazing play earlier in the tournament, the better player—Azarenka—prevailed.
Angelique Kerber Def. Sabine Lisicki: 6-3, 6-7 (7-9), 7-5
Julian Finney/Getty Images
It was the battle of the Germans with Angelique Kerber and Sabine Lisicki in Tuesday's quarterfinal match, and neither player wanted to be on the losing side. Although, both played a tremendous three-set Centre Court match, it was Lisicki—the victor over No. 1 Maria Sharapova the day before—who eventually fell.
Kerber has won the past four meetings against Lisicki, and that confidence paid off. Kerber was able to mentally pick apart Lisicki's game by using her powerful, penetrating groundstrokes to pressure Lisicki, and her backhand, into making errors.
That's a positive accomplishment for both Germans, however—they are the first players from their country to go this far at Wimbledon since Steffi Graff in 1999.
Agnieszka Radwanska Def. Maria Kirilenko: 7-5, 4-6, 7-5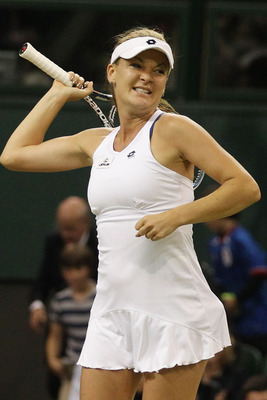 Dan Kitwood/Getty Images
Agnieszka Radwanska and Maria Kirilenko are the perfect ying and yang: they have completely opposite playing styles.
On one hand, Kirilenko blasts each shot in hopes of a winner, and on the other hand, Radwanska is a backboard with her consistent, opponent-frustrating style of play.
Although, rain caused the awkward stop-and-start nature of play, their opposing styles still fueled a marathon match.
Ultimately, it was the tale of the tortoise and the hare: Slow, but steady, Radwanska won the race.
Keep Reading