Predicting Every Offensive Stat Leader in the NFL in 2012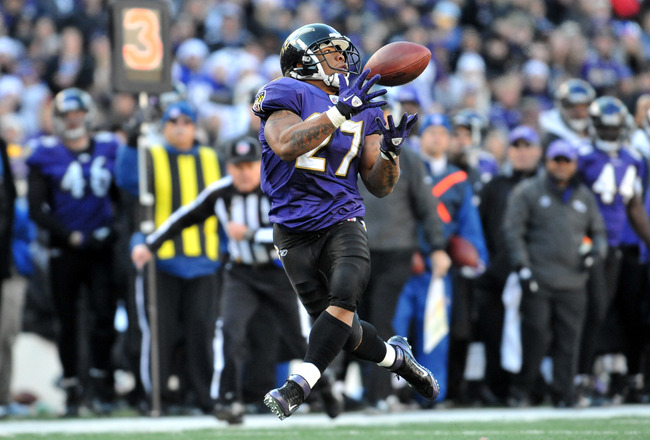 Larry French/Getty Images
2011 produced some of the most impressive statistical performances in NFL history. Drew Brees threw for a record 5,476 yards, Cam Newton set an NFL record for QBs with 14 rushing TDs and Rob Gronkowski set the TD mark for TEs at 17. Here's a look at the league leaders for 2011.
2011 Stat Leaders
Pass TDs: Drew Brees, 46
Pass Yards: Drew Brees, 5,476
Rush TDs: LeSean McCoy, 17
Rush Yards: Maurice Jones-Drew, 1,606
Targets: Roddy White, 181
Receiving TDs: Rob Gronkowski, 17
Receiving Yards: Calvin Johnson, 1,681
Total TDs: LeSean McCoy, 20
Rushing plus Receiving Yards: Ray Rice, 2,068
In 2012, fantasy owners can only hope their draft picks have a season like Brees, Newton or Gronkowski. Here are predictions for the offensive stat leaders of 2012 and the players most likely to make a run at a record.
Pass TDs: Tom Brady, New England Patriots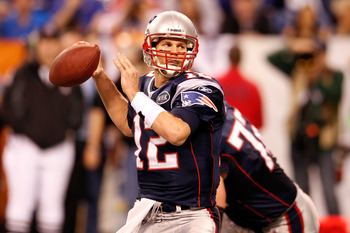 Rob Carr/Getty Images
Brady was fourth in pass TDs in 2011 with 39 behind Drew Brees, Aaron Rodgers and Matthew Stafford. But this year's Patriots offense will have something that last year's lacked—a vertical outside threat.
The addition of Brandon Lloyd means Brady could have a season similar to his stellar 2007. While 50 TDs is a bit extreme, 40-45 is likely, and should be good enough to lead the league.
Lloyd joins a receiving corps that features Wes Welker, Rob Gronkowski and Aaron Hernandez. These four players combined for 38 receiving TDs in 2011. Deion Branch returns to the Pats in 2012 and had five TDs in 2011.
Aaron Rodgers may be considered the favorite in this category by most, but his 45 TDs in 2011 were his career high by 15 TDs. Brady has an average of 38 passing TDs in his last four complete seasons compared to an average of 33 for Rodgers.
Pass Yards: Matthew Stafford, Detroit Lions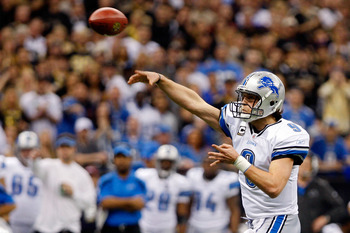 Chris Graythen/Getty Images
Stafford was third in passing yards in 2011 with 5,038 behind Drew Brees and Tom Brady. The 24-year-old's third season in the NFL was his first complete one as he played more games in 2011 (16) than 2009 and 2010 combined (13). Stafford's impressive year included 41 TDs with 16 interceptions.
Calvin Johnson heads up a solid receiving corps for Stafford that includes TE Brandon Pettigrew, WRs Nate Burleson, Titus young and 2012 second-round draft pick Ryan Broyles.
Stafford is fearless (and should be) when throwing to Johnson and the results were huge yardage numbers for both Stafford and Megatron, who led all receivers with 1,681 receiving yards.
Stafford would be helped immensely if the running back core of Jahvid Best, Mikel Leshoure and Kevin Smith can stay healthy and on the field. The Lions' rushing offense was ranked 29th in 2011.
Leshoure tore his ACL before the season started and Best's season was ended prematurely by lingering concussion symptoms. Best's ability to create as a receiver out of the backfield will be key in helping Stafford be tops in the NFL in yardage in 2012.
After last year's incredible passing numbers from the league's top QBs, things should simmer down in 2012, Stafford could top the league with 4,700 yards.
Sleeper: Eli Manning, New York Giants
The veteran Giants QB had three 400-yard passing games in 2011, the only player to do so. He surpassed his career-high in passing yards by over 900 yards in 2011. So, after eight years in the NFL, has Manning reached a new fantasy status?
Rush TDs: Arian Foster, Houston Texans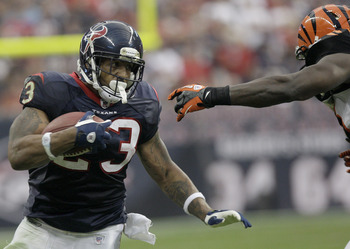 Thomas B. Shea/Getty Images
Foster led the league in rushing TD in 2010 with 16, but faced a setback with a hamstring injury that limited his production early in 2011. He still finished with 10 TDs and his total of 26 over the past two years is still tops.
The Texans will have one of the league's top offenses once again with a healthy Matt Schaub, Andre Johnson and Ben Tate. And once again, Foster will be a big part in their TD production.
Despite being one of the top receivers in the league, Johnson surprisingly hasn't had double-digit TDs in his nine-year career. Tate had a respectable, but not overwhelming, four TDs on 188 touches.
Foster should lead the Texans, and the league, with 15 rushing TDs.
Sleeper: BenJarvus Green-Ellis, Cincinnati Bengals
Green Ellis had 11 rushing TDs on just 181 rushing attempts in 2011 and 13 TDs in 2010, mostly on red zone touches with the pass-heavy Patriots. As the Bengals main back in 2012, Green-Ellis could be a TD thief again with young stars Andy Dalton and A.J. Green eating up the yardage.
Rush Yards: Ryan Mathews, San Diego Chargers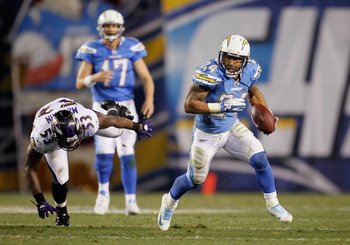 Jeff Gross/Getty Images
Many would consider Mathews a sleeper for the rushing title, but his high YPC last year (4.9), age (24) and backfield situation make him a favorite to do big things in 2012.
With Mike Tolbert gone to the Panthers, Mathews will see an increased workload and will be a true feature back for the first time in his young career. After 222 attempts in 2011 netted Mathews 1,091 yards, Mathews should get 270-plus attempts in 2012. At last year's rate, 286 carries would put Mathews over 1,400 yards rushing.
Last year's rushing leader, Maurice Jones-Drew had 343 rushing attempts in 2011 after seasons of 300 and 312 rushing attempts. The chances of him being able to handle that load again seem slim. The top three fantasy backs (Foster, McCoy, Rice) all will have a shot at the rushing title of course, but Mathews has the freshest and healthiest legs of the bunch.
Sleeper: Trent Richardson, Cleveland Browns
A rookie leading the league in rushing seems far-fetched, but Richardson is a guy with the talent to make it happen. The main question will be whether or not the Browns can keep eight out of the box with their passing game to give him a chance.
Targets: Brandon Marshall, Chicago Bears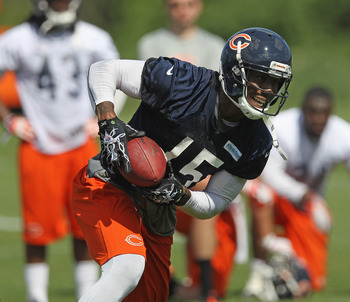 Jonathan Daniel/Getty Images
Roddy White and Wes Welker have been the most targeted receivers over the last three years, but neither will be tops in that stat this season. White now has Julio Jones stealing targets and Welker's Patriots added Brandon Lloyd to a receiving corps that also includes two TEs that had over 100 targets each last season.
In 2009, when Jay Cutler and Brandon Marshall were both with the Denver Broncos, Marshall led the league in targets with 182 and both Cutler and Marshall finished as top-five fantasy scorers at their positions.
Receiving TDs: Calvin Johnson, Detroit Lions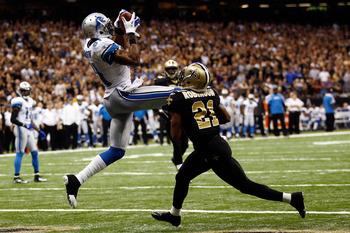 Chris Graythen/Getty Images
Megatron's "breakout" in 2011 was certainly seen coming by those that closely followed the career of the 6'5", 236 lb, prototype receiver. His 16 TDs led all WRs in 2011. However, New England TE Rob Gronkowski had 17 TD catches to lead the league.
The odds of a repeat for Gronkowski's record-setting performance are slim as he returns from an ankle injury. Cracking double-digit TDs would be an accomplishment for the TE who shares targets with Wes Welker, Aaron Hernandez and now Brandon Lloyd.
Johnson's situation seems steady for the first time, with Matthew Stafford finally completing a season in good health. Despite playing with less-skilled QBs for most of his career, Johnson's 45 receiving TDs over the last four seasons are the most of any receiver. Larry Fitzgerald is second with 39.
Sleeper: Julio Jones
Jones had eight TDs as a rookie in 2011, but an amazing, six of those came in the last four weeks of the season. Jones struggled with injuries in the middle of the season, but his end of the season production showed his true potential as a high-scoring WR.
Receiving Yards: Larry Fitzgerald, Arizona Cardinals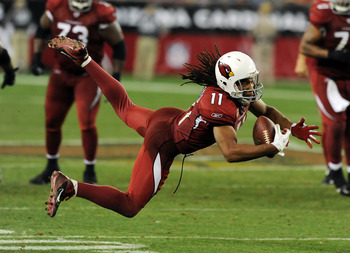 Norm Hall/Getty Images
Fitzgerald was No. 4 in 2011 with 1,411 yards receiving behind Calvin Johnson, Wes Welker and Victor Cruz.
The addition of rookie receiver Michael Floyd will help Fitzgerald, perhaps giving him his best running mate since Anquan Boldin. Fitzgerald finished 2011 strong as well, with three 100-yard games in his last four.
In his eight NFL seasons, Fitzgerald has topped 1,400 receiving yards four times. Whether it's Skelton or Kolb in the pocket, Fitzgerald is in top form and should have himself another 1,400-plus season.
Total Yards and TDs: Ray Rice, Baltimore Ravens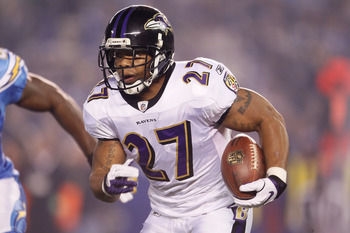 Jeff Gross/Getty Images
Rice led all players with 2,068 rushing plus receiving yards in 2011. It was his second season with 2,000-plus yards from scrimmage (he totaled 2,041 in 2009).
However, Rice trailed Philadelphia's super back LeSean McCoy by five TDs with a total of 15 in 2011. But McCoy's 20 TDs will be hard to duplicate in an Eagles' offense that features a QB with a penchant for rushing TDs (Vick) and a nice combination of receivers in DeSean Jackson and Jeremy Maclin. That will open the door for Rice to take over in total TDs.
Last season Rice answered questions about his ability to find the end zone, notching double-digit rushing TDs for the first time. The outlook is positive that he can back it up with another 15-plus scores in 2012, as Rice remains the Ravens most central offensive piece.
In fact, Rice may be the most important player to his team's offense in the entire NFL. Rice was targeted 104 times as a receiver in 2011, only one less target than the Ravens leading WR Anquan Boldin.
Sleeper: Darren McFadden, Oakland Raiders
Not counting Week 7, where he had just two carries before exiting the game, McFadden's 2011 stats project out to a 16-game total of 1,627 rushing yards, 403 receiving yards and 13 TDs.
Keep Reading